Berry's Tournament Trail Results – Lake Oconee – Mar 9, 2013
Teaser image: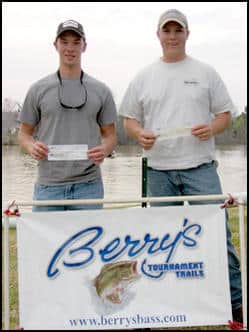 GRANT KELLY AND JARED HENDRIX WON WITH 5 @ 20.25 LBS. PATTERN: FISHING CRANKBAITS
Grant Kelly and Jared Hendrix teamed up to win the Berry's Team Trail tournament Mar 9, 2013 on Lake Oconee. They caught 5 bass weighing 20.25 pounds and took home a total of $4,140! They said they caught their fish using crankbaits.
David and Hilbert Lowery came in a VERY CLOSE 2nd Place with 5 bass weighing 20.24 lbs, just 0.01 lbs behind the winners! They won $2,070 and said they were using crankbaits and jigs.
Rounding out the Top 5 were Kim Carver fishing alone in 3rd Place with 5 weighing 19.23 – good for $1,300. He was fishing crankbaits. Jerry Burford and Frank Masiello came in 4th Place with 18.70 lbs – they won $1,050. And in 5th Place, Brian and Bob Jamison weighed in at 18.02 lbs, good for $910.
Big Bass of the day was caught by Shane Stokes – the weight was 7.80 lbs and he said he was using a jig on a point. He took home $1,500!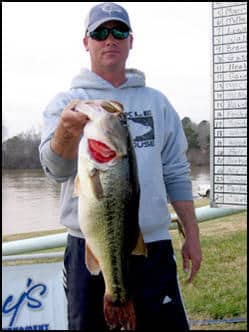 Shane Stokes with the Big Bass of the day – 7.80 lbs!In all, 150 teams weighed in 399 fisn at 1,043.54 lbs. 45 teams weighed in 5 fish limits. We had $2,250.00 Classic Contribution and $750 Angler Contribution.
Here are the complete results:
| | | | | |
| --- | --- | --- | --- | --- |
| PLACE | TEAMS | WEIGHT | WINNING | BIG BASS |
| 1 | GRANT KELLY – JARED HENDRIX | 20.25 | $4,140.00 | |
| 2 | DAVID LOWERY – HILBERT LOWERY | 20.24 | $2,070.00 | |
| 3 | KIM CARVER | 19.23 | $1,300.00 | |
| 4 | JERRY BURFORD – FRANK MASIELLO | 18.70 | $1,050.00 | |
| 5 | BRIAN JAMISON – BOB JAMISON | 18.02 | $910.00 | |
| 6 | JIM WINDHAM – GREG BARWICK | 17.89 | $750.00 | |
| 7 | VAN DILLARD – JASON JENKINS | 17.70 | $650.00 | |
| 8 | RANDY WOODHAM – MARTIN RUTLEDGE | 16.99 | $580.00 | |
| 9 | JAY WALL – RUSTY HACK | 16.60 | $490.00 | |
| 10 | TONY GREEN – DAVEY MONTFORD | 15.97 | $430.00 | |
| 11 | SAM MIMES – MIKE DIXON | 15.50 | $390.00 | |
| 12 | ERNEST MILLER – KEVIN THORNTON | 15.49 | $360.00 | |
| 13 | MIKE REID – GREGORY PAYNE | 15.09 | $320.00 | |
| 14 | DAVID FOSTER – ALAN CHAFFIN | 14.29 | $310.00 | |
| 15 | JASON DICKSON – MATT YOUNG | 14.28 | $300.00 | |
| 16 | DAN CROWE – LEE CROWE | 14.22 | $290.00 | |
| 17 | CARL HAYES III – DYLAN WYLIE | 14.19 | $280.00 | |
| 18 | STEVEN CLANTON – WAYNE HOLLAND | 14.06 | $270.00 | |
| 19 | ANDY NORMAN – FRANK KITCHENS | 13.77 | $260.00 | |
| 20 | JAE EVANS – JACOB THOMPSON | 13.72 | $250.00 | |
| 21 | WILLIE WHITE – DEVEREAUX ADAMS | 13.66 | $240.00 | |
| 22 | FRED HOOD – DWAYNE MURPHY | 13.41 | $230.00 | |
| 23 | JASON CARDEN – COULBY LEWIS | 13.26 | $220.00 | |
| 24 | KELLY THOMPSON – GREG WILKERSON | 13.19 | $210.00 | |
| 25 | RICHARD PARSON – BARRY FORREST | 12.74 | $200.00 | |
| 26 | DANIEL DURHAM – JACK BARBER | 12.57 | | |
| 27 | VINCE FARROW – RANDY KIMBRELL | 12.57 | | |
| 28 | TYLER RHOADES – SCOTTY RHOADES | 12.41 | | |
| 29 | MARK HOLLOWAY – PAT FISHER | 12.26 | | |
| 30 | DWANE BAUCOM – JUSTIN STILL | 12.04 | | |
| 31 | ANDY CANNON – BOBBY HILL | 11.87 | | |
| 32 | JIMMY GOLDEN – COLE McWILLIAMS | 11.85 | | |
| 33 | TERRY FRAZIER – BUCK EUBANKS | 11.36 | | |
| 34 | SCOTT McDANIEL – LAITH REAGIN | 11.36 | | |
| 35 | TRIPP GLAWSON – MATT GILLIAM | 11.23 | | |
| 36 | RANDY HEATH – DAMIAN HALL | 11.20 | | |
| 37 | DEAN EDWARDS | 11.18 | | |
| 38 | RON SMITH – NICK HART | 11.13 | | |
| 39 | TODD LOWE – SCOTT BASSETT | 11.10 | | |
| 40 | SEAN SULLIVAN – MIKE BUTLER | 10.86 | | |
| 41 | KEITH BASSETT – MARC IRVIN | 10.85 | | |
| 42 | KEN MYERS – DEWAYNE WHITTEMORE | 10.73 | | |
| 43 | LANE WRIGHT | 10.45 | | |
| 44 | NATHAN FULLER – MARTY FULLER | 10.44 | | |
| 45 | WILLIE McMULLEN – CHAD STAHL | 10.44 | | |
| 46 | STACEY EATON – RONNIE STEGALL | 10.27 | | |
| 47 | CHARLIE BALDWIN – VONYA BALDWIN | 10.19 | | |
| 48 | MARK ERWIN – ROBERT GAUSE | 10.10 | | |
| 49 | RICHARD BELL – SHANE STOKES | 10.03 | | $1,500.00 |
| 50 | ADAM WICKS – STEVIE JACKSON | 9.87 | | |
| 51 | WILL SIZER – BEN REESE | 9.72 | | |
| 52 | DAVID ELLISON – BOBBY JONES | 9.67 | | |
| 53 | STEPHEN JONES – GIRARD JAMES | 9.66 | | |
| 54 | LANCE COLLINS – BARRY COLLINS | 9.63 | | |
| 55 | MIKE CLEVELAND – BOBBY WOOD | 9.59 | | |
| 56 | BARRY HOOPER – PHIL OZBURN | 9.55 | | |
| 57 | DAVID USELTON – MARK KERSEY | 9.51 | | |
| 58 | CLAY NIX – CALEB NIX | 9.42 | | |
| 59 | WAYNE GARNER – BRIAN GARNER | 9.32 | | |
| 60 | RICKY GRAY | 8.73 | | |
| 61 | GRAHAM ECHOLS – JUSTIN GUIN | 8.68 | | |
| 62 | TYREE RAPTIS – CLAUDE RAPTIS | 8.63 | | |
| 63 | AARON BATSON – MICHAEL MINCEY | 8.54 | | |
| 64 | LAMAR MOODY – VERLAND BEST | 8.45 | | |
| 65 | DUSTIN KLIMEK – EDDIE SIMPSON | 8.43 | | |
| 66 | GREG RICKETSON – DARREN TAYLOR | 8.37 | | |
| 67 | ANDY TIPPENS – RUSTY WILLIAMS | 8.35 | | |
| 68 | BRAD STALNAKER – CHRIS LUMPKIN | 8.35 | | |
| 69 | BARRY STOKES – RUSSELL HALL | 8.34 | | |
| 70 | STEVE DONALDSON – BRAD DAVIS | 8.11 | | |
| 71 | LARRY CASON – BUDDY McCOWAN | 8.11 | | |
| 72 | MATT SELLARS – BEN BRAND | 7.95 | | |
| 73 | KEN COTHRAN – JASON SMITH | 7.93 | | |
| 74 | DEREK SNIDER – TRAVIS SNIDER | 7.92 | | |
| 75 | DAVID MILLSAPS – JIMMY MILLSAPS | 7.81 | | |
| 76 | CHAD BARKER – KEVIN JOOST | 7.69 | | |
| 77 | MIKE CHESTER – MARK BISHOP | 7.55 | | |
| 78 | MIKE YORK – MIKE RILEY | 7.54 | | |
| 79 | SCOTT CHATHAM – ROBERT SMITH | 7.52 | | |
| 80 | DON RANDALL – RICKY RANDALL | 7.42 | | |
| 81 | MATT EDWARDS – SCOTT CHANDLER | 7.05 | | |
| 82 | MICHAEL BROCK – BRIAN COX | 6.66 | | |
| 83 | DANNY WHITE – MIKE BLACKSHEAR | 6.47 | | |
| 84 | RICHARD HOLDEN – JEFF FERRELL | 6.36 | | |
| 85 | BILLY HENSLEY – CHUCK KIBLINGER | 5.87 | | |
| 86 | JOHN DUVALL – JACK MORRIS | 5.81 | | |
| 87 | JACK BROWN – RAY COLLINS | 5.72 | | |
| 88 | JIM JORDAN – BUBBA JORDAN | 5.71 | | |
| 89 | DALE WHITE | 5.67 | | |
| 90 | CHRIS JONES – RAYMON COX | 5.61 | | |
| 91 | JASON SMITH – DINK WILLIAMS | 5.28 | | |
| 92 | BILL BLOUNT – WAYNE FAUSCETT | 5.25 | | |
| 93 | ROGER WHITE – ADAM CLAY | 5.05 | | |
| 94 | TIM WILDER – BRUCE TOWNSEND | 4.58 | | |
| 95 | JASON SAYERS – JOHNNY DEATON | 4.47 | | |
| 96 | KEVIN SANDERS – KONNER SANDERS | 4.43 | | |
| 97 | MORRIS SMITH – JOHNNY LINDSAY | 4.04 | | |
| 98 | MICHAEL McCLENDON – JUSTIN PAIR | 3.97 | | |
| 99 | KIP CARTER – JOE ELLINGTON | 3.72 | | |
| 100 | MICKEY McHENRY – DOUG BLOUNT | 3.37 | | |
| 101 | JEFF PARKER – TODD PETERSON | 3.32 | | |
| 102 | JUSTIN BUCKLES – CHADD JONES | 3.22 | | |
| 103 | RONNIE McMULLEN – TONY CURTIS | 2.34 | | |
| 104 | JEFF NORRIS – MIKE KEEBLE | 2.26 | | |
| 105 | DAVID BRANTLEY – CLAYTON WILLIAMS | 0.00 | | |
| 105 | WHITMAN GASAWAY – CLAYTON GASAWAY | 0.00 | | |
| 105 | BRAD GANDEE – CHRIS SAUNDERS | 0.00 | | |
| 105 | BEN WOODCOCK | 0.00 | | |
| 105 | TERRY DIETSCH – JON DIETSCH | 0.00 | | |
| 105 | KEITH SCARBROUGH – STANLEY DUNN | 0.00 | | |
| 105 | HOWARD DAVIS – ASHLEY NEWELL | 0.00 | | |
| 105 | RAY KESSLER | 0.00 | | |
| 105 | EDDIE ROBERTS – ED ROBERTS | 0.00 | | |
| 105 | STEVE VOWELL – JIMMY HODGES | 0.00 | | |
| 105 | RICKY CLEGHORN – DUSTY FRANK | 0.00 | | |
| 105 | JOSH KELLY – TRAVIS CLAY | 0.00 | | |
| 105 | JASON GUNN – JAMES GUNN | 0.00 | | |
| 105 | ESTON SLACKS – GEORGE JOHNSON | 0.00 | | |
| 105 | JEFF OWENBY – SCOTT KUHN | 0.00 | | |
| 105 | DANNY WILLIAMS – EVAN WILLIAMS | 0.00 | | |
| 105 | STEVEN RUTHERFORD – DEAN RUTHERFORD | 0.00 | | |
| 105 | JAKE MITCHELL – LARRY POOLE | 0.00 | | |
| 105 | DAVIS DRAKE – BRANDON LANDRY | 0.00 | | |
| 105 | BUSTER HELTON – MIKE HARRINGTON | 0.00 | | |
| 105 | MIKE STALNAKER – HUNTER STALNAKER | 0.00 | | |
| 105 | CARLTON PONDER – BYRON CARTER | 0.00 | | |
| 105 | MARTY GEORGE – CHRISTOPHER MARTIN | 0.00 | | |
| 105 | MARTIE MURPHY – COLE MURPHY | 0.00 | | |
| 105 | LEON BLOW – MARK HANNAH | 0.00 | | |
| 105 | ADAM WALL – TODD DOW | 0.00 | | |
| 105 | ROBERT ANDERSON – CASON ANDERSON | 0.00 | | |
| 105 | CHAD WILSON – ALAN ROBERTS | 0.00 | | |
| 105 | DANNY WHIDBY – MARK WHIDBY | 0.00 | | |
| 105 | JUSTIN KIMMEL – STEPHEN MAY | 0.00 | | |
| 105 | RAY SWORDS – SLADE JOHNSON | 0.00 | | |
| 105 | STEVE TAYLOR – JARED STRICKLAND | 0.00 | | |
| 105 | SHANE TYSON – GREG PUTNAL | 0.00 | | |
| 105 | JUSTIN LANIER – RUSTY COHEN | 0.00 | | |
| 105 | LANCE TEMPLETON – MIKE OXFORD | 0.00 | | |
| 105 | ROGER STUBBS – JEFF CARREKER | 0.00 | | |
| 105 | JIMMY LITTLE – BILLY DUVALL | 0.00 | | |
| 105 | KELLEY CLARK – FRANK BURRIS | 0.00 | | |
| 105 | MIKE COURSEY – SHAWN MALCOM | 0.00 | | |
| 105 | JARED KUTIL – JOSH FUTCH | 0.00 | | |
| 105 | JOE PENNONE – CHAD CLEGHORN | 0.00 | | |
| 105 | BARRY HARDIN | 0.00 | | |
| 105 | JEREMY YORK – BRIAN BELL | 0.00 | | |
| 105 | DAVIS SANSBURY – VALERIE SANSBURY | 0.00 | | |
| 105 | SCOTT LOCKLEAR – BRYANT ROLAND | 0.00 | | |
| 105 | TIM SPIVEY | 0.00 | | |