Bassinova Baits Forms Strategic Partnership With Boing Lures
Two great American-made lures with premium components joining forces
May 10, 2023
Tod Costello, the owner of Idaho's Bassinova Baits, and Jason Yocum, the owner of Indiana's Boing Lures, have announced a strategic partnership that will see the two companies collaborate on multiple lures and other projects going forward, starting with a Frog Head Buzzbait that will be available shortly.
"After working as an electrician for 30 years, I realized that there was enough demand to make Bassinova a full-time job to compete on a national level," Costello said. "My lures are labor-intensive. Each one is built by hand, not on a production line, and all of our components are American-made. That's important to me and I know it's important to Jason, so we've teamed up to better utilize our respective talents and networks."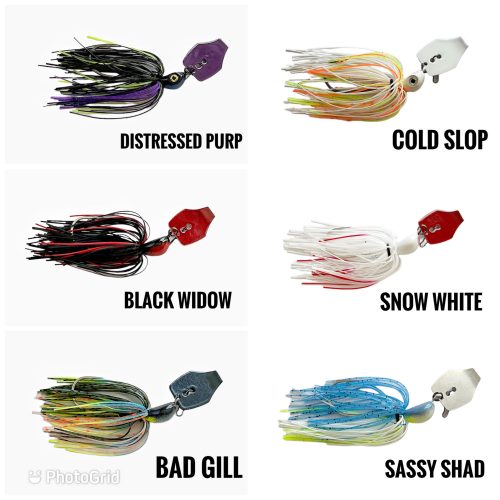 Bassinova, then based in California, started off with Earthshaker Bladed Jigs in August of 2010 and they remain the company's flagship product. A distinctive bent blade allows them to operate consistently and effectively whether slow-rolled or burned at warp speed. The company powder paints each blade by hand to ensure that it meets their exacting standards, and the lures, available in five sizes from ¼ ounce to a full ounce, are available in paint schemes and skirt patterns tailored to highly specific forage types and water conditions. Customers are also invited to reach out to develop custom patterns, including multiple color heads and distinctive or thicker skirts, all for a price lower than many more well-known brands.
In recent years, Costello has extended his lineup to include various types of jigs, all of which are similarly hand-built with exceptional attention to detail. That's what attracted Yocum to the partnership.
"Through my years with Boing developing topwater lures, I've always placed a premium on being distinctive and different, while also ensuring that each product is best in class," he said. "I saw a similar spirit in Tod, and I knew that not only were our values aligned, but that we could push each other to produce new gear that would resonate with demanding anglers."
As noted above, the Buzzbait will be available soon, and additional products should follow shortly thereafter. Boing Lures are available at Tackle Warehouse and many leading online and brick-and-mortar outlets. While Bassinova's products are currently only available through the company's website – where a personal touch remains their hallmark – that should change in the near future as the direct result of this partnership.