Arey hopes to make Magic Kingdom memories at Okeechobee
Courtesy of Alan McGuckin – Dynamic Sponsorships
Cleveland County, North Carolina, where Team Toyota's Matt Arey calls home, is well-known for a Bigfoot named Knobby and a unique food item called liver mush. But lately, Arey's thoughts have involved Florida's most famous mouse and massive bass fishery, Lake Okeechobee.
The Arey family recently spent quality time with neighbors at Walt Disney World® where the highly competitive angler had his heart softened watching youngest daughter Wren get treated like a princess at Bibbidi Bobbidi Boutique, and her big sister, Reese gain self-confidence by riding down Splash Mountain.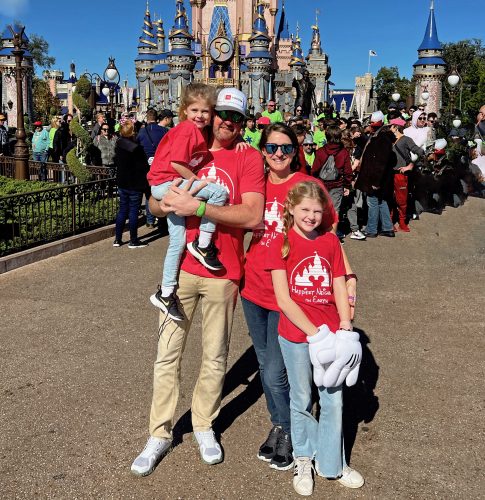 "Those are moments I'll treasure forever as a dad," says Arey. "Wren is 6-years-old, which is the perfect age for a little girl to experience Disney, and seeing Reese breakthrough some of her fear barriers and gain self-confidence after riding Splash Mountain made me super proud of her," reflects Arey.
A month from now, Arey will rely on his own self-confidence when he returns to Florida to begin a brand new Bassmaster Elite Series season at Lake Okeechobee during Valentine's week.
"I've had a love-hate relationship with Okeechobee over the years. The two biggest bass I've ever caught in my life both came from Okeechobee during practice days. They were both 10-pounders. But I've also struggled to cash good checks there," says Arey.
The iconic South Florida fishery has had its share of ecological strugglesrecently related to nutrient overloads, toxic algal blooms, and intense water level fluctuations.
"The water is really high there now, and on most fisheries that spreads anglers out, but at Okeechobee, high water forces muddy water into normally prime fishing areas, resulting in a lot fewer areas with the cleaner water everybody will be looking for," he explains.
Asked what lures he's confident will be major players, Arey chose a 5" black/blue Lunker Stick, and a 3/8-ounce swim jig from Lunkerhunt in a color called "spawner."
"A soft stick bait like the Lunker Stick has probably caught more bass in Florida the past 20 years than any lure on earth, and it's a great tool to get bites when fishing pressure has slowed the bite way down after we've pounded all the good water for several days," says Arey.
Secondly, he'll tie on a swim jig just like the one daughter Reese is holding in the palm of her oversized Mickey glove to comb vast acres of what the locals call flooded hay fields.
"I put a little boot-tail swimbait on the back of it for a trailer, tie it to 40-pound P-Line braid on a 7' 4" heavy action rod and cover a ton of water. It's hand-to-hand combat bass fishing that can be an absolute blast!" grins Arey.
Ultimately, he hopes the soft stickbait and swimjig lead to memories on par with Bibbidi Bobbidi Boutique and Splash Mountain. Because Arey will be the first to tell you Okeechobee is overdue in granting him a Disney-sized helping of success as he makes a run at qualifying for his fifth consecutive Bassmaster Classic.