Anatomy of a Win(ner) – Hobie Kayak PRO-File
Vance McCullough / Photos Courtesy of Jay Wallen Facebook Page
With 3 big wins under his belt in recent years, Jay Wallen is no stranger to success in major kayak bass tournaments but with a runner-up finish at the KBF Open on South Carolina's Santee Cooper Reservoir in May and an outright victory at the KBF Open on the Upper Mississippi River July 22nd, Wallen is on a heck of a roll, even by his standards.
And it could have been better.
"I fished two Opens this year," says the veteran kayak tournament angler. "The first was at Santee. I got 2ndthere. Just missed – had a bite at the end there that I think would have done it, but I just didn't make it happen."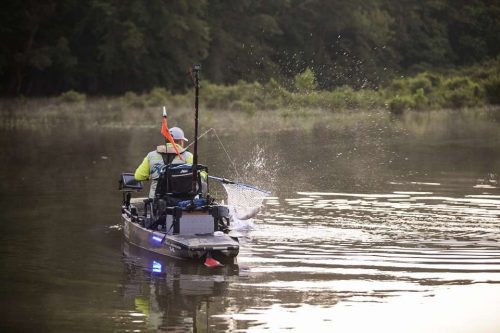 Wallen won the Hobie Bass Open last year. "The payout wasn't quite that high, but that was a very big tournament, like 120 anglers, I think. I won the first Open 3 years ago on Kentucky Lake. So I've won some but as far as payday goes, this is by far the biggest."
For his performance in Wisconsin Wallen won $10,000. Did he imagine, just a few short years ago, after his first big win, that he would ever cash a check for ten-grand at a kayaktournament? "No way, man. No way.
"I started fishing with a local club here in Lexington. Thirty-five-dollar entry fees and somebody would win a few hundred bucks. We thought that was great. And it was! But then KBF comes along and offers us an opportunity to win, not just ten-thousand dollars but $100,000 at the National Championship.
"But I never would have imagined fishing out of a plastic boat for this kind of money, at this kind of level. It's a crazy deal."
Among Wallen's favorite aspects of kayak fishing are the low barriers to entry which allow for massive participation in the game of kayak fishing, as well as the sport of fishing in general. "It's the easiest way to get into it. You don't need anybody to take you. It's cheap when compared to the cost of owning a bass boat. There are so many great things about it that make it very accessible for a beginner. It's a great venue to get people started."
What's the process that has worked so well for Wallen? Frankly, it boils down to common sense, sustained effort, and a good decision or two at the right time.
The drive from Kentucky to Wisconsin took over 10 hours. Wallen was left with one day to practice on water he had never seen. Pre-scouting was critical. "I had been doing my homework, been looking at maps and, of course I always go through all the old Bassmaster and FLW results, read all the articles through the years and look at all the historical data I possibly can. The Internet has been such a big help. There's no replacement for pre-fishing but I can't get up there and pre-fish ahead of time so I do a lot of pre-fishing at home, so to speak, watching the U.S. flood gauge, watching the river come up and down, just trying to keep up with it.
"I scouted out a handful of spots that I would want to fish," said Wallen who runs a Hobie Pro Angler 14 and used the Mirage Drive to pedal over 15 miles throughout the course of practice and two tournament days. "I knew I only had a day to do it so I went up there and kind of made my run. I went spot-to-spot and just started systematically checking them. I happened to find a weed bed that was about 75 yards long and they were just laid up thick in it. They weren't everywhere. Within that weed bed there were two or three little sweet spots. On my practice day I wasn't trying to hook them. I was using a frog and they were blowing up on it so I could tell they were bass because they were coming all the way out of the water."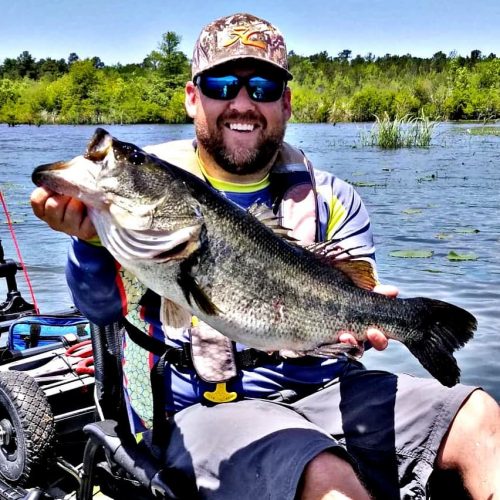 Wallen drilled down on his loaded weed bed on day 1 of the tournament to catch a quick limit on a Spro Dean Rojas Bronzeye Frog in the 65 size and Rainforest Black color. 65-lb Power Pro was his braided line of choice.
He then rested his best area for Day 2. "I had a couple other areas that were similar. They weren't producing as well. I pretty much had one primary spot."
An overnight weather change and a drop in the river level dictated a corresponding change in tactics during the 2ndcompetition round. "A little cold front moved through toward the end of Day 1 and we had bluebird skies for Day 2. I thought that might actually help the frog bite; might push them further up under the mat and once I got them going, they'd eat once the sun came out. That just didn't happen. I had a couple of blow ups on the frog but they were not committed to it. It just wasn't happening.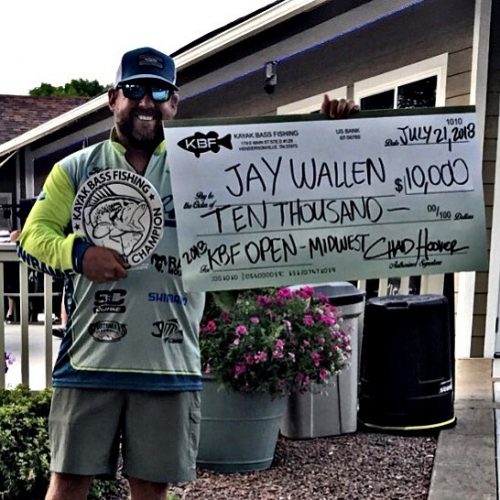 "I backed out of the thick matted stuff. Right out in front of it was some scattered clumps of lily pads and hydrilla and duck weed. It was all just kind of scattered. It wasn't clumped up so I started throwing a Chatterbait. Typically, I throw the Picasso Shock Blade but I didn't have the right color. That water was pretty dark and they wanted that black and blue color. I couldn't get them on anything else so I threw the black and blue Jack Hammer in there and, man, they loaded up on it. That happened pretty quick once I figured that out.
"The river came down about 6 inches overnight and I think that pulled some of those bass out of that cover I had been fishing the first day.
"It was a reaction bite. Rip that thing by a little isolated clump of pads and see them shake. I was just calling the bass right out of the weeds."
Wallen used a 3/8 oz Jack Hammer on 16-lb Sun Line Shooter fluorocarbon to put him in striking distance of another win.
Still, he felt he needed another cull. He found one.
"It's probably the coolest fish catch I've ever had in my life.
"I went to my other area. I gave myself an hour – that's about all I had left. I go in there and there's a little commotion on top of the water around some grass. I start looking and there's a bass tailing, his fins sticking up out of the water. He looks like a redfish. Craziest thing I've ever seen. So I flipped a (Strike King) Caffeine Shad right in front of that bass and he rolled and just choked it. Dude, that one was 16-and-a-half inches and it culled out a 14-incher. That pretty much did it for me."
"Frog, Chatterbait and a Caffeine Shad. That was the one, two, three," said Wallen who keeps his Hobie organized, in part, by using a Bait Sack, made by Cal Coast Fishing. "It's just a little sleeve that keeps your hooks protected and keeps you from hooking and tangling things up. In a kayak, I've got so many rods with me, that Bait Sack makes a huge difference, saves time and keeps me organized."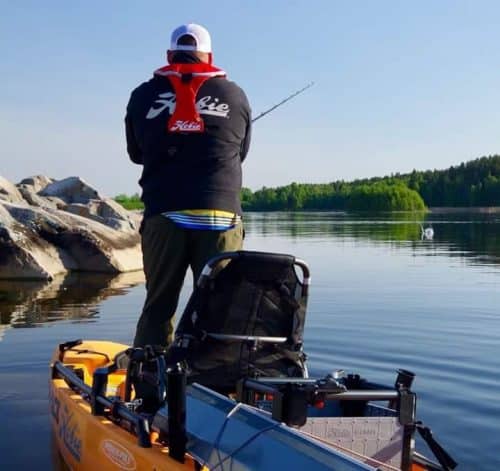 Wallen tossed the trio on Shimano reels and G. Loomis rods. "Those things saved my butt several times, getting good hooksets on those frogs. For my frogs I'm using the IMX Pro Frog Rod, 7'3". It's a pretty stout rod."
An eternal student of the game, Wallen is still refining his techniques, evaluating his performance even in the afterglow of victory. "Just a mistake that I noticed on my part that I kind of got away with – and I put some time in with a frog, but I don't throw it a whole lot – so the reel I was throwing my frog on is a bulldog. It's an old Chronarch. It's like a 12-year-old reel, one of my favorite reels, but it's a really slow reel. There were a couple of instances where I set the hook on a fish and I couldn't get it out of that grass because my reel was too slow and the fish would burry down in that grass and before you know it, it was just heavy weight and all I got back was a big wad of grass and no bass. Something I learned was that, with my frog setup I need to be throwing a high-speed reel. At least a 7.1-1 ratio, maybe an 8.
"Just something I learned that I can pass along. A learning experience that, luckily, didn't cost me but definitely something I learned from."
Wallen is a proven winner. He knows how to close the deal. You can learn a lot from him and engage with him personally at:
Youtube.com/jaywallenfishing
Facebook.com/jaywallenfishing
Instagram.com/jaywallenfishing