AFT D-96 Tournament Results, Clarks Hill Lake – August 19th, 2018
 D-96 2018 Season Qualifier Tournament
Courtesy James Satterwhite
There were 21 anglers fishing this Division 96 1-day qualifier tournament at Clark Hill out of the Dorn Facility near McCormick, SC. There were 54 fish brought to the scales that weighed a total for 98.22 lbs.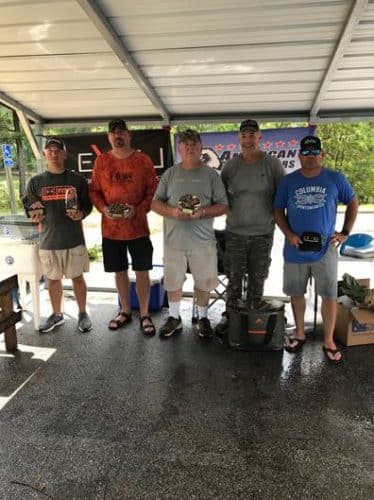 Group photo from left to right: 1st place Chase Stewart of Ware Shoal, SC / 2nd place Don Branham of Hodges, SC / 3rd place Don Kneece of Saluda, SC / 4th place Andy Lake of Batesburg, SC / 5th place Kevin Bragg of Laurens, SC. The day started out at with overcast skies, 71 degrees with a slight breeze, reaching a high temperature of 91. At the 3pm weigh-in we had nice rain shower, that seemed to be meant just for us, since it wasn't raining anywhere else. The rain cooled off the setting until the sun came back out creating a nice steamy outdoor sauna.
– First place, Chase Stewart had a 5.98lbs kicker that anchored his (5) fish limit of 12.21lbs for the win. Congrats! Chase fished the middle portion of the lake through-out the day, catching his best fish on a frog or buzzbait later in the day. The payback for first place, first place option, and Big Fish option earned Chase $770, along with the first place trophy.
– Second place, Don Branham had a (5) fish limit weighing 9.35lbs. The payback for second place and second place option earned Don $400 to go along with the second place trophy.
– Third place, Don Kneece had (4) fish weighing 9.11lbs. The pay back for third place was $105 and the third place trophy.
– Fourth Place, Andy Lake had a (5) fish limit weighing 9.04lbs. The pay back for fourth place was $70 plus a discount coupon from Level Performance Rods worth a $50 value towards the online purchase of any Level Performance Rod!
– Fifth place, Kevin Bragg had (4) fish weighing 7.53lbs. Fifth place didn't receive a payback but Kevin did receive a nice Level Performance Rods hat.
The next D-96 tournament for the 2019 season is a Division 1-Day Qualifier on Lake Hartwell, September 16thout of the Greenpond ramp, in Anderson SC.
Our local sponsors will be providing products or money for products for the anglers fishing Division 96 tournaments. Please give them your support by looking to them first when considering your purchases. They are supporting you!
Level Performance Rods: Rods designed and fished by FLW Pro Anthony Gagliardi of Prosperity, SC. See the complete line of these affordable rods atwww.levelfishingrods.com (803-500-2354) Also Level Rods are at Palmetto State Armory Fishing Outpost Fernandina Road in Columbia, SC.
We have (10) $50 coupons, (1) to be given out at each event, and 1 Level Rod are to be awarded to D-96 anglers for the Big Sack of the Season.
Kneece Investigations, LLC Saluda, SC www.kneeceinvestigations.com (864-445-3713) (one stop for both your Investigative and Surveillance Equipment needs)
Angler's Headquarters: (previously SCFishingTackle.com) Committed to providing our customers with the best prices and customer service on all of our merchandise, including the complete line of Buckeye Lures products. In the coming months we will continue to add more brands, and we will continue to guarantee the lowest prices around as well as excellent service.  If you find a lower regular price on an item, let us know and we will match or beat it.  We are located in Columbia, SC, but can ship our products anywhere in the United States.  You don't have to be in South Carolina to enjoy our fishing tackle! We have quietly been in business for more than five years, but we are now expanding our product line and marketing.  Be sure to check out our sister website www.scfishingreport.com.  Email: [email protected]; Phone: (803) 253-4084;
Palmetto Electrical Systems serving Greenwood, SC. Residential & Commercial Services – 30 years' experience – Quality Service – Reasonable Prices – Free Estimates – Locally owned and operated by Mark T. Abbott – 8117 Highway 246 S, Ninety Six, SC – 864-227-8500
Complete results and news on www.aba-sc.com and see your photos on 'facebook' at D-96 American Fishing Tour
Up Coming Tournaments:
D-96  Sept 16, 2018             Hartwell      Greenpond Ramp
D-25  Sept 23, 2018             Hartwell      Greenpond Ramp
D-18  Oct 20, 2018               Wylie          Buster Boyd Ramp