Just a few years back Brandon Palaniuk used the exposure from the Bassmaster Classic as a springboard to launch a brilliant career. Now another charismatic young pro, Skylar Hamilton aims to do the same.
The 21-year-old from Dandridge, Tennessee punched his ticket to the Classic when he won the Bassmaster Central Open on the Arkansas River earlier this year, winning by an ounce with a total weight of 45 pounds, 6 ounces.
Another great catch for Hamilton is his new 21-foot Xpress Bass Boat that he will fish from at the Classic on Lake Conroe near Houston, Texas.
Clay Connor, Marketing Director for Xpress Boats, feels that Hamilton is quite a catch for the company as well.
Hamilton looks forward to fishing the Classic. He figures the bite may play to his strengths.
"With few exceptions, if I have to fish deeper than 10 feet I'm out of my comfort zone," says Hamilton. "I believe the Classic will be won from somewhere between 8 foot of water up to the bank."
Likewise, Hamilton says aluminum boats fit his style of fishing, while adding some value that anyone can appreciate. For starters, the durability of aluminum is unmatched. "It is nice to not worry so much about hitting a stump or a rock when I go to move."
Of course, there are other advantages. "The biggest thing people worry about with an aluminum boat is how it rides," says Hamilton. "I rode in a 19-foot Xpress and it was fine, but when I drove the 21-footer, it was on another level. That extra bit of length really levels out the ride. It changes how the boat sits in the water. That makes a big difference because that's another concern everybody has with aluminum – the way the wind pushes them around but that's mostly due to the fact that the nose sits up out of the water so high. I've run an inferior 17-foot aluminum boat with a 70 horse on the back and, if I packed my weight right, it sat fairly level. This 21-footer from Xpress already sits in the water better and, of course, it runs smoother too."
Another benefit of a bigger boat is the bigger motor that it can tote. Not only does the extra length help, but Xpress is the only aluminum boat maker to offer a pad hull design. And that is the key difference, according to Connor. "That pad hull design is what allows our boats to get up and run like a glass boat. It is what separates an Xpress from all other aluminum manufacturers. Nobody else offers a pad hull. You can hang a Yamaha 250 SHO on our 21-footer."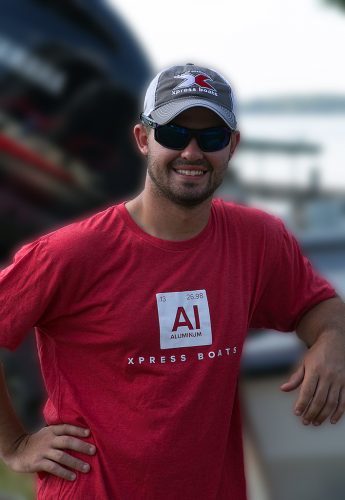 Hamilton said his Xpress boat runs better than at least a couple of brands of fiberglass boats he has fished before.
Regardless of the physical advantages of aluminum – lighter weight, durability, speed – it may be the fiscal rewards afforded by a quality welded boat that seal the deal for most anglers. Hamilton notes, "College fishing and high school fishing is a big deal now. We've got all these young anglers coming along and I don't want them to think they have to have a $70,000 fiberglass rig in order to compete. I will be fishing the Classic and the Elite Series in a 21-foot Xpress."
Aside from the sticker savings, lighter rigs burn less gas, both on the lake and while being towed over the road.
"And with the money you save by buying an Xpress, you can afford to add a lot of nice features such as Power-Poles, an upgraded trolling motor and really nice electronics."
Speaking of electronics, Hamilton says his Raymarine unit was instrumental in his win on the Arkansas River. That was a shallow water affair. The upcoming Classic should be as well.
By the way, given John Cox's recent Forrest Wood Cup victory, from an aluminum boat, Hamilton has a chance to make it a clean sweep for metal craft in championship events. Let's see if this young pro can make a splash on bass fishing's biggest stage.