2018 American Bass Anglers Ram Truck Open Series Schedules Announced
Posted On October 4, 2017
---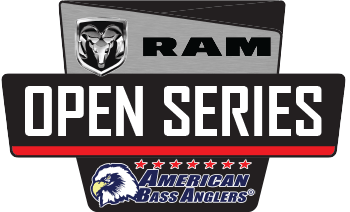 October 2, 2017
Athens, AL. American Bass Anglers announced today the 2018 Ram Truck Open Series schedules with 81 tournaments in 18 divisions, in a Pro/Am style format. The series offers a guaranteed $5,000 minimum to the first place to Boaters at all one-day events and at the two-day Area Championships a guaranteed $10,000 minimum for first place Boater and $5,000 for first place Co-Anglers. At the end of the season, qualified anglers will advance to the 2019 Ray Scott Championship, named after the legend Ray Scott who started modern day bass tournaments.
One new division will be introduced in 2018, South Texas. Texas anglers can now compete on Lake Conroe in the same region as South-East Texas. These two divisions will compete on Toledo Bend in late September at the Area 6 Championship.
Each division will hold four one-day qualifying events and anglers who compete in three or more events in their home division will division will qualify to enter the two-day Area Championship.
Area Championships are held on a lake that both divisions compete on, a local but neutral lake, or in some cases the location will be flipped between the two divisions within their area annually. The locations are selected to level the playing field as much as possible for the anglers while reducing travel. At Area Championships the full field competes both days which gives all anglers a much better opportunity at qualifying for the Ray Scott Championship.
Entry fees for Divisional one-day events are $200 for Boaters and $100 for Co-Anglers. The two-day Area Championships entry fee is $300 for Boaters and $150 for Co-Anglers. The Ray Scott Championship has no entry fee.
To advance to the Area Championship anglers must have fished as either a Boater in three one-day events or a Co-Angler in three one-day events or a combination of four one-day events within their region.
Each division will advance anglers to the Ray Scott Championship. The top ten (10) Boaters and top ten (10) Co-Anglers from each division by points after the Area Championship will advance. The top five (5) Boaters and top five (5) Co-Anglers at the Area Championship by place of finish, who do not advance by divisional points, will also advance. Divisional points are awarded to each angler who competes in events within a division including the Area Championship.
The top angler (Boater and Co-Angler) by points from each division, after the Area Championship, will be awarded Divisional Angler of the Year. Divisional Anglers of the Year will have their 2019 entry fee (Boaters – $1,100, Co-Anglers $550) waived for the division of their choice. Total points accumulated from four one-day events within a division plus Area championship determines the Divisional Angler of the Year.
Boaters are always guaranteed use of their boats at all events. Co-Anglers registering as a package entry will receive priority entry into each event in that division. Co-Anglers can guarantee their spot in an event by "linking" with a registered Boater.
More information can be viewed on the RamOpenSeries.com website including payouts, schedules, and additional information.
Registration will open at 8 AM CST October 20, 2017, on the RamOpenSeries.com website or by calling 256-232-0406.
Boater and Co-Angler Package Registrations from October 20 through December 1, 2017, will each receive special incentives.
2018 Schedules
| | | | |
| --- | --- | --- | --- |
| Division | Dates | Lake | Launch Ramp |
| | | | |
| Area 1 | | | |
| North Alabama | 02/03 | Guntersville | Goose Pond |
| | 03/17 | Wheeler | Joe Wheeler State Park |
| | 04/28 | Neely Henry | Coosa Landing |
| | 06/09 | Weiss | Leesburg Landing |
| | | | |
| Mississippi | 03/03 | Columbus Pool | Columbus Marina |
| | 04/14 | Ross Barnett | Tommys Trading Post |
| | 05/05 | Ross Barnett | Tommys Trading Post |
| | 08/18 | Pickwick | JP Coleman State Park |
| | | | |
| Championship | 09/08-09 | Pickwick | McFarland Park |
| | | | |
| Area 2 | | | |
| Kentucky/TN | 03/10 | Kentucky | Moors Resort |
| | 04/14 | Kentucky | Paris Landing State Park |
| | 06/23 | Kentucky | Kentucky Dam Marina |
| | 08/25 | Kentucky | Paris Landing State Park |
| | | | |
| Central Tennessee | 02/24 | Center Hill | Ragland Bottom |
| | 03/24 | Percy Priest | Fate Sanders |
| | 05/05 | Old Hickory | Sanders Ferry |
| | 06/16 | Old Hickory | Sanders Ferry |
| | | | |
| Championship | 10/13-14 | Kentucky | Paris Landing State Park |
| | | | |
| Area 3 | | | |
| South Alabama | 02/03 | Eufaula | Lakepoint Resort State Park |
| | 04/21 | Martin | Wind Creek State Park |
| | 05/19 | Jordan | Bonners Landing |
| | 06/16 | Logan Martin | Lakeside Park |
| | | | |
| Geogia | 02/10 | Eufaula | Lakepoint Resort State Park |
| | 03/10 | Seminole | Reynolds Landing (Big Jims) |
| | 04/28 | Sinclair | Little River Park |
| | 06/09 | Oconee | Sugar Creek Marina |
| | | | |
| Championship | 10/13-14 | Eufaula | Lakepoint Resort State Park |
| | | | |
| Area 4 | | | |
| North Carolina | 02/10 | Norman | Pinnacle |
| | 03/24 | Hickory | Wittenburg |
| | 04/28 | Kerr | Nutbush |
| | 05/19 | High Rock | Tamarac Marina |
| | | | |
| South Carolina | 01/27 | Keowee | South Cove County Park |
| | 02/17 | Murray | Dreher Island State Park |
| | 04/21 | Hartwell | Green Pond |
| | 06/09 | Clark's Hill | Dorn Facility |
| | | | |
|  Championship | 10/13-14 | Norman | Blythe Landing |
| | | | |
| Area 5 | | | |
| Florida Central | 01/20 | Toho | Lakefront Park |
| | 02/24 | Kissimmee Chain | Camp Mack |
| | 03/17 | Harris Chain | Hickory Point Recreation Facility |
| | 05/05 | Toho | Lakefront Park |
| | | | |
| Florida South | 01/13 | Okeechobee | Roland Martin Marina & Resort |
| | 02/17 | Okeechobee | Scott Driver |
| | 03/24 | Okeechobee | Scott Driver |
| | 05/12 | Okeechobee | Roland Martin Marina & Resort |
| | | | |
| Championship | 09/29-30 | Kissimmee Chain | Camp Mack |
| | | | |
| Area 6 | | | |
| Southeast Texas | 02/24 | Sam Rayburn | Umphrey Pavillion |
| | 04/28 | Sam Rayburn | Umphrey Pavillion |
| | 06/09 | Sam Rayburn | Umphrey Pavillion |
| | 09/15 | Sam Rayburn | Umphrey Pavillion |
| | | | |
| South Texas | 03/17 | Lake Conroe | Lakeview Marina |
| | 05/19 | Lake Conroe | Lakeview Marina |
| | 06/23 | Lake Conroe | Lakeview Marina |
| | 08/25 | Lake Conroe | Lakeview Marina |
| | | | |
| Championship | 10/20-21 | Toledo Bend | Cypress Bend Park |
| | | | |
| Area 7 | | | |
| Texas Central | 02/03 | Cedar Creek | Log Cabin |
| | 03/24 | Lake Palestine | Villages Marina |
| | 06/30 | Lake of the Pines | Johnson Creek |
| | 09/08 | Toledo Bend | Cypress Bend |
| | | | |
| Oklahoma | 03/10 | Arkansas River | Three Forks Harbor |
| | 04/21 | Eufaula | South Cove |
| | 05/12 | Grand Lake | Wolf Creek |
| | 06/16 | Ft Gibson | Taylor's Ferry North |
| | | | |
| Championship | 10/06-07 | Lake Texoma | Highport Marina |
| | | | |
| Area 8 | | | |
| Virginia | 02/24 | Kerr | Nutbush |
| | 04/14 | Gaston | Holly Grove Marina |
| | 06/23 | Kerr | Nutbush |
| | 08/11 | Gaston | Holly Grove Marina |
| | | | |
| Maryland | 03/31 | Potomac | Smallwood |
| | 04/21 | Chesapeake Bay | Anchor Boats Marina |
| | 05/12 | Potomac | Smallwood |
| | 06/02 | Chesapeake Bay | Anchor Boats Marina |
| | | | |
| Championship | 09/22-23 | Kerr | Nutbush |
| | | | |
| Area 9 | | | |
| Ohio | 05/12 | Indian | Moundwood State Park |
| | 06/02 | St. Mary's | West Bank |
| | 07/14 | Ohio River/ Tanner's Creek | Lawrenceburg City Ramp |
| | 08/04 | Ohio River/Maysville | Maysville River Park |
| | | | |
| New York | 06/16 | Lake Champlain | Ticonderoga |
| | 07/07 | Cayuga | Union Springs |
| | 07/21 | 1000 Islands | French Creek Marina |
| | 08/18 | Lake Champlain | Plattsburgh |
| | | | |
| Championship | 09/15-16 | Chautauqua | Mayville Park |
To learn more about the Ram Trucks Open Series, visit www.RamOpenSeries.com
About American Bass Anglers: American Bass Anglers is committed to providing low cost, close to home tournaments for the weekend angler and at the same time offer each competitor an upward path for individual angler progression. For more information about American Bass Anglers, the Ram Truck Open Series, the American Fishing Tour or the American Couples Series, visit www.americanbassanglers.com 
---