Well, another year has zipped steadily by like a buzzbait churning past a Lake Norman dock piling. And what a year it was. From the Bassmaster Classic in Oklahoma's winter winds to the Forrest Wood Cup in Alabama's August heat, there's been much to talk about.
One of the things the AnglersChannel.com staff has been most excited about is the addition of industry veteran Chris Brown as company president. Chris has made a tremendous impact on our web presence with a renewed focus on social media and a recently-unveiled new incarnation of the AnglersChannel.com web site. But y'all aint seen nothing yet. Stick around!
On the FLW Tour a couple of minimalists ruled. Andy Morgan, who does what he does and lets 5 fish-per-day come to him, won his 3rd Angler of the Year title. In 4 years. And John Cox, who fishes from an aluminum rig and eschews electronics (except for GPS), won the Forrest Wood Cup.
Morgan began the year with a 40th place showing on Lake Okeechobee – better than he usually fares on that lake. One more mediocre finish on Hartwell was followed by 4 Top 20's, including 2 Top 10 performances. He didn't win an event. Morgan has claimed the AOY crown in 3 of the last 4 seasons without winning a tournament in that time span. You have to reach back to 2007 to find a Tour level win on Morgan's resume. But the guy nearly always spends the weekend pushing his boat across the water with his Evinrude outboard after so many competitors have missed the cut and are towing their boats over the asphalt with their trucks.
How does Morgan maintain that level of consistency? I'll steal a quote from Curtis Niedermier's excellent interview with Morgan in FLW's Bass Fishing magazine: Morgan notes, "I stick to what brung me, pretty much. I'll put a new twist on things, but it's very seldom. I don't modify much. If Livingston, Zoom or War Eagle makes it, that's it. They've bit a damn plastic worm for 100 years, and they're not going to stop in the next 100 years."
In contrast to Morgan, Scott Martin did win a Tour tourney. His victory on Lake Champlain this past summer gives Martin the record for the most FLW Tour wins in history, at 6. Three of them have come on Champlain. By the way, that one AOY title Morgan didn't win in the past 3 years – Martin won that in 2015.
We look forward to seeing those two gentlemen pick right back up in 2017. Should be another hot race.
The Cup could have been a deep water affair. Except, there was little current so the bass suspended and a topwater derby ensued. Popular areas on the lower third of Lake Wheeler were often crowded. Feelings got hurt. Frustration reigned. A few nice fish were caught. Meanwhile, a handful of anglers went up the creeks as far as they could. Those willing to work their way back into these shady stretches found solitude. And bass.
The tactic played well, especially for John Cox who could get farther up a creek than anybody else in the field. "The place I'm fishing doesn't even show up as water on the chart," chuckled the affable Tour veteran as he talked with media members after Thursday's opening round. Due to his boat choice he gave up some speed and some range, but Cox's decision to fish from an aluminum Crestliner enabled him to find a honey hole that carried him to the title.
Edwin Evers won the Bassmaster Classic on Grand Lake of the Cherokees in his home state of Oklahoma. Evers brought 60 pounds, 7 ounces to the big stage and surpassed runner-up and fellow Okie Jason Christie by more than 10 pounds.
The Classic was followed by the first Elite Series stop of 2016 on Florida's St. Johns River. This tourney was a real 'classic' in its own way. Rick Clunn – 69-year-old, 4-time Bassmaster Classic Champ, Rick Clunn – who hadn't won a B.A.S.S. tournament since 2002, was accompanied by his 12-year-old son, River, who was not yet born the last time his dad won, as he hoisted a big blue trophy. Grown men cried. All the trophies, the awards, the accolades acquired across decades meant less to Clunn than to be able to validate his career before his son. Most dads can relate to that.
Covering that tourney for AnglersChannel.com, I was on the water watching Clunn as he slowly but steadily built that final limit of bass. On stage later that day he would remind us all, "Don't ever accept that your best moments are behind you." That was my favorite moment from the tournament world this year.
I also spent some time following Drew Benton on the St. Johns River. I fished with Drew during his first FLW Tour win a couple of years back. I fish with a lot of folks. Benton is the real deal. He is also a good guy. He looks out for others but he knows how to compete. I am not a bit surprised he won Rookie of the Year honors. He had his sights set on something bigger – Angler of the Year.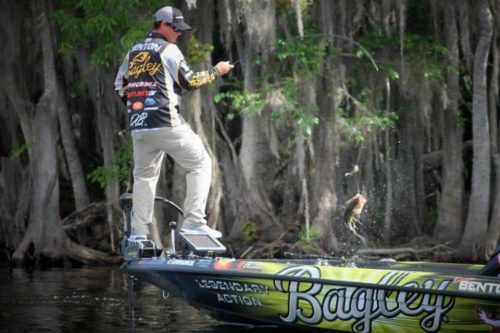 Gerald Swindle took B.A.S.S. Angler of the Year honors. Benton finished 11th. Look out for him in the future, but this was Swindle's year. It was well deserved and he earned it through an interesting new format wherein B.A.S.S. had a shootout of sorts – the AOY Championship tournament. Nobody caught Swindle, so the tourney was just sort of a spectacle of no real consequence.
B.A.S.S. did venture into a new format that was loads of fun for those of us who watched it unfold on Bassmaster.com and ESPN.com. The Bassmaster Classic Bracket featured head-to-head match play and more drama than fake wrestling. If you didn't see it, you should have.
Some highlights: Dean Rojas made a big comeback in the last 15 minutes of his opening round to advance past Jordan Lee. Brett Hite took nearly 15 minutes playing several of his smallmouth in the Niagara River current on light line. Jacob Powroznik 'laid up' and laid down his rods in an effort to let his buddy Koby Kreiger win so he could advance and perhaps make the Classic. Kreiger almost didn't catch a fish anyway, but eventually did before time ran out. He still didn't win the golden ticket to the Classic – ran into KVD. And Kevin VanDam found yet another format under which he could crush all other competitors. Oh, and even when it was over it wasn't over as Hite protested VanDam's victory. KVD's win was upheld.
On a sad note, we, as a fishing community, lost outdoors writer Wade Bourne in the last month of 2016. He was a giant in the field and will be sorely missed by many, including us here at AnglersChannel.com.