Team 13 Fishing & Rapala Angler Dave Lefebre Maintains Lead In Wheeler Lake Elite Series Event!!
---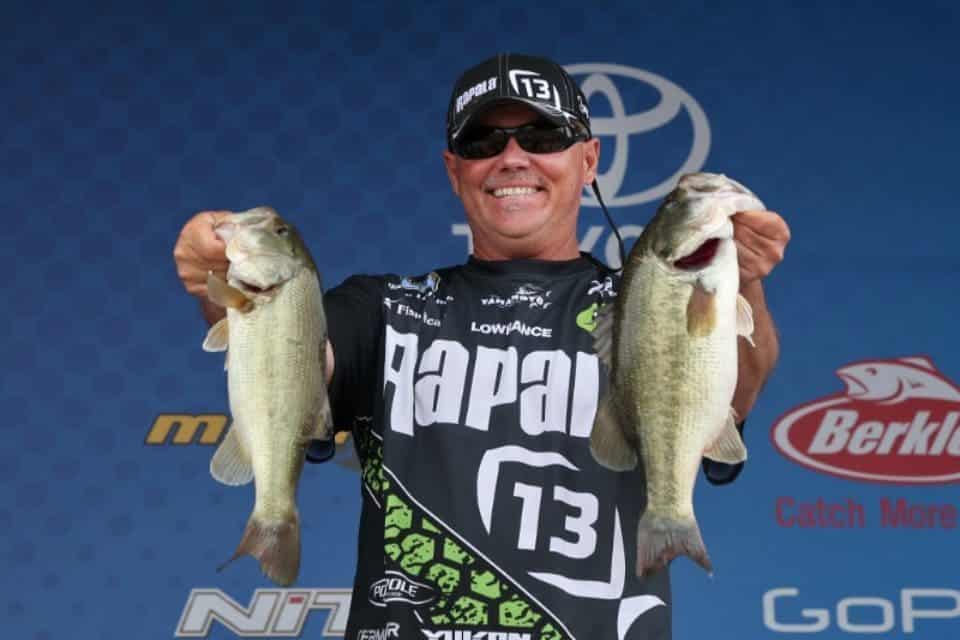 FOR IMMEDIATE RELEASE

April 30, 2016

Lefebre Retains The Lead In Bassmaster Elite At Wheeler Lake

DECATUR, Ala. — Championship Sunday in Decatur, Ala., will be a shootout as the top anglers battle for the coveted first-place title and the $100,000 that goes with it.

With one day of competition remaining, Dave Lefebre of Erie, Pa., remains in the lead after weighing five bass for 20 pounds, 10 ounces at the Academy Sports + Outdoors Bassmaster Elite at Wheeler Lake.

Lefebre's success comes after a relatively unproductive three days of practice fishing.

"On the first day of the event, I wasn't sure if the pattern I had found was sustainable for more than one day," Lefebre said. "I mean, it was the only spot I found during practice that was producing any good bass at all, and I typically like to have several spots — each with back-up plans."

Lefebre was very pleased with his results on Thursday and Friday, but after weighing 20-10 during today's semi-final round, which pushed his three-day total to 60-9, he is confident that he can win the tournament from his location.

"As soon as I culled out my smallest fish, I backed off the spot around 11 a.m., hoping to save some fish for tomorrow," he said. "I had my limit early enough that I didn't even get a chance to fish the best brushpiles in that part of the lake. Each time I have fished those brushpiles over the past couple of days, I've caught a big one. Keeping those spots untouched for tomorrow is a bonus."

While Lefebre's best areas remain fresh for Sunday's championship round, Takahiro Omori of Emory, Texas, is chipping away at Lefebre's lead after weighing 22-9 for a total of 56-3 in three days of competition.

"In 2011, I fished in the same location that I have been fishing this week," Omori said. "I finished in 12th place at that event, but the last two days have been the best days of fishing I've ever had on Wheeler Lake; it's been a lot of fun. I don't know for sure if I will catch them as well as I did today, but I'd like to think that I will — there are a lot of fish there."

After weighing 19-1 for a total of 51-8, John Crews of Salem, Va., made up some ground after stumbling on Friday. He led on Day 1, but he only managed to catch 12 pounds on Friday and fell back in the standings. Crews made some fine-tuned adjustments on where he was fishing, and caught enough today to bump him back into third place.

"I've fished the same area for the past three days, but I just didn't get the big bites that I needed yesterday, "Crews said. "I did a lot of exploring today, really focusing on the details of the structure, and I found where the bigger fish are located. I left biting fish to make the weigh-in today, which should play to my favor tomorrow."

Also Saturday, Luke Clausen of Otis Orchards, Wash., has been disqualified from the Wheeler Lake event for violation of Bassmaster Elite Series Rule C3. Clausen appealed the decision and, under Rule C23, is allowed to compete on Sunday. In addition, Rule C23 provides that the "next angler below the cut will be invited to compete on the cut day with the clear understanding that any prize money and points he might earn will be contingent upon the outcome of the appeal." The 13th-place angler, Cliff Crochet of Pierre Part, La., will compete on Sunday. The appeal hearing will be held shortly after the conclusion of the event Sunday.

In addition to the Top 3, competing on Championship Sunday are Casey Ashley (47-8), Bobby Lane (47-7), Greg Hackney (46-9), Clausen (45-10), Gerald Swindle (44-12), James Elam (44-1), Gary Klein (43-11), James Niggemeyer (43-5), Steve Kennedy (43-4) and Crochet (43-0).

Sunday's takeoff is scheduled for 6:15 a.m. CT at Ingalls Harbor in Decatur, Ala., with the final weigh-in scheduled at the same location Sunday afternoon at 3:15 p.m.

2016 Bassmaster Elite Series Premier Sponsors: Toyota, Yamaha, GoPro, Berkley, Huk, Humminbird, Mercury, Minn Kota, Nitro Boats, Skeeter Boats, Triton Boats

2016 Bassmaster Elite Series Supporting Sponsors: Academy Sports + Outdoors, A.R.E. Truck Caps, Carhartt, Dick Cepek Tires & Wheels, Livingston Lures, Lowrance, Phoenix Boats, Power-Pole, Rapala, Shell Rotella, Shimano

About B.A.S.S.
B.A.S.S. is the worldwide authority on bass fishing and keeper of the culture of the sport, providing cutting edge content on bass fishing whenever, wherever and however bass fishing fans want to use it. Headquartered in Birmingham, Ala., the 500,000-member organization's fully integrated media platforms include the industry's leading magazines (Bassmaster and B.A.S.S. Times), website (Bassmaster.com), television show (The Bassmasters on ESPN2), social media programs and events. For more than 45 years, B.A.S.S. has been dedicated to access, conservation and youth fishing.

The Bassmaster Tournament Trail includes the most prestigious events at each level of competition, including the Bassmaster Elite Series, Bass Pro Shops Bassmaster Open Series, B.A.S.S. Nation, Carhartt Bassmaster College Series presented by Bass Pro Shops, Costa Bassmaster High School Series, Toyota Bonus Bucks Bassmaster Team Championship and the ultimate celebration of competitive fishing, the GEICO Bassmaster Classic presented by GoPro.

-30-

Media Contact: Helen White, 205-313-0944, [email protected] or Dave Precht, 205-313-0931, [email protected].
2016 Academy Sports + Outdoors Bassmaster Elite at Wheeler Lake 4/28-5/1
Wheeler Lake, Decatur  AL.
(PROFESSIONAL) Standings Day 3

Angler                   Hometown              No./lbs-oz  Pts   Total $$$

1.  Dave Lefebre           Erie, PA                15  60-09  110     $500.00
Day 1: 5   18-12     Day 2: 5   21-03     Day 3: 5   20-10
2.  Takahiro Omori         Emory, TX               15  56-03  109
Day 1: 5   10-07     Day 2: 5   23-03     Day 3: 5   22-09
3.  John Crews Jr          Salem, VA               15  51-08  108
Day 1: 5   20-07     Day 2: 5   12-00     Day 3: 5   19-01
4.  Casey Ashley           Donalds, SC             15  47-08  107
Day 1: 5   19-12     Day 2: 5   13-11     Day 3: 5   14-01
5.  Bobby Lane Jr.         Lakeland, FL            15  47-07  106
Day 1: 5   15-05     Day 2: 5   17-01     Day 3: 5   15-01
6.  Greg Hackney           Gonzales, LA            15  46-09  105
Day 1: 5   16-02     Day 2: 5   15-00     Day 3: 5   15-07
7.  Luke Clausen           Otis Orchards, WA       15  45-10  104
Day 1: 5   15-15     Day 2: 5   13-15     Day 3: 5   15-12
8.  Gerald Swindle         Warrior, AL             15  44-12  103
Day 1: 5   16-08     Day 2: 5   14-06     Day 3: 5   13-14
9.  James Elam             Tulsa, OK               15  44-01  102
Day 1: 5   17-14     Day 2: 5   14-08     Day 3: 5   11-11
10. Gary Klein             Weatherford, TX         15  43-11  101
Day 1: 5   16-01     Day 2: 5   19-07     Day 3: 5   08-03
11. James Niggemeyer       Van, TX                 15  43-05  100
Day 1: 5   12-12     Day 2: 5   13-04     Day 3: 5   17-05
12. Steve Kennedy          Auburn, AL              15  43-04   99
Day 1: 5   14-06     Day 2: 5   17-06     Day 3: 5   11-08
13. Cliff Crochet          Pierre Part, LA         15  43-00   98  $10,000.00
Day 1: 5   11-02     Day 2: 5   13-13     Day 3: 5   18-01
14. Brandon Card           Caryville, TN           15  42-08   97  $10,000.00
Day 1: 5   09-03     Day 2: 5   16-13     Day 3: 5   16-08
15. Davy Hite              Ninety Six, SC          15  42-00   96  $10,000.00
Day 1: 5   17-01     Day 2: 5   10-02     Day 3: 5   14-13
16. Matt Herren            Ashville, AL            15  41-11   95  $10,000.00
Day 1: 5   14-14     Day 2: 5   12-08     Day 3: 5   14-05
17. Brandon Lester         Fayetteville, TN        15  41-06   94  $10,000.00
Day 1: 5   18-11     Day 2: 5   08-07     Day 3: 5   14-04
18. Kelley Jaye            Dadeville, AL           15  41-02   93  $10,000.00
Day 1: 5   13-15     Day 2: 5   11-07     Day 3: 5   15-12
19. David Williams         Newton, NC              15  41-01   92  $10,000.00
Day 1: 5   16-07     Day 2: 5   12-00     Day 3: 5   12-10
20. Michael Iaconelli      Pitts Grove, NJ         15  40-11   91  $10,000.00
Day 1: 5   15-05     Day 2: 5   14-00     Day 3: 5   11-06
21. Scott Rook             Little Rock, AR         15  40-09   90  $10,000.00
Day 1: 5   10-08     Day 2: 5   18-01     Day 3: 5   12-00
22. Josh Bertrand          Gilbert, AZ             15  40-08   89  $10,000.00
Day 1: 5   18-01     Day 2: 5   13-07     Day 3: 5   09-00
23. Randy Howell           Guntersville, AL        12  40-06   88  $10,000.00
Day 1: 5   16-07     Day 2: 5   18-11     Day 3: 2   05-04
24. Micah Frazier          Newnan, GA              15  40-04   87  $10,000.00
Day 1: 5   15-07     Day 2: 5   10-10     Day 3: 5   14-03
25. Jason Williamson       Wagener, SC             14  40-02   86  $10,000.00
Day 1: 5   14-06     Day 2: 4   09-11     Day 3: 5   16-01
26. Fletcher Shryock       New Philadelphia, OH    15  39-06   85  $10,000.00
Day 1: 5   13-13     Day 2: 5   14-04     Day 3: 5   11-05
27. Russ Lane              Prattville, AL          15  38-15   84  $10,000.00
Day 1: 5   12-00     Day 2: 5   13-14     Day 3: 5   13-01
28. Chris Zaldain          Laughlin, NV            15  38-10   83  $10,000.00
Day 1: 5   15-11     Day 2: 5   13-10     Day 3: 5   09-05
29. Boyd Duckett           Guntersville, AL        15  38-06   82  $10,000.00
Day 1: 5   17-04     Day 2: 5   11-13     Day 3: 5   09-05
30. Dean Rojas             Lake Havasu City, AZ    15  38-01   81  $10,000.00
Day 1: 5   11-11     Day 2: 5   12-15     Day 3: 5   13-07
31. Chris Lane             Guntersville, AL        15  37-10   80  $10,000.00
Day 1: 5   11-03     Day 2: 5   18-03     Day 3: 5   08-04
32. Hank Cherry Jr         Maiden, NC              15  37-08   79  $10,000.00
Day 1: 5   13-10     Day 2: 5   11-15     Day 3: 5   11-15
33. Jason Christie         Park Hill, OK           15  36-15   78  $10,000.00
Day 1: 5   15-06     Day 2: 5   11-03     Day 3: 5   10-06
34. Keith Poche            Pike Road, AL           15  36-05   77  $10,000.00
Day 1: 5   11-07     Day 2: 5   13-07     Day 3: 5   11-07
35. Clent Davis            Montevallo, AL          15  36-03   76  $10,000.00
Day 1: 5   14-02     Day 2: 5   13-15     Day 3: 5   08-02
36. Ott DeFoe              Knoxville, TN           15  36-01   75  $10,000.00
Day 1: 5   12-14     Day 2: 5   14-02     Day 3: 5   09-01
37. Edwin Evers            Talala, OK              15  35-14   74  $10,000.00
Day 1: 5   16-15     Day 2: 5   09-08     Day 3: 5   09-07
38. Greg Vinson            Wetumpka, AL            15  35-14   73  $10,000.00
Day 1: 5   13-03     Day 2: 5   14-00     Day 3: 5   08-11
39. Aaron Martens          Leeds, AL               15  35-07   72  $10,000.00
Day 1: 5   14-07     Day 2: 5   15-08     Day 3: 5   05-08
40. Keith Combs            Huntington, TX          15  35-04   71  $10,000.00
Day 1: 5   14-04     Day 2: 5   13-00     Day 3: 5   08-00
41. Jordan Lee             Grant, AL               15  34-06   70  $10,000.00
Day 1: 5   11-10     Day 2: 5   15-13     Day 3: 5   06-15
42. Matt Reed              Madisonville, TX        14  34-03   69  $10,000.00
Day 1: 5   15-06     Day 2: 4   10-06     Day 3: 5   08-07
43. Mark Menendez          Paducah, KY             15  33-14   68  $10,000.00
Day 1: 5   13-08     Day 2: 5   12-02     Day 3: 5   08-04
44. Justin Lucas           Guntersville, AL        15  33-09   67  $10,000.00
Day 1: 5   13-04     Day 2: 5   11-12     Day 3: 5   08-09
45. Carl Jocumsen          Queensland TX AUSTRALIA 14  32-13   66  $10,000.00
Day 1: 5   11-02     Day 2: 5   15-05     Day 3: 4   06-06
46. Brock Mosley           Collinsville, MS        13  31-15   65  $10,000.00
Day 1: 5   16-01     Day 2: 5   11-07     Day 3: 3   04-07
47. Jared Lintner          Arroyo Grande, CA       15  31-03   64  $10,000.00
Day 1: 5   14-04     Day 2: 5   11-05     Day 3: 5   05-10
48. Brandon Palaniuk       Rathdrum, ID            13  30-14   63  $10,000.00
Day 1: 5   13-01     Day 2: 5   12-02     Day 3: 3   05-11
49. Tommy Biffle           Wagoner, OK             13  29-15   62  $10,000.00
Day 1: 5   15-05     Day 2: 5   09-15     Day 3: 3   04-11
50. Randy Allen            Shreveport, LA          11  27-11   61  $10,000.00
Day 1: 5   14-08     Day 2: 5   09-14     Day 3: 1   03-05
———————————————————————–
Totals
Day   #Limits    #Fish      Weight
1       100       529      1304-00
2        95       512      1228-11
3        44       236       568-14
———————————-
239      1277      3101-09
---