Prowant Wins $10,000 in Area 5 ABA RAM Truck Open Series Championship on Lake Okeechobee
Posted On December 19, 2017
---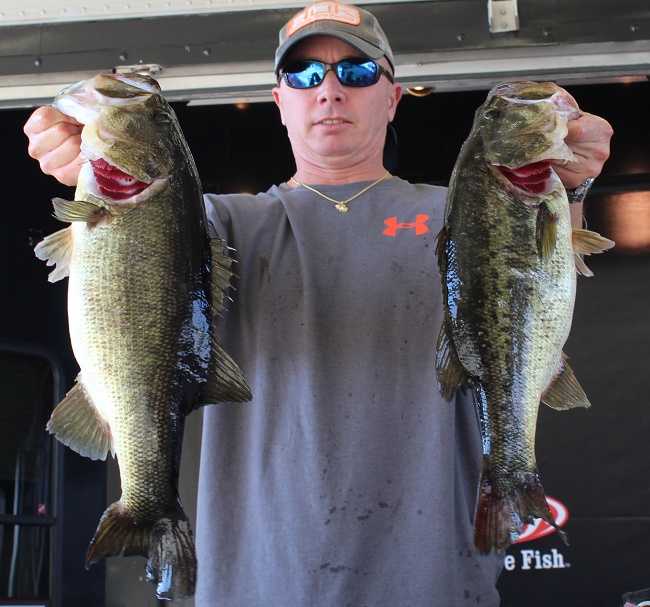 ATHENS, Ala. – Brian Prowant of Moore Haven, FL won the American Bass Anglers Ram Truck Open Series Area 5 Championship tournament, held December 16TH & 17TH, 2017 on Lake Okeechobee.  Running out of Scott Driver Park in Okeechobee, FL Prowant caught five bass on day one weighing 18.97 pounds. On day two, Prowant weighed in another five-bass limit that weighed 19.43 pounds and that sealed the deal for his victory by a slim half-pound margin with a total weight of 38.40 pounds. For the Boater Division victory, Prowant took home a check for $10,000.
"I caught all my fish flipping both days. I had about seven bites each day. I was fishing grass mats that have blown up in different areas and I would go back and forth hitting those mats. I was flipping a Gambler Ugly Otter. I lost one fish each day that would have padded my lead," said Prowant.
In second for the boaters, Brian Divito of Seminole, FL landed a total of nine bass for a two-day total weight of 37.88 pounds. He collected $1300 for his catch.
"I caught my fish each day flipping heavy mats with a 1½ oz. weight and a craw bait. I lost a twelve incher and a four pounder that would have helped me. I stayed on the north end. On day one around 12:00pm, I only had one fish so I went flipping and it worked out for me," said Divito.
Jim Hurlock Jr. of West Palm Beach, FL placed third for the boaters with two five-bass tournament limits totaling 37.59 pounds. He earned $900 for his catch.
"I caught my fish pitching and casting on the north end of the lake. I caught lots of fish each day."  Hurlock Jr. said.
The big bass award for the boaters went to Logan Murphy of St. Cloud, FL with a big bass that weighed 8.45 pounds caught on day one. Murphy collected $760 for his catch.
"I caught that fish around 12:30pm flipping grass mats and reeds." Murphy said.
In fourth place among the boaters, Jared McMillan of Belle Glade, FL brought in two five-bass limits totaling 36.88 pounds. Ron Yentz of Fort Lauderdale, FL finished in fifth place with two five-bass limits totaling 35.85 pounds.
In the Co-Angler Division, Adam Sangster of Lake Mary, FL won with a two-day total of six bass that weighed 23.31 pounds with a 8.30-pound kicker that was caught on day two. He pocketed a check for $5,000 for his win and $360 for the big bass.
"This was my first tournament win and I'm glad it was this one. I caught most of my fish on a Senko, but the bigger fish came on a chatter-bait. I caught the 8.30 pounder on a chatter-bait about five minutes before we left to come to weigh-in. On day one we were fishing Grassy and then went to Kings Bar and on day two we fished Harney Pond. I want to thank my two boaters Rick Sasina and Kazuki Kitajima." Sangster said.
Taking second for the co-anglers, General Johnson II of Fort Myers, FL brought in a total of five bass totaling 20.29 pounds for two-days. He collected $700 for the effort.
"I caught my fish on day one flipping and I only had two bites, but one was 8.17 pounds. And on day two I caught my fish on a worm. I'm just thanking God I was able to catch fish and thankful to cash a check."  Johnson II said. "
Moses Wilson of Clewiston, FL placed third among the co-anglers with two three-bass limits totaling 18.72 pounds. He earned $425 for his catch.
"I caught my fish on day one fishing a wacky-rig in a ditch. On day two, I fished with Jared McMillan, so I knew I was going to be around fish."  Wilson said.
In fourth place among the co-anglers, Ernie Johnson of Okeechobee, FL brought in two three- bass limits totaling 17.76 pounds. Eric Andrews of Davenport, FL finished in fifth place with two three-bass limits totaling 17.33 pounds.
The next tournament will be the Ray Scott Championship. At the end of the season, the best anglers from across the nation advance the 2018 Ray Scott Championship to be held on the Red River near Shreveport, Louisiana.
For more information on this tournament, call Billy Benedetti, tournament manager, at 256-230-5632 or ABA at 256-232-0406. On line, see www.ramopenseries.com .
---