Points Race Tightens Up At Halfway Point In Denver Marine Monster Bass Trail On Lake Wylie
Posted On January 3, 2013
---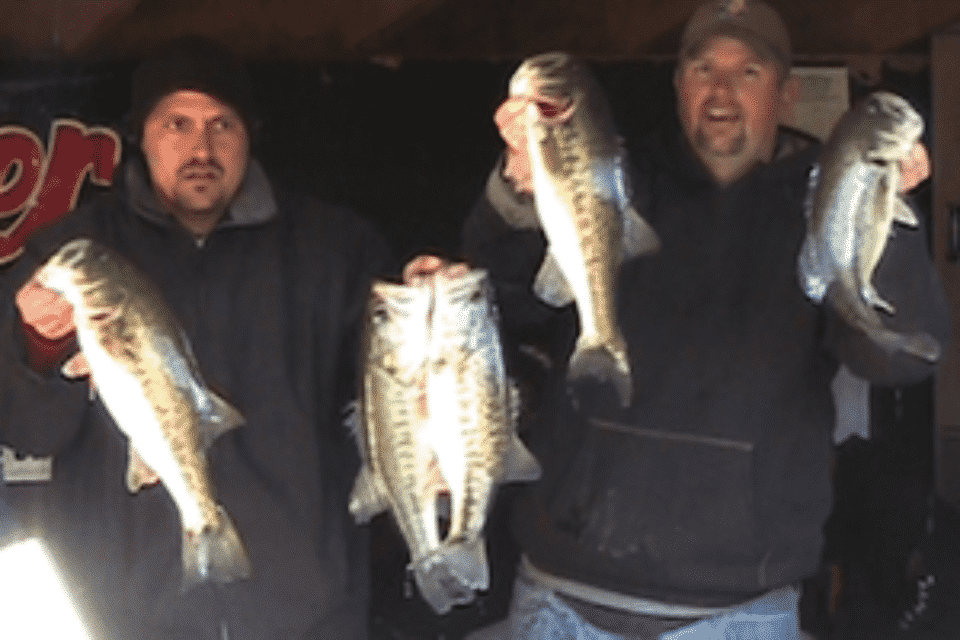 The Denver Marine Monster Bass Invitational Winter Trial should just get better and better in the new year, according to Anthony Williams with the Ranger dealership in Denver, N.C., which is hosting the Winter Trail on Lake Wylie.
"We had 16 teams competing in the last tournament (Dec. 22). Our crowd is starting to pick up and we are getting a lot of new members starting to fish with us. We are looking for good things in the future," Williams said.
This is the first year of the Winter Trail, but Williams said it will be around in the future.
"We think we have to invest at least three years in it to get our name out there and let the fishermen know that we are going to do what we say we will do."
Williams said the points race has tightened up halfway through the schedule. Todd Auten and Chris Baumgardner were leading the points for the first three tournaments, but Bill Grier and Robby Byrum won the Dec. 22 tournament to forge a tie.
Auten and Baumgardner finished 3rd Nov. 10, 2nd Nov. 24, 6th Dec. 6 and 5th Dec. 22. Grier and Byrum finished 7th Nov. 10, 6th Nov. 24, 5th Dec. 6 and won the Dec. 22 tournament
There are now four tournaments left before the fish-off Feb. 2 – all four on subsequent Saturdays in January, starting with this Saturday. Grier and Byrum picked up a check for $2,000 for their Dec. 22 win, but the payout schedule goes back to the normal prize money this Saturday, Williams said.
"That first place Dec. 22 was just a Christmas present for the anglers. The regular payout depends on how many show up for a tournament, with part of the money held back for the fish-off and big fish," said Williams. Entry fee is $100 per team, which includes big fish, and each angler must pay $30 to join the Monster Bass Club.
Williams said he expects fishing to be good for Saturday's tournament.
"If it's anything like fishing at Lake Hickory they will be catching them on a jig. I was out on Hickory New Year's Eve and caught more than 20 pounds on a jig in 25 feet of water," Williams said.
"I'd like to invite everybody to come out and fish with us. We have a great group of guys fishing. Everybody enjoys good fellowship and we feed the fishermen at the weigh-in."
Williams also announced Denver Marine is preparing the Spring Trail which starts March 16.
"That first tournament will be on Lake Norman. Then on March 23 the tournament will be on Lake Wylie, April 26 we move to Lake Hickory, April 27 on Lake Norman, May 25 back on Lake Hickory,and June 29 on Lake Wylie. Then we will have a two-day championship Oct. 12-13 and the winners there will get brand new Ranger boat."
Denver Marine Monster Bass Invitational Winter Trail
Sat, Jan 5, 2013
Lake Wylie
Buster Boyd Access Area
Call Anthony at 704-483-2628
www.denverrecreationalmarine.com
---