Pescitelli – Kickin Their Bass on the Water and in the Classroom!
---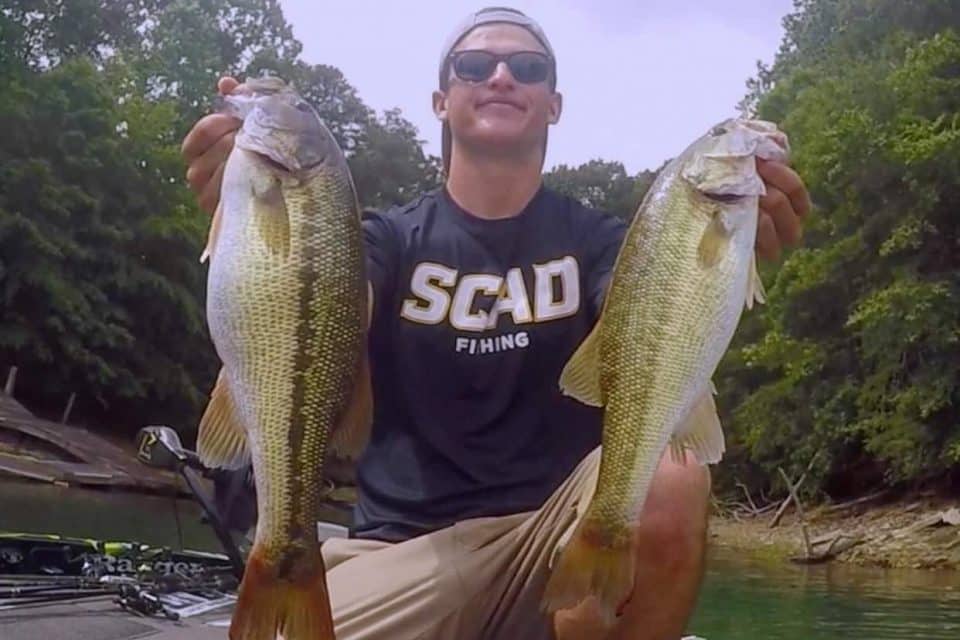 By Vance McCullough
Collegiate Angler Noah Pescitelli had an outstanding freshman season on the water. He also took care of business in the classroom where earned a spot on the Dean's List at Savanah College of Art and Design.
With a 3rd place showing at a Bassmaster Southern Regional Collegiate event Pescitelli proved he's an avid angler. He also enjoys the academic experience at SCAD. "I really wasn't much of an 'artsy' person at all, but I got offered a really great scholarship and the education you get here . . . 98% job placement, the degree I'll get here is just absolutely amazing.
"I've learned a lot of things about computer programs and other things that are going to help me in my business, not just now, but in the long run."
Originally from Bufford, GA, Pescitelli enjoys his surroundings at SCAD. "Savanah is amazing. I like everything around there. It's a fun place to be."
SCAD is unique in that it doesn't have a fishing club run by students, but rather, the school itself established a varsity bass fishing team and hired a full-time coach, Isaac Payne, who actively recruits anglers.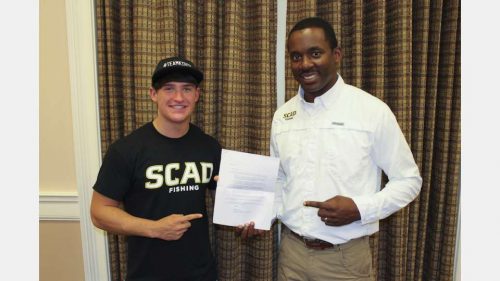 How did Pescitelli become the first Georgia high school student to sign a bass fishing scholarship? The 'business' he referred to is his Kickin Their Bass TV which has a presence on every social media platform. His followers number in the hundreds of thousands. Couple that with Pescitelli's on-water achievements and it's easy to understand why Coach Payne extended the offer.
During his first year as a competitive angler Pescitelli narrowly missed winning the high school state title by 0.03 ounce.
Last year was the first for the SCAD team. Having Pescitelli, a freshman, lead the way for the new program seems appropriate. Indeed, he was the program's Angler of the Year.
Coach Payne has some off-water considerations when it comes to crowning an Angler of the Year. These requirements speak volumes about Pescitelli's character. "You're going to college to graduate and to better your life. And to fish too. But just having all first-place finishes doesn't get you a job. Being a well-rounded angler, a dynamic individual who encompasses all aspects, who brings it full circle – an Angler of the Year for me is someone who is able to do everything, not just fish."
Coach Payne is especially impressed with how Pescitelli works with others. "Noah collaborates well. He gets his strengths to match with other peoples' weaknesses and his weaknesses with other peoples' strengths. Collaboration is a big thing. If you're the catcher, you have to have a pitcher. Everybody is important on the team."
Many young AOY recipients would dream of Bassmaster Elite Series fame. But Pescitelli? "Currently, it's something I really enjoy doing. I'm doing tournaments. I'm building my own business, doing the whole marketing side of everything. I'm trying to think where, in the future, I'm gonna end up heading. Do I want to head toward pro fishing? Do I want to do TV? Do I want to continue doing social marketing for fishing companies on-line? It's a lot to think about right now.
"I'm definitely going to keep pursuing my business in the social media side of fishing."
As the old saying goes, the more deeply involved you are in the fishing industry, the less you time you get to spend fishing. Pescitelli is considering semi-pro competition sometime soon, but, "I was thinking about fishing some of the BFL's as a boater or even as a co-angler. I'm still contemplating some of that but right now, with my business, I just haven't had much time to do it. That is something that in the near future, I'll probably try."
Pescitelli is majoring in advertising which dovetails nicely with his current business pursuits that revolve heavily around marketing and brand awareness for fishing related companies.
In addition to pond-hopping with his grand dad, Pescitelli practiced his craft on Lake Lanier when he was younger. "Then I started fishing the high school trails and it kind of grew from there. We fished the FLW and B.A.S.S. circuits in high school and now fish both in college."
Noah's dad, Steve, is super supportive of his son's efforts but he can't fully participate in the fishing part of things. "He drove my boat during my high school fishing days," said Noah. "He doesn't fish too often, kind of does it with me and supports me along the way but he's actually allergic to fish. He can't even touch them or have them splash on him. But he'll go out with me on the water.
"When I put a fish in the boat or touch a fish I have to wipe off the slime really good or if I touch him he'll break out."
Along with Dad and his mom, Patti, the family rallies around Noah, "Both of my parents and my grandparents show up to pretty much all of the tournaments we fish."
As for style preferences, "I'm mostly a power fisherman," says Pescitelli. "It's kind of hard for me to slow down which is a good and a bad thing. If I have to slow down I will but I'm trying to hit as many spots as I can, trying locate fish and keep grinding; trying to figure out what the fish are doing."
Most guys his age root for a favorite few anglers. Pescitelli, on the other hand, is friends with some of his favorites. "Mark Daniels Jr – I've done some TV shows with him. Scott Martin, I've done a few TV shows with him as well.
"Brandon Palaniuk is good. A lot of young kids look up to him. The Shryock brothers are pretty cool. Those would have to be my Top 5 favorite pros."
Pescitelli has already gained valuable experience in the TV world. "Last summer we went to Canada and filmed a whole series up there for my social media stuff, filmed a whole week up there. Filmed a show as well and I got to fish with Roland Martin."
Pescitelli's ambitious outlook makes him a great fit for Coach Payne and the SCAD team. Of his coach, Pescitelli noted, "He started the fishing team. He has big dreams for us. We're trying to figure everything out. I talk to him regularly, trying to plan things."
Given that Pescitelli is only entering his sophomore season at SCAD, the future looks bright for the program and for the young man who is handling his business, on the water, in the classroom and, well, in the business world.
---