Navionics – Conservation is Key
---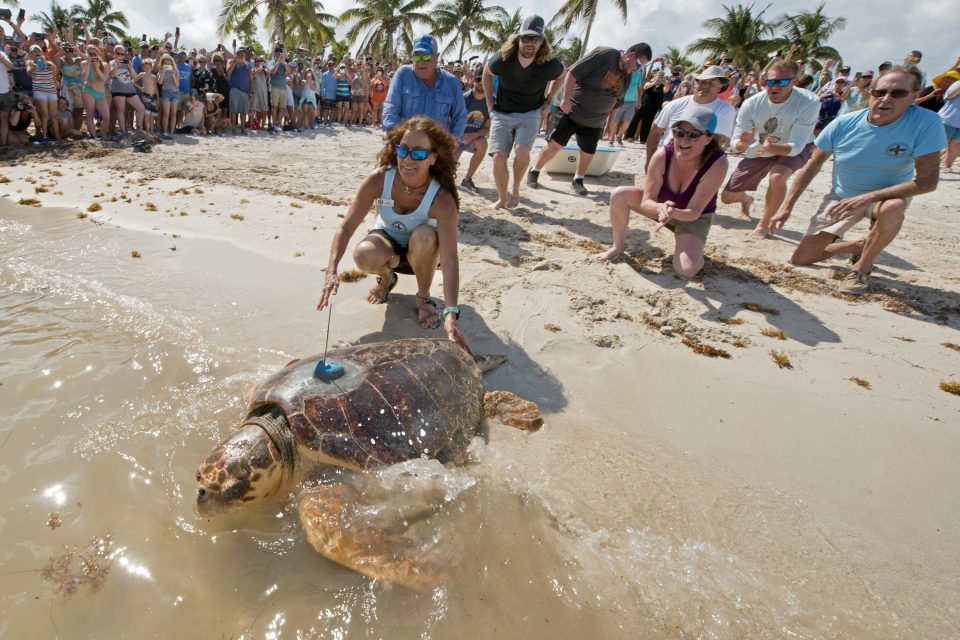 "Mr. T," an almost 200-pound loggerhead sea turtle, crawls into the Atlantic Ocean Tuesday, May 7, 2019, at Sombrero Beach in Marathon, Fla. The adult male reptile was rescued in early February and convalesced at the Florida Keys-based Turtle Hospital following surgeries to remove a fishhook. The turtle was fitted with a satellite tag by Mote Marine Laboratory to track migratory patterns of male loggerheads. FOR EDITORIAL USE ONLY (Andy Newman/Florida Keys News Bureau/HO)
Vance McCullough
Navionics is known for helping us find our way to the fish – and helping us find our way back to them again.
It may never cross a customer's mind that, behind the technology, is a group of real people who enjoy many of the same pursuits we do. The people at Navionics help to preserve these outdoor opportunities for our children.
Regardless of what brings you to the water, we all want to make a difference. Paul Michelle, National Sales Manager for Navionics explains that this is "very important to Navionics as most of us are lifestyle people and truly enjoy the ocean whether its fishing, diving, or boating."
During a recent outing to the Florida Keys, Michelle hosted a group of industry leaders and outdoors writers for a couple of very different activities that, each in its own way, contributed greatly to the ecological health of a true national treasure, the Florida Keys National Marine Sanctuary.
We met a sea turtle that was found off the coast of Tavernier and, therefore, named 'Mr. T'. The 200-lb loggerhead had spent 3 months in the Marathon Turtle Hospital to rehabilitate a lung tear that leaked air into his shell and prevented him from diving. He had also confounded some fisherman as evidenced by the hook and line removed from the corner of his mouth by hospital staff.
"Mr. T is one of those ocean creatures that is a great story in bringing him back to health and what data the satellite tag will provide," said Michelle, noting that the male turtle will range far and wide, as male turtles do, with a satellite transmitter on his back.
"Females have a relatively small home range," noted Bette Zirkelbach, Manager of the Turtle Hospital. "Exactly where the big males go has always been a mystery."
The staff at the hospital was excited to learn that the Mote Marine Laboratory would tag Mr. T with a transmitter prior to his release.
"What we can learn from Mr. T could help us better preserve and protect our sea turtle friends for the future," concluded Michelle.
Upon his release, Mr. T took off with surprising speed. Hundreds cheered as he disappeared in a cloud of sand amid the jade waters off Sombrero Beach. Thanks to the transmitter, his travels can now be followed at turtlehospital.org.
On the other end of the conservation spectrum is the need to eliminate harmful exotic species from our waters. Lionfish pose a well-documented threat to the reefs that make the Keys so special.
John Mirabella, owner of Castaway Waterfront Restaurant and Sushi bar in Marathon, serves up delicious lionfish dishes made from the fruits of his own spear-fishing labor, as well as that of other local divers.
"More than ninety-percent of all lionfish you eat have been harvested by a diver," said Mirabella.
Sushi and sashimi dishes were served-up and scarfed-down. The white meat of the lionfish is clean yet flavorful, almost sweet.
This means you can clean your plate and clean the reef of unwanted marine life at the same time. "Lionfish are an invasive species and could destroy the natural fisheries we have here," said Michelle. "This affects everything in our ocean's eco system. Our fisheries and reefs are important to Navionics for all to enjoy and we have to do our best to try and preserve the resource and spread awareness of issues. Enjoyment by future generations depends on it. Plus, lionfish are very tasty!"
Through the exhilarating release of a majestic sea turtle and delicious dishes made of lionfish our friends at Navionics shared two ways to conserve our marine environment and have a great time doing so.
---