Missouri Rallies To Win Nation Central Regional
---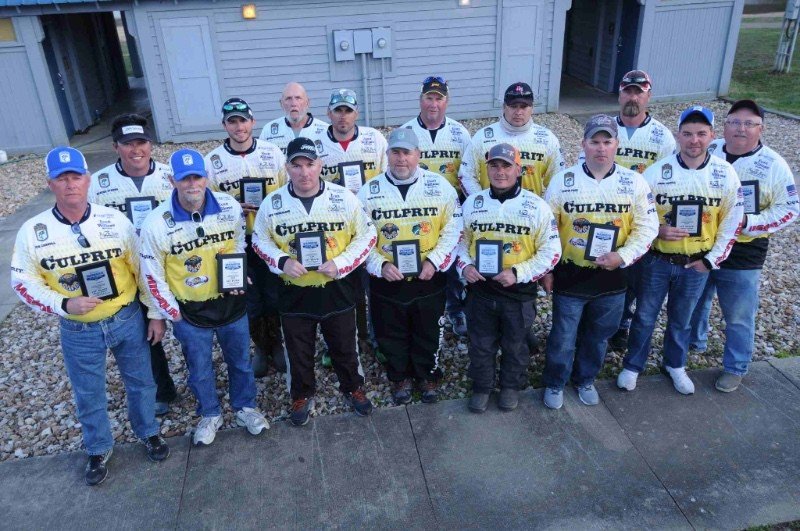 The Missouri B.A.S.S. Nation wins the team competition Thursday with 346 pounds at the Academy Sports + Outdoors B.A.S.S. Nation Central Divisional presented by Magellan on Lake of the Ozarks. Beau Govreau of Missouri is leading the individual competition with a two-day total weight of 41 pounds, 12 ounces.
Photo by John Neporadny/Bassmaster
April 6, 2017
OSAGE BEACH, Mo. — Missouri cashed in on its home-waters advantage to win the state competition of the Academy Sports + Outdoors B.A.S.S. Nation Central Regional presented by Magellan at the Lake of the Ozarks.
Trailing Kentucky by more than 9 pounds at the beginning of the day, the 20-angler Missouri team rallied to collectively catch 346 pounds of bass to take first place and win a Triton 189TRX bass boat, trailer and Yamaha VF150LA outboard motor worth $38,000. Arkansas finished second with 305-8 and Kentucky dropped to third place with 304-2.
"We had an outstanding group of fishermen," said Missouri team captain John Blankenbeker. "We had a state team that really came together."
Missouri dominated the boater standings with three anglers in the Top 5. Beau Govreau of Cedar Hill, Mo., leads the division with 41-12, followed by Mark Wiese Jr., High Ridge, Mo., in second place, 39-12; and Marcus Sykora, Osage Beach, Mo., in fourth place with 35-13.
The team included three anglers who live in the lake area: Sykora, Brian Maloney, Osage Beach, Mo., and Harold Stark, Eldon, Mo.
"That makes a big difference so they were able to put together some things," Blankenbeker said. "The guys who don't live religiously on this lake did well also. They were just a group of guys who discussed how and what they were catching fish on, and they worked together."
Fishing in his first regional, Govreau took the lead today in the boater division with a five-bass limit weighing 21-13. "I didn't have as many keepers as yesterday but I had just a little bit better fish today," the Lake St. Louis Bassmasters club member said. "It was a grind."
Govreau said he caught his fish sporadically throughout the day. "I would get a bite and catch a good one, and then I would go a few hours and weed through some little ones," said Govreau. "Then I would catch another good one. At the end of the day, with about 40 minutes left, I caught one of the biggest ones (over 5 pounds)."
The 36-year-old contractor said he tacked about 100 miles on his boat to catch his fish today. "I caught them from one end of the lake to the other," he said.
By moving into first place today, Govreau earned the Livingston Lures Day 2 Leader Award of $250 in the boater division. Frank Mixon of Abilene, Texas, collected the Livingston Lures Day 2 Leader Award of $250 in merchandise by moving into first place in the co-angler division with 24-4.
The regional features 20-angler teams from 19 states competing for top state honors and berths to the Academy Sports + Outdoors B.A.S.S. Nation Championship presented by Magellan. The Top 38 anglers and each state's Top 3 boaters and co-anglers will compete on the final day. The top boater and non-boater from each state will qualify for the national championship.
The final weigh-in on Friday will begin at 2:30 p.m. CT at the Lake of the Ozarks Grand Glaize State Park Public Beach No. 2. 
The event is hosted by the Tri-County Lodging Association.
2017 B.A.S.S. Nation Title Sponsor: Academy Sports + Outdoors
2017 B.A.S.S. Nation Presenting Sponsor: Magellan
2017 B.A.S.S. Nation Platinum Sponsor: Toyota
2017 B.A.S.S. Nation Premier Sponsors: Minn Kota, Berkley, Huk, Humminbird, Nitro Boats, Skeeter Boats, Triton Boats, Yamaha, Shell Rotella, Power-Pole, Mercury
2017 B.A.S.S. Nation Supporting Sponsors: Dick Cepek Tires & Wheels, T-H Marine, Livingston Lures, Shimano, Advance Auto Parts, Lowrance, Nationwide, Carhartt
About B.A.S.S.
B.A.S.S. is the worldwide authority on bass fishing and keeper of the culture of the sport, providing cutting edge content on bass fishing whenever, wherever and however bass fishing fans want to use it. Headquartered in Birmingham, Ala., the 500,000-member organization's fully integrated media platforms include the industry's leading magazines (Bassmaster and B.A.S.S. Times), website (Bassmaster.com), television show (The Bassmasters on ESPN2), social media programs and events. For more than 45 years, B.A.S.S. has been dedicated to access, conservation and youth fishing.
The Bassmaster Tournament Trail includes the most prestigious events at each level of competition, including the Bassmaster Elite Series, Bass Pro Shops Bassmaster Open Series, Academy Sports + Outdoors B.A.S.S. Nation presented by Magellan, Carhartt Bassmaster College Series presented by Bass Pro Shops, Costa Bassmaster High School Series presented by DICK'S Sporting Goods, Toyota Bonus Bucks Bassmaster Team Championship and the ultimate celebration of competitive fishing, the GEICO Bassmaster Classic presented by DICK'S Sporting Goods.
-30-
Media Contact: JamieDay Matthews, 205-313-0945, [email protected] or Dave Precht, 205-313-0931, [email protected]
2017 Academy Sports + Outdoors B.A.S.S. Nation Central Regional presented by Magellan 4/5-4/7
Lake of the Ozarks, Osage Beach  MO.
(BOATER) Standings Day 2

   Angler                   Hometown              No./lbs-oz  Pts   Total $$$

1.  Beau Govreau           Cedar Hill, MO (MO)     10  41-12  0
2.  Mark Wiese  Jr         High Ridge, MO (MO)     10  39-12  0
3.  Drew Sadler            Richmond , KY (KY)      9  37-00  0
4.  Marcus Sykora          Osage Beach, MO (MO)    9  35-13  0
5.  Tim Hartman            Effingham, IL (IL)      10  35-02  0
6.  Luke Gritter           Otsego, MI (MI)         10  34-06  0
7.  Jordan Bellendier      Cedar Rapids, IA (IA)   10  34-01  0
8.  Matt McCoy             Indianapolis, IN (IN)   10  33-10  0
9.  Marty Giddens          Eclectic, AL (AL)       10  33-09  0
10. Tom Jessop             Dalhart, TX (TX)        10  33-03  0
11. Scott Cremeans         Albany, OH (OH)         10  33-01  0
12. Michael McAdams        Cincinnati, OH (OH)     10  33-00  0
13. Gary Bonnet            Borden, IN (KY)         10  32-15  0
14. Kyle Christopher       Lancaster, KY (KY)      8  32-14  0
15. Chris Wilkinson        Farmersburg, IN (IN)    10  32-04  0
16. Mike Seal              Richmond, IN (IN)       10  32-03  0
17. Harvey Horne           Bella Vista, AR (AR)    10  32-02  0
18. Justin Pace            Harrisonville, MO (MO)  10  32-02  0
19. Wyatt Smith            Stroud, OK (OK)         10  32-01  0
20. Ty Bowman              Mt. Home, AR (AR)       10  32-00  0
21. Josh Bragg             Jacksonville, AL (AL)   10  31-07  0
22. Caleb Sumrall          New Iberia, LA (LA)     9  31-04  0
23. Craig Torkleson        Sand Springs, OK (KS)   10  31-00  0
24. Kevin True             Frankfort, KY (KY)      9  29-15  0
25. Brian Skluzacek        Prior Lake, MN (MN)     10  29-14  0
26. Luis Gonzalez          Round Lake Beach, IL(IL) 10  29-14  0
27. Chris Herzog           Liberty TWP, OH (OH)    9  29-11  0
28. Coby Carden            Shelby, AL (AL)         10  29-08  0
29. Greg Vance             Dubuque, IA (IA)        10  29-05  0
30. Matt King              Olathe, KS (KS)         10  29-04  0
31. Scott Holmes           Moody, AL (AL)          10  29-04  0
32. David Rush             Lewisville, TX (TX)     7  29-02  0
33. Matt Pangrac           Norman , OK (OK)        10  28-14  0
34. Bob Downey             Hudson, WI (MN)         10  28-12  0
35. Tom Kiefer             Fowlerville, MI (MI)    9  28-12  0
36. Tray Huddleston        Russellville, AR (AR)   10  28-10  0
37. Tadd Johnson           Lakeview, MN (MN)       10  28-09  0
38. Brian Crecelius        Mountain Home, AR (AR)  10  27-09  0
39. Charlie Bogard         Saint Charles, MO (MO)  8  26-00  0
40. Chris Barnett          Russellville, TN (TN)   9  25-14  0
41. Chris Brimager         Andover, KS (KS)        8  25-10  0
42. Ed Berndt III          Grandon, WI (WI)        6  25-07  0
43. Kyle Dorsett           Odenville, AL (AL)      10  25-06  0
44. Dave McCoy             Plattsmouth, NE (NE)    8  24-13  0
45. Harold Stark           Eldon, MO (MO)          10  24-11  0
46. Kyle Alsop             Overland Park , KS (KS) 9  24-04  0
47. Kent Priel             No Platte, NE (NE)      8  24-03  0
48. Kurt Denning           St Meinrad, IN (IN)     6  24-02  0
49. Cole Jezek             Salem, IL (IL)          7  23-13  0
50. Don Douglas IV         Maumelle, AR (AR)       6  23-11  0
51. Jeff Fletcher          Eagle Rock, MO (AR)     9  23-10  0
52. Brandon Rose           Saginaw, MI (MI)        8  23-05  0
53. Chuck Halbert          Lexa, AR (MS)           7  23-05  0
54. Justin Barnes          Monroeville, AL (AL)    8  23-04  0
55. Art Mensick            Plainfield, IL (IL)     9  23-03  0
56. Mike Maples            Rolla, MO (MO)          9  23-01  0
57. Chance Woodard         Paris, TX (TX)          7  22-14  0
58. Richard Hladky         Yankton, SD (SD)        8  22-14  0
59. Jamie Laiche           Gonzales, LA (LA)       7  22-09  0
60. Jared Thompson         Marvell, AR (MS)        8  22-09  0
61. Chris Baker            West Salem, IL (IL)     8  22-06  0
62. Derick Kuyrkendall     Bergheim, TX (TX)       8  22-04  0
63. Anthony Villalobos     Salem, IL (IL)          7  22-02  0
64. Jason Lutt             Dallas, SD (SD)         7  21-11  0
65. Troy Lee               Star Prairie, WI (WI)   9  21-11  0
66. Garrett Kemp           Port Allen, LA (LA)     7  21-10  0
67. Corey Brant            Minnetonka, MN (MN)     9  21-09  0
68. Steven Smith           Johnstown, OH (OH)      7  20-12  0
69. Jeremy Tenwalde        Fort Jennings, OH (OH)  8  20-09  0
70. Colby Bolin            Excelsior, MN (MN)      7  20-08  0
71. John Soukup            Agra, OK (OK)           9  20-05  0
72. Joshua Barr            Stow, OH (OH)           7  20-02  0
73. Chris Brokman          Council Bluffs, IA (NE) 6  20-00  0
74. Richard Billings       Rochester, MN (MN)      7  19-11  0
75. Keith Broyles          Jackson, TN (TN)        8  19-11  0
76. Jody Rhoden            Groveton, TX (TX)       5  19-07  0
77. Pat Schlapper          Eleva, WI (WI)          6  19-03  0
78. Larry Welborn          Laurel, MS (MS)         7  19-00  0
79. Brian Maloney          Osage Beach, MO (MO)    8  18-15  0
80. Hoyt Akins             Bauxite, AR (AR)        6  18-03  0
81. Bobby Maynard Jr       Eastland, TX (TX)       7  18-02  0
82. Troy Enmeier           Enid, OK (OK)           7  18-00  0
83. Michael Hanrahan       Pleasant Hill, IA (IA)  6  17-14  0
84. Ben Nobile             Sorrento, LA (LA)       7  17-13  0
85. Rob Kelley             Greenwood, IN (IN)      8  17-12  0
86. Chad Sposito           Gray, LA (LA)           7  17-11  0
87. Matthew Reagan         Allendale, MI (MI)      5  17-11  0
88. Roger Hackman          Harrison, AR (AR)       6  17-09  0
89. Jason Pecoraro         Youngsville, LA (LA)    6  17-06  0
90. Mark Pierce            Cadiz, KY (TN)          9  17-04  0
91. Trent Beier            Crystal Lake, IL (IA)   6  17-03  0
92. Michael Mcknight       Johnston, IA (IA)       6  17-01  0
93. Sterling Bougher       Mannford, OK (OK)       7  16-15  0
94. Robert Degraffenreid   Oklahoma Cty, OK (OK)   5  16-15  0
95. Nick Diberardino       Onalaska, TX (TX)       6  16-14  0
96. Troy Diede             Sioux Falls, SD (SD)    6  16-13  0
97. Tom Forrester          Solsberry, IN (IN)      6  16-11  0
98. Jason Heimes           Omaha, NE (NE)          7  16-10  0
99. Jan Hebert             Houma, LA (LA)          6  16-06  0
100. Brad Stogsdill         Nashville, IN (IN)      6  16-05  0
101. Jason Windham          Crawford, TX (TX)       5  16-04  0
102. Mitchell Major         Lancaster, KY (KY)      6  15-08  0
103. Kevin Miller           Andover, KS (KS)        6  15-06  0
104. Trevor Kettles         Waukee, IA (IA)         7  15-05  0
105. Benjamin Barnhart      Omaha, NE (NE)          6  15-01  0
106. Scott Bateman          Washington, IN (IN)     5  14-15  0
107. Brad Hollowell         Azle, TX (AR)           6  14-11  0
108. Justin Kohl            Hastings, NE (NE)       5  14-10  0
109. Kenneth Bowen          Hager City, WI (WI)     5  14-09  0
110. Jason Baird            Gypsum, KS (KS)         6  14-08  0
111. Connor Leagjeld        Pequot Lakes, MN (MN)   4  14-08  0
112. Monty Fralick          Martin, SD (SD)         5  14-07  0
113. Richard Cobb           Richmond, KY (KY)       5  14-04  0
114. Thomas Wiese           Muskego, WI (WI)        5  14-01  0
115. Aaron Ault             Delphi, IN (IN)         5  13-10  0
116. James McCracken        Omaha, NE (NE)          5  13-09  0
117. Chris Fredrick         Marshfield, WI (WI)     6  13-08  0
118. Mark Goetsch           Gibraltar, MI (MI)      5  13-08  0
119. Joseph Ponessa         Shoreview, MN (MN)      5  13-04  0
120. Aaron Carroll          Rolla, MO (MO)          5  13-02  0
121. Mike Hoover            Jackson, TN (TN)        4  12-15  0
122. Paul Amstutz           Gambler, OH (OH)        3  12-14  0
123. Destre Dedeaux         Meadville, MS (MS)      4  12-13  0
124. Michael Valentine      Laurel , MS (MS)        6  12-13  0
125. Justin Foster          Bude, MS (MS)           4  12-01  0
126. Travis Tunnell         Benton, KS (KS)         5  12-00  0
127. Ricky Smith            Ohatchee, AL (AL)       5  11-15  0
128. Brad Norris            Hudson, IL (IL)         4  11-15  0
129. Allen Williford        West Franklin, IL (IL)  5  11-15  0
130. Danny Posey            Niles, MI (MI)          5  11-10  0
131. Randall Christopher    Irvine, KY (KY)         4  11-07  0
132. Kyle Glasgow           Guin, AL (AL)           4  10-14  0
133. Stephen Noble          Newport, KY (KY)        4  10-09  0
134. Lee Byrd Jr.           Pell City, AL (AL)      4  10-04  0
135. Mickey Lewis           Huntingdon, TN (TN)     4  10-03  0
136. Jon Abbott             Versailles, KY (KY)     5  10-01  0
137. Jeremy Montgomery      Overland Park, KS (KS)  5  10-01  0
138. Tim Cooper             Brownsburg, IN (IN)     3  10-00  0
139. Dan Mohn               Lansing, IA (IA)        4  09-14  0
140. Thomas Reding          Papillion, NE (NE)      4  09-14  0
141. Cort Heimsoth          Elkhorn, NE (NE)        5  09-12  0
142. Tony Baldridge         Oklahoma City, OK (OK)  4  09-10  0
143. George Sigsworth       Amery, WI (WI)          3  09-07  0
144. Jeremy Anthony         Loranger, LA (LA)       5  09-05  0
145. Dennis Dustmann        Oklahoma City, OK (OK)  3  09-01  0
146. Mark Emenecker         Matton, IL (IL)         4  09-00  0
147. Nate Brown             Muscatine, IA (IA)      3  08-15  0
147. Adam Hladky            Volin, SD (SD)          3  08-15  0
149. Jesse Schwark          Athens, MI (MI)         4  08-15  0
150. Jeff Hamilton          Blue Springs, MO (MO)   3  08-05  0
151. Stephen White          Dalhart, TX (TX)        3  08-00  0
152. Joe Koch               Kewaskum, WI (WI)       3  07-11  0
153. Jerry Thill Jr         Dresser, WI (WI)        3  07-11  0
154. Brett Logue            Lincoln, NE (SD)        3  07-07  0
155. Travis Tenwadle        Fort Jennings, OH (OH)  3  07-04  0
156. Matt Martin            Brookhaven, MS (MS)     4  07-04  0
157. Steve Potter           Conway Springs, KS (KS) 3  07-04  0
158. Andrew Nitchals        Willmar, MN (MN)        2  07-03  0
159. Joseph Sestak          Tabor, SD (SD)          1  07-02  0
160. Eric Silverstrim       Indian Mound, TN (TN)   3  07-01  0
161. Kory McIntire          Rockford, IA (IA)       3  06-12  0
162. Randy Burch            Ladysmith, WI (WI)      2  06-07  0
163. Gary Melson            Louisville, KY (KY)     2  06-04  0
164. Cliff Van Beek         Canistota, SD (SD)      2  06-04  0
165. Kevin Parker           Sumrall, MS (MS)        2  06-02  0
166. Jeremy King            Panora, IA (IA)         3  06-02  0
167. Ted Prisbe             Harsens  Island, MI (MI) 3  06-01  0
168. Benjamin Brion         Becker, MN (MN)         2  05-15  0
169. Jeffray Gooch          Westport, TN (TN)       2  05-09  0
170. Will Presley Jr        Grove City, OH (OH)     2  05-05  0
171. Emile Gennaro  Sr      Wesson, MS (MS)         2  04-12  0
172. Paul Wilcoxson         Russellville, AL (AL)   2  04-09  0
173. Glenn Hahn             San Antonio, TX (TX)    2  04-07  0
174. Hal Pinho Jr           Patterson, LA (LA)      2  03-15  0
175. Timothy Deroche        Boutte, LA (LA)         2  03-12  0
176. Brian Delf             Milan, IL (IA)          1  03-05  0
177. Lawrence Leonardi      Clinton Township, MI(MI) 1  03-04  0
178. Chuck Lide             Braidwood, IL (IL)      1  03-01  0
179. Mike Myers             Oklahoma City, OK (OK)  1  02-14  0
180. David Cook             Whitehouse, TN (TN)     1  02-13  0
181. Rickey York            Cherokee Village, AR(AR) 1  02-12  0
182. Derward Mauldin        West Helena, AR (MS)    1  02-08  0
183. Ralph Blasey           Pinckey, MI (MI)        1  01-14  0
184. Jimmy Pierce           Medon, TN (TN)          1  01-08  0
185. Scott Coats            Henderson, TN (TN)      0  00-00  0
185. Jeff Cox               Saline, MI (MI)         0  00-00  0
185. Dana Hulet             Perry, OK (OK)          0  00-00  0
185. Casey Hutmacher        Oacoma, SD (SD)         0  00-00  0
185. Darrin Lewellen        Mount Vernon, OH (OH)   0  00-00  0
185. Rodney Pieper          Yankton, SD (SD)        0  00-00  0
185. Larry Riffey           Pratt, KS (KS)          0  00-00  0
185. Troy Sprague           Lincoln, NE (NE)        0  00-00  0
-----------------------------------------------------------------------

-----------------------------------------------------------------------
Totals
Day   #Limits    #Fish      Weight
 1       55       561       1632-01
 2       62       558       1650-12
----------------------------------
         117      1119      3282-13

TEAM STANDINGS Day 2
----------------------------------
    State                Lbs-Oz
  1 MISSOURI             346-00
  2 ARKANSAS             305-08
  3 KENTUCKY             304-02
  4 ILLINOIS             301-01
  5 ALABAMA              296-00
  6 IOWA                 274-09
  7 LOUISIANA            272-08
  8 MINNESOTA            269-09
  9 INDIANA              263-03
 10 TEXAS                261-08
 11 OHIO                 257-14
 12 OKLAHOMA             239-02
 13 WISCONSIN            233-05
 14 NEBRASKA             231-09
 15 KANSAS               217-08
 16 MISSISSIPPI          203-03
 17 MICHIGAN             202-06
 18 TENNESSEE            155-08
 19 SOUTH DAKOTA         148-00

INDIVIDUAL STANDINGS Day 2
-----------------------------------------------------------------------

IOWA
    Angler               Hometown                   No./lbs-oz Total $$$
  1 Jordan Bellendier    Cedar Rapids, IA            10   34-01  0
  2 Greg Vance           Dubuque, IA                 10   29-05  0
  3 Michael Hanrahan     Pleasant Hill, IA           6   17-14  0
  4 Trent Beier          Crystal Lake, IL            6   17-03  0
  5 Michael Mcknight     Johnston, IA                6   17-01  0
  6 Trevor Kettles       Waukee, IA                  7   15-05  0
  7 Dan Mohn             Lansing, IA                 4   09-14  0
  8 Nate Brown           Muscatine, IA               3   08-15  0
  9 Kory McIntire        Rockford, IA                3   06-12  0
 10 Jeremy King          Panora, IA                  3   06-02  0
 11 Brian Delf           Milan, IL                   1   03-05  0

ILLINOIS
    Angler               Hometown                   No./lbs-oz Total $$$
  1 Tim Hartman          Effingham, IL               10   35-02  0
  2 Luis Gonzalez        Round Lake Beach, IL        10   29-14  0
  3 Cole Jezek           Salem, IL                   7   23-13  0
  4 Art Mensick          Plainfield, IL              9   23-03  0
  5 Chris Baker          West Salem, IL              8   22-06  0
  6 Anthony Villalobos   Salem, IL                   7   22-02  0
  7 Brad Norris          Hudson, IL                  4   11-15  0
  8 Allen Williford      West Franklin, IL           5   11-15  0
  9 Mark Emenecker       Matton, IL                  4   09-00  0
 10 Chuck Lide           Braidwood, IL               1   03-01  0

INDIANA
    Angler               Hometown                   No./lbs-oz Total $$$
  1 Matt McCoy           Indianapolis, IN            10   33-10  0
  2 Chris Wilkinson      Farmersburg, IN             10   32-04  0
  3 Mike Seal            Richmond, IN                10   32-03  0
  4 Kurt Denning         St Meinrad, IN              6   24-02  0
  5 Rob Kelley           Greenwood, IN               8   17-12  0
  6 Tom Forrester        Solsberry, IN               6   16-11  0
  7 Brad Stogsdill       Nashville, IN               6   16-05  0
  8 Scott Bateman        Washington, IN              5   14-15  0
  9 Aaron Ault           Delphi, IN                  5   13-10  0
 10 Tim Cooper           Brownsburg, IN              3   10-00  0

MICHIGAN
    Angler               Hometown                   No./lbs-oz Total $$$
  1 Luke Gritter         Otsego, MI                  10   34-06  0
  2 Tom Kiefer           Fowlerville, MI             9   28-12  0
  3 Brandon Rose         Saginaw, MI                 8   23-05  0
  4 Matthew Reagan       Allendale, MI               5   17-11  0
  5 Mark Goetsch         Gibraltar, MI               5   13-08  0
  6 Danny Posey          Niles, MI                   5   11-10  0
  7 Jesse Schwark        Athens, MI                  4   08-15  0
  8 Ted Prisbe           Harsens  Island, MI         3   06-01  0
  9 Lawrence Leonardi    Clinton Township, MI        1   03-04  0
 10 Ralph Blasey         Pinckey, MI                 1   01-14  0
 11 Jeff Cox             Saline, MI                  0   00-00  0

MINNESOTA
    Angler               Hometown                   No./lbs-oz Total $$$
  1 Brian Skluzacek      Prior Lake, MN              10   29-14  0
  2 Bob Downey           Hudson, WI                  10   28-12  0
  3 Tadd Johnson         Lakeview, MN                10   28-09  0
  4 Corey Brant          Minnetonka, MN              9   21-09  0
  5 Colby Bolin          Excelsior, MN               7   20-08  0
  6 Richard Billings     Rochester, MN               7   19-11  0
  7 Connor Leagjeld      Pequot Lakes, MN            4   14-08  0
  8 Joseph Ponessa       Shoreview, MN               5   13-04  0
  9 Andrew Nitchals      Willmar, MN                 2   07-03  0
 10 Benjamin Brion       Becker, MN                  2   05-15  0

OHIO
    Angler               Hometown                   No./lbs-oz Total $$$
  1 Scott Cremeans       Albany, OH                  10   33-01  0
  2 Michael McAdams      Cincinnati, OH              10   33-00  0
  3 Chris Herzog         Liberty TWP, OH             9   29-11  0
  4 Steven Smith         Johnstown, OH               7   20-12  0
  5 Jeremy Tenwalde      Fort Jennings, OH           8   20-09  0
  6 Joshua Barr          Stow, OH                    7   20-02  0
  7 Paul Amstutz         Gambler, OH                 3   12-14  0
  8 Travis Tenwadle      Fort Jennings, OH           3   07-04  0
  9 Will Presley Jr      Grove City, OH              2   05-05  0
 10 Darrin Lewellen      Mount Vernon, OH            0   00-00  0

SOUTH DAKOTA
    Angler               Hometown                   No./lbs-oz Total $$$
  1 Richard Hladky       Yankton, SD                 8   22-14  0
  2 Jason Lutt           Dallas, SD                  7   21-11  0
  3 Troy Diede           Sioux Falls, SD             6   16-13  0
  4 Monty Fralick        Martin, SD                  5   14-07  0
  5 Adam Hladky          Volin, SD                   3   08-15  0
  6 Brett Logue          Lincoln, NE                 3   07-07  0
  7 Joseph Sestak        Tabor, SD                   1   07-02  0
  8 Cliff Van Beek       Canistota, SD               2   06-04  0
  9 Casey Hutmacher      Oacoma, SD                  0   00-00  0
  9 Rodney Pieper        Yankton, SD                 0   00-00  0

WISCONSIN
    Angler               Hometown                   No./lbs-oz Total $$$
  1 Ed Berndt III        Grandon, WI                 6   25-07  0
  2 Troy Lee             Star Prairie, WI            9   21-11  0
  3 Pat Schlapper        Eleva, WI                   6   19-03  0
  4 Kenneth Bowen        Hager City, WI              5   14-09  0
  5 Thomas Wiese         Muskego, WI                 5   14-01  0
  6 Chris Fredrick       Marshfield, WI              6   13-08  0
  7 George Sigsworth     Amery, WI                   3   09-07  0
  8 Joe Koch             Kewaskum, WI                3   07-11  0
  9 Jerry Thill Jr       Dresser, WI                 3   07-11  0
 10 Randy Burch          Ladysmith, WI               2   06-07  0

KANSAS
    Angler               Hometown                   No./lbs-oz Total $$$
  1 Craig Torkleson      Sand Springs, OK            10   31-00  0
  2 Matt King            Olathe, KS                  10   29-04  0
  3 Chris Brimager       Andover, KS                 8   25-10  0
  4 Kyle Alsop           Overland Park , KS          9   24-04  0
  5 Kevin Miller         Andover, KS                 6   15-06  0
  6 Jason Baird          Gypsum, KS                  6   14-08  0
  7 Travis Tunnell       Benton, KS                  5   12-00  0
  8 Jeremy Montgomery    Overland Park, KS           5   10-01  0
  9 Steve Potter         Conway Springs, KS          3   07-04  0
 10 Larry Riffey         Pratt, KS                   0   00-00  0

OKLAHOMA
    Angler               Hometown                   No./lbs-oz Total $$$
  1 Wyatt Smith          Stroud, OK                  10   32-01  0
  2 Matt Pangrac         Norman , OK                 10   28-14  0
  3 John Soukup          Agra, OK                    9   20-05  0
  4 Troy Enmeier         Enid, OK                    7   18-00  0
  5 Sterling Bougher     Mannford, OK                7   16-15  0
  6 Robert Degraffenreid Oklahoma Cty, OK            5   16-15  0
  7 Tony Baldridge       Oklahoma City, OK           4   09-10  0
  8 Dennis Dustmann      Oklahoma City, OK           3   09-01  0
  9 Mike Myers           Oklahoma City, OK           1   02-14  0
 10 Dana Hulet           Perry, OK                   0   00-00  0

LOUISIANA
    Angler               Hometown                   No./lbs-oz Total $$$
  1 Caleb Sumrall        New Iberia, LA              9   31-04  0
  2 Jamie Laiche         Gonzales, LA                7   22-09  0
  3 Garrett Kemp         Port Allen, LA              7   21-10  0
  4 Ben Nobile           Sorrento, LA                7   17-13  0
  5 Chad Sposito         Gray, LA                    7   17-11  0
  6 Jason Pecoraro       Youngsville, LA             6   17-06  0
  7 Jan Hebert           Houma, LA                   6   16-06  0
  8 Jeremy Anthony       Loranger, LA                5   09-05  0
  9 Hal Pinho Jr         Patterson, LA               2   03-15  0
 10 Timothy Deroche      Boutte, LA                  2   03-12  0

NEBRASKA
    Angler               Hometown                   No./lbs-oz Total $$$
  1 Dave McCoy           Plattsmouth, NE             8   24-13  0
  2 Kent Priel           No Platte, NE               8   24-03  0
  3 Chris Brokman        Council Bluffs, IA          6   20-00  0
  4 Jason Heimes         Omaha, NE                   7   16-10  0
  5 Benjamin Barnhart    Omaha, NE                   6   15-01  0
  6 Justin Kohl          Hastings, NE                5   14-10  0
  7 James McCracken      Omaha, NE                   5   13-09  0
  8 Thomas Reding        Papillion, NE               4   09-14  0
  9 Cort Heimsoth        Elkhorn, NE                 5   09-12  0
 10 Troy Sprague         Lincoln, NE                 0   00-00  0

MISSOURI
    Angler               Hometown                   No./lbs-oz Total $$$
  1 Beau Govreau         Cedar Hill, MO              10   41-12  0
  2 Mark Wiese  Jr       High Ridge, MO              10   39-12  0
  3 Marcus Sykora        Osage Beach, MO             9   35-13  0
  4 Justin Pace          Harrisonville, MO           10   32-02  0
  5 Charlie Bogard       Saint Charles, MO           8   26-00  0
  6 Harold Stark         Eldon, MO                   10   24-11  0
  7 Mike Maples          Rolla, MO                   9   23-01  0
  8 Brian Maloney        Osage Beach, MO             8   18-15  0
  9 Aaron Carroll        Rolla, MO                   5   13-02  0
 10 Jeff Hamilton        Blue Springs, MO            3   08-05  0

ARKANSAS
    Angler               Hometown                   No./lbs-oz Total $$$
  1 Harvey Horne         Bella Vista, AR             10   32-02  0
  2 Ty Bowman            Mt. Home, AR                10   32-00  0
  3 Tray Huddleston      Russellville, AR            10   28-10  0
  4 Brian Crecelius      Mountain Home, AR           10   27-09  0
  5 Don Douglas IV       Maumelle, AR                6   23-11  0
  6 Jeff Fletcher        Eagle Rock, MO              9   23-10  0
  7 Hoyt Akins           Bauxite, AR                 6   18-03  0
  8 Roger Hackman        Harrison, AR                6   17-09  0
  9 Brad Hollowell       Azle, TX                    6   14-11  0
 10 Rickey York          Cherokee Village, AR        1   02-12  0

MISSISSIPPI
    Angler               Hometown                   No./lbs-oz Total $$$
  1 Chuck Halbert        Lexa, AR                    7   23-05  0
  2 Jared Thompson       Marvell, AR                 8   22-09  0
  3 Larry Welborn        Laurel, MS                  7   19-00  0
  4 Destre Dedeaux       Meadville, MS               4   12-13  0
  5 Michael Valentine    Laurel , MS                 6   12-13  0
  6 Justin Foster        Bude, MS                    4   12-01  0
  7 Matt Martin          Brookhaven, MS              4   07-04  0
  8 Kevin Parker         Sumrall, MS                 2   06-02  0
  9 Emile Gennaro  Sr    Wesson, MS                  2   04-12  0
 10 Derward Mauldin      West Helena, AR             1   02-08  0

TEXAS
    Angler               Hometown                   No./lbs-oz Total $$$
  1 Tom Jessop           Dalhart, TX                 10   33-03  0
  2 David Rush           Lewisville, TX              7   29-02  0
  3 Chance Woodard       Paris, TX                   7   22-14  0
  4 Derick Kuyrkendall   Bergheim, TX                8   22-04  0
  5 Jody Rhoden          Groveton, TX                5   19-07  0
  6 Bobby Maynard Jr     Eastland, TX                7   18-02  0
  7 Nick Diberardino     Onalaska, TX                6   16-14  0
  8 Jason Windham        Crawford, TX                5   16-04  0
  9 Stephen White        Dalhart, TX                 3   08-00  0
 10 Glenn Hahn           San Antonio, TX             2   04-07  0

ALABAMA
    Angler               Hometown                   No./lbs-oz Total $$$
  1 Marty Giddens        Eclectic, AL                10   33-09  0
  2 Josh Bragg           Jacksonville, AL            10   31-07  0
  3 Coby Carden          Shelby, AL                  10   29-08  0
  4 Scott Holmes         Moody, AL                   10   29-04  0
  5 Kyle Dorsett         Odenville, AL               10   25-06  0
  6 Justin Barnes        Monroeville, AL             8   23-04  0
  7 Ricky Smith          Ohatchee, AL                5   11-15  0
  8 Kyle Glasgow         Guin, AL                    4   10-14  0
  9 Lee Byrd Jr.         Pell City, AL               4   10-04  0
 10 Paul Wilcoxson       Russellville, AL            2   04-09  0

KENTUCKY
    Angler               Hometown                   No./lbs-oz Total $$$
  1 Drew Sadler          Richmond , KY               9   37-00  0
  2 Gary Bonnet          Borden, IN                  10   32-15  0
  3 Kyle Christopher     Lancaster, KY               8   32-14  0
  4 Kevin True           Frankfort, KY               9   29-15  0
  5 Mitchell Major       Lancaster, KY               6   15-08  0
  6 Richard Cobb         Richmond, KY                5   14-04  0
  7 Randall Christopher  Irvine, KY                  4   11-07  0
  8 Stephen Noble        Newport, KY                 4   10-09  0
  9 Jon Abbott           Versailles, KY              5   10-01  0
 10 Gary Melson          Louisville, KY              2   06-04  0

TENNESSEE
    Angler               Hometown                   No./lbs-oz Total $$$
  1 Chris Barnett        Russellville, TN            9   25-14  0
  2 Keith Broyles        Jackson, TN                 8   19-11  0
  3 Mark Pierce          Cadiz, KY                   9   17-04  0
  4 Mike Hoover          Jackson, TN                 4   12-15  0
  5 Mickey Lewis         Huntingdon, TN              4   10-03  0
  6 Eric Silverstrim     Indian Mound, TN            3   07-01  0
  7 Jeffray Gooch        Westport, TN                2   05-09  0
  8 David Cook           Whitehouse, TN              1   02-13  0
  9 Jimmy Pierce         Medon, TN                   1   01-08  0
 10 Scott Coats          Henderson, TN               0   00-00  0

2017 Academy Sports + Outdoors B.A.S.S. Nation Central Regional presented by Magellan 4/5-4/7
Lake of the Ozarks, Osage Beach  MO.
(NON_BOATER) Standings Day 2

   Angler                   Hometown              No./lbs-oz  Pts   Total $$$

1.  Frank Mixon            Abilene, TX (TX)        6  24-04  0
2.  Gregory Ruff Jr        Bloomington, MN (MN)    6  24-02  0
3.  Brett Daniel           Lamar, AR (AR)          6  21-08  0
4.  Jody Adkins            Navarre, OH (OH)        6  20-11  0
5.  Eddie Charlton         Alma, IL (IL)           6  20-05  0
6.  Brandon Anthony        Independence, LA (LA)   6  19-06  0
7.  Michael Restifo        Hoover, AL (AL)         6  18-00  0
8.  Garrett McCrackin      Jennings, OK (OK)       6  17-15  0
9.  Brad Goetz             Bartlett, IL (WI)       6  17-12  0
10. Bailey Madere          Madisonville, LA (MS)   6  17-02  0
11. Josh Mohn              Lansing, IA (IA)        4  16-13  0
12. Neal Normand           Gonzales, LA (LA)       6  16-09  0
13. Isaiah Minton          Marion, IA (IA)         6  16-09  0
14. Brian Choate           Conway, AR (AR)         6  15-15  0
15. Brad Rockwood          Knoxville, IA (IA)      5  15-15  0
16. Stewart Weber          Louisville, KY (KY)     5  15-10  0
17. Pheerayout See         Rochester, MN (MN)      6  15-08  0
18. Jerry Johnson          Fremont, NE (NE)        5  15-03  0
19. Kevin Mullins          Brooklyn, IN (IN)       5  14-13  0
20. Brian Gibler           Clarksville, TN (TN)    5  14-12  0
21. Dave Norris            Carlock, IL (IL)        6  14-11  0
22. Kyle Power             Cape Fair, MO (MO)      5  14-10  0
23. Barry Ward             Louisville, KY (KY)     5  14-10  0
24. Jean-Christophe David  Bordeaux LA Bodeaux FRA 6  14-09  0
25. Pete Saele             Lockport, IL (IL)       6  14-08  0
26. Brian Wilson           Bloomfield, IA (IA)     5  14-06  0
27. John Ling IV           Climax, MI (MI)         6  14-02  0
28. Kevin Simon            Reserve, LA (LA)        5  14-02  0
29. Damien Clements        Abbeville, LA (LA)      5  14-01  0
30. Tom Ehlers             Madison , IN (IN)       4  14-00  0
31. Steve Sage             Brownville, TN (TN)     6  14-00  0
32. Andrew Harbath Jr      Neenah, WI (WI)         4  13-12  0
33. Greg Marcum            Willisburg, KY (KY)     5  13-07  0
34. Alexander Heintze      DENHAM SPRINGS, LA (LA) 5  13-06  0
35. Josh Uthe              Braidwood, IL (IL)      4  13-05  0
36. Clay Torson            Ely, IA (IA)            4  13-05  0
37. Jeffrey Ray            Canton, MS (MS)         5  13-02  0
38. Samuel Currens         Nicholasville, KY (KY)  4  12-14  0
39. John Kite              Festus, MO (NE)         4  12-14  0
40. Dominick DiNovo        Oak Lawn, IL (IL)       4  12-13  0
41. Jay Myers              Hillsboro, MO (MO)      5  12-13  0
42. Steve Schulz           Piqua, OH (OH)          4  12-13  0
43. Kevin Late             Pocahontas, AR (AR)     5  12-11  0
44. Luke Koch              Campbellsport, WI (WI)  5  12-11  0
45. Nathan Diamond         Omaha, NE (NE)          5  12-09  0
46. Daniel Elsner          Green Bay, WI (WI)      4  12-05  0
47. Keegan Langkau         Oshkosh, WI (WI)        4  12-01  0
48. Doug Andrews           Heber Springs, AR (MS)  4  12-01  0
49. Charles Carroll        West Liberty, OH (OH)   4  11-14  0
50. Joey Von Hoene         Erlanger, KY (KY)       4  11-12  0
51. Phillip Tarasiewicz    Chicago, IL (IL)        4  11-10  0
52. Jonathan Bradley       Atkins , AR (AR)        5  11-06  0
53. Michael Youngblood     Saint Louis, MO (MO)    3  10-14  0
54. Shane Pickett          Rose Hill, KS (KS)      4  10-14  0
55. Koty McCarley          Hackleburg, AL (AL)     4  10-14  0
56. Michael Thompson       Charlestown, IN (IN)    3  10-12  0
57. Eric Quaglio           Lexington, KY (KY)      4  10-09  0
58. Earl Maines            Richmond, KY (KY)       4  10-06  0
59. Tyler Ramsey           Sand Springs, OK (OK)   4  10-05  0
60. Keith Stewart          Fort Jennings, OH (OH)  4  10-04  0
61. Tony Puelz             Garnavillo, IA (IA)     3  10-03  0
62. Chad Petrie            McKinney, TX (TX)       4  10-00  0
63. Allan Freer            Deer Park, WI (WI)      4  10-00  0
64. Ryan Kriegel           Delphos, OH (OH)        4  10-00  0
65. James Rice             Laquey, MO (MO)         3  09-15  0
66. Tim Clanton            Florence, AL (AL)       3  09-13  0
67. Jonathan Small         Pleasant Hill, MO (MO)  4  09-12  0
68. Craig Bolden           Battle Creek, MI (MI)   3  09-10  0
68. Brock Enmeier          Enid, OK (OK)           3  09-10  0
70. Matt Luken             Erlanger, KY (KY)       4  09-09  0
71. Michael Damron         Wynne, AR (MS)          3  09-08  0
72. Scott Blaesi           North Platte, NE (NE)   4  09-07  0
73. Travis Culbreth        Auburn, AL (AL)         3  09-07  0
74. Francis Beard          Rainbow City, AL (AL)   3  08-15  0
75. Kelly Taylor           Beebe, AR (AR)          3  08-15  0
76. Mason Big Crow         Pine Ridge, SD (SD)     3  08-15  0
77. Charles Capehart       Olathe, KS (KS)         3  08-14  0
78. Adam Stark             Carlock, IL (IL)        3  08-13  0
79. Brian Dickirson        Choctaw, OK (OK)        4  08-12  0
80. Eric Jackson           Jackson, TN (TN)        2  08-10  0
81. Kelley Hudson          Graham, TX (TX)         3  08-07  0
82. Robert Troumbley       Lee's Summit, MO (MO)   2  08-06  0
83. Alex Torkleson         Claremore, OK (KS)      3  08-06  0
84. Gaten Wood             Sharon, KS (KS)         4  08-06  0
85. JP Pirani Jr           Gadsden, AL (AL)        3  08-03  0
86. Jon King               Guthrie Ctr, IA (IA)    3  08-03  0
87. Jerry Yang             Maplewood , MN (MN)     3  08-01  0
88. Michael Peschl         Tyndall, SD (SD)        2  07-15  0
89. Chris Marler           Talladega, AL (AL)      3  07-15  0
90. Dale Burriell          Omaha, NE (NE)          3  07-13  0
91. Austin O'Dell          Cushing , OK (OK)       3  07-13  0
92. Matt Marques           Seneca, IL (IL)         3  07-12  0
93. Jill Knies             Celestine, IN (IN)      2  07-11  0
94. Vince Sonnier          Sulphur, LA (LA)        3  07-09  0
95. Andrew Cox             Deatsville, AL (AL)     2  07-07  0
96. Matt Dobson            Edmond, OK (OK)         4  07-07  0
97. Brent Goss             Leavenworth, KS (MO)    2  07-06  0
98. Gilles Monif           Bellevue, NE (NE)       3  07-01  0
99. Bryce Buckner          West Helena, AR (MS)    1  07-01  0
100. Duane Limberg          Papillion, NE (NE)      2  07-01  0
101. Macky Bosley III       Canyon, TX (TX)         3  07-00  0
102. John Ryan              Troy, MI (MI)           3  06-13  0
103. Steven Rodgers         Birch Run , MI (MI)     3  06-10  0
104. Chip Teters II         Stroud, OK (OK)         3  06-10  0
105. Peter Haire            Inner Grove Heights, MN 3  06-06  0
106. Jeremy Baker           Jackson, TN (TN)        2  06-04  0
107. Daniel Davis           Katy, TX (TX)           3  06-03  0
108. Josh Osborn            Oklahoma City, OK (OK)  4  06-01  0
109. Jeffrey Mulholland     Elgin, MN (MN)          2  06-01  0
110. Hershul Smith          Fort Worth, TX (TX)     2  06-01  0
111. Kyle Coffman           Minbun, IA (IA)         2  06-00  0
112. Barry Rettke           Mound, MN (WI)          2  06-00  0
113. Joe Lemmerman          Delano, MN (MN)         3  05-14  0
114. Paul Andorfer          Albion , IN (MI)        2  05-13  0
115. Adam Edwards           Andover, MN (MN)        2  05-13  0
116. Matthew Ploof          Maple Grove, MN (MN)    3  05-12  0
117. Mark Jones             Gonzales, LA (MS)       2  05-11  0
118. David Wheat            Philadelphia, MS (MS)   2  05-08  0
119. Kyle Kimbrell          Sumiton, AL (AL)        2  05-06  0
120. Taylor Hamburger       Tulsa, OK (OK)          2  05-05  0
121. Randy Kvapil           Crandall, TX (TX)       2  05-03  0
121. Spencer Strope         Orchard, NE (SD)        2  05-03  0
121. Jeffery Westerback     Peshtigo, WI (WI)       2  05-03  0
124. George Lewis           Madison, MS (MS)        2  05-03  0
125. Terry Slavens          Shirley, AR (AR)        2  05-02  0
126. Jason Knight           Little Rock, AR (AR)    2  05-00  0
127. Evan Hartnett          Hutchinson, KS (KS)     2  04-15  0
128. Steven Wells           Lawrenceville, IL (IL)  2  04-13  0
129. Michael Herndon        Soso, MS (MS)           2  04-12  0
129. Robbie Ocmond          Gonzales, LA (LA)       2  04-12  0
131. Pat Soppe              Manchester, IA (IA)     2  04-12  0
132. Paul Huse              Omaha, NE (NE)          2  04-12  0
133. Jeffrey Mooter         Yukon, OK (OK)          2  04-09  0
134. Rickey Boggs           Shepherdsville, KY (KY) 2  04-08  0
135. Shane O'Daniel         Prairieville, LA (LA)   2  04-07  0
136. Kajuan Little          Columbus, OH (OH)       2  04-06  0
137. Eric Ledger            Council Bluffs, IA (NE) 2  04-03  0
138. Adam Cocco             Hudsonville, MI (MI)    2  04-02  0
139. Tyler Russell          Desoto, MO (MO)         2  04-01  0
140. Cory Sinkler           Winner, SD (SD)         1  04-00  0
141. Samuel Wendland        Green Bay, WI (WI)      1  03-14  0
142. Jason Ostrowski        Silverwood , MI (MI)    1  03-07  0
143. Emily Johnson          Yankton, SD (SD)        1  03-06  0
143. Tucker Peschl          Tyndall, SD (SD)        1  03-06  0
145. Nathaniel Wasson       Clarksville, TN (TN)    2  03-06  0
146. Leray Anderson  II     Crofton, NE (SD)        1  03-03  0
147. Howard Hull            Milford Center, OH (OH) 1  02-14  0
148. David Sellers          Brandon, SD (SD)        1  02-12  0
149. Jeremiaha Cole         Salina, KS (KS)         1  02-11  0
150. Dennis Sellers         Fayette, IA (IA)        1  02-10  0
151. James Smotherman       Hollister , MO (MO)     1  02-09  0
152. Kenneth Smith          Troy, MI (MI)           1  02-07  0
153. Jason Stone            Cincinatti, OH (OH)     1  02-06  0
154. rON Jones              Nacogdoches, TX (TX)    1  02-05  0
155. William Batterman      Lakeville, MN (MN)      1  02-03  0
155. Andy Brown             Russellville, AR (AR)   1  02-03  0
155. Lloyd Capps            Tazewell, TN (TN)       1  02-03  0
155. Jonathan Kludt         Mitchell, SD (SD)       1  02-03  0
155. Clayton Rudman         Victoria, KS (KS)       1  02-03  0
160. Bryan Adams            Omaha, NE (NE)          1  02-02  0
160. James Miller           Pittsboro, IN (IN)      1  02-02  0
162. Karl Whitacre          Blue Eye, MO (MO)       1  02-01  0
163. Doug Schysm Jr         Ragley, LA (LA)         1  02-00  0
164. David McAfee           Gravette, AR (AR)       1  01-15  0
165. Justin Harris          McPherson, KS (KS)      1  01-14  0
166. Alan Case              Jackson, TN (TN)        1  01-13  0
167. James Truitt           Clarksville, TN (TN)    1  01-10  0
168. Trevor Herman          Winner, SD (SD)         1  01-08  0
168. Mark Lachenauer        San Antonio, TX (TX)    1  01-08  0
170. Randy Mahoney          Madison, IN (IN)        1  01-04  0
171. Jon Dybel              Bedford, IN (IN)        1  01-01  0
172. Eric Camden            Westfield, IN (IN)      0  00-00  0
172. Michael Combs          Garrett, IN (IN)        0  00-00  0
172. Dan Devine             Commerce Twp, MI (MI)   0  00-00  0
172. Michael Dudek          Willowbrook, IL (IL)    0  00-00  0
172. Matthew Gardner        Xenia, OH (OH)          0  00-00  0
172. Colton Haney           Baldwin, WI (WI)        0  00-00  0
172. William Johnston III   Nashville, TN (TN)      0  00-00  0
172. Alden Keel Jr          Perkinston, MS (MS)     0  00-00  0
172. Jamie Long             Bear Creek, AL (AL)     0  00-00  0
172. Duane Michaels         Fort Wayne, IN (MI)     0  00-00  0
172. Michael Morris         Westmoreland, TN (TN)   0  00-00  0
172. Robert Moseley         Corpus Christi, TX (TX) 0  00-00  0
172. Michael Nitchals       Willmar, MN (MN)        0  00-00  0
172. Patrick Nowakowski     Lebanon, IN (IN)        0  00-00  0
172. Clint Paulette         Malvern, OH (OH)        0  00-00  0
172. Thomas Sanders         Paragould, AR (AR)      0  00-00  0
172. Colby Simon            Augusta, KS (KS)        0  00-00  0
172. Kyle Torkelson         Sand Springs, OK (KS)   0  00-00  0
172. James Wright           Butler , KY (KY)        0  00-00  0
-----------------------------------------------------------------------

-----------------------------------------------------------------------
Totals
Day   #Limits    #Fish      Weight
 1       52       274       776-02
 2       0        261       723-08
----------------------------------
          52       535      1499-10

TEAM STANDINGS Day 2
----------------------------------
    State                Lbs-Oz
  1 MISSOURI             346-00
  2 ARKANSAS             305-08
  3 KENTUCKY             304-02
  4 ILLINOIS             301-01
  5 ALABAMA              296-00
  6 IOWA                 274-09
  7 LOUISIANA            272-08
  8 MINNESOTA            269-09
  9 INDIANA              263-03
 10 TEXAS                261-08
 11 OHIO                 257-14
 12 OKLAHOMA             239-02
 13 WISCONSIN            233-05
 14 NEBRASKA             231-09
 15 KANSAS               217-08
 16 MISSISSIPPI          203-03
 17 MICHIGAN             202-06
 18 TENNESSEE            155-08
 19 SOUTH DAKOTA         148-00

INDIVIDUAL STANDINGS Day 2
-----------------------------------------------------------------------

IOWA
    Angler               Hometown                   No./lbs-oz Total $$$
  1 Josh Mohn            Lansing, IA                 4   16-13  0
  2 Isaiah Minton        Marion, IA                  6   16-09  0
  3 Brad Rockwood        Knoxville, IA               5   15-15  0
  4 Brian Wilson         Bloomfield, IA              5   14-06  0
  5 Clay Torson          Ely, IA                     4   13-05  0
  6 Tony Puelz           Garnavillo, IA              3   10-03  0
  7 Jon King             Guthrie Ctr, IA             3   08-03  0
  8 Kyle Coffman         Minbun, IA                  2   06-00  0
  9 Pat Soppe            Manchester, IA              2   04-12  0
 10 Dennis Sellers       Fayette, IA                 1   02-10  0

ILLINOIS
    Angler               Hometown                   No./lbs-oz Total $$$
  1 Eddie Charlton       Alma, IL                    6   20-05  0
  2 Dave Norris          Carlock, IL                 6   14-11  0
  3 Pete Saele           Lockport, IL                6   14-08  0
  4 Josh Uthe            Braidwood, IL               4   13-05  0
  5 Dominick DiNovo      Oak Lawn, IL                4   12-13  0
  6 Phillip Tarasiewicz  Chicago, IL                 4   11-10  0
  7 Adam Stark           Carlock, IL                 3   08-13  0
  8 Matt Marques         Seneca, IL                  3   07-12  0
  9 Steven Wells         Lawrenceville, IL           2   04-13  0
 10 Michael Dudek        Willowbrook, IL             0   00-00  0

INDIANA
    Angler               Hometown                   No./lbs-oz Total $$$
  1 Kevin Mullins        Brooklyn, IN                5   14-13  0
  2 Tom Ehlers           Madison , IN                4   14-00  0
  3 Michael Thompson     Charlestown, IN             3   10-12  0
  4 Jill Knies           Celestine, IN               2   07-11  0
  5 James Miller         Pittsboro, IN               1   02-02  0
  6 Randy Mahoney        Madison, IN                 1   01-04  0
  7 Jon Dybel            Bedford, IN                 1   01-01  0
  8 Eric Camden          Westfield, IN               0   00-00  0
  8 Michael Combs        Garrett, IN                 0   00-00  0
  8 Patrick Nowakowski   Lebanon, IN                 0   00-00  0

MICHIGAN
    Angler               Hometown                   No./lbs-oz Total $$$
  1 John Ling IV         Climax, MI                  6   14-02  0
  2 Craig Bolden         Battle Creek, MI            3   09-10  0
  3 John Ryan            Troy, MI                    3   06-13  0
  4 Steven Rodgers       Birch Run , MI              3   06-10  0
  5 Paul Andorfer        Albion , IN                 2   05-13  0
  6 Adam Cocco           Hudsonville, MI             2   04-02  0
  7 Jason Ostrowski      Silverwood , MI             1   03-07  0
  8 Kenneth Smith        Troy, MI                    1   02-07  0
  9 Dan Devine           Commerce Twp, MI            0   00-00  0
  9 Duane Michaels       Fort Wayne, IN              0   00-00  0

MINNESOTA
    Angler               Hometown                   No./lbs-oz Total $$$
  1 Gregory Ruff Jr      Bloomington, MN             6   24-02  0
  2 Pheerayout See       Rochester, MN               6   15-08  0
  3 Jerry Yang           Maplewood , MN              3   08-01  0
  4 Peter Haire          Inner Grove Heights, MN     3   06-06  0
  5 Jeffrey Mulholland   Elgin, MN                   2   06-01  0
  6 Joe Lemmerman        Delano, MN                  3   05-14  0
  7 Adam Edwards         Andover, MN                 2   05-13  0
  8 Matthew Ploof        Maple Grove, MN             3   05-12  0
  9 William Batterman    Lakeville, MN               1   02-03  0
 10 Michael Nitchals     Willmar, MN                 0   00-00  0

OHIO
    Angler               Hometown                   No./lbs-oz Total $$$
  1 Jody Adkins          Navarre, OH                 6   20-11  0
  2 Steve Schulz         Piqua, OH                   4   12-13  0
  3 Charles Carroll      West Liberty, OH            4   11-14  0
  4 Keith Stewart        Fort Jennings, OH           4   10-04  0
  5 Ryan Kriegel         Delphos, OH                 4   10-00  0
  6 Kajuan Little        Columbus, OH                2   04-06  0
  7 Howard Hull          Milford Center, OH          1   02-14  0
  8 Jason Stone          Cincinatti, OH              1   02-06  0
  9 Matthew Gardner      Xenia, OH                   0   00-00  0
  9 Clint Paulette       Malvern, OH                 0   00-00  0

SOUTH DAKOTA
    Angler               Hometown                   No./lbs-oz Total $$$
  1 Mason Big Crow       Pine Ridge, SD              3   08-15  0
  2 Michael Peschl       Tyndall, SD                 2   07-15  0
  3 Spencer Strope       Orchard, NE                 2   05-03  0
  4 Cory Sinkler         Winner, SD                  1   04-00  0
  5 Emily Johnson        Yankton, SD                 1   03-06  0
  5 Tucker Peschl        Tyndall, SD                 1   03-06  0
  7 Leray Anderson  II   Crofton, NE                 1   03-03  0
  8 David Sellers        Brandon, SD                 1   02-12  0
  9 Jonathan Kludt       Mitchell, SD                1   02-03  0
 10 Trevor Herman        Winner, SD                  1   01-08  0

WISCONSIN
    Angler               Hometown                   No./lbs-oz Total $$$
  1 Brad Goetz           Bartlett, IL                6   17-12  0
  2 Andrew Harbath Jr    Neenah, WI                  4   13-12  0
  3 Luke Koch            Campbellsport, WI           5   12-11  0
  4 Daniel Elsner        Green Bay, WI               4   12-05  0
  5 Keegan Langkau       Oshkosh, WI                 4   12-01  0
  6 Allan Freer          Deer Park, WI               4   10-00  0
  7 Barry Rettke         Mound, MN                   2   06-00  0
  8 Jeffery Westerback   Peshtigo, WI                2   05-03  0
  9 Samuel Wendland      Green Bay, WI               1   03-14  0
 10 Colton Haney         Baldwin, WI                 0   00-00  0

KANSAS
    Angler               Hometown                   No./lbs-oz Total $$$
  1 Shane Pickett        Rose Hill, KS               4   10-14  0
  2 Charles Capehart     Olathe, KS                  3   08-14  0
  3 Alex Torkleson       Claremore, OK               3   08-06  0
  4 Gaten Wood           Sharon, KS                  4   08-06  0
  5 Evan Hartnett        Hutchinson, KS              2   04-15  0
  6 Jeremiaha Cole       Salina, KS                  1   02-11  0
  7 Clayton Rudman       Victoria, KS                1   02-03  0
  8 Justin Harris        McPherson, KS               1   01-14  0
  9 Colby Simon          Augusta, KS                 0   00-00  0
  9 Kyle Torkelson       Sand Springs, OK            0   00-00  0

OKLAHOMA
    Angler               Hometown                   No./lbs-oz Total $$$
  1 Garrett McCrackin    Jennings, OK                6   17-15  0
  2 Tyler Ramsey         Sand Springs, OK            4   10-05  0
  3 Brock Enmeier        Enid, OK                    3   09-10  0
  4 Brian Dickirson      Choctaw, OK                 4   08-12  0
  5 Austin O'Dell        Cushing , OK                3   07-13  0
  6 Matt Dobson          Edmond, OK                  4   07-07  0
  7 Chip Teters II       Stroud, OK                  3   06-10  0
  8 Josh Osborn          Oklahoma City, OK           4   06-01  0
  9 Taylor Hamburger     Tulsa, OK                   2   05-05  0
 10 Jeffrey Mooter       Yukon, OK                   2   04-09  0

LOUISIANA
    Angler               Hometown                   No./lbs-oz Total $$$
  1 Brandon Anthony      Independence, LA            6   19-06  0
  2 Neal Normand         Gonzales, LA                6   16-09  0
  3 Jean-Christophe David Bordeaux LA Bodeaux FRA  6   14-09  0
  4 Kevin Simon          Reserve, LA                 5   14-02  0
  5 Damien Clements      Abbeville, LA               5   14-01  0
  6 Alexander Heintze    DENHAM SPRINGS, LA          5   13-06  0
  7 Vince Sonnier        Sulphur, LA                 3   07-09  0
  8 Robbie Ocmond        Gonzales, LA                2   04-12  0
  9 Shane O'Daniel       Prairieville, LA            2   04-07  0
 10 Doug Schysm Jr       Ragley, LA                  1   02-00  0

NEBRASKA
    Angler               Hometown                   No./lbs-oz Total $$$
  1 Jerry Johnson        Fremont, NE                 5   15-03  0
  2 John Kite            Festus, MO                  4   12-14  0
  3 Nathan Diamond       Omaha, NE                   5   12-09  0
  4 Scott Blaesi         North Platte, NE            4   09-07  0
  5 Dale Burriell        Omaha, NE                   3   07-13  0
  6 Gilles Monif         Bellevue, NE                3   07-01  0
  7 Duane Limberg        Papillion, NE               2   07-01  0
  8 Paul Huse            Omaha, NE                   2   04-12  0
  9 Eric Ledger          Council Bluffs, IA          2   04-03  0
 10 Bryan Adams          Omaha, NE                   1   02-02  0

MISSOURI
    Angler               Hometown                   No./lbs-oz Total $$$
  1 Kyle Power           Cape Fair, MO               5   14-10  0
  2 Jay Myers            Hillsboro, MO               5   12-13  0
  3 Michael Youngblood   Saint Louis, MO             3   10-14  0
  4 James Rice           Laquey, MO                  3   09-15  0
  5 Jonathan Small       Pleasant Hill, MO           4   09-12  0
  6 Robert Troumbley     Lee's Summit, MO            2   08-06  0
  7 Brent Goss           Leavenworth, KS             2   07-06  0
  8 Tyler Russell        Desoto, MO                  2   04-01  0
  9 James Smotherman     Hollister , MO              1   02-09  0
 10 Karl Whitacre        Blue Eye, MO                1   02-01  0

ARKANSAS
    Angler               Hometown                   No./lbs-oz Total $$$
  1 Brett Daniel         Lamar, AR                   6   21-08  0
  2 Brian Choate         Conway, AR                  6   15-15  0
  3 Kevin Late           Pocahontas, AR              5   12-11  0
  4 Jonathan Bradley     Atkins , AR                 5   11-06  0
  5 Kelly Taylor         Beebe, AR                   3   08-15  0
  6 Terry Slavens        Shirley, AR                 2   05-02  0
  7 Jason Knight         Little Rock, AR             2   05-00  0
  8 Andy Brown           Russellville, AR            1   02-03  0
  9 David McAfee         Gravette, AR                1   01-15  0
 10 Thomas Sanders       Paragould, AR               0   00-00  0

MISSISSIPPI
    Angler               Hometown                   No./lbs-oz Total $$$
  1 Bailey Madere        Madisonville, LA            6   17-02  0
  2 Jeffrey Ray          Canton, MS                  5   13-02  0
  3 Doug Andrews         Heber Springs, AR           4   12-01  0
  4 Michael Damron       Wynne, AR                   3   09-08  0
  5 Bryce Buckner        West Helena, AR             1   07-01  0
  6 Mark Jones           Gonzales, LA                2   05-11  0
  7 David Wheat          Philadelphia, MS            2   05-08  0
  8 George Lewis         Madison, MS                 2   05-03  0
  9 Michael Herndon      Soso, MS                    2   04-12  0
 10 Alden Keel Jr        Perkinston, MS              0   00-00  0

TEXAS
    Angler               Hometown                   No./lbs-oz Total $$$
  1 Frank Mixon          Abilene, TX                 6   24-04  0
  2 Chad Petrie          McKinney, TX                4   10-00  0
  3 Kelley Hudson        Graham, TX                  3   08-07  0
  4 Macky Bosley III     Canyon, TX                  3   07-00  0
  5 Daniel Davis         Katy, TX                    3   06-03  0
  6 Hershul Smith        Fort Worth, TX              2   06-01  0
  7 Randy Kvapil         Crandall, TX                2   05-03  0
  8 rON Jones            Nacogdoches, TX             1   02-05  0
  9 Mark Lachenauer      San Antonio, TX             1   01-08  0
 10 Robert Moseley       Corpus Christi, TX          0   00-00  0

ALABAMA
    Angler               Hometown                   No./lbs-oz Total $$$
  1 Michael Restifo      Hoover, AL                  6   18-00  0
  2 Koty McCarley        Hackleburg, AL              4   10-14  0
  3 Tim Clanton          Florence, AL                3   09-13  0
  4 Travis Culbreth      Auburn, AL                  3   09-07  0
  5 Francis Beard        Rainbow City, AL            3   08-15  0
  6 JP Pirani Jr         Gadsden, AL                 3   08-03  0
  7 Chris Marler         Talladega, AL               3   07-15  0
  8 Andrew Cox           Deatsville, AL              2   07-07  0
  9 Kyle Kimbrell        Sumiton, AL                 2   05-06  0
 10 Jamie Long           Bear Creek, AL              0   00-00  0

KENTUCKY
    Angler               Hometown                   No./lbs-oz Total $$$
  1 Stewart Weber        Louisville, KY              5   15-10  0
  2 Barry Ward           Louisville, KY              5   14-10  0
  3 Greg Marcum          Willisburg, KY              5   13-07  0
  4 Samuel Currens       Nicholasville, KY           4   12-14  0
  5 Joey Von Hoene       Erlanger, KY                4   11-12  0
  6 Eric Quaglio         Lexington, KY               4   10-09  0
  7 Earl Maines          Richmond, KY                4   10-06  0
  8 Matt Luken           Erlanger, KY                4   09-09  0
  9 Rickey Boggs         Shepherdsville, KY          2   04-08  0
 10 James Wright         Butler , KY                 0   00-00  0

TENNESSEE
    Angler               Hometown                   No./lbs-oz Total $$$
  1 Brian Gibler         Clarksville, TN             5   14-12  0
  2 Steve Sage           Brownville, TN              6   14-00  0
  3 Eric Jackson         Jackson, TN                 2   08-10  0
  4 Jeremy Baker         Jackson, TN                 2   06-04  0
  5 Nathaniel Wasson     Clarksville, TN             2   03-06  0
  6 Lloyd Capps          Tazewell, TN                1   02-03  0
  7 Alan Case            Jackson, TN                 1   01-13  0
  8 James Truitt         Clarksville, TN             1   01-10  0
  9 William Johnston III Nashville, TN               0   00-00  0
  9 Michael Morris       Westmoreland, TN            0   00-00  0


---