Luke Palmer Wins the ABA Ray Scott Championship on the Red River!!
---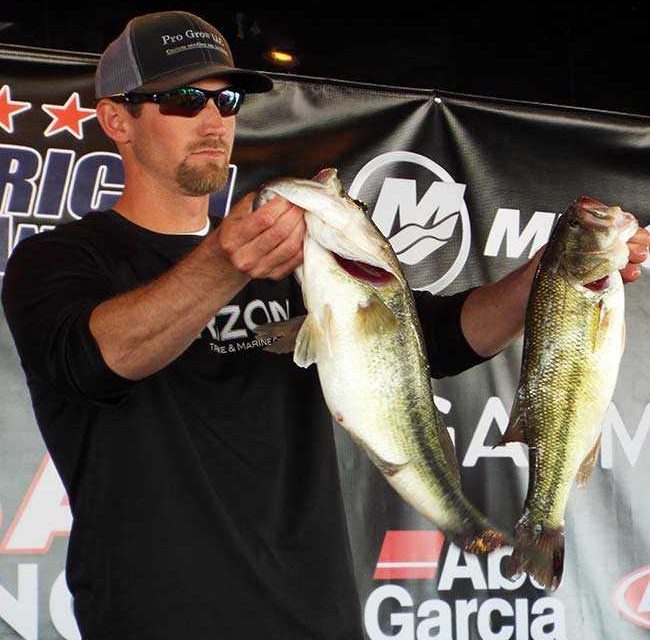 ATHENS, Ala. –  The 2018 Ray Scott National Championship on the Red River in Shreveport & Bossier City, LA has come to an astonishing close! Throughout challenges and difficult waters, the anglers brought their best to the water for a strong and competitive event.
Angler Luke Palmer of Coalgate, OK finished the event with a strong final day to take home the winning prize from the Red River. He moved up from 8th place after day 3 to take the lead with an overall weight of 38.57 lbs from 16 fish throughout the 4-day event. Palmer took home a new Triton 21 TrX boat, outfitted with a Mercury 250 ProXS motor, MotorGuide trolling motor, and Garmin electronics. He also walked away with a check for $50,000!
"The Lord blessed me and that's all that matters," Palmer explained. "I missed good fish all week, but I executed well today. I lost a good one early this morning on a stump, so I let it rest for a while then came back. This time I was able to put her in the boat. She was my biggest fish, and that put my limit to where it was today because I was also able to keep them on the hook to get them in the boat."
Coming in second for the event is Robert Branagh out of Malabar, FL. Branagh maintained a consistent quality weight of fish each day, totaling out to 36.85 lbs with 20 fish. For the 2nd place effort, he took home a check for $10,000.
"I had a good week," Branagh said. "After day 1, I had to put my head down. I knew it was going to take a limit every day. I've got to thank Aquamarine, Bass Cat, and Halo Rods, as well as the ABA. Without them this would not be possible."
Finishing in 3rd for the championship event is Billy Graves from Montgomery, LA. Billy totaled 18 fish for the week with a cumulative weight of 36.79 lbs. He was able to take home a $8,000 check for the event.
"It was a hard tournament, but I wish some of the other guys could have been here when the river was good," stated Graves. "I was making long runs every day to get away from the field. I had some fish down in pool 4 in the jungle that I was going to. The first three days I bounced around from 2 different spots to catch what I brought to the scales. Even though the weather was terrible, day 2 turned out to be the best for me. I was shocked on day 3 when I took the lead with only a 5-pound bag. Today just didn't pan out because it was so cold."
The top 10 on the boater side was rounded out by the following anglers:
4th –    Josh Cameron of Meridian, MS              – 36.71 lbs
5th –    John Anderson of McKinney, TX            – 35.44 lbs
6th –    Terry Peacock of Royse City, TX           – 34.11 lbs
7th –    Mike Quinlin of Mooresville, IN               – 33.97 lbs
8th –    Dustin Seaborn of Guin, AL                   – 32.43 lbs
9th –    Scott Dean of Terrell, TX                       – 31.87 lbs
10th – Tyler Rivet or Raceland, LA                   – 31.84 lbs
For the coangler side of the championship event, Shane Cashman had a solid final day on the river to come in first place overall. He brought in a total of 9 fish for the week weighing at 19.89 lbs, including a 3.03 lb larger bass. For his first-place win, Cashman took home a new Triton 19 TrX boat, outfitted with a Mercury 200 ProXS motor, MotorGuide trolling motor, and Garmin electronics. He also walked away with a check for $25,000!
"The win is starting to sink in," Cashman stated after the event. "I was able to talk to my wife and daughter and they are so excited. I knew I was close but didn't think I would take the lead because I was 4 pounds back. Especially with the way things were this week, and there was a big gap to close. Today was just a fun day of fishing. My boater put me on some good fish. The first bite this morning hit me pretty hard on a spinner bait, which is what I was hoping for, and it gave me the confidence to keep throwing it all day. Catching six keepers, I culled a couple of times. It's hard to express my feelings right now, but my wife and daughter are ready to see the point and I'm excited to get home."
Second for the coanglers is Eric Andrews out of Davenport, FL. He managed to bring in 10 fish during the event that totaled 18.77 lbs overall. For being able to finish in second, Andrews took home a check for $5,000.
"I was here for practice and only caught one keeper," explained Andrews. "I decided to try something different, fishing soft plastics all week long. Caught them on the same bait for the first day, but it didn't work on day 2 so I changed it up and caught again. I went back and forth between the two the rest of the event."
Rounding out third place for the coanglers is Herbert Hall out of Harrison, TN. Hall brought in 10 fish during the week for a cumulative total of 18.49 lbs. He also took home a check for $4,000 for his efforts.
"I had good boaters all week that put me on the fish, and I wish I could fish with them again," stated Hall. "I just enjoyed it. It was a good event."
The top 10 on the coangler side was rounded out by the following anglers:
4th –    Brian Murphy of Sulphur, LA                  – 17.61 lbs
5th –    Jared West of Mont Belvieu, TX             – 16.82 lbs
6th –    Brian Lasiter of Elba, AL                        – 16.66 lbs
7th –    Sam Fish of Alexander City, AL              – 15.80 lbs
8th –    Anthony Kashiwsky of Aliquippa, PA       – 15.64 lbs
9th –    Doug File of Salisbury, NC                     – 15.50 lbs
10th – Jeffery Sanford of Decatur, AL               – 14.99 lbs
The largest bass of the entire event for the boaters was caught by Joseph Hethcoat on the first day with a weight of 5.72 lbs. The big biggest bass of the event for the coanglers was caught by Brian Murphy on day 2, weighing 6.51 pounds.
The field of championship anglers launched out from Red River South Marina at 6:35 am on April 5th and began checking in for weigh-in at 3pm. Look forward to another eventful day of fishing competition on the river as day 2 takes off at daybreak on April 6th.
American Bass Anglers' commitment is to provide low cost, close to home tournaments for the weekend angler and at the same time offer each competitor an upward path for individual angler progression. For more information about American Bass Anglers and the American Fishing Tour, the ABA Open Series, the Triton 100% Plus Team Tour, or the American Couples Series, visit www.americanbassanglers.com 
---