Lew's adds Grigsby, Swindle and others to 2020 Pro -Staff
Lew's, the manufacturer of premium rods, reels and fishing accessories is proud to announce the addition of Bass Fishing Hall of Fame inductee Shaw Grigsby to their pro staff.  Grigsby has long been an important member of the Strike King pro staff, and adding him to Lew's means he will be endorsing the majority of the product lines for both brands.
Grigsby, from Gainesville, Fla., has been one of the most influential anglers in the sport for more than 20 years.  A veteran of hundreds of Bassmaster events, and a founding partner of Major League Fishing and the Bass Pro Tour, Grigsby has always represented his sponsors with the highest integrity and professionalism.
In his professional career, Grigsby has been the host of One More Cast with Shaw Grigsby television; a show that spanned 20 years.  He has won 9 Bassmaster events, finished in the top 64 times and amassed more than $2.2-million in career earnings.
Mark Copley, Director of Pro Staff and Media Relations for Lew's and Strike King said that adding Grigsby has a very familiar feel.  "Shaw has always been an important part of Strike King, and having him choose Lew's feels like welcoming a family member home," said Copley.  "Shaw's career is one that anyone would be proud to have, and he's a one in a million kind of person; we couldn't be prouder to see him adding the Lew's logo to his jersey."
As an angler who makes his living casting, Grigsby knows the type of quality he needs to perform on the water, but also knows that anglers of every skillset and level need great equipment to enjoy their pastime.  "One of the most exciting things for me is that Lew's makes great products for everyone," said Grigsby.   "Not only do they make amazing rods and reels for me to compete with, but they make something of quality for every angler, at any budget, and they give back too."
Grigsby expounded on some of those programs.  "From the American Hero program that supports first responders and our military, to the high school and college programs that help grow our sport, Lew's is involved at every level," he said.  "It really was an easy decision for me to sign with Lew's, I've already known so many of them from Strike King, and the product just makes it that much better; I'm really excited to be joining the Lew's team."
Copley finished by further bragging on Grigsby, "anyone who has ever met Shaw feels like they have made a new friend," he said.  "Not only is he a Hall of Fame angler, but he is equally as great a person; he is a natural fit for us, and we are excited to have him as a part of our family."
Lew's Adds Gerald Swindle, Lew's and Strike King Add Brian Latimer and Cole Floyd
Lew's, and sister brand Strike King; already featuring some of the most impressive pro teams in the fishing industry, announce the addition of Gerald Swindle to the Lew's team, and Brian Latimer and Cole Floyd to the Lew's and Strike King brands.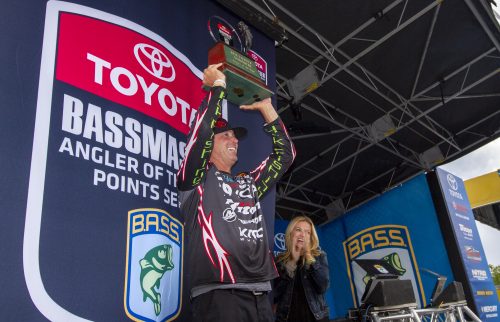 Swindle, from Guntersville, Ala. is a Bassmaster Elite Series pro and two-time Bassmaster Angler of the Year will represent Lew's reels.  Latimer, an FLW Tour Champion from Belton, S.C., will also represent Lew's reels, as well as Strike King tungsten and Tour Grade fishing line.  Floyd, a college fishing and Costa Series champion from Leesburg, Ohio, will represent the complete lines of both Lew's and Strike King.
Mark Copley, Director of Pro Staff and Media Relations said that the brands look forward to the new additions.  "The addition of these new anglers are great fits for Lew's and Strike King," said Copley.  "Our brands have always featured some of the top names in the sport, and these are no different.  Gerald is a highly accomplished veteran angler and one of the most popular amongst the fans, Brian is an exceptional talent that has been coming into his own, and Floyd is one of the best anglers to ever come from the college ranks; these are perfect additions to our teams."
Copley said that the brands are very excited with the extension of platforms that especially Swindle and Latimer provide to the brands.  "Gerald has one of the most loyal and active followings on social media, and Brian's YouTube channel and social media presence are very exciting; they work very hard on those platforms," said Copley.  "Having our brands associated with this caliber of angler and the presence they generate on their social media channels will be invaluable in promoting Lew's and Strike King."
Ever the showman, Swindle said that using Lew's reels in 2020 will help him on the water as he competes on the Bassmaster Elite Series, and help him feel relaxed, knowing his reels will function as intended.  "Some folks think that Southern Comfort comes in a bottle," said Swindle.  "But, I think that it comes in a box of Lew's reels; they are good to the last drop."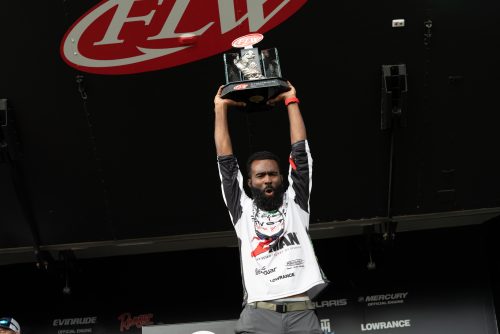 Latimer said the quality of the products is what spoke to him.  "The one thing you know about Lew's and Strike King is that they spare no expense in producing top quality products," Latimer said.  "I've got great rod, hardbait and softbait sponsors, but having a Lew's reel in my hands, spooled with Strike King Tour Grade line and fishing with Tour Grade tungsten, I know I'll be able to get the job done."
Copley summed up the new additions by saying, "having these guys on our teams is a big deal, we are looking forward to their accomplishments and contributions to Lew's and Strike King."
Follow Swindle as he competes on the Bassmaster Elite Series, Latimer as he competes in the Bassmaster Opens and Floyd on the FLW Pro Circuit in 2020.