John Cox's Love/Hate Relationship with the TN River
---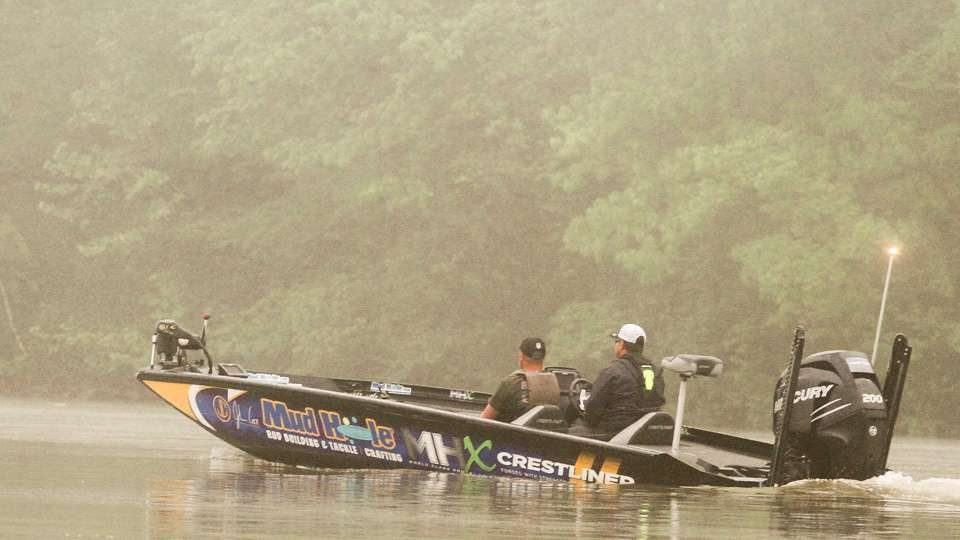 Story by Vance McCullough / Images Courtesy of BASS, Ronnie Moore
John Cox has a windshield/bug relationship with TVA lakes. The 31-year-old professional tournament veteran either smashes the competition or gets wiped away when he takes to Tennessee River fisheries.
"Kentucky Lake messed me up from winning the points, year-before-last. I've always just had awful finishes, in the hundreds, on TVA lakes," says Cox. Then there's the Forrest Wood Cup he won last summer on Wheeler Lake. And his most recent win this past weekend on Chickamauga.
Cox is an unapologetic skinny water angler. Shallow patterns are often fragile patterns, especially on lakes with volatile water levels. This has a lot to do his success/failure rate on the Tennessee.
"TVA fish go shallow quick and they go deep quick," says Cox. "They change. All of the tournaments that I've done well in, the fish have come to me. They were leaving the deep water and coming shallow so I was able to beat the guys that were fishing out on the ledges."
And so it went this week at the Bassmaster Southern Open on Lake Chickamauga where Cox won with a 3-day total weight of 68 pounds, 3 ounces and a winning margin of nearly 3 pounds over local favorite Michael Neal.
Not only did Cox beat a local stick, he beat the local wisdom which said the tourney would be won offshore. It's hard to win a multi-day tourney solely by sight fishing any more, but he pulled it off.
Cox attributes his win to a couple of factors. "Timing, weather, them pulling water and the time of year – it just worked out perfectly."
A less obvious contribution came from the Tennessee DNR who stocked Florida strain largemouth into the lake a few years ago. Cox, of DeBary, FL knows how those fish act. "On the Tennessee River, there's always a good deep bite, always more fish out there on the ledges, but it's just that, when I get around the right area . . . and those fish there act a lot like Florida bass, so it was just awesome."
Cox is happy to win an Open after 12 years of trying, but the real prize for him is the berth into the 2018 Bassmaster Classic. It will be held on one of his favorite fisheries, Lake Hartwell. "My main goal was to go to the Classic on Hartwell. If I could fish a Classic on any of the places we go to, it would be Hartwell at that time of year."
Cox can't pinpoint the reason for his love of Hartwell, a lake so different from his native environs. "I didn't do well the first time I went there, but I liked how it laid out. I spent a lot of time practicing, seeing the lake with the water down and learning as much as I could about it. Last year,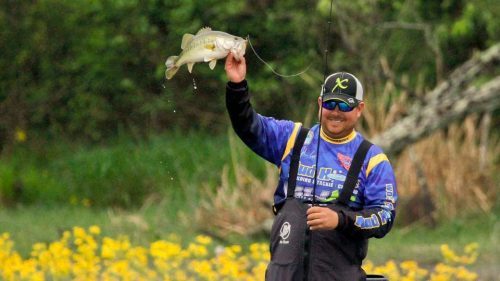 winning, and the year before that, finishing 3rd or 4th, it just fits into the way I like fishing. Even with a full field you can get so spread out and there's fish everywhere. It's a fun place to fish. You can fish all day and never see another boat.
"I haven't been able to sleep for thinking about it," said an already exhausted Cox as he headed to the hotel after practicing for the FLW Tour tourney on Beaver lake which starts this Thursday. He went directly from Chickamauga to Beaver hoping to ride some momentum, if not some good rest. "As soon as they announced the Classic location on Hartwell I said 'I can win, if I can get in that thing'. I can't believe it."
As for the other carrot that dangles before all Opens competitors, Cox doesn't think He will fish the Elite Series next year, even though he is currently 2nd in points in the Southern Opens standings.
"I'm not planning on it unless something drastic changes. I really like everybody at FLW and I like fishing over there. I like the lakes we go to. Things are going good. I don't feel like I need to change up anything for any reason."
As for his win on Chickamauga,
"I just barely put it together.
"I had a few that I saw during practice that were really shallow and I thought they were going to be really hard to catch so I marked them but I didn't think that I was going to go back to any of those. The fish I was planning on catching were gone during the tournament and the water came up where I couldn't see anything so a lot of the smaller fish that I saw but didn't even mark, I started running those areas where I had seen them and I found few others.
"Each day I might have culled 1 or 2 fish. I really struggled to catch them."
Cox also planned for each coming day. "I knew we would have a south wind coming one day so I left a few fish in an area for that day. The last day I just started trolling around and I ran into 5 and I caught them and had 20 pounds. I couldn't believe it. It just worked out. I got a little lucky."
Cox relied on a weightless Senko, 15-lb fluorocarbon line and a 7' 6" MHX 873 rod to take care of business. He occasionally used a jig as well, particularly when trying to locate fish under less than ideal sight fishing circumstances.
Cox is impressed with the health of Chickamauga's bass population. "I had no idea, like the ones I was looking at that I didn't mark because I thought they weighed 3 pounds, they ended up being more like 4 apiece. I was way off on how big a lot of them were. They were wide and heavy. They fight harder. They're really neat fish, different than a lot of places we go."
Cox has earned the nickname 'Tin Man' because he fishes from an aluminum rig. While he was able to sneak up on shallow bass this week, he didn't have to access any hard-to-reach spots. Instead, 90% of the field eliminated themselves by fishing offshore when the likes of Shaw Grigsby, Ish Monroe and other sight fishermen dominated the standings.
"Nothing was really hard to get into or anything – and I really didn't have a single spot. I fished different places every day. I'd pull into a cove and troll the entire cove or the entire creek arm and I might find 1 fish. I never went back to any of those areas. I trolled new water every day."
Cox visited areas where he did not even practice. "There was a whole bunch of spots I'd end up going to where I might have seen a fish in there 4 or 5 years ago or where I saw one swim off in practice that wasn't on a bed yet and I went back in the tournament and they'd be set up on a bed."
When an idea struck him, Cox acted on his hunches. "I was just riding by the seat of my pants. I didn't second guess myself.
"Where ever I felt like going I just went."
And that approach has led him to a place he dearly wants to go – the Bassmaster Classic on Lake Hartwell.
---