Iyobe Takes Lead At Bassmaster Open Ross Barnett
---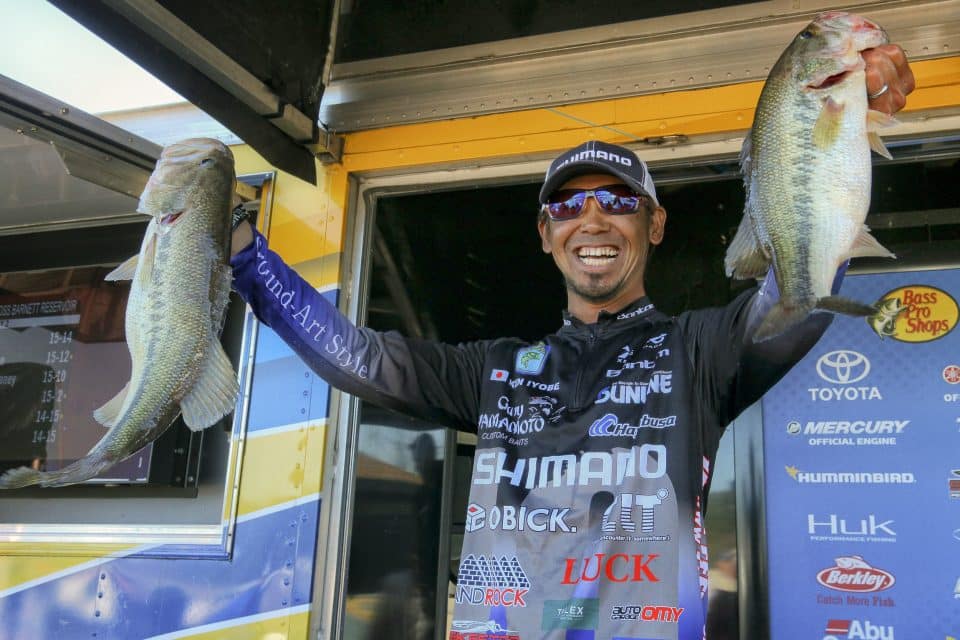 Ken Iyobe of Tokoname, Japan, takes the lead on the second day of the Bass Pro Shops Bassmaster Central Open No. 1 held on Ross Barnett Reservoir out of Ridgeland, Miss., with a two-day total of 31 pounds, 1 ounce.
Photo by James Overstreet/B.A.S.S.
March 2, 2018
RIDGELAND, Miss. — Japanese angler Ken Iyobe made beneficial lure adjustments that put him in the lead Friday at the Bass Pro Shops Bassmaster Central Open underway on Ross Barnett Reservoir.
Iyobe added today's weight of 13 pounds, 6 ounces to make an overall total of 31-1. Second place is Bradley Burns with 30-3 and Quentin Cappo follows with 28-4. Fourth place is Blake Betz with 27-12, and Stephen Browning is fifth with 27-8.
On Thursday, Iyobe chose the tedious approach of flipping a jig to specific, isolated casting targets along the shoreline. Patience paid off with another limit. Today, he sped things up with a faster presentation. The idea of covering more water with a crankbait was a good idea.
"Today the fish were harder to catch, so I used the reaction lure to cover more water," said Iyobe, who commutes from the city of Tokoname, Japan, to compete in American tournaments.
Iyobe, who competed in the 2015-2016 Bassmaster Elite Series, used the crankbait in the same areas as Thursday. Fishing the lure slow was key. After covering an area of isolated cover, he quickly moved to the next spot using his trolling motor.
Burns began the tournament intending to target spawning largemouth. That game plan fell apart after runoff from rainfall muddied the area, rendering it useless.
"I moved into the mainlake and put together a pattern late on Friday afternoon," said Burns, of Brandon, Miss.
Timing was everything for the strategy in play for Cappo. He targeted prespawn largemouth funneling into a narrow creek channel from the main lake. He speculated the bass are migrating to spawning flats in the back of the creek. Cappo's weight was anchored by the big bass of the day weighing 8-6.
"The timing comes when baitfish move into the creek," said Cappo of Prairieville, La. "The bass are feeding on those baitfish, and I just have to play a waiting game until they show up."
Being at the right place, at the right time, will be critical for Cappo on Saturday. Coincidentally, Betz of Baton Rouge, La., also targeted prespawn fish migrating through a creek to spawning flats.
Browning targeted prespawn bass staging on offshore cover.
"Those fish tender to be heavier, more aggressive and eager to bite," said Browning, an Elite Series pro from Hot Springs, Ark. "They are more committed to moving shallow and rarely completely shut down when bad weather comes through an area."
Weather was the game changer for everyone and not in a good way. Sunny skies and cooler temperatures slowed the bite. So did a stiff north wind that made boat control challenging.
The bite slowed and that showed on the tournament scorecard. On Thursday, 47 limits were caught by the pros. The collective 494 bass weighed 1,238 pounds. Today, only 28 limits got caught with the 390 bass weighing 965 pounds.
Justin Leet of Memphis, Tenn., continued his lead in the co-angler division. Today he added 9-7 to his overall weight of 22-11.
Leet will compete with the Top 12 co-anglers on Saturday. So will the Top 12 pros competing to qualify for the Bass Pro Shops Opens Championship that will be held Oct. 18-20 at a location yet to be announced. Competing are the eight winners from the Central and Eastern Opens along with the Top 10 anglers in the point standings from each division. The 28 anglers will fish for invitations to the 2019 Bassmaster Elite Series and Bassmaster Classic.
Only the Top 12 will takeoff Saturday at 6:15 a.m. CT from Madison Landing/Pelican Cove Restaurant. The weigh-in begins at 3:15 p.m. Location is Bass Pro Shops Outdoor World in the Jackson suburb of Pearl.
Local event host is Visit Ridgeland.
2018 Bass Pro Shops Bassmaster Opens Series Title Sponsor: Bass Pro Shops
2018 Bass Pro Shops Bassmaster Opens Series Platinum Sponsor: Toyota
2018 Bass Pro Shops Bassmaster Opens Series Premier Sponsors: Nitro Boats, Power-Pole, Skeeter Boats, Triton Boats, Yamaha, Abu Garcia, Berkley, Huk, Humminbird, Mercury, Minn Kota
2018 Bass Pro Shops Bassmaster Opens Series Supporting Sponsors: Livingston Lures, Lowrance, Phoenix Boats, T-H Marine, Carhartt
About B.A.S.S.
B.A.S.S. is the worldwide authority on bass fishing and keeper of the culture of the sport, providing cutting edge content on bass fishing whenever, wherever and however bass fishing fans want to use it. Headquartered in Birmingham, Ala., the 500,000-member organization's fully integrated media platforms include the industry's leading magazines (Bassmaster and B.A.S.S. Times), website (Bassmaster.com), television show (The Bassmasters on ESPN2), radio show (Bassmaster Radio), social media programs and events. For 50 years, B.A.S.S. has been dedicated to access, conservation and youth fishing.
The Bassmaster Tournament Trail includes the most prestigious events at each level of competition, including the Bassmaster Elite Series, Bass Pro Shops Bassmaster Open Series, Academy Sports + Outdoors B.A.S.S. Nation presented by Magellan Outdoors, Carhartt Bassmaster College Series presented by Bass Pro Shops, Mossy Oak Fishing Bassmaster High School Series presented by DICK'S Sporting Goods, Bassmaster Team Championship and the ultimate celebration of competitive fishing, the GEICO Bassmaster Classic presented by DICK'S Sporting Goods.
-30-
Media Contact: JamieDay Matthews, 205-313-0945, [email protected] or Dave Precht, 205-313-0931, [email protected]
2018 Bass Pro Shops Bassmaster Central Open Ross Barnette Reservoir 3/1-3/3
Ross Barnett Reservoir, Ridgeland MS.
(BOATER) Standings Day 2
Angler Hometown No./lbs-oz Pts Total $$$
1. Ken Iyobe Tokoname-Shi JAPAN 10 31-01 200
Day 1: 5 17-11 Day 2: 5 13-06
2. Bradley Burns Brandon, MS 10 30-03 199
Day 1: 5 14-15 Day 2: 5 15-04
3. Quentin Cappo Prairieville, LA 8 28-04 198
Day 1: 4 12-14 Day 2: 4 15-06
4. Blake Betz Baton Rouge, LA 10 27-12 197
Day 1: 5 14-07 Day 2: 5 13-05
5. Stephen Browning Hot Springs, AR 10 27-08 196
Day 1: 5 11-07 Day 2: 5 16-01
6. Luke Palmer Coalgate, OK 10 27-05 195
Day 1: 5 16-15 Day 2: 5 10-06
7. Brad Whatley Bivins, TX 8 26-08 194
Day 1: 5 18-05 Day 2: 3 08-03
8. Allan Nail Sand Springs, OK 10 26-08 193
Day 1: 5 13-04 Day 2: 5 13-04
9. Caleb Sumrall New Iberia, LA 8 26-05 192
Day 1: 5 19-08 Day 2: 3 06-13
10. Drew Benton Panama City, FL 10 25-14 191
Day 1: 5 10-12 Day 2: 5 15-02
11. Frank Talley Temple, TX 8 25-07 190
Day 1: 5 13-03 Day 2: 3 12-04
12. Clark Reehm Elm Groove, LA 7 25-01 189
Day 1: 5 20-15 Day 2: 2 04-02
13. Yusuke Miyazaki Forney, TX 10 25-00 188 $2,538.00
Day 1: 5 10-03 Day 2: 5 14-13
14. Brock Mosley Collinsville, MS 7 23-13 187 $2,538.00
Day 1: 2 08-11 Day 2: 5 15-02
15. Mark Goines Shady Point, OK 9 23-12 186 $2,538.00
Day 1: 5 11-13 Day 2: 4 11-15
16. Billy Smith Sr Willis, TX 10 23-09 185 $2,538.00
Day 1: 5 10-14 Day 2: 5 12-11
17. Matt Herren Ashville, AL 9 23-09 184 $2,538.00
Day 1: 4 11-03 Day 2: 5 12-06
18. Randall Tharp Port St. Joe, FL 9 23-06 183 $2,538.00
Day 1: 4 08-04 Day 2: 5 15-02
19. Michael Fazende Lafitte, LA 8 23-00 182 $2,538.00
Day 1: 5 14-13 Day 2: 3 08-03
20. Micahael Savell Brandon, MS 8 23-00 181 $2,538.00
Day 1: 3 08-05 Day 2: 5 14-11
21. David Gillham Heath, TX 7 22-12 180 $2,538.00
Day 1: 4 15-02 Day 2: 3 07-10
22. Jacob Foutz Charleston, TN 8 22-08 179 $2,538.00
Day 1: 3 09-12 Day 2: 5 12-12
23. Toby Hartsell Afton, OK 10 22-07 178 $2,538.00
Day 1: 5 11-13 Day 2: 5 10-10
24. Marty Giddens Cropwell, AL 7 21-11 177 $2,538.00
Day 1: 3 10-04 Day 2: 4 11-07
25. Charlie Hartley Grove City, OH 10 21-10 176 $2,538.00
Day 1: 5 10-11 Day 2: 5 10-15
26. Joey Nania Cropwell, AL 8 21-08 175 $2,188.00
Day 1: 5 11-13 Day 2: 3 09-11
27. Vernon Silver Boutte, LA 10 21-04 174 $2,188.00
Day 1: 5 09-05 Day 2: 5 11-15
28. Patrick Walters Ladson, SC 10 21-02 173 $2,188.00
Day 1: 5 11-11 Day 2: 5 09-07
29. Bryan Finch Belton, TX 8 20-13 172 $2,188.00
Day 1: 5 15-05 Day 2: 3 05-08
30. Mark Rose West Memphis, AR 8 20-12 171 $2,188.00
Day 1: 3 04-13 Day 2: 5 15-15
31. Zack Birge Blanchard, OK 10 20-11 170 $1,838.00
Day 1: 5 10-11 Day 2: 5 10-00
32. Kyle Alford Brandon, MS 8 20-08 169 $1,838.00
Day 1: 5 12-12 Day 2: 3 07-12
33. Stephen Mitchell Jonesville, LA 7 20-06 168 $1,838.00
Day 1: 5 17-00 Day 2: 2 03-06
34. Derek Hudnall Baton Rouge, LA 6 20-06 167 $1,838.00
Day 1: 4 07-07 Day 2: 2 12-15
35. Theron Caldwell Colleyville, TX 9 20-05 166 $1,838.00
Day 1: 4 07-08 Day 2: 5 12-13
36. Andrew Iversen Maple Plain, MN 10 20-05 165 $1,575.00
Day 1: 5 10-00 Day 2: 5 10-05
37. Tyler Rivet Raceland, LA 8 20-03 164 $1,575.00
Day 1: 5 09-08 Day 2: 3 10-11
38. Dan Love Pearl, MS 9 19-13 163 $1,575.00
Day 1: 4 10-04 Day 2: 5 09-09
39. Mark Hicks Glouster, OH 6 19-04 162 $1,575.00
Day 1: 5 17-00 Day 2: 1 02-04
40. Corey Sullivan Brandon, MS 7 19-02 161 $1,575.00
Day 1: 2 05-15 Day 2: 5 13-03
41. Fred Roumbanis Russellville, AR 5 18-08 160
Day 1: 5 18-08 Day 2: 0 00-00
42. Drew Sloan Scurry, TX 5 18-06 159
Day 1: 3 09-00 Day 2: 2 09-06
43. MJ Vihnanek Jr Walnut Hill, FL 6 18-04 158
Day 1: 5 15-11 Day 2: 1 02-09
44. Cliff Crochet Pierre Part, LA 6 17-14 157
Day 1: 4 12-06 Day 2: 2 05-08
45. Shannon Denson Brandon, MS 7 17-07 156
Day 1: 5 12-12 Day 2: 2 04-11
46. Larry Puckett Decatur, TX 6 17-06 155
Day 1: 3 06-04 Day 2: 3 11-02
47. Dustin Connell Clanton, AL 8 17-05 154
Day 1: 5 12-11 Day 2: 3 04-10
48. Greg Vance Dubuque, IA 7 16-11 153
Day 1: 5 11-09 Day 2: 2 05-02
49. Trevor Romans Celina, TX 7 16-11 152
Day 1: 4 10-01 Day 2: 3 06-10
50. Gene Bishop Jr Ridgeland, MS 6 16-08 151
Day 1: 4 12-05 Day 2: 2 04-03
51. Winston Michel Pierre Part, LA 7 16-08 150
Day 1: 4 09-00 Day 2: 3 07-08
52. Todd Murray Prarrieville, LA 6 16-05 149
Day 1: 1 02-15 Day 2: 5 13-06
53. Chad Wiley Pineville, LA 7 16-01 148
Day 1: 3 07-11 Day 2: 4 08-06
54. Hunter Denmark Saraland, AL 4 15-15 147
Day 1: 1 05-06 Day 2: 3 10-09
55. Spike Stoker Stephenville, TX 6 15-15 146
Day 1: 5 09-12 Day 2: 1 06-03
56. Bryant Adam Madison, MS 7 15-14 145
Day 1: 5 13-06 Day 2: 2 02-08
57. Taylor Ramey Hattiesburg, MS 7 15-13 144
Day 1: 5 12-09 Day 2: 2 03-04
58. Marty Torrence Crystal Springs, MS 5 15-12 143
Day 1: 5 15-12 Day 2: 0 00-00
59. Justin Margraves Diana, TX 8 15-12 142
Day 1: 3 05-10 Day 2: 5 10-02
60. Logan Latuso Gonzales, LA 8 15-11 141
Day 1: 4 09-04 Day 2: 4 06-07
61. Teb Jones Hattiesburg, MS 8 15-11 140
Day 1: 5 08-14 Day 2: 3 06-13
62. Cody Ryan Greaney Manchaca, TX 5 15-10 139
Day 1: 4 13-07 Day 2: 1 02-03
63. Homer Humphreys Jr. Minden, LA 7 15-04 138
Day 1: 5 11-11 Day 2: 2 03-09
64. Drew Cook Midway, FL 7 15-04 137
Day 1: 2 04-14 Day 2: 5 10-06
65. Skylar Hamilton Dandridge, TN 6 15-04 136
Day 1: 4 09-13 Day 2: 2 05-07
66. Dustin Laber Greeley, CO 6 15-02 135
Day 1: 2 06-00 Day 2: 4 09-02
67. Nathan Martin Sheffield, AL 6 15-00 134
Day 1: 2 04-11 Day 2: 4 10-05
68. Justin Lucas Guntersville, AL 6 14-15 133
Day 1: 5 12-13 Day 2: 1 02-02
69. Tommy Durham Whitney, TX 7 14-15 132
Day 1: 4 08-15 Day 2: 3 06-00
70. Dale Hightower Mannford, OK 8 14-10 131
Day 1: 5 08-15 Day 2: 3 05-11
71. Lee Livesay Longview, TX 7 14-09 130
Day 1: 5 10-07 Day 2: 2 04-02
72. Tommy Martin Hemphill, TX 7 14-08 129
Day 1: 3 07-08 Day 2: 4 07-00
73. Corey Dear Brandon, MS 6 14-06 128
Day 1: 3 09-04 Day 2: 3 05-02
74. Justin Atkins Florence, AL 6 14-04 127
Day 1: 5 12-06 Day 2: 1 01-14
75. Gary Clouse LaVergne, TN 7 14-01 126
Day 1: 4 07-07 Day 2: 3 06-10
76. Gary Isgrigg Mt Washington, KY 6 13-15 125
Day 1: 1 02-00 Day 2: 5 11-15
77. Harvey Horne Bella Vista, AR 6 13-14 124
Day 1: 5 11-05 Day 2: 1 02-09
78. Bruce Whitmire Channelview, TX 7 13-11 123
Day 1: 5 09-08 Day 2: 2 04-03
79. Matthew Loetscher Many, LA 6 13-09 122
Day 1: 5 12-01 Day 2: 1 01-08
80. Grant Galloway Houlka, MS 7 13-08 121
Day 1: 3 06-05 Day 2: 4 07-03
81. Garrett Rose Pipecreek, TX 7 13-06 120
Day 1: 5 08-06 Day 2: 2 05-00
82. Brandon Lee Ratcliff, AR 5 13-05 119
Day 1: 2 04-13 Day 2: 3 08-08
83. William Walker Jena, LA 6 13-03 118
Day 1: 2 05-14 Day 2: 4 07-05
84. Ron Wells Claremore, OK 4 12-07 117
Day 1: 2 05-08 Day 2: 2 06-15
85. Lucas Ragusa Gonzales, LA 6 12-07 116
Day 1: 3 06-14 Day 2: 3 05-09
86. Patrick Starnes San Antonio, TX 3 12-04 115
Day 1: 1 02-06 Day 2: 2 09-14
87. Bert Worrell Jr Longview, TX 3 12-03 114
Day 1: 1 03-12 Day 2: 2 08-07
88. Jimmy Charbonnet St.Amant, LA 5 12-00 113
Day 1: 3 08-01 Day 2: 2 03-15
89. Kenta Kimura Osaka JAPAN 5 11-15 112
Day 1: 4 08-13 Day 2: 1 03-02
90. Gerald Spohrer Gonzales, LA 5 11-14 111
Day 1: 4 09-02 Day 2: 1 02-12
91. Jerod Hawkes Eagle Pass, TX 5 11-10 110
Day 1: 4 09-08 Day 2: 1 02-02
92. Terry Peacock Royse City, TX 5 11-10 109
Day 1: 2 04-02 Day 2: 3 07-08
93. David Ottman Terry, MS 5 11-09 108
Day 1: 1 02-06 Day 2: 4 09-03
94. Ronnie Farlow Brandon, MS 5 11-08 107
Day 1: 3 08-04 Day 2: 2 03-04
95. David Drinkard Sour Lake, TX 3 11-02 106
Day 1: 2 07-06 Day 2: 1 03-12
96. Troy Orourke Natchitoches, LA 4 10-10 105
Day 1: 3 08-14 Day 2: 1 01-12
97. Ray Brazier Lawrenceburg, TN 3 10-10 104
Day 1: 1 04-01 Day 2: 2 06-09
98. Ted Pearce Jr Florence, MS 4 10-05 103
Day 1: 2 06-01 Day 2: 2 04-04
99. Trait Zaldain Fort Worth, TX 7 10-04 102
Day 1: 3 03-13 Day 2: 4 06-07
100. Mike Lirette Monroe, LA 6 10-04 101
Day 1: 3 05-03 Day 2: 3 05-01
101. Jimmy Greer Jr Dry Prong, LA 4 09-14 100
Day 1: 4 09-14 Day 2: 0 00-00
102. Brett Preuett Monroe, LA 4 09-14 99
Day 1: 2 05-04 Day 2: 2 04-10
103. Brian Potter Claremore, OK 5 09-12 98
Day 1: 3 06-05 Day 2: 2 03-07
104. Keith Poche Pike Road, AL 5 09-07 97
Day 1: 5 09-07 Day 2: 0 00-00
105. Trey Bayles III Eros, LA 5 09-07 96
Day 1: 4 07-02 Day 2: 1 02-05
106. Gary Riffle Paris, TX 4 09-05 95
Day 1: 3 06-12 Day 2: 1 02-09
107. Jim Dillard West Monroe, LA 3 09-03 94
Day 1: 2 05-15 Day 2: 1 03-04
108. Alexander Wilson Sr Elmore, AL 3 09-02 93
Day 1: 2 04-10 Day 2: 1 04-08
109. Jeff Cloud Lubbock, TX 5 09-01 92
Day 1: 3 05-07 Day 2: 2 03-10
110. Alfred Williams Jackson, MS 4 09-00 91
Day 1: 3 05-04 Day 2: 1 03-12
111. Jason Cordell Pelahatchie, MS 4 08-14 90
Day 1: 1 02-12 Day 2: 3 06-02
112. Billy Billeaud Lafayette, LA 4 08-14 89
Day 1: 1 03-11 Day 2: 3 05-03
113. Matthew Delaney Pollock, LA 4 08-13 88
Day 1: 0 00-00 Day 2: 4 08-13
114. Jason Christy Scottsdale, AZ 3 08-12 87
Day 1: 1 02-06 Day 2: 2 06-06
115. Doug Vahrenberg Higginsville, MO 4 08-09 86
Day 1: 3 07-00 Day 2: 1 01-09
116. Sam George Athens, AL 3 08-08 85
Day 1: 2 04-03 Day 2: 1 04-05
117. Steve Sennikoff Edgewood, TX 5 08-06 84
Day 1: 4 06-11 Day 2: 1 01-11
118. Denny Fiedler Minnetonka, MN 4 08-05 83
Day 1: 2 03-14 Day 2: 2 04-07
119. James Davis Jr Ferriday, LA 3 08-03 82
Day 1: 1 05-00 Day 2: 2 03-03
120. Andy Ortega Odessa, TX 4 08-02 81
Day 1: 1 01-14 Day 2: 3 06-04
121. Dustin Reneau Mckinney, TX 4 08-01 80
Day 1: 4 08-01 Day 2: 0 00-00
122. Kylie Sparks Denham Spgs, LA 3 08-01 79
Day 1: 1 02-11 Day 2: 2 05-06
123. Cody Bird Granbury, TX 4 08-00 78
Day 1: 0 00-00 Day 2: 4 08-00
124. Gary Vining Morgan City, LA 4 07-15 77
Day 1: 2 04-07 Day 2: 2 03-08
125. Ed Dunnaway Flowood, MS 4 07-14 76
Day 1: 1 02-01 Day 2: 3 05-13
126. Chris Hart Franklin, TN 3 07-13 75
Day 1: 1 03-08 Day 2: 2 04-05
127. Jay Brainard Enid, OK 3 07-12 74
Day 1: 1 02-05 Day 2: 2 05-07
128. Craig Duvall Denham Springs, LA 3 07-07 73
Day 1: 3 07-07 Day 2: 0 00-00
129. Darrell Hunter Lena, MS 3 07-04 72
Day 1: 3 07-04 Day 2: 0 00-00
130. Marshall Hughes Hemphill, TX 3 07-03 71
Day 1: 0 00-00 Day 2: 3 07-03
131. Seiji Kato Outsu Shiga JAPAN 4 07-02 70
Day 1: 3 05-06 Day 2: 1 01-12
132. Dylan Connell Marion, IL 4 07-01 69
Day 1: 4 07-01 Day 2: 0 00-00
133. Eugene Eisenmann Jr Frisco, TX 4 06-14 68
Day 1: 4 06-14 Day 2: 0 00-00
134. Bo Keith III Haughton, LA 1 06-14 67
Day 1: 1 06-14 Day 2: 0 00-00
135. Eric Gilchrist Plaquemine, LA 3 06-12 66
Day 1: 3 06-12 Day 2: 0 00-00
136. Dustin Wrona Tulsa, OK 3 06-10 65
Day 1: 0 00-00 Day 2: 3 06-10
137. Robert Burns Plano, TX 2 06-09 64
Day 1: 2 06-09 Day 2: 0 00-00
138. Travis Klein Highland Village, TX 2 06-09 63
Day 1: 1 03-06 Day 2: 1 03-03
139. Mike Pharr Shreveport, LA 3 06-02 62
Day 1: 2 04-04 Day 2: 1 01-14
140. Lance Rose Pipe Creek, TX 3 06-01 61
Day 1: 1 01-10 Day 2: 2 04-07
141. Joel Mayfield Perkinston, MS 2 06-01 60
Day 1: 1 02-11 Day 2: 1 03-06
142. Johnny Grice Arp, TX 3 06-00 59
Day 1: 1 01-11 Day 2: 2 04-05
143. Mike Brown Vidor, TX 3 05-07 58
Day 1: 2 03-14 Day 2: 1 01-09
144. Jimmy Stallins Byhalia, MS 2 04-14 57
Day 1: 1 02-12 Day 2: 1 02-02
145. Darold Gleason Many, LA 2 04-05 56
Day 1: 2 04-05 Day 2: 0 00-00
145. Erik Lane San Antonio, TX 2 04-05 56
Day 1: 0 00-00 Day 2: 2 04-05
147. Chance Woodard Paris, TX 2 04-04 54
Day 1: 1 01-11 Day 2: 1 02-09
148. RJ Chandler Jr. Vinton, LA 2 04-01 53
Day 1: 2 04-01 Day 2: 0 00-00
149. Tyler Carriere Youngsville, LA 2 03-13 52
Day 1: 0 00-00 Day 2: 2 03-13
150. Brent Bonadona Port Allen, LA 2 03-10 51
Day 1: 2 03-10 Day 2: 0 00-00
150. Brent Breznik Borger, TX 2 03-10 51
Day 1: 2 03-10 Day 2: 0 00-00
152. Rob Mcpheron Montgomery, TX 2 03-08 49
Day 1: 0 00-00 Day 2: 2 03-08
153. Darrell Newman Bruceville, TX 2 03-05 48
Day 1: 2 03-05 Day 2: 0 00-00
154. Francisco Acosta Leon Guanajuato MEXICO 1 03-03 47
Day 1: 1 03-03 Day 2: 0 00-00
155. Dewayne French Mammoth Spring, AR 2 03-03 46
Day 1: 1 01-07 Day 2: 1 01-12
156. Duane Pittman Prairieville, LA 1 02-13 45
Day 1: 1 02-13 Day 2: 0 00-00
157. Bill McNutt Henry, IL 1 02-10 44
Day 1: 0 00-00 Day 2: 1 02-10
158. Audie Prewitt Jr Benton, AR 1 02-07 43
Day 1: 1 02-07 Day 2: 0 00-00
158. Edgar Romero Leon MEXICO 1 02-07 43
Day 1: 1 02-07 Day 2: 0 00-00
160. Kendall Newson Decatur, GA 1 02-04 41
Day 1: 1 02-04 Day 2: 0 00-00
161. Rick Shannon Woodlawn, TN 1 02-03 40
Day 1: 0 00-00 Day 2: 1 02-03
162. Jason Mckinney Bokoshe, OK 1 02-02 39
Day 1: 0 00-00 Day 2: 1 02-02
163. Terry Luedtke Burton, TX 1 02-00 38
Day 1: 1 02-00 Day 2: 0 00-00
164. Ernie Stumpf III Frisco, TX 1 01-14 37
Day 1: 0 -01-00 Day 2: 1 02-14
165. Tom Huynh Moorehead, MN 1 00-13 36
Day 1: 1 00-13 Day 2: 0 00-00
166. Kenny Churchill Byram, MS 0 00-00 0
Day 1: 0 00-00 Day 2: 0 00-00
166. David Cosner Austin, TX 0 00-00 0
Day 1: 0 00-00 Day 2: 0 00-00
166. Clent Davis Montevallo, AL 0 00-00 0
Day 1: 0 00-00 Day 2: 0 00-00
166. Jed Holt Livingston, TX 0 00-00 0
Day 1: 0 00-00 Day 2: 0 00-00
166. Andrew Hulbert Ridgeland, MS 0 00-00 0
Day 1: 0 00-00 Day 2: 0 00-00
166. Lonnie Mesar Sanger, TX 0 00-00 0
Day 1: 0 00-00 Day 2: 0 00-00
166. Eddie Norris Mannford, OK 0 00-00 0
Day 1: 0 00-00 Day 2: 0 00-00
166. Yoshikazu Sato Tokyo JAPAN 0 00-00 0
Day 1: 0 00-00 Day 2: 0 00-00
166. Caleb Stark Brusly, LA 0 00-00 0
Day 1: 0 00-00 Day 2: 0 00-00
166. Keith Surber Longview, TX 0 00-00 0
Day 1: 0 00-00 Day 2: 0 00-00
———————————————————————–
Totals
Day #Limits #Fish Weight
1 47 494 1238-14
2 28 390 965-00
———————————-
75 884 2203-14
2018 Bass Pro Shops Bassmaster Central Open Ross Barnette Reservoir 3/1-3/3
Ross Barnett Reservoir, Ridgeland MS.
(NON_BOATER) Standings Day 2
Angler Hometown No./lbs-oz Pts Total $$$
1. Justin Leet Memphis, TN 6 22-11 200
Day 1: 3 13-04 Day 2: 3 09-07
2. Larry Savell Jr. Brandon, MS 6 20-13 199
Day 1: 3 12-11 Day 2: 3 08-02
3. Ronald Robbs Ironton, MO 5 18-13 198
Day 1: 2 06-00 Day 2: 3 12-13
4. John Connell Marion, IL 6 16-10 197
Day 1: 3 06-08 Day 2: 3 10-02
5. Rick Parker Kaufman, TX 5 15-14 196
Day 1: 2 08-10 Day 2: 3 07-04
6. Alan Manning Brandon, MS 5 15-11 195
Day 1: 3 09-11 Day 2: 2 06-00
7. James Simmons Houma, LA 5 15-07 194
Day 1: 2 09-06 Day 2: 3 06-01
8. John Milam Beaumont, TX 4 15-03 193
Day 1: 1 05-07 Day 2: 3 09-12
9. Bernard Crump Jackson, MS 5 14-12 192
Day 1: 2 05-15 Day 2: 3 08-13
10. Alex Heintze Denham Springs, LA 5 13-15 191
Day 1: 3 08-01 Day 2: 2 05-14
11. Bob Burgess Millington, TN 5 13-05 190
Day 1: 3 09-13 Day 2: 2 03-08
12. Jim Opetaia-Williamson Dunnellon, FL 5 13-04 189
Day 1: 2 02-13 Day 2: 3 10-07
13. Matt Pretzel Waconia, MN 6 13-02 188 $1,225.00
Day 1: 3 06-04 Day 2: 3 06-14
14. Jed Farlow Brandon, MS 5 12-08 187 $1,094.00
Day 1: 3 08-12 Day 2: 2 03-12
15. Jordan Lane Justin, TX 5 12-05 186 $962.00
Day 1: 2 04-14 Day 2: 3 07-07
16. Bill Boggan Brandon, MS 4 12-02 185 $875.00
Day 1: 1 04-00 Day 2: 3 08-02
17. Mark Powers Platteville, CO 4 11-13 184 $700.00
Day 1: 1 04-10 Day 2: 3 07-03
18. Sakae Ushio Tonawanda, NY 3 11-07 183 $612.00
Day 1: 1 02-06 Day 2: 2 09-01
19. Anthony Thomas Jackson, MS 5 11-04 182 $612.00
Day 1: 3 07-04 Day 2: 2 04-00
20. Jeff Thomas Royse City, TX 3 11-02 181 $525.00
Day 1: 0 00-00 Day 2: 3 11-02
21. Joe Lee Midlothian, TX 6 11-00 180 $438.00
Day 1: 3 05-08 Day 2: 3 05-08
22. Brandon Wilcher Canton, MS 3 10-07 179 $438.00
Day 1: 0 00-00 Day 2: 3 10-07
23. Robert Parkison Marshall, TX 5 10-05 178 $438.00
Day 1: 3 06-08 Day 2: 2 03-13
24. Dwain Vogelpohl Cambridge, MN 4 10-03 177 $438.00
Day 1: 2 04-13 Day 2: 2 05-06
25. Ramey Harrell Brandon, MS 4 10-02 176 $438.00
Day 1: 1 01-14 Day 2: 3 08-04
26. Kevin Wisnoski Canton, MS 4 09-12 175 $438.00
Day 1: 3 06-10 Day 2: 1 03-02
27. Michael Tesch Frederic, WI 3 09-11 174 $438.00
Day 1: 3 09-11 Day 2: 0 00-00
28. Stephen Parnell Brandon, MS 4 09-11 173 $438.00
Day 1: 3 07-08 Day 2: 1 02-03
29. Todd Ulmer Brandon, MS 3 09-10 172 $438.00
Day 1: 3 09-10 Day 2: 0 00-00
30. Bo Rhodes Argyle, TX 4 08-15 171 $438.00
Day 1: 3 07-07 Day 2: 1 01-08
31. Rob Brown Kenner, LA 4 08-15 170 $438.00
Day 1: 2 04-01 Day 2: 2 04-14
32. Cole Lamb Melbourne, AR 3 08-15 169 $438.00
Day 1: 1 04-06 Day 2: 2 04-09
33. Cody Miller Livingston, TX 3 08-11 168 $438.00
Day 1: 0 00-00 Day 2: 3 08-11
34. Bobby Williams Salisbury, NC 3 08-09 167 $438.00
Day 1: 0 00-00 Day 2: 3 08-09
35. Hunter Miles Collinsville, MS 3 08-03 166 $438.00
Day 1: 0 00-00 Day 2: 3 08-03
35. Cameron Naquin Gray, LA 3 08-03 166 $438.00
Day 1: 0 00-00 Day 2: 3 08-03
37. Newton Ford Jr. Brandon, MS 2 08-01 164 $438.00
Day 1: 1 03-13 Day 2: 1 04-04
38. Edgar Tellez Jr San Nicolas De Los Garz 3 08-00 163 $438.00
Day 1: 3 08-00 Day 2: 0 00-00
39. Cedric Jackson Sicily Island, LA 3 08-00 162 $438.00
Day 1: 1 01-12 Day 2: 2 06-04
40. Michael Nichols Brandon, MS 3 07-15 161 $219.00
Day 1: 3 07-15 Day 2: 0 00-00
40. Carlton Tipp Grand Bay, AL 3 07-15 161 $219.00
Day 1: 3 07-15 Day 2: 0 00-00
42. Jerry Coutee Montgomery, LA 4 07-12 159
Day 1: 2 03-15 Day 2: 2 03-13
43. Dustin Duvall Denham Springs, LA 3 07-11 158
Day 1: 0 00-00 Day 2: 3 07-11
44. Joe Nance Pearland, TX 3 07-09 157
Day 1: 3 07-09 Day 2: 0 00-00
45. Matthew Mcardle Humble, TX 3 07-06 156
Day 1: 2 05-10 Day 2: 1 01-12
46. Albert Hudson Austin, TX 3 07-06 155
Day 1: 2 04-00 Day 2: 1 03-06
47. Brett Walker Pleasant Valley, MO 3 07-05 154
Day 1: 2 05-01 Day 2: 1 02-04
48. Dan Thomas Jr Milton, FL 2 07-04 153
Day 1: 1 02-11 Day 2: 1 04-09
49. David Hudkins Cabot, AR 3 07-04 152
Day 1: 2 04-07 Day 2: 1 02-13
50. Jonathan Craig Flora, MS 2 07-03 151
Day 1: 1 02-12 Day 2: 1 04-07
51. Eric Roshto Winnfield, LA 4 07-00 150
Day 1: 2 04-01 Day 2: 2 02-15
52. David Gilliam Forest, MS 3 06-15 149
Day 1: 3 06-15 Day 2: 0 00-00
53. Beau Browning Hot Springs, AR 3 06-15 148
Day 1: 2 05-07 Day 2: 1 01-08
54. Brian Murphy Sulphur, LA 3 06-14 147
Day 1: 1 01-14 Day 2: 2 05-00
55. Justin Ketteringham Pearl, MS 3 06-11 146
Day 1: 3 06-11 Day 2: 0 00-00
56. David Booth Erin, TN 3 06-05 145
Day 1: 1 01-09 Day 2: 2 04-12
57. Scott Bailey Longview, TX 3 06-04 144
Day 1: 1 02-01 Day 2: 2 04-03
58. Brady Sennikoff Forney, TX 3 06-04 143
Day 1: 2 03-02 Day 2: 1 03-02
59. Taurian Parks Yazoo City, MS 3 06-03 142
Day 1: 3 06-03 Day 2: 0 00-00
60. Ed Laroche Gillespie, IL 2 06-03 141
Day 1: 2 06-03 Day 2: 0 00-00
61. Shea Breznik Borger, TX 2 06-02 140
Day 1: 2 06-02 Day 2: 0 00-00
62. Lee Lott Sumrall, MS 1 06-02 139
Day 1: 1 06-02 Day 2: 0 00-00
63. Bill Bonner Wetumpka, AL 2 06-01 138
Day 1: 0 00-00 Day 2: 2 06-01
64. Daniel Corkern Florence, MS 3 06-01 137
Day 1: 2 04-00 Day 2: 1 02-01
65. Noel Allen Jr Brandon, MS 3 06-00 136
Day 1: 1 02-09 Day 2: 2 03-07
66. Brad Hollowell Azle, TX 3 05-15 135
Day 1: 2 03-10 Day 2: 1 02-05
67. Stacy Smith Vidor, TX 3 05-14 134
Day 1: 0 00-00 Day 2: 3 05-14
68. Jeremy Duke Gautier, MS 2 05-13 133
Day 1: 2 05-13 Day 2: 0 00-00
69. Adam Boyd Humble, TX 3 05-13 132
Day 1: 1 01-14 Day 2: 2 03-15
70. Charles Reed Batesville, MS 3 05-10 131
Day 1: 2 03-03 Day 2: 1 02-07
71. John Mcilwain Pelahatchie, MS 2 05-08 130
Day 1: 2 05-08 Day 2: 0 00-00
72. Chris Nail Tulsa, OK 2 05-07 129
Day 1: 2 05-07 Day 2: 0 00-00
73. David Keith Haughton, LA 2 05-06 128
Day 1: 2 05-06 Day 2: 0 00-00
74. Brian Penso Houston, TX 2 05-05 127
Day 1: 2 05-05 Day 2: 0 00-00
75. Larry Beauboeuf Bossier City, LA 3 05-05 126
Day 1: 1 01-13 Day 2: 2 03-08
76. Charles Poland Denham Springs, LA 2 05-04 125
Day 1: 1 02-15 Day 2: 1 02-05
77. Jimmy Brumfield Madison, MS 3 05-00 124
Day 1: 0 00-00 Day 2: 3 05-00
78. Steven Gilliam Blanchard, OK 2 05-00 123
Day 1: 1 02-11 Day 2: 1 02-05
79. Matt Michel Gonzales, LA 2 04-15 122
Day 1: 2 04-15 Day 2: 0 00-00
79. Danny Mosley Collinsville, MS 2 04-15 122
Day 1: 0 00-00 Day 2: 2 04-15
81. Jim Phillips Greenwood, MS 2 04-15 120
Day 1: 1 02-08 Day 2: 1 02-07
82. Thomas Smith Pearl, MS 2 04-13 119
Day 1: 2 04-13 Day 2: 0 00-00
83. Robert Murphy Florence, MS 2 04-13 118
Day 1: 1 02-04 Day 2: 1 02-09
84. Fred Ruggles Alexandria, LA 2 04-11 117
Day 1: 1 02-09 Day 2: 1 02-02
85. Blaine Sparks Denham Springs, LA 1 04-09 116
Day 1: 1 04-09 Day 2: 0 00-00
86. Greg Cecchi Lucedale, MS 2 04-07 115
Day 1: 0 00-00 Day 2: 2 04-07
87. Calvin Buchanan Tupelo, MS 2 04-06 114
Day 1: 2 04-06 Day 2: 0 00-00
88. Morris Collins Centerville, OH 2 04-05 113
Day 1: 2 04-05 Day 2: 0 00-00
89. Sawyer Adams Richmond, KY 2 04-04 112
Day 1: 2 04-04 Day 2: 0 00-00
89. John Sturdivant Obion, TN 2 04-04 112
Day 1: 2 04-04 Day 2: 0 00-00
91. William Mcnutt II Bossier City, LA 2 04-04 110
Day 1: 1 02-06 Day 2: 1 01-14
92. Paul Rice Anguilla, MS 2 04-03 109
Day 1: 2 05-03 Day 2: 0 -01-00
93. Steve Hatch Long Beach, MS 2 04-03 108
Day 1: 2 04-03 Day 2: 0 00-00
94. Calvin Balch Porter, TX 2 04-01 107
Day 1: 1 02-06 Day 2: 1 01-11
95. Todd Childs Waxahachie, TX 2 04-00 106
Day 1: 0 00-00 Day 2: 2 04-00
95. Garrett Perkins Mamou, LA 2 04-00 106
Day 1: 2 04-00 Day 2: 0 00-00
97. Jeff Wallace West Monroe, LA 2 03-15 104
Day 1: 1 02-01 Day 2: 1 01-14
98. Randall Gilmore Jr Brandon, MS 2 03-14 103
Day 1: 2 03-14 Day 2: 0 00-00
98. Ian Madere Baton Rouge, LA 2 03-14 103
Day 1: 2 03-14 Day 2: 0 00-00
100. Blake Canella Plaquemine, LA 2 03-13 101
Day 1: 0 00-00 Day 2: 2 03-13
100. Gregory Shimanek Keller, TX 2 03-13 101
Day 1: 0 00-00 Day 2: 2 03-13
102. Keith Glasby Ovilla, TX 2 03-13 99
Day 1: 1 01-12 Day 2: 1 02-01
103. Robert Prebeck Norwood, MO 2 03-12 98
Day 1: 0 00-00 Day 2: 2 03-12
104. Jarvis Ellis Albany, GA 2 03-11 97
Day 1: 0 00-00 Day 2: 2 03-11
105. Michael Scalise Port Allen, LA 1 03-08 96
Day 1: 0 00-00 Day 2: 1 03-08
105. Todd Walters Ladson, SC 1 03-08 96
Day 1: 0 00-00 Day 2: 1 03-08
107. Mark Cowart Kearney, MO 2 03-07 94
Day 1: 0 00-00 Day 2: 2 03-07
108. Ed Williams Jackson, MS 1 03-07 93
Day 1: 0 00-00 Day 2: 1 03-07
109. Matt Gnoth Sharon, KS 2 03-06 92
Day 1: 2 03-06 Day 2: 0 00-00
109. Chandler Stewart Waco, TX 2 03-06 92
Day 1: 2 03-06 Day 2: 0 00-00
111. Bill McCoun Amarillo, TX 1 03-06 90
Day 1: 0 00-00 Day 2: 1 03-06
112. Todd Fowlkes Collierville, TN 2 03-05 89
Day 1: 2 03-05 Day 2: 0 00-00
113. Michael Murphy Brandon, MS 2 03-04 88
Day 1: 2 03-04 Day 2: 0 00-00
114. Angel Alvarez Houston, TX 1 03-04 87
Day 1: 0 00-00 Day 2: 1 03-04
114. John Hammersmith Branson, MO 1 03-04 87
Day 1: 0 00-00 Day 2: 1 03-04
116. Jeff Pinter Brandon, MS 2 03-03 85
Day 1: 2 03-03 Day 2: 0 00-00
117. Chad Mayfield Brandon, MS 2 03-01 84
Day 1: 2 03-01 Day 2: 0 00-00
118. Andrew Harris Jackson, MS 1 03-00 83
Day 1: 1 03-00 Day 2: 0 00-00
119. Jerrod Vaught Mt Pleasant, TX 1 02-14 82
Day 1: 0 00-00 Day 2: 1 02-14
119. Randy Woodard Paris, TX 1 02-14 82
Day 1: 1 02-14 Day 2: 0 00-00
121. Curtis King Plaquemine, LA 1 02-13 80
Day 1: 1 02-13 Day 2: 0 00-00
122. John Roberson Shreveport, LA 1 02-12 79
Day 1: 1 02-12 Day 2: 0 00-00
123. Blake Stamps Brandon, MS 2 02-11 78
Day 1: 2 03-11 Day 2: 0 -01-00
124. Joel Ross Brandon, MS 1 02-07 77
Day 1: 1 02-07 Day 2: 0 00-00
125. Daniel Dantoni Florence, MS 1 02-06 76
Day 1: 1 02-06 Day 2: 0 00-00
125. Mike Whitty Terry, MS 1 02-06 76
Day 1: 1 02-06 Day 2: 0 00-00
127. Brent Shimanek Fort Worth, TX 1 02-03 74
Day 1: 0 00-00 Day 2: 1 02-03
127. Jean Trahan Lafayette, LA 1 02-03 74
Day 1: 1 02-03 Day 2: 0 00-00
129. John Goul Philadelphia, MS 1 02-02 72
Day 1: 0 00-00 Day 2: 1 02-02
130. Bill Hunter Murfreesboro, TN 1 02-01 71
Day 1: 1 02-01 Day 2: 0 00-00
131. Jesse Steadham Byram, MS 1 02-00 70
Day 1: 1 02-00 Day 2: 0 00-00
132. Rusty Cappo Prairieville, LA 1 01-14 69
Day 1: 1 01-14 Day 2: 0 00-00
132. Vernon Cooksey Bossier City, LA 1 01-14 69
Day 1: 0 00-00 Day 2: 1 01-14
132. Clayton Stoering Waterville, MN 1 01-14 69
Day 1: 1 01-14 Day 2: 0 00-00
135. Brandon Clayton Haslet , TX 1 01-13 66
Day 1: 1 01-13 Day 2: 0 00-00
135. Steve Tennison Lexington, OK 1 01-13 66
Day 1: 0 00-00 Day 2: 1 01-13
137. Will Major Port Allen, LA 1 01-09 64
Day 1: 1 01-09 Day 2: 0 00-00
138. John Binz Mesquite, TX 1 01-08 63
Day 1: 0 00-00 Day 2: 1 01-08
139. Brad Bailey Saint Louis, MO 0 00-00 0
Day 1: 0 00-00 Day 2: 0 00-00
139. Hunter Beasley Madison, MS 0 00-00 0
Day 1: 0 00-00 Day 2: 0 00-00
139. Ben Blankenbeker Linn Creek, MO 0 00-00 0
Day 1: 0 00-00 Day 2: 0 00-00
139. Calvin Bogan Livingston, TX 0 00-00 0
Day 1: 0 00-00 Day 2: 0 00-00
139. Leslie Brandenburg Springfield, MO 0 00-00 0
Day 1: 0 00-00 Day 2: 0 00-00
139. Scott Brown Lucedale, MS 0 00-00 0
Day 1: 0 00-00 Day 2: 0 00-00
139. Steve Byrd Coalgate, OK 0 00-00 0
Day 1: 0 00-00 Day 2: 0 00-00
139. Julius Craig Walker, LA 0 00-00 0
Day 1: 0 00-00 Day 2: 0 00-00
139. Brad Cryer Dallas, TX 0 00-00 0
Day 1: 0 00-00 Day 2: 0 00-00
139. Kevin Dear Pearl, MS 0 00-00 0
Day 1: 0 00-00 Day 2: 0 00-00
139. Logan Forbess Nevada, TX 0 00-00 0
Day 1: 0 00-00 Day 2: 0 00-00
139. Buddy French Monticello, MS 0 00-00 0
Day 1: 0 00-00 Day 2: 0 00-00
139. John Gaumnitz Oak Ridge, LA 0 00-00 0
Day 1: 0 00-00 Day 2: 0 00-00
139. Emile Gennaro Sr Wesson, MS 0 00-00 0
Day 1: 0 00-00 Day 2: 0 00-00
139. Parker Greer The Woodlands, TX 0 00-00 0
Day 1: 0 00-00 Day 2: 0 00-00
139. Brett Hardy North Richland Hills, T 0 00-00 0
Day 1: 0 00-00 Day 2: 0 00-00
139. Scott Hill Saint Louis, MO 0 00-00 0
Day 1: 0 00-00 Day 2: 0 00-00
139. Jeff Hinton Moss Point, MS 0 00-00 0
Day 1: 0 00-00 Day 2: 0 00-00
139. John Hoggan Driggs, ID 0 00-00 0
Day 1: 0 00-00 Day 2: 0 00-00
139. Adam Horn Madison, MS 0 00-00 0
Day 1: 0 00-00 Day 2: 0 00-00
139. David Hug Collierville, TN 0 00-00 0
Day 1: 0 00-00 Day 2: 0 00-00
139. Charles Knowles Madison, MS 0 00-00 0
Day 1: 0 00-00 Day 2: 0 00-00
139. Kevin Maxwell Laneville, TX 0 00-00 0
Day 1: 0 00-00 Day 2: 0 00-00
139. Jim Mccaskill Brandon, MS 0 00-00 0
Day 1: 0 00-00 Day 2: 0 00-00
139. Dwight Minogue Keithville, LA 0 00-00 0
Day 1: 0 00-00 Day 2: 0 00-00
139. Alex Parrish Florence, AL 0 00-00 0
Day 1: 0 00-00 Day 2: 0 00-00
139. Lonny Peryer Sparta, MO 0 00-00 0
Day 1: 0 00-00 Day 2: 0 00-00
139. Chet Peterson Saint Amant, LA 0 00-00 0
Day 1: 0 00-00 Day 2: 0 00-00
139. Hugh Rose Davis, OK 0 00-00 0
Day 1: 0 00-00 Day 2: 0 00-00
139. Omar Sanchez Laredo, TX 0 00-00 0
Day 1: 0 00-00 Day 2: 0 00-00
139. Frank Spears Greenville, MS 0 00-00 0
Day 1: 0 00-00 Day 2: 0 00-00
139. Donald Terry Jackson, MS 0 00-00 0
Day 1: 0 00-00 Day 2: 0 00-00
139. Brian Toth Brandon, MS 0 00-00 0
Day 1: 0 00-00 Day 2: 0 00-00
139. Walter Tucker Osceola, MO 0 00-00 0
Day 1: 0 00-00 Day 2: 0 00-00
139. Derek White Denham Springs, LA 0 00-00 0
Day 1: 0 00-00 Day 2: 0 00-00
139. Jeff Whitehead Slaton, TX 0 00-00 0
Day 1: 0 00-00 Day 2: 0 00-00
139. William Wood Sylacauga, AL 0 00-00 0
Day 1: 0 00-00 Day 2: 0 00-00
---