Ike Wins Northern Open, Qualifies for 2014 Classic
Posted On September 15, 2013
---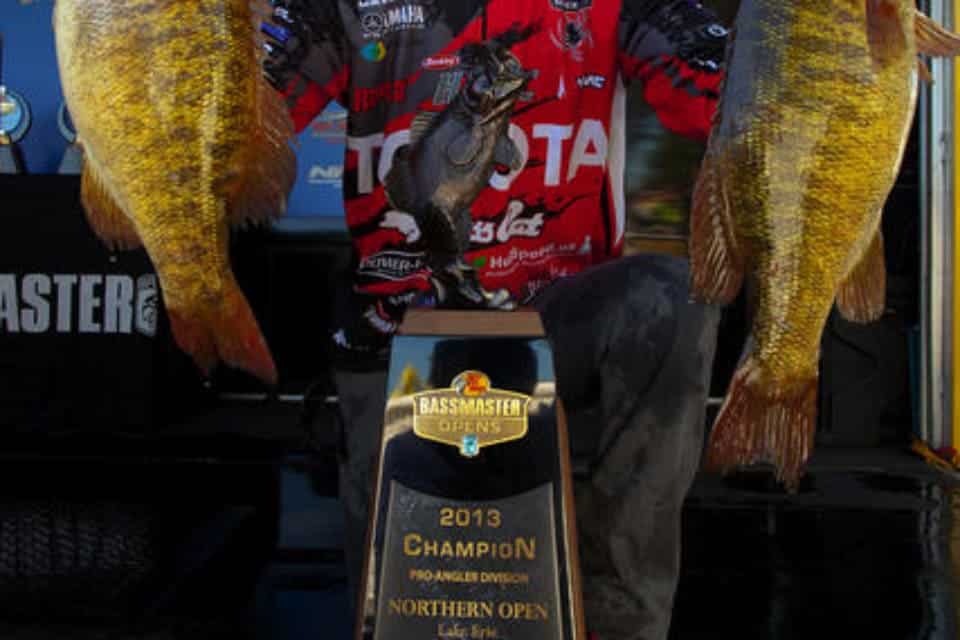 Bassmaster Elite Series pro Mike Iaconelli of New Jersey, above, won the Bass Pro Shops Bassmaster Northern Open on Lake Erie, securing a spot in the 2014 Bassmaster Classic. Below: On the co-angler side, Paul Marchaza of Ohio won the trophy. Photo by James Overstreet/Bassmaster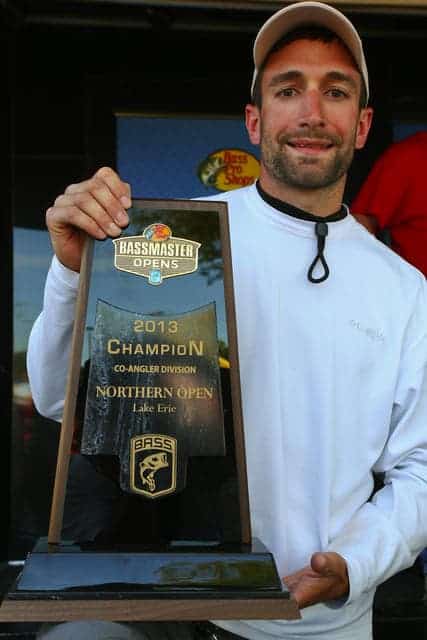 SANDUSKY, Ohio — In his last best chance at qualifying for the 2014 Bassmaster Classic, Elite Series pro Mike Iaconelli capitalized in a big way as he sacked 24-9 today on Lake Erie, giving him a two-day total of 48-8, nearly four pounds better than runner-up and Erie ringer Joe Balog.
"It's not real, man. It's not real," Iaconelli said in disbelief of his first Bass Pro Shops Bassmaster Open win. "When these moments happen, it's magical. I remember all my wins from club tournaments to this one, and they're all special.
"It's been a weird year. I had a bad year on the Elite trail, and I had a lot of downs, and I just kept my head in it and kept working, and it turned around finally."
This win punctuates six weeks that the New Jersey pro has been on the road and signifies the removal of a giant weight from his shoulders.
"There was so much pressure coming in here, and more than once I had a feeling like I should give up because so much wasn't going right. It really wears on you when you're out here by yourself and not doing good, and there were moments where I wanted to turn back and go home," Iaconelli said. "That's the thing about fishing and life in general; you just keep pushing, and these things happen when you least expect them to. They're magical things.
During the two-day tournament, shortened by a weather cancellation Friday, Iaconelli relied on a one-two punch for Erie's smallmouth. Eighty percent of his fish fell for a drop shot rig comprised of a 3/8-ounce VMC pencil drop shot weight below a 1/0 VMC wacky rig hook of his own design holding a Berkley Havoc Flat Dawg, also of his own creation.
"That bait is designed to be a shallow water stickbait, but in practice I found it's a killer drop shot bait," he said. His best color was watermelon silver/red. When the fish weren't eating the drop shot, he threw a Rapala DT-14 crankbait, especially when the lake was flat. He targeted the tops of the humps when the fish moved higher in the water column. The color he used was smash.
Besides the Bassmaster Classic berth, Iaconelli won a new Triton 19XS with a 200-horsepower Mercury Optimax ProXS outboard and roughly $5,000 cash.
With this win, Iaconelli has seen success at every level of B.A.S.S. competition from the B.A.S.S. Nation to the Elite Series and Classic, as well as a Toyota Bassmaster Angler of the Year win. "This trophy is going right next to my AOY and Classic trophies; it means just as much," he said.
Behind Iaconelli was Joe Balog of Michigan, who caught 23-4 on Day 2, which gave him a two-day total of 44-10. CJ Shaver of Ohio and Dave Lefebre of Pennsylvania tied for third with 44-2 each. In fifth place was Hunter Shryock of Ohio with 43-8.
On the co-angler side, Paul Marchaza of Ohio caught an astounding 15-0 from this three-fish limit, giving him a two-day total of 28-9. Marchaza was nearly at a loss for words following his win.
"This is unbelievable. I never, ever dreamed this could happen," the 30 year old said. "I put in a lot of hard work and studying; I've never even dragged a tube on Lake Erie. Jamie Caldwell took me out the first day and settled my nerves and showed me what to do, and that settled me down for today. I didn't catch a fish for the first four hours of the day today, then we went out deep, and I caught them all drop shotting."
For his win, he took home a new Triton boat with a 115-horsepower Yamaha outboard.
In second place on the co-angler side is Mike Fedio of Michigan with 27-7; in third is Gary Walker of Massachusetts with 25-7; in fourth is Nick Habuda of Canada with 25-3; and in fifth place is John Terry of Ohio with 25-0.
The Carhartt Big Bass award for $500 for the largest single bass caught at the tournament was awarded to Jams McMullen of Pennsylvania for his 6-6 on the pro side, while Ohio's Terry won the award on the co-angler side for his 6-8.
The Luck-E-Strike Heavyweight was awarded to Iaconelli on the pro side and Marchaza on the co-angler side for catching the biggest bag in their respective divisions. Each received a $250 Bass Pro Shops gift card.
The Livingston Lures Leader award of $250 was presented to Iaconelli, the pro angler in the lead on Day 2. Marchaza, the leader on the Day 2 co-angler side, received a Livingston Lures gift pack valued at $250.
2013 BPS Bassmaster Northern Open Lake Erie – Sandusky  9/12-9/14
Lake Erie, Sandusky, Ohio
(BOATER) Standings Day 2
Angler                   Hometown              No./lbs-oz  Pts   Total $$$
1.  Michael Iaconelli      Pitts Grove, NJ         10  48-08  123  $45,748.00
Day 1: 5   23-15     Day 2: 5   24-09
2.  Joe Balog              Harrison Township, MI   10  44-10  122  $12,464.00
Day 1: 5   21-06     Day 2: 5   23-04
3.  Cj Shaver              Westerville, OH         10  44-02  121   $9,348.00
Day 1: 5   21-06     Day 2: 5   22-12
4.  David Lefebre          Erie, PA                10  44-02  120   $8,364.00
Day 1: 5   22-03     Day 2: 5   21-15
5.  Hunter Shryock         Newcomerstown, OH       10  43-08  119   $7,298.00
Day 1: 5   22-10     Day 2: 5   20-14
6.  Ray Brazier            Lawrenceburg, TN        10  43-01  118   $6,232.00
Day 1: 5   20-03     Day 2: 5   22-14
7.  Wayne Hauser           Mooresville, NC         10  42-05  117   $5,248.00
Day 1: 5   21-03     Day 2: 5   21-02
8.  Kyle Kempkers          Hamilton, MI            10  42-01  116   $4,182.00
Day 1: 5   22-08     Day 2: 5   19-09
9.  Jacob Powroznik        Prince Grove, VA        10  41-06  115   $3,116.00
Day 1: 5   20-03     Day 2: 5   21-03
10. James Jacobus          Johnstown, OH           10  40-11  114   $2,870.00
Day 1: 5   20-07     Day 2: 5   20-04
11. Al Farace              Cockeysville, MD        10  40-10  113   $2,624.00
Day 1: 5   20-01     Day 2: 5   20-09
12. Chad Pipkens           Holt, MI                10  40-05  112   $2,460.00
Day 1: 5   18-00     Day 2: 5   22-05
13. Jason Root             Fostoria, OH            10  40-04  111   $2,050.00
Day 1: 5   18-11     Day 2: 5   21-09
14. Derek Remitz           Grant, AL               10  40-01  110   $2,050.00
Day 1: 5   22-06     Day 2: 5   17-11
15. Gary Greenwood         Irwin, PA               10  39-07  109   $2,050.00
Day 1: 5   21-01     Day 2: 5   18-06
16. Stephen Mui            Bartlett, IL            10  39-03  108   $2,050.00
Day 1: 5   20-14     Day 2: 5   18-05
17. Timmy Horton           Muscle Shoals, AL       10  39-00  107   $2,050.00
Day 1: 5   19-09     Day 2: 5   19-07
18. Kevin Hawk             Guntersville, AL        10  38-12  106   $2,050.00
Day 1: 5   19-01     Day 2: 5   19-11
19. Steve York             Bronson, MI             10  38-09  105   $2,050.00
Day 1: 5   20-04     Day 2: 5   18-05
20. Kurt Dove              Del Rio, TX             10  38-09  104   $2,050.00
Day 1: 5   19-00     Day 2: 5   19-09
21. Steve Tosh             Turlock, CA             10  37-13  103   $2,050.00
Day 1: 5   18-10     Day 2: 5   19-03
22. Scott Siller           Milwaukee, WI           10  37-12  102   $2,050.00
Day 1: 5   18-04     Day 2: 5   19-08
23. Chris Daves            Hopewell, VA            10  37-08  101   $2,050.00
Day 1: 5   18-13     Day 2: 5   18-11
24. Whitney Stephens       Waverly, OH             10  37-07  100   $2,050.00
Day 1: 5   16-13     Day 2: 5   20-10
25. Randy Howell           Springville, AL         10  37-07   99   $2,050.00
Day 1: 5   20-04     Day 2: 5   17-03
26. Tom Stark              Angola, IN              10  36-11   98   $1,804.00
Day 1: 5   18-08     Day 2: 5   18-03
27. Joseph Sancho          New Windsor, NY         10  36-08   97   $1,804.00
Day 1: 5   21-15     Day 2: 5   14-09
28. Matt Vermilyea         Perrysburg, OH          10  36-07   96   $1,804.00
Day 1: 5   17-03     Day 2: 5   19-04
29. Chip Porche            Bixby, OK               10  36-07   95   $1,804.00
Day 1: 5   18-14     Day 2: 5   17-09
30. Justin Lucas           Guntersville, AL        10  36-06   94   $1,804.00
Day 1: 5   20-00     Day 2: 5   16-06
31. Patrick Pierce         Jacksonville, FL        10  36-06   93   $1,558.00
Day 1: 5   17-03     Day 2: 5   19-03
32. Rob Thivener           Delaware, OH            10  36-05   92   $1,558.00
Day 1: 5   17-00     Day 2: 5   19-05
33. Sean D Caswell         Highland, NY            10  36-04   91   $1,558.00
Day 1: 5   18-01     Day 2: 5   18-03
34. Jeff Hippert           Hamburg, NY             10  36-02   90   $1,558.00
Day 1: 5   17-10     Day 2: 5   18-08
35. Kip Bodkin             Berlin Heights, OH      10  36-01   89   $1,558.00
Day 1: 5   18-00     Day 2: 5   18-01
36. Boo Woods              Oneida, KY              10  35-14   88   $1,312.00
Day 1: 5   17-03     Day 2: 5   18-11
37. John Figi              Bloomington, MN         10  35-13   87   $1,312.00
Day 1: 5   17-00     Day 2: 5   18-13
38. Brian Schram           Waterford, MI           10  35-10   86   $1,312.00
Day 1: 5   17-01     Day 2: 5   18-09
39. Philip Holwerda        Ada, MI                 10  35-07   85   $1,312.00
Day 1: 5   18-13     Day 2: 5   16-10
40. Timothy Laizer         South Hadley, MA        10  35-06   84   $1,312.00
Day 1: 5   18-09     Day 2: 5   16-13
41. Chris Zaldain          San Jose, CA            10  34-14   83
Day 1: 5   17-05     Day 2: 5   17-09
42. Jeff Barth             Marshfield, WI          10  34-08   82
Day 1: 5   15-12     Day 2: 5   18-12
43. Tom Kemos              Oconomowoc, WI          10  34-03   81
Day 1: 5   15-07     Day 2: 5   18-12
44. Rocky Rhodes           Grampian, PA            10  34-01   80
Day 1: 5   16-15     Day 2: 5   17-02
45. Fletcher Shryock       New Philadelphia, OH    10  34-00   79
Day 1: 5   19-06     Day 2: 5   14-10
46. Joe Nicholson          Cleveland, OH           10  33-15   78
Day 1: 5   18-13     Day 2: 5   15-02
47. Charlie Evans          Gilbertsville, KY       10  33-14   77
Day 1: 5   15-09     Day 2: 5   18-05
48. Jonathan Carter        South Portland, ME      10  33-11   76
Day 1: 5   13-13     Day 2: 5   19-14
49. Eddie Levin            Westerville, OH         10  33-11   75
Day 1: 5   19-11     Day 2: 5   14-00
50. Greg Pugh              Cullman, AL             10  33-10   74
Day 1: 5   15-07     Day 2: 5   18-03
51. Gregory Dipalma        Millville, NJ           10  33-03   73
Day 1: 5   15-13     Day 2: 5   17-06
52. Charlie Hartley        Grove City, OH           9  33-01   72
Day 1: 5   21-09     Day 2: 4   11-08
53. Ken Golubjatnikov      Pittsford, NY           10  32-14   71
Day 1: 5   17-08     Day 2: 5   15-06
54. William Pioch          Beckley, WV             10  32-13   70
Day 1: 5   17-13     Day 2: 5   15-00
55. John Pelletier         Castleton, NY           10  32-07   69
Day 1: 5   16-09     Day 2: 5   15-14
56. David Smith            Del City, OK            10  31-15   68
Day 1: 5   13-05     Day 2: 5   18-10
57. Paul A Molan           Chardon, OH             10  31-14   67
Day 1: 5   15-14     Day 2: 5   16-00
58. Danny Jones            North East, PA           8  31-12   66
Day 1: 5   20-12     Day 2: 3   11-00
59. Paul Pagnato           Reston, VA              10  31-05   65
Day 1: 5   14-01     Day 2: 5   17-04
60. Luke Clausen           Otis Orchards, WA        9  31-03   64
Day 1: 4   12-10     Day 2: 5   18-09
61. Mike Elsea             Mooresville, IN          7  31-02   63
Day 1: 2   09-13     Day 2: 5   21-05
62. RC Cooper              Nashua, NH              10  31-01   62
Day 1: 5   16-05     Day 2: 5   14-12
63. Tracy Adams            Wilkesboro, NC          10  30-14   61
Day 1: 5   16-13     Day 2: 5   14-01
64. Rob Collins            Morrow, OH              10  30-12   60
Day 1: 5   13-08     Day 2: 5   17-04
65. Seth Feider            Bloomington, MN          9  30-05   59
Day 1: 4   13-05     Day 2: 5   17-00
66. Kyle A. Fox            Lakeland, FL            10  30-05   58
Day 1: 5   14-05     Day 2: 5   16-00
67. Drew Benton            Panama City, FL          9  30-03   57
Day 1: 4   12-03     Day 2: 5   18-00
68. Mark Hicks             Glouster, OH             9  29-04   56
Day 1: 5   14-11     Day 2: 4   14-09
69. Boyd Duckett           Demopolis, AL            8  29-00   55
Day 1: 3   09-13     Day 2: 5   19-03
70. Art Ferguson III       Saint Clair Shores, MI  10  28-15   54
Day 1: 5   14-12     Day 2: 5   14-03
71. Scott Canterbury       Springville, AL          9  28-13   53
Day 1: 5   15-04     Day 2: 4   13-09
72. Chris Noffsinger       Interlochen, MI          9  28-02   52
Day 1: 4   15-01     Day 2: 5   13-01
73. Jacob Wheeler          Indianapolis, IN         9  27-15   51
Day 1: 5   15-12     Day 2: 4   12-03
74. Chris King             South Amherst, OH        8  27-13   50
Day 1: 5   18-05     Day 2: 3   09-08
75. Chris Mcreynolds       Louisville, TN           8  27-11   49
Day 1: 5   19-15     Day 2: 3   07-12
76. Josh Douglas           Chattanooga, TN          8  27-03   48
Day 1: 3   07-10     Day 2: 5   19-09
77. Stephen Longobardi     Northford, CT            9  26-12   47
Day 1: 4   10-13     Day 2: 5   15-15
78. Paul Mazzitelli        Pittston, PA             7  26-07   46
Day 1: 5   19-15     Day 2: 2   06-08
79. Brian Metry            Grosse Pointe Farms, MI  9  26-03   45
Day 1: 4   11-04     Day 2: 5   14-15
80. William M Schwartz     Sheffield Village, OH    9  25-12   44
Day 1: 5   13-15     Day 2: 4   11-13
81. David Gonzales         Dennison, OH             9  25-10   43
Day 1: 5   11-13     Day 2: 4   13-13
82. Masahiro Yanase        Knoxville TN JAPAN       8  24-15   42
Day 1: 5   16-03     Day 2: 3   08-12
83. Rick Taylor            West Olive, MI           7  24-03   41
Day 1: 5   16-08     Day 2: 2   07-11
84. Zachary Maisch         Lima, OH                 7  23-13   40
Day 1: 5   18-03     Day 2: 2   05-10
85. David Cooke            Mooresville, NC          6  23-12   39
Day 1: 5   20-12     Day 2: 1   03-00
86. Jamey Caldwell         Carthage, NC             7  23-10   38
Day 1: 3   09-09     Day 2: 4   14-01
87. Greg Gutierrez         Red Bluff, CA           10  23-03   37
Day 1: 5   11-15     Day 2: 5   11-04
88. Jesse Schultz          New Albany, IN           7  23-01   36
Day 1: 2   06-11     Day 2: 5   16-06
89. Larry Freeman          Waynesburg, PA           7  22-15   35
Day 1: 5   17-08     Day 2: 2   05-07
90. Blaine Bucy            Weirton, WV              7  22-08   34
Day 1: 5   18-05     Day 2: 2   04-03
91. Don Warren             Chesterfield, VA         7  22-07   33
Day 1: 2   05-08     Day 2: 5   16-15
92. David Dudley           Dublin, OH               7  22-01   32
Day 1: 4   11-01     Day 2: 3   11-00
93. William Kemp           Scotland Neck, NC        9  21-14   31
Day 1: 4   10-01     Day 2: 5   11-13
94. Timothy Macknair       Rices Landing, PA        6  21-13   30
Day 1: 5   17-07     Day 2: 1   04-06
95. Jeff Salmon            Chester, VA             10  21-08   29
Day 1: 5   11-07     Day 2: 5   10-01
96. Jonathon VanDam        Kalamazoo, MI            6  21-00   28
Day 1: 3   11-04     Day 2: 3   09-12
97. Steven C Schmidt       Madison, NE              7  20-13   27
Day 1: 3   10-08     Day 2: 4   10-05
98. Jeff Kuhar             Bridgeport, OH           7  20-11   26
Day 1: 5   13-07     Day 2: 2   07-04
99. Randy Elliott          Bowie, MD                6  20-03   25
Day 1: 1   04-02     Day 2: 5   16-01
100. Carl Jocumsen          Queensland AUSTRALIA     6  20-00   24
Day 1: 3   10-07     Day 2: 3   09-09
101. Emery L Peine          Newton, NJ               7  18-15   23
Day 1: 3   08-03     Day 2: 4   10-12
102. John Malzahn           Sparrow Bush, NY         5  15-15   22
Day 1: 5   15-15     Day 2: 0   00-00
103. James Mcmullen         Quakertown, PA           4  15-09   21
Day 1: 3   09-03     Day 2: 1   06-06
104. Larry Draughn          Fairborn, OH             6  14-05   20
Day 1: 4   08-05     Day 2: 2   06-00
105. Bill Chapman           Salt Rock, WV            5  14-02   19
Day 1: 5   14-02     Day 2: 0   00-00
106. Matt Greenblatt        Port St Lucie, FL        5  13-15   18
Day 1: 5   13-15     Day 2: 0   00-00
106. James Plessinger       Williamsburg, VA         5  13-15   18
Day 1: 5   13-15     Day 2: 0   00-00
108. Skip Johnson           Wales, MI                4  13-03   16
Day 1: 4   13-03     Day 2: 0   00-00
109. Kelly Pratt            Williamsburg, VA         4  12-06   15
Day 1: 0   00-00     Day 2: 4   12-06
110. Gary Krammes           Pottsville, PA           4  12-01   14
Day 1: 4   12-01     Day 2: 0   00-00
111. Todd Sterner           Mechanicsburg, PA        4  12-00   13
Day 1: 3   09-05     Day 2: 1   02-11
112. Wil Hardy II           Harlem, GA               4  11-12   12
Day 1: 4   11-12     Day 2: 0   00-00
113. Adam Thiede            Ashland, OH              4  10-11   11
Day 1: 1   04-07     Day 2: 3   06-04
114. Darin Doll             Jacobus, PA              1  04-12   10
Day 1: 1   04-12     Day 2: 0   00-00
115. Israel Mills           Lester, WV               1  03-14    9
Day 1: 1   03-14     Day 2: 0   00-00
116. William Lortz          Rochester, NY            1  03-11    8
Day 1: 1   03-11     Day 2: 0   00-00
117. Wade Curtiss           Meadow Vista, CA         1  02-06    7
Day 1: 1   02-06     Day 2: 0   00-00
118. Trait L Crist          Fort Worth, TX           0  00-00    0
Day 1: 0   00-00     Day 2: 0   00-00
118. Jason Dudek            Excelsior, MN            0  00-00    0
Day 1: 0   00-00     Day 2: 0   00-00
118. Pete Gluszek           Mount Laurel, NJ         0  00-00    0
Day 1: 0   00-00     Day 2: 0   00-00
118. Joe Lucarelli          Center Harbor, NH        0  00-00    0
Day 1: 0   00-00     Day 2: 0   00-00
118. Steve Schubert         Rayland, OH              0  00-00    0
Day 1: 0   00-00     Day 2: 0   00-00
118. Michael Simonton       Fremont, OH              0  00-00    0
Day 1: 0   00-00     Day 2: 0   00-00
———————————————————————–
Totals
Day   #Limits    #Fish      Weight
1        86       517      1799-13
2        77       467      1639-13
———————————-
163       984      3439-10
2013 BPS Bassmaster Northern Open Lake Erie – Sandusky  9/12-9/14
Lake Erie, Sandusky, Ohio
(NON_BOATER) Standings Day 2
Angler                   Hometown              No./lbs-oz  Pts   Total $$$
1.  Paul Marchaza          Mentor, OH               6  28-09  123  $25,250.00
Day 1: 3   13-09     Day 2: 3   15-00
2.  Mike Fedio             Fenton, MI               6  27-07  122   $3,985.00
Day 1: 3   13-04     Day 2: 3   14-03
3.  Gary Walker            Amesbury, MA             6  25-07  121   $3,009.00
Day 1: 3   10-10     Day 2: 3   14-13
4.  Nick Habuda            Belle River CANADA       6  25-03  120   $2,033.00
Day 1: 3   12-05     Day 2: 3   12-14
5.  John Terry             Lexington, OH            6  25-00  119   $2,371.00
Day 1: 3   12-01     Day 2: 3   12-15
6.  Destin Demarion        Grove City, PA           6  24-13  118   $1,789.00
Day 1: 3   12-07     Day 2: 3   12-06
7.  Andrew J Lemle         Whitehouse, OH           6  24-09  117   $1,708.00
Day 1: 3   10-14     Day 2: 3   13-11
8.  Mike Kiester           Davisburg, MI            6  24-08  116   $1,627.00
Day 1: 3   13-12     Day 2: 3   10-12
9.  Gary J Sterkel         Cleveland, OH            6  24-08  115   $1,545.00
Day 1: 3   11-05     Day 2: 3   13-03
10. Chris Van Vliet        Cleveland, OH            6  24-06  114   $1,383.00
Day 1: 3   11-11     Day 2: 3   12-11
11. Ashley Bishop          Chesapeake, VA           6  24-05  113   $1,220.00
Day 1: 3   10-15     Day 2: 3   13-06
12. Keith Nelski           Muskegon, MI             6  24-04  112   $1,139.00
Day 1: 3   11-13     Day 2: 3   12-07
13. Cory Krawczyk          Angola, NY               6  24-02  111     $976.00
Day 1: 3   12-12     Day 2: 3   11-06
14. Josh Hoshour           Ephrata, PA              6  24-02  110     $895.00
Day 1: 3   11-07     Day 2: 3   12-11
15. Russell Chargualaf     Mc Cordsville, IN        6  23-12  109     $813.00
Day 1: 3   11-04     Day 2: 3   12-08
16. Erik Jacques           Harrison Township, MI    6  23-12  108     $732.00
Day 1: 3   11-10     Day 2: 3   12-02
17. Mike Johnson           Athens, AL               6  23-11  107     $569.00
Day 1: 3   12-15     Day 2: 3   10-12
18. Jonathan Shoemaker     Elyria, OH               6  23-08  106     $488.00
Day 1: 3   11-00     Day 2: 3   12-08
19. Jeff Cutler            Minersville, PA          6  23-05  105     $488.00
Day 1: 3   14-09     Day 2: 3   08-12
20. Mark Babcock           Warwick, NY              6  23-03  104     $407.00
Day 1: 3   12-06     Day 2: 3   10-13
21. Mike Sopocy            Glenview, IL             6  23-01  103     $346.00
Day 1: 3   10-08     Day 2: 3   12-09
22. Melvin Mcmullen        South Charleston, OH     6  23-00  102     $346.00
Day 1: 3   11-11     Day 2: 3   11-05
23. Larry Thomas           Lambertville, MI         6  22-15  101     $346.00
Day 1: 3   14-02     Day 2: 3   08-13
24. Roy Moon               Gloucester, VA           6  22-12  100     $346.00
Day 1: 3   09-01     Day 2: 3   13-11
25. Dave Davenport         Milford, OH              6  22-11   99     $346.00
Day 1: 3   10-01     Day 2: 3   12-10
26. Steve L Haley          Columbus, OH             6  22-09   98     $346.00
Day 1: 3   10-11     Day 2: 3   11-14
27. Martin D Lamb          Clinton, IA              6  22-07   97     $346.00
Day 1: 3   09-00     Day 2: 3   13-07
28. Don Roberts            Bellville, OH            6  22-07   96     $346.00
Day 1: 3   12-09     Day 2: 3   09-14
29. Stephen Schneider      Selden, NY               6  22-06   95     $346.00
Day 1: 3   11-03     Day 2: 3   11-03
30. Joshua Barr            Copley, OH               6  22-05   94     $346.00
Day 1: 3   11-11     Day 2: 3   10-10
31. Beau Bickford          Findlay, OH              6  22-04   93     $346.00
Day 1: 3   11-12     Day 2: 3   10-08
32. Clay Powers            Portsmouth, VA           6  22-04   92     $346.00
Day 1: 3   11-03     Day 2: 3   11-01
33. Joe Bedra              Lake Orion, MI           6  22-03   91     $346.00
Day 1: 3   11-11     Day 2: 3   10-08
33. Dirk Hayward           Huntington, IN           6  22-03   91     $346.00
Day 1: 3   10-08     Day 2: 3   11-11
35. Jay Clingenpeel        Washington, PA           6  22-00   89     $346.00
Day 1: 3   09-15     Day 2: 3   12-01
36. Jerry Britt            Barhamsville, VA         6  21-15   88     $346.00
Day 1: 3   12-09     Day 2: 3   09-06
37. Brian Kich             Berea, OH                6  21-15   87     $346.00
Day 1: 3   09-07     Day 2: 3   12-08
38. Barry Brandt Jr.       Yorktown, VA             6  21-13   86     $346.00
Day 1: 3   08-15     Day 2: 3   12-14
39. Jason Wilkins          Weston, OH               6  21-13   85     $346.00
Day 1: 3   10-06     Day 2: 3   11-07
40. Michael McCoy          Mentor On The Lake, OH   6  21-12   84     $346.00
Day 1: 3   11-00     Day 2: 3   10-12
41. Olin Jensen            Del Rio, TX              6  21-09   83
Day 1: 3   12-06     Day 2: 3   09-03
42. Dan Minor              Norwalk, OH              6  21-09   82
Day 1: 3   11-09     Day 2: 3   10-00
43. Tim White              Vicksburg, MI            6  21-06   81
Day 1: 3   11-03     Day 2: 3   10-03
44. John Walker            Sidney, OH               6  20-13   80
Day 1: 3   09-06     Day 2: 3   11-07
45. Andrew Sokolowski      Brechin CANADA           5  20-12   79
Day 1: 3   14-00     Day 2: 2   06-12
46. Bob Schinker           Galena, OH               6  20-07   78
Day 1: 3   10-13     Day 2: 3   09-10
47. Jason Conrad           Stoutsville, OH          5  20-06   77
Day 1: 3   13-04     Day 2: 2   07-02
48. Gary Hall              Delbarton, WV            6  20-05   76
Day 1: 3   08-05     Day 2: 3   12-00
49. Joshua Winter          Nevis, MN                6  20-04   75
Day 1: 3   10-07     Day 2: 3   09-13
50. John Watts             Flushing, MI             6  20-03   74
Day 1: 3   11-06     Day 2: 3   08-13
51. David Adams            Schererville, IN         6  20-00   73
Day 1: 3   11-04     Day 2: 3   08-12
52. Dave Wedertz           Kenton, OH               5  19-15   72
Day 1: 2   08-05     Day 2: 3   11-10
53. Christopher Herzog     Liberty TWP, OH          6  19-15   71
Day 1: 3   08-10     Day 2: 3   11-05
54. William Beal           Lenox, MI                6  19-15   70
Day 1: 3   10-05     Day 2: 3   09-10
55. Jeff Jerome            Mcpherson, KS            5  19-12   69
Day 1: 2   08-03     Day 2: 3   11-09
56. Gary Haraguchi         Redding, CA              5  19-08   68
Day 1: 3   13-00     Day 2: 2   06-08
57. Mark Wilfong           Ann Arbor, MI            6  19-07   67
Day 1: 3   10-05     Day 2: 3   09-02
58. David Kercher          Cleveland, OH            5  19-05   66
Day 1: 2   07-06     Day 2: 3   11-15
59. Brook Pauley           Morgantown, WV           6  19-05   65
Day 1: 3   10-04     Day 2: 3   09-01
60. Kyle Labarge           Tupper Lake, NY          5  19-04   64
Day 1: 2   05-06     Day 2: 3   13-14
61. Rob Grabow             Clarksburg, WV           6  19-04   63
Day 1: 3   09-14     Day 2: 3   09-06
62. Mark Saunders          Wellington, OH           6  19-03   62
Day 1: 3   09-13     Day 2: 3   09-06
63. Robert Rieder          West Milford, NJ         6  19-00   61
Day 1: 3   07-09     Day 2: 3   11-07
64. Jarvis Ellis           Albany, GA               5  18-14   60
Day 1: 2   06-14     Day 2: 3   12-00
65. Cody Andrews           Elkin, NC                5  18-12   59
Day 1: 3   11-11     Day 2: 2   07-01
66. George Fiorille        Moravia, NY              5  18-05   58
Day 1: 2   06-10     Day 2: 3   11-11
67. Owen M Atchison        Findlay, OH              6  18-05   57
Day 1: 3   07-06     Day 2: 3   10-15
68. Chainsaw Hudgins       Warren, MI               5  18-04   56
Day 1: 2   04-15     Day 2: 3   13-05
69. Robert Scaggs          Waverly, OH              5  17-15   55
Day 1: 2   07-01     Day 2: 3   10-14
70. Carroll Blevins        Jonesboro, GA            5  17-10   54
Day 1: 2   04-07     Day 2: 3   13-03
71. James Fleming          Warsaw, IN               6  17-10   53
Day 1: 3   10-01     Day 2: 3   07-09
72. Gregory Raudenbush     Pottsville, PA           6  17-07   52
Day 1: 3   11-08     Day 2: 3   05-15
73. Del Smith              Castalia, OH             5  17-06   51
Day 1: 3   11-12     Day 2: 2   05-10
74. Vince Denina           Willis, TX               6  17-03   50
Day 1: 3   06-13     Day 2: 3   10-06
75. Peter Barello          Staten Island, NY        6  17-02   49
Day 1: 3   10-02     Day 2: 3   07-00
76. Joe Burchill           Boston, MA               4  17-00   48
Day 1: 1   04-08     Day 2: 3   12-08
77. Scott Walker           Morristown, IN           5  17-00   47
Day 1: 2   04-12     Day 2: 3   12-04
78. Brian Mailot           Columbus, OH             5  16-15   46
Day 1: 3   10-10     Day 2: 2   06-05
79. George A Guerra        South Holland, IL        5  16-15   45
Day 1: 2   06-11     Day 2: 3   10-04
80. Marcus Barr            Hillsboro, OH            5  16-14   44
Day 1: 3   09-13     Day 2: 2   07-01
81. Charles L Gabbeart     Plymouth, MI             4  16-00   43
Day 1: 1   04-00     Day 2: 3   12-00
82. Aaron Anders           Guelph Ontario CANADA    5  15-07   42
Day 1: 3   08-13     Day 2: 2   06-10
83. Rick Scherer           Sheboygan Falls, WI      4  14-15   41
Day 1: 3   12-00     Day 2: 1   02-15
84. Chris Buttigieg        Fort Erie CANADA         5  14-15   40
Day 1: 3   10-12     Day 2: 2   04-03
85. Jeff Brady             Lagrange, KY             4  14-01   39
Day 1: 1   03-02     Day 2: 3   10-15
86. Mike Hauer             Niagara Falls CANADA     5  14-01   38
Day 1: 2   04-07     Day 2: 3   09-10
87. Greg Mansfield         Savage, MN               4  13-13   37
Day 1: 3   11-00     Day 2: 1   02-13
88. Jon Zera               Newington, CT            4  13-12   36
Day 1: 3   11-01     Day 2: 1   02-11
89. Robert Pelletier       NASSAU, NY               4  13-10   35
Day 1: 3   11-11     Day 2: 1   01-15
90. Sody Soderquist        South Haven, MI          4  13-07   34
Day 1: 2   06-00     Day 2: 2   07-07
91. Bob Snyder             Marion, IN               4  13-05   33
Day 1: 2   06-05     Day 2: 2   07-00
92. Ryan Wiedle            Bellevue, OH             6  13-04   32
Day 1: 3   07-11     Day 2: 3   05-09
93. Dirk Daniel            Rutledge, TN             4  13-00   31
Day 1: 2   06-11     Day 2: 2   06-05
94. Curtis Hall            Lenore, WV               4  12-06   30
Day 1: 1   01-07     Day 2: 3   10-15
95. Ron Norris             Portage, MI              3  12-02   29
Day 1: 0   00-00     Day 2: 3   12-02
96. Miles Bracali          Waterford, MI            5  12-00   28
Day 1: 2   06-06     Day 2: 3   05-10
97. Nick Leonard           Cincinnati, OH           4  11-12   27
Day 1: 3   10-03     Day 2: 1   01-09
98. Scott Deitrich         Berrysburg, PA           3  11-11   26
Day 1: 0   00-00     Day 2: 3   11-11
99. Billy Dehart           Burlingame, CA           3  11-10   25
Day 1: 0   00-00     Day 2: 3   11-10
100. Doug Caldwell          Kane, PA                 3  10-13   24
Day 1: 3   10-13
100. Jeff Domonkos          Middlebrg Hts, OH        3  10-13   24
Day 1: 3   10-13     Day 2: 0   00-00
102. Tina Chang             Milwaukee, WI            3  10-04   22
Day 1: 3   10-04     Day 2: 0   00-00
102. Jason Hickman          Orient, OH               3  10-04   22
Day 1: 3   10-04     Day 2: 0   00-00
104. Marvin Stith           Piscataway, NJ           3  09-15   20
Day 1: 0   00-00     Day 2: 3   09-15
105. Jon Witt               Kalamazoo, MI            3  09-09   19
Day 1: 3   09-09
106. Jack T Dale            Wayland, MI              3  09-04   18
Day 1: 0   00-00     Day 2: 3   09-04
107. Todd Adamitis          Glen Carbon, IL          3  09-01   17
Day 1: 1   04-04     Day 2: 2   04-13
108. James F Brown          Chase City, VA           3  07-12   16
Day 1: 1   03-00     Day 2: 2   04-12
109. Kevin Imer             M
---