George Berry Wins ABA RAM AFT D-96 2 Day Championship on Lake Murray with over 26 pounds!
---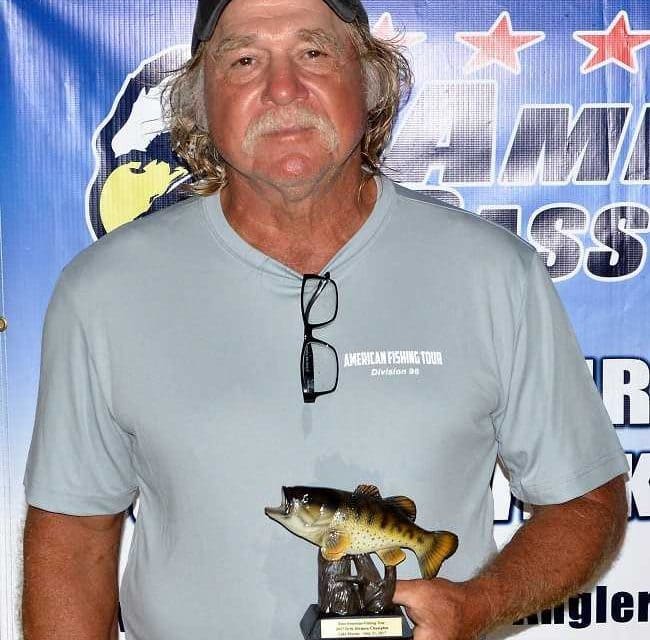 George Berry of Saluda, SC won the Ram American Fishing Tour, presented by American Bass Anglers, South Carolina Division 96 2-day Championship held May 20-21, 2017 on Lake Murray running out the Dreher Island State Park near Prosperity, SC.
Saturday started out at 66 degrees and was at 90 degrees by the 3 pm weigh-in. Partly Cloudy skies with the wind out of the SW at 5 to 10 mph. Lake Murray is close to a normal full stage at 358 feet with surface temp in the 70s. Sunday started out humid with little wind and 68 degrees. Wind picked up later in the day and was out of the SW at 10 to 15 mph. The forecast of scattered thunderstorms came as we started the 3 pm weigh-in.
There were 18 anglers fishing this Division 96 2-Day Championship Tournament out of Dreher Island State Park near Prosperity, SC. First place, George Berry of Saluda, SC had 10 fish for the 2 days weighing 26.82 pounds. George fished the lower part of the lake each morning fishing topwater baits and then went up the river to finish his limit flipping a worm on docks and wood. George took home $1095 for first place and first place option on day one.
Mark Richardson of Irmo, SC was second with 10 fish for the 2 days weighing 26.54 pounds which included a 5.69 pound kicker on day one. He caught all his fish with a shakey head worm on the lower part of the lake. Mark won $641 for second place and second place option on day one.
Phillip Anderson of Saluda, SC was third with 10 fish for the 2 days weighing 25.54 pounds. Phillip caught his fish flipping docks with a jig on the middle part of the lake. He took home $188 for third place.
Phillip Anderson came into this 2-day in fifth place in the points race for Division 96 Angler of the Year. His third place finish was enough to win the AOY title with a total of 1169 points.
Josh Peake of West Columbia, SC took the Big Bass of the tournament on day one with a 6.19 pounds largemouth. The fish was caught on a topwater bait in the mid lake area.
Gary McGlohorn of Batesburg, SC caught the big bass of day two on a topwater bait on the lower lake area weighing 5.25 pounds. Each won $90 for big fish.
Also Gary McGlohorn won the first place option for day two at $95 and Roger Farr of Lexington won the second place option on day two at $65.
Top 5 finishers:
1 – George Berry – 10 fish 26.82 pounds 396 points
2 – Mark Richardson – 10 fish 26.54 pounds 394 points
3 – Phillip Anderson – 10 fish 25.54 pounds 392 points
4 – Gary McGlohorn – 9 fish 24.69 pounds 390 points
5 – Roger Farr – 9 fish 23.25 pounds 388 points
These anglers are qualifying to compete in the 2017 Ram AFT National Championship on the Ouachita River, Monroe La. in October 2017.
The next Division 96 tournament for Division 96 will be our Bring A Youth Tournament on Lake Greenwood, June 24, 2017. The next D-96 qualifier tournament will be for the 2018 season on Lake Russell July 9, 2017 out of the Hwy 72 Ramp.
For more information, contact D-96 Director Phil Morris at 864-993-0346; email [email protected]  or call ABA at (256) 232-0406. On-line, see www.americanbassanglers.com or www.aba-sc.com for complete results. Also check out our facebook page at D-96 American Fishing Tour.
The American Fishing Tour offers low cost, close to home bass tournaments that are designed for the weekend angler. All ABA anglers fish for money and points. The points advance the angler to their divisional championship and the top 500 anglers in the US are invited to the American Fishing Tour National Championship.
---