Dearal Rodgers Taking Next Step In His Tournament Career
Posted On December 29, 2012
---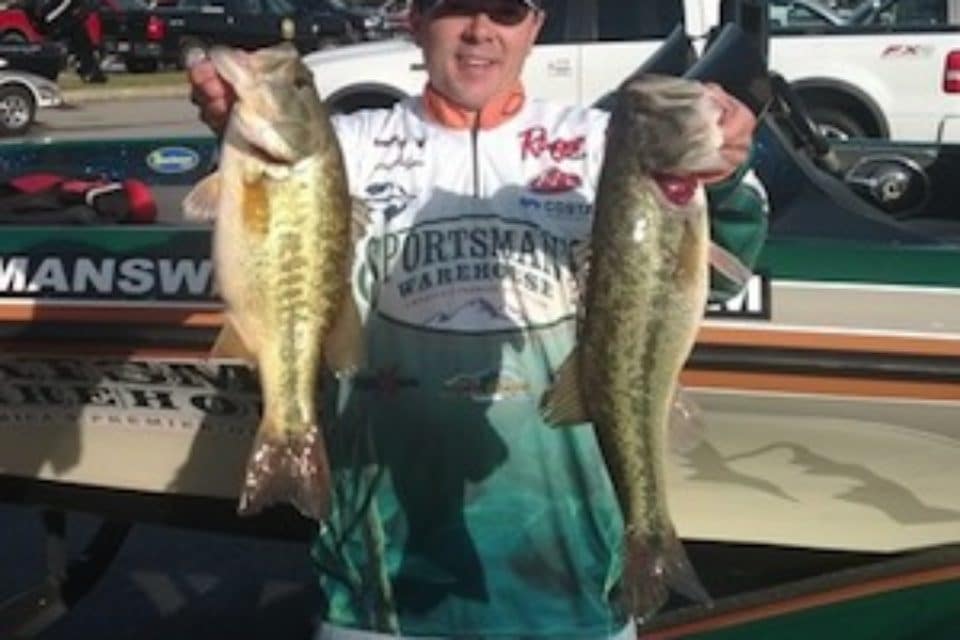 "This is one of the best times of the year to catch a really big bass at Lake Wateree," said local tournament angler and guide Dearal Rodgers of Camden, who is moving into a new phase in his tournament career in 2013.
Rodgers, who won the FLW Tour Co-Angler of the Year Award in 2009 and the FLW Tour's Forrest Wood Cup as a Co-Angler in 2010, plans to introduce his 9-year-old son, Fisher to tournament angling this year.
"We are going to fish three Fishers of Men Legacy Tournaments this year. He's excited about that, but I think I am more excited than he is," said Rodgers who also plans to revive his guide business and expand it beyond Lake Wateree.
Rodgers deactivated his guide business while he was fishing the FLW Tour Majors and also starting up his own environmental assessment business, but he plans now to start guiding again.
"I've got my business going now and I've got some people helping me with it. The problem before was I could not be away from the job, but now I am looking forward to taking people out on Lake Wateree, Santee Cooper or Lake Murray, or wherever else they want to fish," he said. "I also plan to fish the Carolina Bass Challenge tournaments this year and the PAAs (Professional Anglers Association) on a national level."
Rodgers grew up fishing Lake Wateree and the skills her learned there propelled him to the top of the major tournament world. But he is still fascinated by the opportunities offered by his home lake.
"There are three things you need to be looking for in the month of January on Lake Wateree," he said, " rocks, access to deep water, and the cleanest water you can find. If you can find the big three, you'll find bass and often times a bunch of them."
Rodgers said the bass at Wateree this time of year will suspend around the first break to deep water in these areas, then move shallow once or twice a day to feed.
"I like to target these fish with slow moving Shad Raps and suspending jerkbaits like the Lucky Craft Pointer. Shad patterns do the trick and don't underestimate the Buckeye Lures DR Edition 3/4-ounce spinnerbait slow rolled around the 10-foot zone."
Rodgers said if you find a productive point, or bank it will typically produce through the winter into the early spring.
"This is also the only time of year that I fish sitting down. It helps me slow down and this time of year, that helps put more fish in the boat," he said.
"Warming trends in between cold fronts can be very productive on Wateree, he noted
"The bass will move shallow to take advantage of the sun and the warmer temperatures in the upper water column. Crawdad colors work really well when we have warmer weather in the winter. Although crawfish hibernate during cold weather, when we have warmer weather a bass will eat a crawfish if he sees it."
During those warmer days, he said a No. 7 or No. 8 ShadRap in crawdad color is an excellent choice.
"One reason the ShadRap is so good is that it is so subtle moving through the water. That bait coming through the water is good-sized and it will catch a big bass this time of year."
Another option, he noted, is a Buckeye Mop Jig in green pumpkin color with a Zoom Super Chunk trailer.
"I will be fishing that jig around rocks , looking for water that gets a lot of sunlight. The sun may be out only 8 hours during the day, but you want to find the place that gets the most sun. You need deep water access and rock is key at Wateree this time of year."
Rodgers is sponsored by Sportsman's Warehouse, AnglersChannel.com, Ranger Boats, Evinrude E-TEC, Buckeye Lures and Cutmaker Lures (www.Cutmakerlures.com). Check out his website at www.dearalrodgers.com. To book a bass fishing trip, call him at (803) 223-1117 or email: [email protected].
---