Bass Fishing Booming Because Of Growing Grass As Chattanooga Bass Association Readies For Night Tournament
---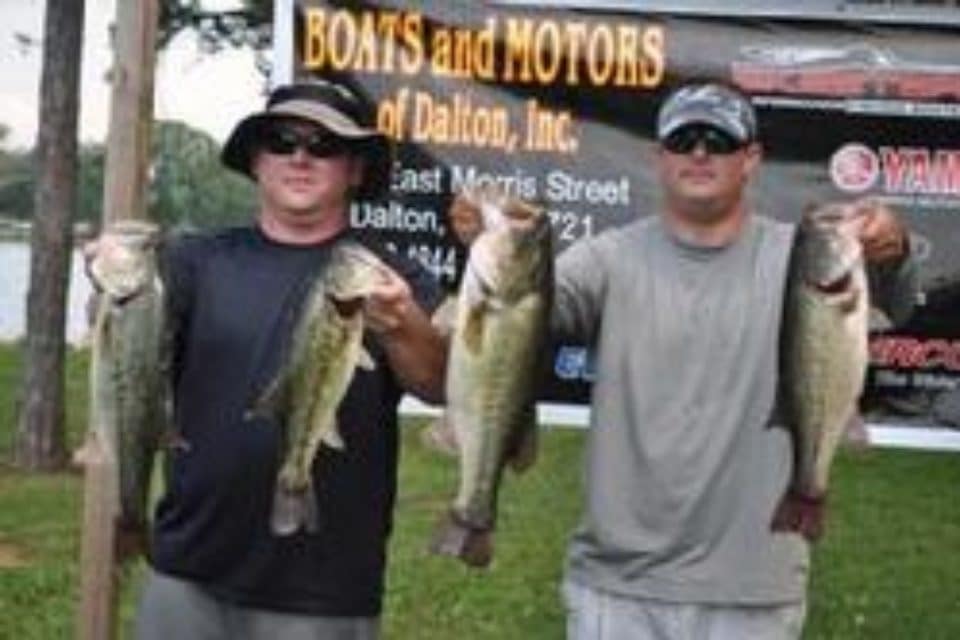 This may be a record hot summer, but as hot as the weather is the bass fishing in Lake Chickamauga may be even hotter. And it's all because of the growth of hydrilla in the lake, said Justin Medley, tournament director for the Chattanooga Bass Association.
"We had a night tournament in early June and there were two bags weighed in over 30 pounds out of 52 boats," Medley said, adding that seven fish over 8 pounds were weighed in that tournament.
"What was pretty cool was that one of our youth division teams, Jim McClanahan and Colby Truelove, weighed in a bag over 28 pounds. That was the heaviest weight ever to come from one of our youth division teams and it earned them a free entry into this coming weekend's tournament," Medley said. McClanahan and Truelove also had the heaviest largemouth of the tournament at 8.23 pounds.
"The grass is starting to grow and do really well and the guys are catching fish around the grass, especially during the night tournaments. Steve Kite and Daniel Lewis won that tournament with 31.10 pounds and they caught their fish around the grass in 6 to 10 feet of water."
Then there was the night tournament out of a state park on the lake Thursday evening, he noted.
"It was a three-fish tournament and it was won with 19 ½ pounds, with a big fish of 9.48 pounds. We are expecting a really good bite in our tournament next weekend."
That will be the sixth of 10 tournaments on the Chattanooga Bass Association schedule this year, Medley noted, and he expects the winning weight to be between 25 and 30 pounds.
"We expect a really good bite next weekend. Most of the guys will be targeting shallow grass with spinnerbaits and soft plastics," Medley said.
The tournament will run from 8 p.m. Saturday to 8 a.m. Sunday, he noted, which gives anglers plenty of time to cover all their spots.
"Night fishing has been really good, especially for fish over 5-6 pounds," Medley said. "The winners will take home $2,000 for first place."
The tournament will give points leaders a chance to solidify their positions and also give some anglers the opportunity to move up, Medley said.
"There are four months left so the points title is still anybody's game. All these guys are fighting for the Sportsman's Warehouse Points Championship and the $1,000 bonus and free entry fees for the 2012 season."
Medley noted that anglers can drop two of their lowest finish tournaments so there is still a lot of fishing and jockeying for position to do before the title can be claimed.
The father-son duo of Rogie and Alan Brown are leading the points but Kite and Lewis are just 9 points back and there are a good many teams withing striking distance behind them.
The CBA operates from February through November with Lakes Chickamauga, Nickajack and Watts Barr open for each tournament. All teams launch out of Chester Frost Park on Lake Chickamauga and they can lock through to Nickajack and Watts Bar.
First place in each tournament is guaranteed $2,000 and the remainder of the payout goes to one in every five entries. Anglers who do not win cash money will receive prizes.
Entry fees for the tournaments are $120 per boat which includes Big Fish. To accumulate points throughout the season and be eligible for season prizes such as Big Fish and New Team anglers must pay a one-time process fee of $50.
Medley noted there are several manufacturer's bonus programs which also pay prize money to winning anglers who use their boats or tackle, including Ranger Cup, Triton Gold, Bullet Boats Rewards, Bass Pro Shops Tournament Rewards, Nuclear Rods Big Fish Rewards, and the Nichols Outboard Engineering Big Bass Bonus.
"Another membership incentive is Tow Boat USA which will pay $100 to the highest finishing Tow Boat member in each tournament and $500 to the highest finishing member in the year-end Classic. Tow Boat is also sponsoring the Classic," Medley said.
The CBA's remaining 2011 tournament schedule includes: July 9 Night, July 23 Day, August 6 Night, August 20 Day, September 17, and October 1, with the 2011 Classic on October 29-30.
Chattanooga Bass Association
Sat, Jul 9, 2011
Chickamauga Lake
Chester Frost Park
Call Justin Medley 423-667-5054
---