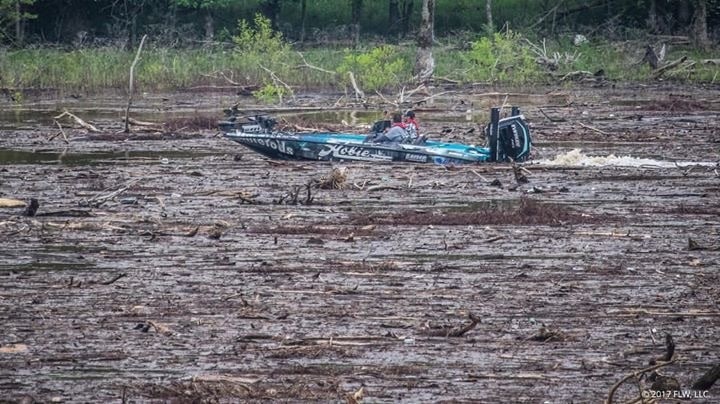 I can't be the only one who enjoys watching tough-bite tourneys. When the action is slow, we learn more. Sure, it's fun to see the pros whack 'em and stack 'em on legendary lakes known for producing tons of mossyback hydrilla gorillas (I mean, come on, I'm a red-blooded American after all).
But every tournament has its merits and right now there are 2 lakes that are throwing curveballs to our best professional anglers.
We will learn how to adjust when fishing a crowded lake as we watch the Elite Series pros share water at 30,000-acre Ross Barnett Reservoir. As if the confines weren't cozy enough, high winds have put a bunch of water out of bounds, more or less.
Dustin Connell has what he calls 'a Jacob Wheeler sneak hole' to himself. It has provided him the lead midway through the event with 36 pounds, 7 ounces.
Dave Lefebre has been sneaky in his own right, fishing stuff he believes others have overlooked. It has put him in 4th, about two-and-a-half pounds behind Connell.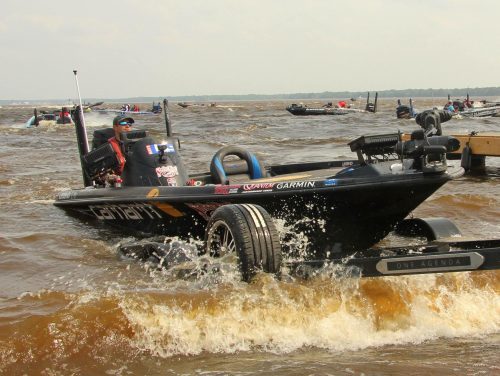 The shad spawn is playing a role for Lefebre but he says they are spawning on everything, not just the usual rocks and docks. Also, he is not using the typical weapon – a spinnerbait to trigger bass around the shad.
We'll learn more – a lot more as the picture continues to develop over the next couple of days.
Over in Arkansas our FLW Tour pros are having their annual Beaver Lake festival. It has been mostly slow. Cody Meyer was able to retain a very slim lead today with only 12-8 for a total weight of 28-9 over the first 2 days. His lead shrunk from 6 ounces to 3 ounces.
The fishable part of the lake shrunk too. Water has risen 9 feet in the past week on Beaver. Huge floating logjams have made travel difficult south Monte Ne and even when anglers have gotten to their fishing spots upriver the water has less than an inch of visibility and is 8 degrees colder than down lake.
Somehow, John Cox managed to see and catch 4 stout largemouth from beds one Day 1. He added 5 more today and is in the Top 10. Rising water has changed things so much that most pros say they are now fishing a different lake than the one they practiced on. Yet, with an extra 9 feet of water on top of everything, Cox finds them bedding.
Again, there is much to learn this weekend.
---