Open-Minded Approach Yields Monsoon His First FLW Tour Win!
---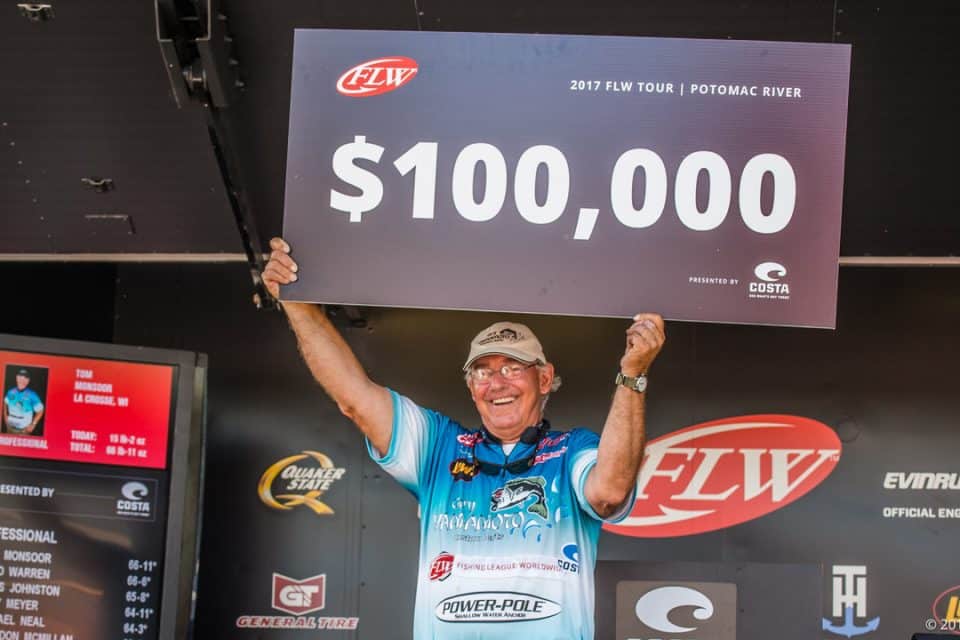 Tom Monsoor is a happy man. This time last week he had 8 Top 10 finishes in his FLW Tour career. No wins. At the conclusion of Sunday's weigh in Monsoor hoisted the big trophy that said he was now a champion.
"Couldn't be any better," chuckled Monsoor. "I'm tickled pink. That's the one trophy I didn't have."
Monsoor totaled 66 pounds, 11 ounces over 4 days on the Potomac River. He achieved his signature win with his signature lure, the swim jig.
Every bass Monsoor weighed-in fell for a black and blue jig with a Yamamoto Flappin' Hog trailer.
What makes Monsoor so good with a swim jig that he can beat a full field of professional anglers with a single lure – and the oldest, simplest lure of all at that? In a word, open mindedness. Not the answer you expected of such a seemingly one-track guy? "You know, bass fishing is a learning process. You never stop learning."
Across the decades his open-minded approach has allowed Monsoor to adapt to the various possibilities that a simple jig presents.
"It's so versatile I can use it in 30 feet of water or I can use it in 2 feet of water. I've got different sizes, different trailers. You know how many different crankbaits there are? It's the same with a swim jig but nobody knows that. I've got 1/8 ounce swim jigs, I've got swim jigs up to an ounce. I swim a jig on ledges. Up shallow, I'll pull up and there will be 5 or 6 guys there not catching anything and I'll pull up and get them every cast. It's just knowing how to use it because I've done it for 40 years.
"And in those 40 years I've learned something. Every year you learn how to expand on it more and more and more. There are different trailers, different sizes, different colors whether you're fishing shad, or if you're fishing crayfish. There's a lot more to it than what people think. It's so cool. If somebody understands how many ways you can fish that swim jig, it's unbelievable."
Of the options available on a swim jig Monsoor says color and trailer choice are the most important considerations. "I've gone through a lot of changes on trailers, believe me. I started off with a grub and for 10 years that's all I threw was a grub. And then I started learning about some other stuff. Gary Yamamoto came up with this 3.5-inch Swim Senko that I don't think people even know about. They know about the big one, they swim the big one with a hook, like a Senko.
"He made a little one for me that I remember my son and I were down on Okeechobee and he came up to us with a big smile on his face and said, "look at this". That little thing is a killer, I mean, it's the perfect size. He went out and made me a perfect trailer for my swim jig."
Monsoor des stay the course with his line choice. "I use fluorocarbon 99% of the time. I use 16 lb. Sugoi in cover and 10 lb. in open water."
His years of experience and experimentation have led Monsoor to what he believes is the ultimate rod/reel set up. Lew's rods and reels with Winn grips. "I thought my hands would slip off the reel handles because they are round, but those Winn grips are amazing.
"And Lew's has come out with this rod with Winn grips – when you pick one up you're going to flip out. They are light, I mean light, and you don't get worn out and they make a reel that matches it."
Monsoor says the action of the rod allows him to generate reaction bites with a swim jig the way most anglers hope to do with a squarebill crankbait. "The lighter rods don't wear me out. When you're swimming a jig through weeds, I'm telling you, it's work if you fish the weeds the right way. You've got to bounce it off each weed and pull it through each weed and then let it sit and when it jumps off the weed like that it's a reaction strike that drives them nuts.
"I learned some stuff about rods and reels this year that was really cool."
Monsoor still molds his own jigs, a practice he began when he was frustrated with the quality of hooks found in jigs back when he started fishing with them. He says that the quality of mass=produced jigs has greatly improved but he still makes his own.
"I like a good quality high end hook, light but strong because you've got to set the hook at the end of your cast a lot of times."
Monsoor, being open to new things, relied on 2 spots to sack his winning fish and he had never fished either area before. He caught a quick limit each day in Mason's Neck where the water was 2 feet deep and held ugly black weeds. His better fish came from the clean green grass of Quantico Bay, a known area that has been pressured to the point that Monsoor could only catch 3 or 4 fish there after fishing the area for 5 or 6 hours each day. But those fish were the difference-makers.
Monsoor will occasionally swim a lure, such as the Swim Senko, without a jig. He'll also throw a Senko. "But I usually end up coming back to the jig," he says. The difference is that the jig tends to produce bigger fish.
"I had Darrel Robertson right next to me just killing them for 2 days. He didn't make the cut. And I mean he's catching 30 fish – in front of me. But he didn't have the weight. I was using my jig and he was throwing a Senko.
"A Senko will catch big fish. I've caught 10-pounders on them. Brandon McMillan caught two 20-pound bags this week. He was throwing a Senko." Still, for Monsoor this week, the jig with its skirt and bulkier profile produced bigger bass.
---