Lee Brothers, 78 teams, and 72 pizzas make for a great Quantum High School and College Open.
Story & Photos Courtesy of Alan McGuckin – Dynamic Sponsorships.
When you serve up 72 free pizzas, and former Carhartt Bassmaster College Series studs Matt and Jordan Lee are in the house, even an approaching rain-soaked autumn cold front can't dampen 78 high school and college fishing teams from showing-up for the first ever Quantum Next Generation Open on Grand Lake, Oklahoma.
In fact, the young anglers traveled from as far away as nine states to launch and weigh-in at the same top-notch facility in Grove, Oklahoma that hosted the 2013 and 2016 Bassmaster Classics.
More than a dozen Zebco employees, parent company of Quantum, traveled from headquarters in Tulsa to volunteer and assure the anglers a quality experience at the No Entry Fee tournament.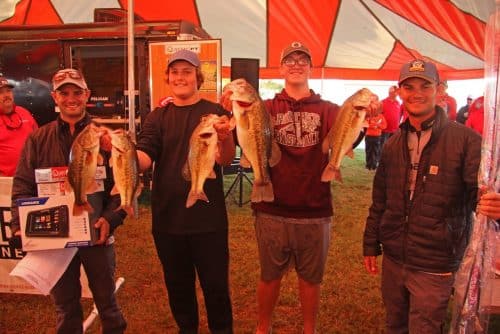 And while ample smiles were evident of a great time by all in attendance, the high school team of Landon Edwards and Dalton Greene of Springdale and Siloam Springs, Arkansas caught the biggest bag of the event with 16.44 impressive pounds on a Rick Clunn squarebill from structure between docks.
The top finishing college team was Cameron Simmons and Dexter Flick of Oklahoma State with 12.97 pounds. Simmons an aviation major from Owasso, OK, and Flick an accounting major from Olathe, Colorado anchored their win with a 5-pound beast that bit a ½ ounce Pepper Custom Lures spinnerbait featuring willowleaf blades.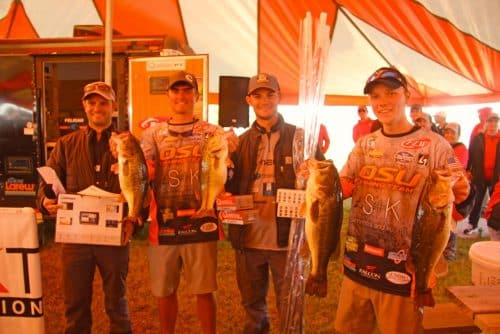 Each winning team walked away with an impressive amount of product valued at $5,000 in a No Entry Fee tournament thanks to the very generous contributions of Carhartt, Costa, Garmin, Lowrance, Quantum, Stormr, and Strike King. Beyond just prizes to the top finishing teams, Quantum gave away a total of $16,000 in product through random drawings.
"In five years of being around high school and college tournaments, I don't think I've ever seen such a rich product pay-out in a No Entry Fee event, not to mention, it was really well attended and run in a first class way," says Matt Lee.