For the Procrastinative Santa
Vance McCullough
Waited (almost) too long to get a little something special for the angler in your life this Christmas? No worries. AnglersChannel.com has you covered. Check out these ideas:
Decked the halls? Great! Now deck out your fishing friends in some swag from Huk. While procrastination can cost you (for instance, the hot Subphantis Trucker Hat from Huk is sold out – for now) it can be your friend too because you're right on time to save 25% on Subphantis Attack footwear featuring GripX Wet Traction Non-Marking Outsole, Fuzetek Support Cage, 360 Drainage, Performance Lacing and sweet-looking Subphantis Camo patterns. Available in 3 colors, the Attack is rightly described as 'the most thoughtfully engineered, purpose-built, fishing shoe ever created'.
The discount applies on the company website – HukGear.com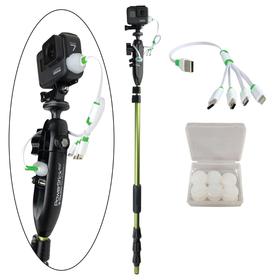 Our friends at TH Marine have bundled some of the best holiday gifts into affordable packages that are sure to put smiles on faces. And they'll need to smile if they're filming their fishing exploits with the YouTube Starter Kit that gives them all the mounts, cameras and accessories needed to 'go viral' on the worldwide web! Oh, and there's a TH Marine hat, gloves and gaiter so they can represent fully while mugging with their catch of the day.
Again, it pays to procrastinate as the price on the YouTube Starter kit has been slashed from 309.94 to 169.99. Also check the website to learn how you can get FREE shipping on this and any other gift bundles – such as the YOLOTek bundle, the ever popular Trolling Motor Package and for those who aspire to fish like the best, the KVD Ultimate Package with ultimate savings of about $450!
Troll on over to THMarineSupplies.com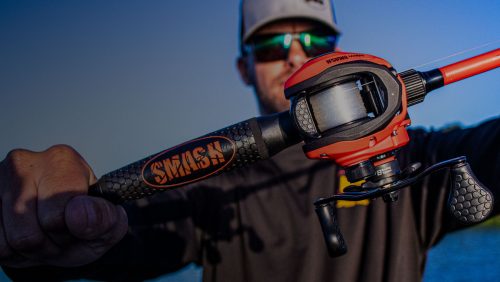 For a quality gift that will serve for years to come, look no further than Lew's and their outstanding line of rods and reels. While the entire product lineup is outstanding, we at AnglersChannel.com recommend a real 'winner'. Lew's won the "Best Rod & Reel Combo" category for the 6th consecutive time at this year's ICAST Show with their Mach Smash Combo.
The Mach Smash SLP Baitcast Reel features a one-piece lightweight graphite frame with 3 drain ports, high strength solid brass Speed Gears, 8 bearings a 32mm spool and a 95mm handle with Lew's Combat Grip™ paddle knobs for full control. It is paired with the Mach Smash Rod that boasts a new thinner diameter blank, which decreases weight and bulk. Premium IM6 high modulus graphite blank, Lew's exclusive skeletal reel seat, Winn® Dri-Tac™ grip with EVA butt section make this rod both sensitive and comfortable to fish.
Perhaps the best feature of this combo is the price – $129.99. An extreme value to be sure, it is offered in both left and right-handed versions of 6'10" MH, 7.5:1 gear ratio, as well as a spinning combo offered at an MSRP of $99.99.
And of course, stuff the stockings with Strike King Lures! For year-round usefulness, pack a few Thunder Crickets, SK's hot bladed jig designed in cooperation with Z-Man.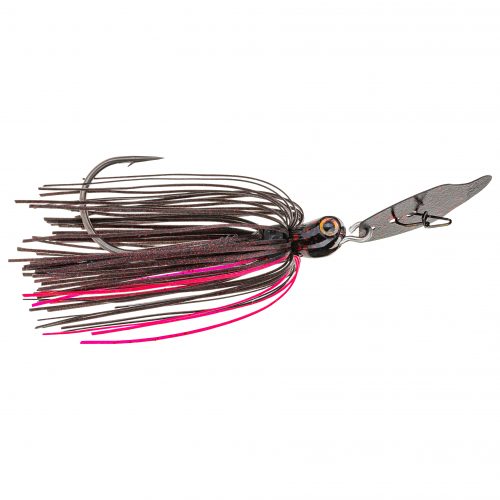 For immediate use, the Red Eye Shad comes to mind, especially in the Tungsten 2-Tap model in the ¾ oz. size that will get down and thump a deep tone sure to wake up sleepy cold-water giants. The Red Eye Shad glides down instead of dropping like a rock – important when targeting sluggish winter/spring bass.
For those headed to Florida, send them off with a new assortment of Tour Grade Tungsten Bullet Weights, and Hack Attack Heavy Cover Flipping Hooks so they can go in after (and pull out) the huge bass that live beneath thick mats in the cooler months of the early tournament season. A variety of Rage Tail soft plastics will complete the set up.
For those who do their fishing from a kayak, a membership to Tourney X will open the door to thousands of tournaments and challenges for multiple species, including redfish and crappie, but mostly for bass. The site includes a database of events, much like the exhaustive tournament calendar on AnglersChannel.com, and participants can register and pay for these tourneys right there on the site or in the app.
Kayak anglers have become as obsessed with add-ons as their bass boating brethren. YakGadget makes mounts that facilitate the addition of motors, anchor mounts, even the smart new YakWell designed by noted kayak angler Will Mansfield.

The QuickMount Anchor YakWell System is designed to install onto your kayak within seconds. Easy to use, it is designed to hold your net in place and keep your catch secure and calm. Just drop your net into the YakWell hoop and you have a side mounted live well that allows you to get ready to take the photo needed to win that Catch, Photo, Release tournament you signed up for on Tourney X – or just to show off on the internet.
A good lifejacket is a must for a comfortable day on the water and a requirement for participation in most kayak tourneys. Mustang survival offers options that are so sleek, you'll forget you're wearing them. This allows for a better hookset, and less bulk to restrict the movement of the rod's butt when imparting action to a walking topwater lure, etc.
According to their web site, "Mustang Survival AUTO Inflatable PFD is designed for use in severe weather conditions. It incorporates an auto hydrostatic inflator which is not susceptible to spray, rain or humidity, and is maintenance free for five years from date of manufacture."
It incorporates a lightweight, comfortable design and a neoprene Comfort Collar, zippered storage pocket and 35 lbs of buoyancy when inflated.
While it slips the mind right now, hot weather will require extra hydration. Space is often at a premium on kayaks. What if, instead of hauling so many water bottles (and creating extra plastic waste) you took along a magic filter that turned any water – say, that which you are fishing in, into safe drinking water?

Sawyer Products' lightest and most versatile personal water filtration system, the Sawyer MINI weighs just 2 ounces, fits in the palm of your hand, and provides 0.1 micron absolute filtration — removing 99.99999% of all bacteria, such as salmonella, cholera and E.coli, removing 99.9999% of all protozoa (such as giardia and cryptosporidium), and removing 100% of microplastics.
Attach the easy-to-use MINI to the included drinking pouch, use the included straw to drink directly from a water source, connect it to hydration pack tubing, or screw it onto standard disposable water and soda bottles.
Rated up to 100,000 filtered gallons of water, the award-winning MINI is perfect for everything from camping with the kids to traveling abroad to fishing all day.
Alright, you've got a few days left, so get crackin' you procrastinating Santa!