T-H Marine HYDRA® Battery Cable Extender Kit ICAST 2020
HYDRA® Battery Cable Extender Kit
The days of struggling with marine battery connections are over! Along with the full line of HYDRA® battery accessories, the HYDRA® Battery Cable Extender Kit empowers boaters to go beyond the two posts on a battery so they can easily and efficiently manage their battery connections where it's more convenient.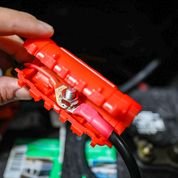 Each HYDRA® Battery Cable Extender includes both positive and negative terminals that can accommodate up to 2-gauge wire connecting back to the posts on the battery terminal. Additionally, each Battery Cable Extender uses stainless steel hardware with a 5/16-18 stud and a case that snaps together to protect the in-line connection. The case then snaps and unsnaps for reuse and continued protection with water sealant or grease.

With the Battery Cable Extender in place, it will be a snap to access a convenient location for wiring in accessories and lights. 
MSRP: $19.99
Website Link: (Coming Soon – link will be thmarine.com/BatteryExtension)