Woods wins ABA RAM Open South Alabama Series event on Eufaula with 22.10 limit!
Posted On February 7, 2017
---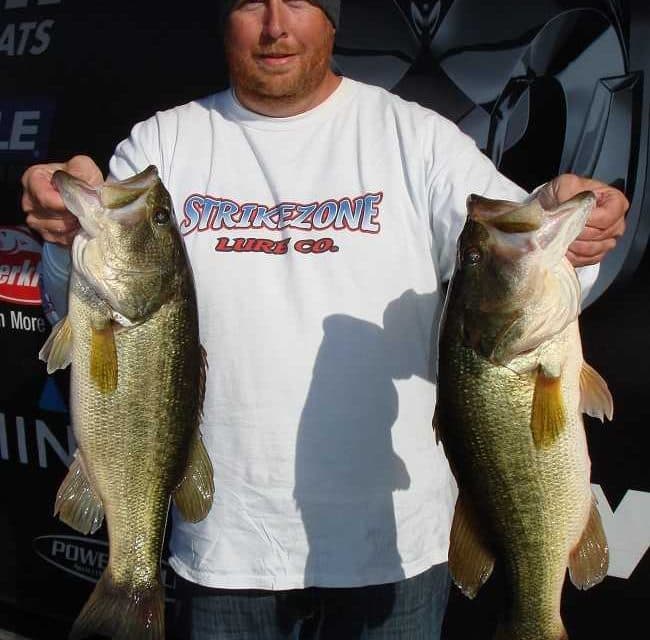 Dustin Wood of Eufaula, Alabama won the American Bass Anglers Ram Truck Open Series Alabama South tournament, held February 4th on the Lake Eufaula.
Running out of Lakepoint State Park in Eufaula, AL Dustin caught five bass weighing 22.10 pounds. For the Boater division victory, Dustin took home a check for $5,000 for his win.
"I went out cranking points and humps to start out with. I mainly caught a bunch of hybrids and would occasionally catch a bass. I did that until 10:00 am then I went out riding ditches going into flats. I was seeing the fish in there and finally caught one, that six pounder, first and then I came back to that same ditch later and caught that other big one. They both came off that Deep Daddy crankbait that StrikeZone lures makes. My earlier fish came off a Ledgebuster spinnerbait also from StrikeZone lures. I only caught eight fish today. I fished mid-lake most of the day just running around."  Wood said.
In second for the Boaters, Ryan Ingram of Phenix City, Alabama landed a five-bass tournament limit weighing 21.23 pounds anchored by a 7.28-pound kicker. He collected $1,400 for his catch and $720 for the Big Bass.
"I caught all my fish on a 1oz Ledgebuster spinnerbait except for one that I caught on a crankbait. I only caught about six fish today and lost one good fish that would have helped me. I fished the south end of the lake from White Oak down." Ingram said.
ABA pro-staffer Clint Nail of Sterrett, Alabama and Robert "Kyle" Welcher of Opelika, Alabama tied for third for the Boaters, each with five bass weighing 16.32 pounds. They each earned $800 for their catch.
"I was fishing down south and I started out shallow but I couldn't get anything going, so I backed out on some deeper fat points. I threw a Carolina-rig and caught a lot of fish" Welcher said.
"I was fishing down south and caught my fish shallow around docks and in the grass with a jig. They were really aggressive shallow today." Nail said.
Finishing fifth, Kevin "Skip" Jackson of Eufaula, Alabama landed a five-bass limit weighing 16.06 pounds.
In the Co-Angler division, Robert Enke of Columbus, Georgia won with three bass weighing 13.34 pounds with a 7.42-pound kicker. He pocketed a check for $1,200 for his win and $185 for the Big Bass. Robert was awarded an Abu Garcia Revo SX spinning reel for catching the largest bass of this event on an Abu Garcia reel.
"I caught my fish flipping, some on a chatter-bait, some on a jig. I was fishing shallow and caught that big bass around 1:00 pm today. I was hoping my Boater, Ken Green, didn't miss her with the net."  Enke said.
Taking second for the Co-Anglers, Edward "Joey" Dickson of Columbus, Georgia brought in a three-bass division limit weighing 9.47 pounds. He collected $275 for the effort. "It was a great day on the water. I caught my fish flipping a baby brush hog all day."  Dickson said.
Barry Jones of Verbena, Alabama placed third among the Co-Anglers with three bass weighing 8.29 pounds. He earned $225 for his catch. "I was fishing with Hank Golden and he put us on some fish. We fished the lower end of the lake. I fished a shakey-head a little bit but mostly a Texas-rig. I caught ten on a crankbait, one about 4 ½ pounds. We fished from one foot deep out to fifteen feet deep. They were just scattered around grass and wood." Jones said.
In fourth place among the Co-Anglers, Joshua Allman of Clyde, North Carolina brought in three bass weighing 7.74 pounds.
Hunter DuBose of Andalusia, Alabama finished in fifth place with three bass at 6.99 pounds.
Slated for April 1st, the next tournament will be held on Lake Mitchell out of Higgins Ferry Park in Clanton, Alabama. At the end of the season, the best anglers from across the nation advance the 2018 Ray Scott Championship, Location to be announced.
For more information on this tournament, call Billy Benedetti, tournament manager, at (256)230-5632 or ABA at (256)232-0406. On line, see www.ramopenseries.com.
About American Bass Anglers: American Bass Anglers is committed to providing low cost, close to home tournaments for the weekend angler and at the same time offer each competitor an upward path for individual angler progression. For more information about American Bass Anglers, the Ram Truck Open Series, the American Fishing Tour or the American Couples Series, visit www.americanbassanglers.com.
---