Welcher wins big in ABA RAM Trucks Open on lake Eufaula
Posted On February 13, 2017
---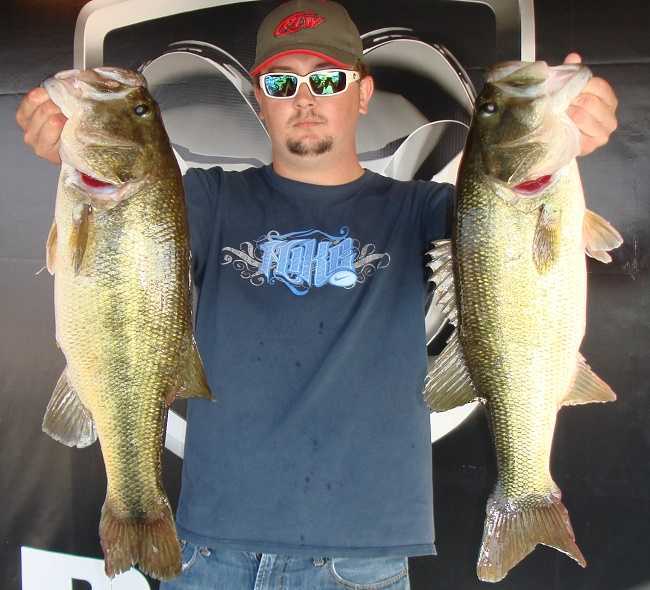 Kyle Welcher of Opelika, Alabama won the American Bass Anglers Ram Truck Open Series Georgia Division tournament, held February 11th on Lake Eufaula.
Running out of Lakepoint State Park in Eufaula, Alabama Kyle caught five bass weighing 25.01 pounds. For the Boater division victory, Kyle took home a check for $5,000 for his win.
"I didn't lose any fish today and that makes a big difference. When I was throwing crankbaits, I was around rip-rap and I caught a few in the grass. I caught a few off a dock, one dock in particular. I caught one off a tree. It didn't matter what I did today. Someone was looking out for me today. Everything I picked up I caught them on. There was no skill involved, everything just worked out. This is my first year fishing these tournaments and I plan on fishing all of them."  Welcher said.
In second for the Boaters, Bryan Brown of Cataula, Georgia landed a five-bass tournament limit weighing 19.11 pounds. He collected $1,575 for his catch. "I caught one big one this morning on a chatter-bait. I found a creek channel ledge yesterday from an old waypoint I had and I caught two on a crankbait. I only caught six keepers today, it wasn't easy."  Brown said.
Michael Conley of Bainbridge, Georiga caught five bass going 18.12 pounds. He collected $1,050 for his catch. "I had not been on Lake Eufaula since the two-day event last fall. I caught twenty nine fish today. I don't know how many three pounders I went through but I never could get a big bite. It didn't matter what I threw at them, if it came by them they would eat it. I caught all my fish in a foot of water or less." Conley said.
Finishing fourth, William Sheffield of Hawkinsville, Georiga landed a five-bass limit weighing 17.55 pounds.
Jason "Buddha" Smith of Dawson, Georiga rounded out the top five Boaters with five bass weighing 17.49 pounds.
The biggest bass for the Boaters was caught by Anthony Gary of Panama City, Florida that weighed 7.78 pounds and pocketed $830.
"It was about 10:30am and we were out on a point. I threw a Strike King 10XD basically dragging the bottom and my rod loaded up. I thought it was a hybrid because they had been feeding there."  Gary said.
In the Co-Angler division, Robert Enke of Columbus, Georiga repeated his win from last week with three bass weighing 10.33 pounds. He pocketed a check for $1,200 for his win.
"I caught my fish just like I did last week. I was flipping a Big Bite Baits Fighting Frog mid-lake and I lucked up and caught a good fish within the last thirty minutes on a swim-jig. Everything's been going my way." Enke said.
Taking second for the Co-Anglers, Rob Scarborough of Canton, Georgia brought in a three-bass division limit weighing 9.33 pounds. He collected $400 for the effort. "I got lucky actually. My boater caught a ton of fish and I caught some fish early on a jig and literally five minutes before we headed in, I caught two good fish on a rubber worm. We fished the pads early in the morning and hit some bushes later in the day." Scarborough said.
Jack Uselton of McDonough, Georiga placed third among the Co-Anglers with three bass weighing 8.01 pounds. He earned $300 for his catch. "We started up the river on a ledge and culled those fish later by sight-fishing. My boater didn't have much so he positioned the back of the boat and let me catch those fish." Uselton said.
In fourth place among the Co-Anglers, Ray Holloway of Eatonton, Georiga brought in three bass weighing 7.64 pounds.
Earl McQuaig of Tifton, Georiga finished in fifth place with three bass weighing 7.32 pounds.
The biggest bass for the Co-Anglers was caught by Lee Gissendaner of Eufaula, Alabama that weighed 4.19 pounds and pocketed $210.
"I caught that fish on a DD16 in a hole on the south end of the lake on my second cast this morning."  Gissendaner said.
Slated for March 11th, the next tournament will be held on West Point out of Pyne Road Park in LaGrange, Georgia. At the end of the season, the best anglers from across the nation advance the 2018 Ray Scott Championship, Location to be announced.
For more information on this tournament, call Billy Benedetti, tournament manager, at (256)230-5632 or ABA at (256)232-0406. On line, see www.ramopenseries.com.
About American Bass Anglers: American Bass Anglers is committed to providing low cost, close to home tournaments for the weekend angler and at the same time offer each competitor an upward path for individual angler progression. For more information about American Bass Anglers, the Ram Truck Open Series, the American Fishing Tour or the American Couples Series, visit www.americanbassanglers.com.
---