WALKER AND TILGHMAN LEAD WORLD FINALS FIELD – 25.01 Limit Anchored by 10.08 BF!
---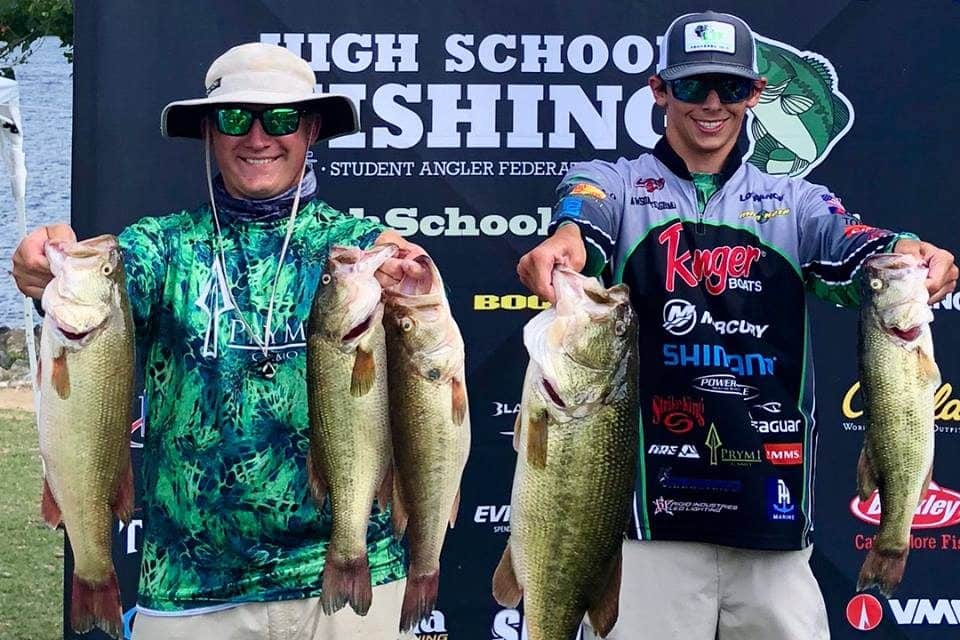 Courtesy of FLW Fishing
McKie and Champy also placed second in the 2018 High School Fishing World Finals, which runs concurrently with the National Championship. All National Championship participants are also competing in the invitational World Finals.
Leading the World Finals are Cort Walker and Lawson Tilghman of Hardin County High School, who caught the day's biggest bag – a limit of 25-01. Their catch was anchored by a 10-pound, 8-ounce bass that earned Big Fish honors.
"My partner caught that fish on a spot we had been wanting to fish all day, but there were people on it," Walker says. "We waited until everyone was getting ready to leave, and we hoped we would be able to pick up one at the end of the day. On his first cast, he culls a 3-pounder for a 4 1/2.
"We didn't have another bite for another 50 casts, but we kept fishing around the spot. We said we had to leave by 3:05 to make the weigh-ins, and at 3:04, right before he starts reeling in his bait, he sees his line jump and he sets the hook."
"The fish was just digging and digging and digging, and I said, 'There's no way this is a bass,'" continues Tilghman. "It never wanted to come up and jump, so I thought it was going to be a drum or big catfish. About 20 yards from the boat, it comes up and does a slow walk across the top.
"We all got to hollering, and I skied him the rest of the way to the net. That was definitely the highlight of the day."
Tilghman says he caught the big bass on a finesse-style bait that he declines to identify until tournament's end. He and his partner also caught fish on crankbaits.
"They're kind of in a funk right now," Tilghman says of the effects of hot weather and heavy fishing pressure on the Pickwick bass. "You can get them fired up really quick, but you have to get something slow through there to really get the good ones to eat."
WORLD FINALS TOP 10
1. Cort Walker and Lawson Tilghman, Hardin County High School – 25-01
2. Kyler McKie and Chad Campy, North Agusta – 23-09
3. Brian Linder and Nathan Thompson, Eagan Bass Fishing Club – 22-06
4. Dillian Kilcrease and Gage Struben, West Ouachita Fishing Team – 20-15
5. Miles Kaneko and Jared De Femery, Delta Teen Team – 20-00
6. Cal Culpepper and Mason Waddell, Harris County High School – 19-11
7. Hunter Muncrief and Landen MCcary, West Sabine – 19-10
8. Colby Miller and Cole Moore, Oak Hills High School – 19-02
9. Jerren Gieske and Austin Clanton, Lawrence County – 19-00
10. Konnor Rogers and Luke Robinson, Tremont – 18-13
---