Van Dam Closes Strong To Win 21St Bassmaster Title In Elite Series Tourney On Toledo Bend
---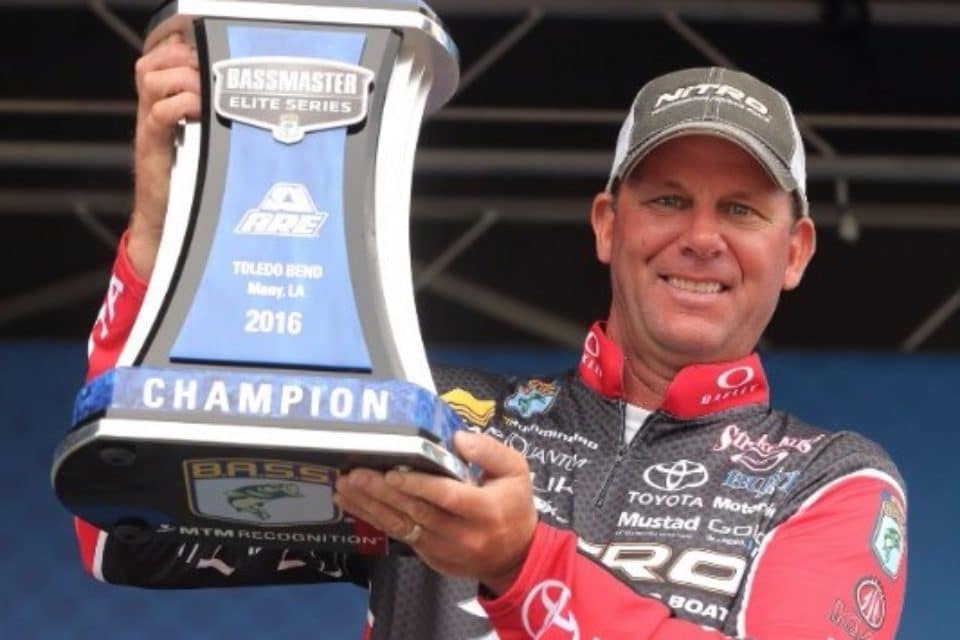 Kevin Van Dam closed with another strong limit of bass today – 21 pounds, 6 ounces – to score an impressive 96-02 for the week. He out-paced his nearest competitor, Chris Lane, by more than 7 pounds. When he's on top of his game Van Dam makes it look easy. It was anything but.
"This was the most challenging tournament I've ever won," said VanDam.
It's been a few years since he's hoisted a Bassmaster trophy, but maybe now we can put to rest some of the crazy questions about whether the insanely talented and hard-working angler has still got it. After all, this is his 21st career Bassmaster win. Name a guy who has equalled that number. Go ahead. I'll wait.
Lane was crazy good on Toledo Bend too. Van Dam just 'blew the curve' for everybody.
Lane tallied 88-07 and was over 5 pounds ahead of Ish Monroe who placed 3rd. Only in today's final round did Lane fail to sack 20 pounds – and he only missed that mark by ounces. He did it all the fun way too, with topwater lures.
The wildest part is the guys all say the lake was off this week.
I need to take a trip to Toledo Bend.
Here's the official story from B.A.S.S.:
MANY, La. — Superstar professional angler Kevin VanDam often deals with a different set of circumstances than the average angler on the Bassmaster Elite Series.
With such a sparkling resume, many fans' expectations for VanDam are much higher. With such a recognizable name and face, the number of people who want to catch a glimpse of him doing his thing on the water is sometimes off the charts.
Because of all that, many people have wondered aloud these past five years if VanDam would ever win another major tournament. But he was never one of them — and now, he's silenced all of his doubters.
VanDam slammed the door on a wire-to-wire victory at the A.R.E. Truck Caps Bassmaster Elite at Toledo Bend with 21 pounds, 6 ounces of bass on Championship Sunday. The big bag gave him a four-day total of 96-2 and his record 21st victory in a B.A.S.S. event.
"This was the most challenging tournament I've ever won," said VanDam, who raised his career earnings with B.A.S.S. to just over $5.9 million with Sunday's $100,000 payday. "The first two days were pretty good, but the last two days were really, really tough.
"It's normally not hard fishing here. But with the pressure out there this week, trying to be there at the right time when the conditions were right, it was tough."
VanDam caught 29-5 Thursday and 20-11 Friday to lead the field into Saturday's semifinal round with 50-0. But with the weekend, the lake became more crowded — and at times, VanDam had as many 50 boats following him from spot to spot.
He got only five bites Saturday. But they were the right five, and his bag of 24-12 gave him a lead of more than 5 pounds going into Sunday. During the final round, he slowly put together another big limit of 21-6 and put himself beyond the reach of Alabama angler Chris Lane, who finished second with 88-7.
KVD's go-to baits for the week were big, deep-diving crankbaits from Strike King — the 6XD, 8XD and 10XD.
"If you want to be successful out here, you have to be really confident in your lures and techniques," VanDam said. "I didn't stop and fish a worm or a Carolina rig or a jig. I knew to catch big fish I just needed to grind it out.
"They love the 10XD on this lake."
VanDam said the big bass on Toledo Bend prefer the larger profile of the 10XD, and he tried to present the bait in colors that matched the lake's forage base.
He used the sexy blueback herring color pattern quite a bit, but it was the bar fish pattern that often worked best. He said that pattern matched the lake's forage base perfectly, because many big largemouth at Toledo Bend feed heavily on bar fish, which are also known as yellow bass.
Many anglers shy away from using a crankbait as large as the 10XD because it requires special equipment and can be quite a workout in hot, muggy conditions. But VanDam had all of the right tools for the job.
"I designed a rod with the guys at Quantum," VanDam said. "It's a 7-11 composite rod — a Tour KVD cranking rod, heavy action. I had it matched with an Exo 200 reel, which has a really wide spool and a 5.3:1 gear ratio. I was throwing it with 17-pound Bass Pro Shops XPS fluorocarbon.
"Having that big reel with that line, I made some 80-yard casts this week."
The setup allowed VanDam to target bass that were often holding on or near the bottom in more than 20 feet of water. The size of the lure provided a unique presentation in crowded waters.
"I didn't see any locals out there fishing the 10XD at all," he said. "They were all dragging worms or something like that. These fish eat bigger food, and you've got to throw something that matches that."
Lane caught his fish all week long, using two topwater baits — a Zara Spook and a Whopper Plopper — around flooded grass and cypress trees. Lane finished just ahead of Ish Monroe (83-4), Keith Combs (82-11) and Paul Mueller (81-12).
"I went out knowing I probably needed to catch 30 pounds today, and I just didn't get those kinds of bites," Lane said. "But it was a great week for me. I had a blast on Toledo Bend."
The win was VanDam's first since the 2011 Bassmaster Classic on the Louisiana Delta. Prior to this week, he had never finished higher than 19th in a B.A.S.S. event on Toledo Bend.
When he missed the Classic in 2015, some believed his career might have peaked. But he said he knew all along he just needed to keep casting.
"I didn't need any kind of career rejuvenation personally, but I think a lot of people have been wondering 'What's wrong with KVD?' for a while," VanDam said. "In my mind, there was nothing wrong. It just cycles. If you're going to have bad luck, it's also going to cycle back around to where you have good luck.
"That's what happened to me this week. I made good decisions, and everything worked out."
Greg Hackney was awarded $1,000 for the leading the Toyota Bassmaster Angler of the Year points race at the end of the event.
Lane also earned the Power-Pole Captain's Cash award of $1,000 for being the highest-placing angler who is registered and eligible and uses a client-approved product on his boat.
VanDam earned the Livingston Lures Leader Award of $500 for leading on the second day.
Keith Combs won the Toyota Bonus Bucks of $3,000 for being the highest-placing eligible entrant in the program. The second-highest-placing eligible entrant, Hank Cherry, received $2,000.
The Phoenix Boats Big Bass Award of $1,500 was presented to Stephen Browning for weighing in the overall biggest bass of the event — a 9-5 bass caught on Friday.
Lane earned the A.R.E. Top Angler Award of $1,000 for being the highest placing angler using A.R.E. products.
Dick Cepek Rolling Forward Award of $1,000 will be presented to the angler who makes the largest gain in Toyota Angler of the Year points from tournament to tournament.
2016 A.R.E. Truck Caps Bassmaster Elite at Toledo Bend 5/12-5/15
Toledo Bend Reservoir, Many  LA.
(PROFESSIONAL) Standings Day 4
Angler                   Hometown              No./lbs-oz  Pts   Total $$$
1.  Kevin VanDam           Kalamazoo, MI           20  96-02  110 $100,500.00
Day 1: 5   29-05     Day 2: 5   20-11     Day 3: 5   24-12     Day 4: 5   21-06
2.  Chris Lane             Guntersville, AL        20  88-07  109  $27,000.00
Day 1: 5   23-14     Day 2: 5   23-15     Day 3: 5   21-03     Day 4: 5   19-07
3.  Ish Monroe             Hughson, CA             20  83-04  108  $20,000.00
Day 1: 5   18-15     Day 2: 5   24-10     Day 3: 5   22-04     Day 4: 5   17-07
4.  Keith Combs            Huntington, TX          20  82-11  107  $15,000.00
Day 1: 5   21-03     Day 2: 5   16-04     Day 3: 5   20-07     Day 4: 5   24-13
5.  Paul Mueller           Naugatuck, CT           20  81-12  106  $14,000.00
Day 1: 5   17-13     Day 2: 5   22-12     Day 3: 5   19-01     Day 4: 5   22-02
6.  Hank Cherry Jr         Maiden, NC              20  81-02  105  $13,500.00
Day 1: 5   24-07     Day 2: 5   19-15     Day 3: 5   18-12     Day 4: 5   18-00
7.  Brett Hite             Phoenix, AZ             20  79-14  104  $13,000.00
Day 1: 5   19-00     Day 2: 5   18-03     Day 3: 5   17-04     Day 4: 5   25-07
8.  Andy Montgomery        Blacksburg, SC          20  78-11  103  $12,500.00
Day 1: 5   17-11     Day 2: 5   23-04     Day 3: 5   16-09     Day 4: 5   21-03
9.  Tommy Biffle           Wagoner, OK             20  75-09  102  $12,000.00
Day 1: 5   18-07     Day 2: 5   21-01     Day 3: 5   18-02     Day 4: 5   17-15
10. Edwin Evers            Talala, OK              20  71-01  101  $11,500.00
Day 1: 5   22-11     Day 2: 5   16-05     Day 3: 5   17-12     Day 4: 5   14-05
11. Stephen Browning       Hot Springs, AR         20  67-14  100  $12,500.00
Day 1: 5   20-10     Day 2: 5   22-06     Day 3: 5   14-01     Day 4: 5   10-13
12. Morizo Shimizu         Suita, Osaka JAPAN      20  65-13   99  $10,500.00
Day 1: 5   18-09     Day 2: 5   20-07     Day 3: 5   16-13     Day 4: 5   10-00
PHOENIX BOATS BIG BASS
Stephen Browning         Hot Springs, AR     09-05      $1,500.00
———————————————————————–
Totals
Day   #Limits    #Fish      Weight
1        99       517      1556-06
2        96       511      1513-01
3        45       238       731-13
4        12        60       222-14
———————————-
252      1326      4024-02
---