UPDATE – Jamie Hartman on Medical Exemption fore Remainder of 2018 Elite Season
---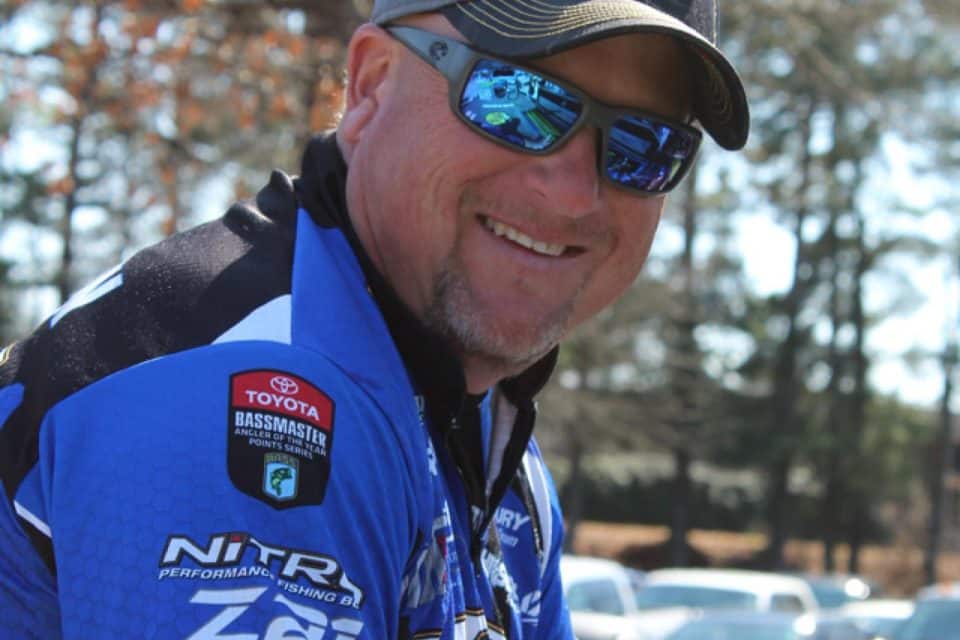 Courtesy of Vance McCullough
AnglersChannel.com has been following the story of Elite Series pro Jamie Hartman this week. And then the call from The Pro Agency – Hartman's rep group. "He's done."
It came as a shock. Honestly, we were rooting for the guy. Last word we'd received from the tough, blue collar, former truck driver was, even though a bout of sciatica had hospitalized him on Sunday and he had missed most of the official practice period for the Bassmaster Elite Series event on the upper Mississippi River, a friend would drive him up there and he would lean on the 'old man seat' on the deck of his boat and give his best to make a strong showing this week.
His friend, Cole Mckown, drove the 12 hours to get him there as Hartman laid in a makeshift bed in the back seat of his own truck. Hartman spent 4 hours on the water the final practice day, caught a few fish. And couldn't drive his boat back to the ramp. "I couldn't even use my Hot Foot," he explained.
"I tried man. Drove my butt up there and I tried (Wednesday) and . . . ain't gonna happen. Not gonna happen.
"I couldn't even sit. It's out of my control at this point. I'm done. It's to the point where you can't do anything at all. It's an excruciating pain.
"I've had it since I was in my twenties," shared the 45-year-old Hartman. "but it's always been just a pinch for a few days and then it's gone. In December it got pretty bad but only in the lower, right back. Then at the Lake Travis event I woke up with it, in the back but going down the leg. That was the first time I felt it in my leg.
"This week it was to the major extreme where I felt it in my whole lower back, all the way down my leg and into my calf. It locked my calf up so bad and went into my foot. From the middle of my thigh all the way to my toes are numb and tingling right now."
The pain and loss of body control were debilitating. "I had to pull the plug. I had to have somebody drive my boat back while I was on the water. My leg was locked-up. I was done."
Doctors have been unable to comfort Hartman. "I went to the clinic on Friday and ended up in the hospital again on Sunday. Nothing would relieve it – shot to the hip, pain-killers, muscle relaxers, steroids – nothing would touch it. The pain would not stop. And it was a constant pain, not like you could try to reposition and relax. It was over two days of constant level 8."
Hartman has been fighting through the pain all season. It finally overtook him, "I've never had it like that. I'll just work through like I always have and it will go away. But every single time I got on the water this year, about 11 o'clock in the morning – you know, you have two muscles that run up your back – well the one on my right side would cramp really bad every single time and I would fight through it every time. But I knew something was not right. I guess here is the outcome of it."
Hartman had a CAT scan done during his recent hospital visit. It showed no ruptured disks. That's good. But a CAT scan won't show as much as an MRI, which he will have done in the near future. "I don't know what an MRI is going to show. It may show that there's an issue the CAT scan didn't reveal."
Hartman got a medical exemption from B.A.S.S. to postpone tournament participation, so he will fish the 2019 Elite Series. "That's the only reason I stopped.
"Otherwise I would be laying there casting a Senko to the freaking shoreline, trying to catch a damned fish.
"I had to make sure that I was qualified to fish next season, which I am. My points stay as they are now (due to the hardship exemption) so I'll finish 35th. It doesn't affect anybody else, it just affects me. I am locked-in for next season already."
Locked-in and committed – "They told me, 'you have 4 tournaments that you paid for that we'll get you back' and I said, 'Nope. Keep it. It's a down payment. I'm fishing next year'."
---