University Of Wisconsin-Stevens Point Takes Top Spot On Lake Of The Ozarks
---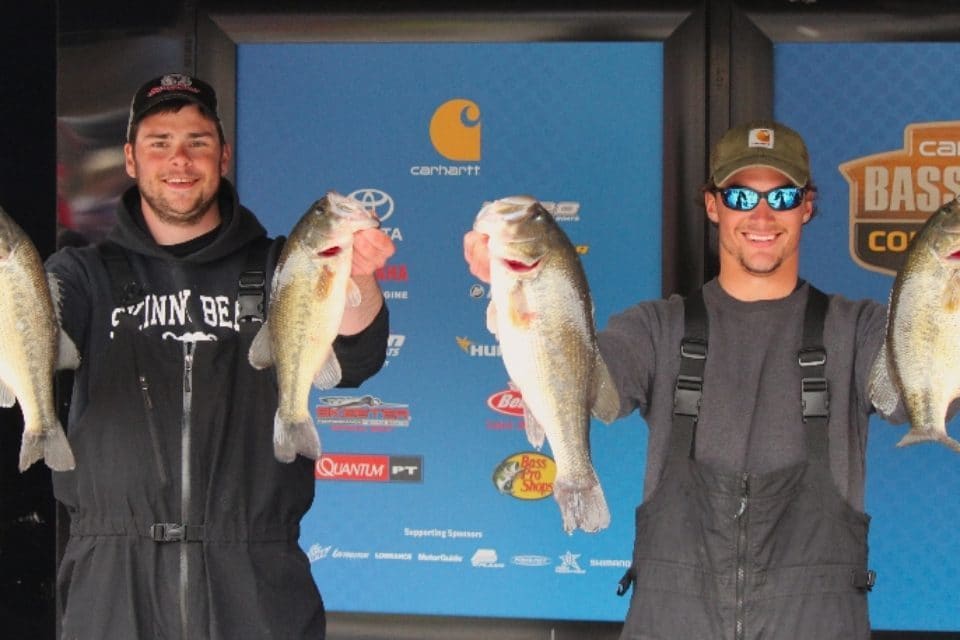 Mark Hugus and Cody Hahner of the University of Wisconsin-Stevens Point brought in 19-10 of Lake of the Ozarks bass to take the Day 1 lead in the Carhartt Bassmaster College Series Midwestern Regional.
After a long, cold day, the scales settled for Hugus and Hahner just shy of the 20-pound mark. Most anglers at takeoff predicted close to 20 pounds to be the bar to reach. With water temps in the lower 40s, the common consensus was a slow bite but a big bite.
The slow bite showed up with the most productive baits being a jerkbait and a jig. Anglers had to slow down because of the cold water and fish their jerkbaits with 5- to 10-second pauses in their cadence.
The big bite showed up for most of the field as well, but the numbers weren't there. Most anglers only caught one or two fish while trying to fill their limits, but those fish averaged 4 to 5 pounds.
Hugus and Hahner were the only team that came close to putting together a limit of those 4- to 5-pounders.
"We had one little one around 2 1/2 (pounds), but other than that we had all solid fish," Hahner said .
Like most of the anglers on Day 1, Hugus and Hahner caught their fish primarily on a jerkbait with the majority of their bites coming after 1 o'clock.
"At about 1 o'clock we had three fish in the boat," Hahner said. "We knew we had to make something happen."
After a gut instinct led to an adjustment, Hugus and Haher caught a 5-pounder and a 6-pounder propelling them into the Day 1 lead.
The team of Cody Lincoln and Jason Hawksford and the team of Matt Feiten and Brian Kirt, second and third place respectively, both also of the University of Wisconsin-Stevens Point, round out the Top 3 after Day 1.
Ryan Gilbert and Jacob Cllisch of the University of Wisconsin-Plattville caught the Day 1 Carhartt Big Bass weighing 7-1.
Hugus' and Hahner's 19-10 bag took the Nitro Bass Pro Big Bag honors for Day 1.
The Top 14 teams after Day 2 will advance to the Carhartt College Series National Championship to be held later this year.
Anglers will takeoff from Lake of the Ozarks State Park at 7:30 a.m. for Day 2 of competition. Follow all the action at Bassmaster.com and tune in to watch the live weigh-in on Saturday at 3:30 p.m. CT.
2014 Carhartt Bassmaster College Series Title Sponsor: Carhartt
2014 Carhartt Bassmaster College Series Official Sponsors: Toyota, Bass Pro Shops, Berkley, Humminbird, Mercury, Minn Kota, Nitro Boats, Skeeter Boats, Triton Boats, Quantum, Yamaha
2014 Carhartt Bassmaster College Series Supporting Partners: Booyah, Diet Mountain Dew, Livingston Lures, Lowrance, Motorguide, Plano, Power-Pole, Rigid Industries, Shimano
2014 Carhartt Bassmaster College Series Proud Partner: Mustang Survival
About B.A.S.S.
B.A.S.S. is the worldwide authority on bass fishing and keeper of the culture of the sport. Headquartered in Birmingham, Ala., the 500,000-member organization's fully integrated media platforms include the industry's leading magazines (Bassmaster and B.A.S.S. Times), website (Bassmaster.com), television show (The Bassmasters on ESPN2), social media programs and events. For more than 45 years, B.A.S.S. has been dedicated to access, conservation and youth fishing.
The Bassmaster Tournament Trail includes the most prestigious events at each level of competition, including the Bassmaster Elite Series, Bass Pro Shops Bassmaster Open Series presented by Allstate, B.A.S.S. Nation events, Carhartt Bassmaster College Series, Bassmaster High School Series, Toyota Bonus Bucks Bassmaster Team Championship and the ultimate celebration of competitive fishing, the GEICO Bassmaster Classic presented by Diet Mountain Dew and GoPro.
-30-
Media Contact: Dave Precht, 205-313-0931, [email protected], or Helen Northcutt, 205-313-0944, [email protected]
Carhartt Bassmaster College Series – Midwest                
3/28/2014 – 3/29/2014  Lake of the Ozarks – Public Boat Ramp #2 – Osage Beach, MO
STANDINGS                                          BOATER DAY 1
| | | | | |
| --- | --- | --- | --- | --- |
| Name | School | #Fish | # Live | Lbs-Oz |
| 1. Mark Hugus – Cody Hahner | Wisconsin, Stevens Point | 5 | 5 | 19-10 |
| 2. Cody Lincoln – Jason Hawksford | Wisconsin, Stevens Point | 5 | 5 | 16- 1 |
| 3. Matt Feiten – Brian Kirt | Wisconsin, Stevens Point | 5 | 5 | 14- 8 |
| 4. Jackson Grabeel – Joseph Reilly | Western Illinois University | 5 | 5 | 14- 5 |
| 5. Lance Freeman – Seth Brock | Murray State University | 5 | 5 | 13- 1 |
| 6. Ryan Gilbert – Jacob Cllisch | University of Wisconsin, Plattville | 3 | 3 | 12-12 |
| 7. Michaela Anderson – Bryan Billeadeau | University of St Thomas | 5 | 5 | 10-15 |
| 8. Kyle Alsop – Taylor Bivins | Kansas State University | 5 | 5 | 10-10 |
| 9. Ben McCullough – Howie Lee | University of Missouri | 4 | 4 | 10- 5 |
| 10. Ben Verhoef – Tommy Hebson | University of Missouri | 4 | 4 | 9- 6 |
| 11. Dan Martin – Tyler McCune | Eastern Illinois University | 2 | 2 | 9- 1 |
| 12. Chris Burgan – Austin Felix | University of Minnesota | 3 | 3 | 8- 9 |
| 13. Cody Sieben – Dan Schult | Murray State University | 4 | 4 | 8- 0 |
| 14. Nathen Kozlowski – Lance Maldonado | Kansas State University | 3 | 3 | 7-15 |
| 15. Quinn Fowler – Dylan McKee | Kansas State University | 3 | 3 | 7- 7 |
| 16. Justin Berger – Cody Santel | Murray State University | 2 | 2 | 7- 5 |
| 17. Ted Johnson – Jody Derks | Wisconsin, Stevens Point | 3 | 3 | 6- 4 |
| 18. Bryce Wegman – Carlos Thomas | Illinois State University | 1 | 1 | 5-15 |
| 19. Sam Starr – Alex Fulkerson | Kansas State University | 3 | 3 | 5-13 |
| 20. Zachary Wiggers – Justin Bruno | Grand Valley State University | 2 | 2 | 5-13 |
| 21. Kyle Casper – Tyler Hillen | Wisconsin, Stevens Point | 3 | 3 | 5-12 |
| 22. Dustin Genrich – Nathan Hettinga | University of Wisconsin, LaCrosse | 2 | 2 | 5-11 |
| 23. Logan Thomas – Ryan Kirkpatrick | Murray State University | 1 | 1 | 5- 8 |
| 24. Noah Kruzitski – Nicklas Kushnerik | Wisconsin, Stevens Point | 2 | 2 | 5- 4 |
| 24. Scott Sullivan – Chad Siegfried | U. of Central Missouri | 2 | 2 | 5- 4 |
| 26. Steve Nebel – Jared Mataczynski | University of Wisconsin, Whitewater | 2 | 2 | 4-15 |
| 27. Kyle Gates – Katie Edgar | St Ambrose University | 1 | 1 | 4-15 |
| 28. William McCabe – Jon Bash | University of Nebraska | 2 | 2 | 4-13 |
| 29. Daniel Fuhrig – Michael Fink | University of Missouri | 2 | 2 | 4- 8 |
| 29. Ben Kroeger – Ryan Leach | University of Nebraska – Omaha | 2 | 2 | 4- 8 |
| 31. Levi Warner – Konner Kearney | University of Wisconsin | 2 | 2 | 4- 6 |
| 32. Charlie Sterrett – Brock Phillips | University of Illinois | 2 | 2 | 4- 5 |
| 33. Andrew Schoenekase – Darren Smith | U. of Central Missouri | 1 | 1 | 4- 4 |
| 34. Matt Smith – Jarett Svihlik | University of Dubuque | 2 | 1 | 4- 2 |
| 35. Jake Crawford – Garrett Price | Lake Superior State University | 1 | 1 | 4- 2 |
| 36. Garrett Cates – Graham Howard | Kansas State University | 1 | 1 | 4- 0 |
| 37. Kody Mattson – Harrison Barton | Winona State University | 2 | 2 | 3-14 |
| 37. Luke Stoner – Joey Disomma | University of Illinois | 2 | 2 | 3-14 |
| 39. Nick Dion – Nate Sleight | Lake Superior State University | 2 | 2 | 3- 8 |
| 40. Marshall Sandretto – Eric Logisz | Milwaukee School of Engineering | 1 | 1 | 3- 7 |
| 41. Yu Han – Qiurun Chen | University of Illinois | 1 | 1 | 3- 4 |
| 42. Stephen Farley – Jordan Smith | Southern Illinois University of Carbonda | 1 | 1 | 3- 3 |
| 43. Mark Krutzfield – Tony Mehrl | University of Iowa | 1 | 1 | 3- 0 |
| 44. Jordan Meddaugh – Samuel Hempel | Wisconsin, Stevens Point | 1 | 1 | 2-10 |
| 45. Tucker Oliver – Tyler Cooper | University of Missouri | 1 | 1 | 2- 4 |
| 46. Sean Mulholland – Everett Ridderbos | University of Nebraska | 1 | 1 | 2- 3 |
| 46. Christian Ponzetti – Adam Hubbs | University of Missouri | 1 | 1 | 2- 3 |
| 48. Cade Laufenberg – Wyatt Stout | Winona State University | 1 | 1 | 2- 2 |
| 48. Jason Shaw – Mathew Cardani | Murray State University | 1 | 1 | 2- 2 |
| 48. Caleb Shoemaker – Sam Wheeler | Western Illinois University | 1 | 1 | 2- 2 |
| 48. Cass Waddle – Tom Scroppo | Western Illinois University | 1 | 1 | 2- 2 |
| 52. Josh Pagel – Tanner Blaschka | University of Wisconsin | 1 | 1 | 1-15 |
| 53 Mitchell Armstrong – Mathew Siebert | U. of Central Missouri | 1 | 1 | 1-14 |
| 54 .Keaton Williams – Max Mercer | University of Iowa | 1 | 1 | 1- 8 |
| 55. Derrick Hoffman – Brody McWilliams | Indiana University | 1 | 1 | 1- 0 |
| 56. Jake Ansami – Trevor Epping | Wisconsin, Stevens Point | 0 | 0 | 0- 0 |
| 56. Curtis Borawski – Thomas Platt | University of Illinois | 0 | 0 | 0- 0 |
| 56. Pat Bowers – Sig Finley | University of Wisconsin, LaCrosse | 0 | 0 | 0- 0 |
| 56 .Justin Brown – Brody Layher | Northern Michigan University | 0 | 0 | 0- 0 |
| 56. Nick Carter – Leo Dedering | Wisconsin, Stevens Point | 0 | 0 | 0- 0 |
| 56. Ethan Dhuyvetter – Dan Towsley | Kansas State University | 0 | 0 | 0- 0 |
| 56. Brett Fickle – Layne Woods | U. of Central Missouri | 0 | 0 | 0- 0 |
| 56. Justin Graben – Randal Argo | Murray State | 0 | 0 | 0- 0 |
| 56. Brady Gregor – Clayton Moles | Southwest Baptist Universty | 0 | 0 | 0- 0 |
| 56. Carl Hanson – Vanessa Hanrahan | University of Wisconsin, Stout | 0 | 0 | 0- 0 |
| 56. Reid Miller – Matt Pasma | University of Wisconsin, Stout | 0 | 0 | 0- 0 |
| 56. Tyler Nekolny – Samuel Haines | Kansas State University | 0 | 0 | 0- 0 |
| 56. Andrew Nordbye – Andrew Almohtadi | Northwest Missouri State University | 0 | 0 | 0- 0 |
| 56. Austin Paytash – Nicholas Welu | Wisconsin, Stevens Point | 0 | 0 | 0- 0 |
| 56. Richard Rappley – Craig Wise | Western Illinois University | 0 | 0 | 0- 0 |
| 56. Aaron Schiller – Andrew Gullickson | Wisconsin, Stevens Point | 0 | 0 | 0- 0 |
| 56. Matthew Trickler – Blaise Weaver | University of Nebraska | 0 | 0 | 0- 0 |
| 56. Kyle Vowels – Zachary Woodbury | Western Illinois University | 0 | 0 | 0- 0 |
| 56. Travis Wilson – Brian Lafferty | Western Illinois University | 0 | 0 | 0- 0 |
| 56. Tyler Zimmerman – Andrew Mlotek | University of Wisconsin, Whitewater | 0 | 0 | 0- 0 |
| | | | | |
BIG BASS  Day              Name             City,State  Lbs-Oz
1         Ryan Gilbert     Sterling, IL     7- 1
TOTALS    Day              # Fish           # Live  Lbs-Oz    # Limits
1         122              121              328- 3  7
2         0                0                0- 0    0
---