AnglersChannel.com Fall Classic – Digital Derby – October 6-15, 2017
---
Date:
10/06/2017 to 10/15/2017
Sponsors: Strike King Lure Company & Sportsman's Warehouse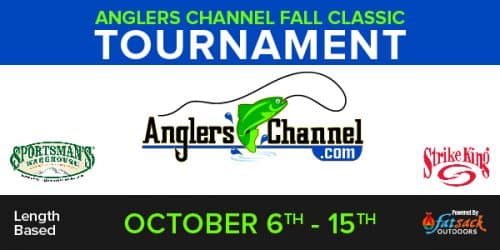 Fatsack Outdoors Inc., a mobile application for fishing, recently announced the start of yet another one-of-a-kind event. Starting in early October, Angler's Channel, the go-to website for competitive fishing, will host their first virtual contest on the Fatsack tournament platform.
The Angler's Channel Fall Classic is free to enter, runs from October 6th to October 15th, and is open to all anglers who use the Fatsack app. This particular event is length-based, has a 5 fish limit, and allows participants to fish at their convenience from any legal, public waterway during the 9-day tournament.
Participants will use the Fatsack application to log their catches and submit pictures of their fish on an approved measuring device, displaying the specific tournament code. A live leaderboard will provide rankings in real-time so competitors can check their standings as often as they like. Additionally, specific dates, travel/lodging expenses, high entry fees, and other traditional tournament costs are eliminated when fishing in a Fatsack digital tournament.
"Each event is getting better, and we are committed to perfecting our product." said Fatsack Outdoors, Inc. president, Nick Rubio. "Our partners are seeing the benefits and so are we. We're attracting new users and engaging our current customers. People like what we're doing and keep coming back."
For more information about this specific event go to http://fatsackoutdoors.com/blog/
About Fatsack Outdoors, Inc.
Developed BY anglers FOR anglers, the Fatsack Outdoors app is the ultimate fishing platform. It is a valuable tool for any fisherman and can be used to track any species of fish. Fatsack users can host, join, and/or administer virtual or live events using the tournament hosting software, keep a detailed fishing journal with automated, real-time weather conditions, and maintain supplies with the tackle inventory system. Fatsack's technology also provides detailed analytics to help zone-in on what the fish are doing and what the most productive catching methods are. Whether it's from a stream, ocean, or the Great Lakes, this is the last app an angler will ever need.
Available for iPhone and Andriod phones. Learn more at
www.FatSackOutdoors.com.