704 Outdoors Cast for a Cure Tournament
---
Date:
04/22/2017 to 04/22/2017
Contact: Corey Shaylor - 704-622-6614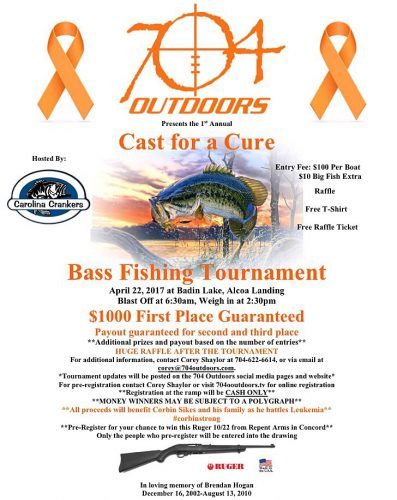 Benefit tournament for three year old Corbin Sikes who was recently diagnosed with Leukemia.
Tournament will take place on April 22, 2017 on Badin Lake, NC at the Alcoa boat landing. Pre-registration is available at www.704outdoors.tv under the Cast for a Cure tab.
For the people who pre-register, they will be entered into a drawing to win a Ruger 10/22 rifle. Blast off time will be at 6:30 am, weigh in at 2:30 pm. We will have free food and drinks available after the tournament, Monster Energy will be on scene handing out drinks, and we will be hosting a huge raffle. $100 entry plus optional $10 big fish. Guaranteed payout of $1000 for first place. Raffle tickets are on sale for one for $5 or five for $20. No raffle items are valued at less than $30.
All proceeds from this event will benefit Corbin as he battles Leukemia. Donations to the family can also be made at www.704outdoors.tv.