Tight weights and big wins at Bass Champs on Ray Roberts – Scott McDaniel takes the cake topping over 200 teams
---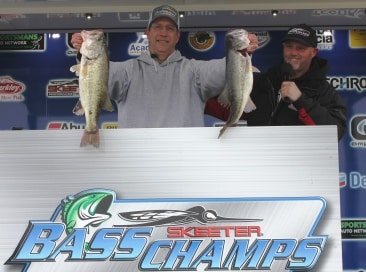 By: Patty Lenderman
Blustery conditions greeted 212 teams to fish the second Bass Champs North Region tournament on Ray Roberts April 7, 2018. Nearly $64,000 was up for grabs and the fight for the bite was on. Weights were stacked up tight, but in the end it was Scott McDaniel & Keith Krzeminski who came out on top – by only 4/100ths of a pound!

Air temperatures were already in the 30's as anglers embarked on their mission to land their fish. The weather service had issued high wind advisories, so for safety reasons everyone was allowed to trailer their boats to launches closer to their fishing spots. The wind velocity was in excess of 25 mph at times, feeling like it was straight off of an ice berg. Adding to this were waves creating white caps and some fog. Vying for protected areas to fish in, the lake may have felt 'skinny' for this mass of anglers all shooting for similar areas.

Going into the event, Keith Krzeminski knew he would have to leave early to get to a family commitment. Nevertheless, he and Scott McDaniel headed out to catch what they could in the time they had. "It was so cold!", Keith recalled. "Soon after we got on the water, I checked the weather on my phone. Temperature 33, 'feels like' 25. We went to a cove to fish in less than 3' of water with flukes and chatter baits." Staying in their first spot for three hours, they put three fish in the boat and one of them was their kicker weighing in at 7.43 lbs. "When Keith got that bite, the fish wrapped around a limb. We started scrambling, fighting the wind, trolling to it, then getting the net under it just before the line broke!" Securing their big fish, they went on hitting four locations, all similar and close to each other. Scott caught a six pounder around 2pm, and that was their 5th fish. Time was ticking, with Keith needing to leave early they only had an hour left to fish. "We just kept at it, and just before we had to wrap it up we caught one more, and was able to cull up six or eight ounces with it." They locked down their gear and headed to the weigh in site. Scott was the first to weigh in, having a five fish limit of 21.73 pounds. "We figured we had a pretty good chance to win a check, but figured it would take 25 pounds to win." For the next few hours, Scott watched as everyone else brought in their catch. It was a grueling wait until the scales closed – especially when the top weights were so tight! "I called Keith near the end of the weigh in," Scott stated. "I told him he wasn't going to believe this, but we just might win!" As luck would have it, they pulled out the win by an extremely narrow margin to win the guaranteed $20,000 check for 1st place. "To win a tournament like this, as competitive as everyone who fishes Bass Champs is – it is nothing less than a dream come true!" They added "We would like to thank Bass Champs for always looking after everyone's safety, and allowing us to trailer in this event. Also a special thanks to our wives, for letting us do this thing we love!"

The 2nd place winners WT Dyson II and Patrick Jorski headed straight to a protected cove, finding a little shelter to fish in. "It was right off the main lake, with deep water 30-40' leading into the area," WT explained. "We stuck to the edges, around 6' deep, with standing timber, rock and buck brush." Using a wacky rigged senko, they fished the area thoroughly. "We had four fish in the boat by 10am, weighing around 14 pounds. A few hours went by, and I was waiting to eat a sandwich, but wanted to catch one more before I did." Switching to deep structure, WT got his bite, landing their 6.94 lb kicker. "We got one more bite after that, around 3pm. I had just adjusted my drag, and when she bit she took off. When I got her turned, she came up then wrapped around a limb, popping the hook out of her mouth. She probably weighed around 5 pounds. If we landed her, we would have won the tournament!" Still in all, they came in with 21.69 lbs to win 2nd place and $5,000. "This is our first year fishing Bass Champs. We had a great day, and practice paid off. We only hope to keep getting better!"

3rd place was won by Don Meek and Merle Little with 20.63 lbs. "We had a great time – Bass Champs always does a good job at these tournaments," Don exclaimed. "I live on this lake, and feel like I know it pretty good," Don continued. "With the weather the way it was, I figured everyone would be in or looking for protected areas to be in. Merle and I decided to go to a less obvious spot that had some protection." It was a stretch of 300 to 400 yards with lay downs, brush and stumps. Using soft plastics and chatter baits, they landed their first fish at 8:15. "We figured out that willow stick-ups were key. If there was a willow stick-up by a stump, you could count on a fish being there!" It took all day to wrap up a limit, then at 3:30 they made their only cull, switching it with their first fish of the day and gaining a pound and a half. They were awarded $4,000 for their finish.

Rounding out the top five teams include (4th) Craig Dowis & Michael Vasquez with 19.99 lbs for $3,000, (5th) Pete Brandt and Keith McMillan with 19.90 lbs winning $2,500. The Sportsman's Auto Bonus (worth over $5,000) went to 6th place Ky Martin and Chris Moore, having 19.22 lbs for another $2,000. Cole and Jeff Massey doubled their 11th place $1,100 winnings with the Skeeter bonus, having 16.27 lbs. They also won the Lowrance and Fun N Sun bonuses. It took 13.02 lbs to win a check in 29 places paid. The last check winners were Tim Brockway and Kevin Dritschler.

The biggest bass of the day weighed in at 9.35 lbs, brought in by Jeff Pitrucha and Brad Williams. This catch anchored their 7th place finish with 17.29 lbs, winning $1,500 for their overall finish, another $1,000 for their big bass, plus they won the Abu Garcia and Amphibia bonuses as well.

All total there are four qualifying events in each region. The North Region now has two tournaments in the books, and the Anglers of the Year race is well underway. The current top five points leaders are:
510 pts. Mike Shultz & Barry Borcherding
495 pts. Brandon Hollingshead & Jeremy Lambert
485 pts. Scott Barnett & Brian Clark
480 pts. Ky Martin & Chris Moore
478 pts. John Adams & Rick Clark

The next tournament for the North Region will be on Lake Tawakoni on May 19. In the meantime, Bass Champs staff and crew are headed to Lake Belton for another Central Region event.
---