Thrift Still Running Full Speed For Flw Tournament On Lake Hartwell
---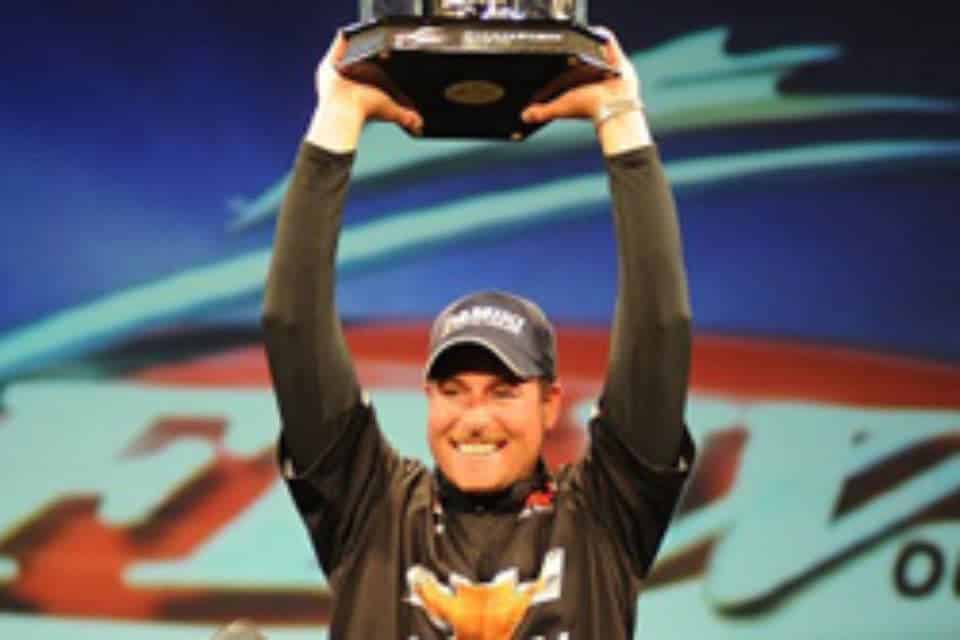 2010 FLW Tour Angler of the Year Bryan Thrift
Coming off a win in the opening tournament of the FLW Tour this year on Beaver Lake, Bryan Thrift has no intentions of slowing down.
"Beaver Lake was exceptionally good," said Thrift whose $125,000 prize money boosted his career winnings to well over $800,000 in FLW Outdoors tournaments. "That was one of the last places I thought I would have a chance to win at because it is a deep clear lake. That just shows if you fish hard and stay at it, that is the main thing. You just have to stay at it and fish."
That win came on top of a stellar year on the FLW Tour for the Shelby, N.C., pro, one that started out with a deep personal loss.
"I lost my father in January last year. It was definitely difficult to travel without him. He traveled to all the tournaments with me. It was especially hard going into that first tournament without him."
The loss obviously spurred him to fish even harder – and smarter. Thrift finished fourth in the first tournament of 2010 on Table Rock Lake and he completed the season with five top 10 finishes, including first place on Lake Norman, his home water.
While 2010 started off on a sad note, 2011 began with high hopes.
Thrift and his wife, Allison, are the proud parents of a new baby boy, Wylie Thomas Thrift, giving him increased incentive to succeed in the tournament world.
The 2010 Walmart Angler of the Year is the hottest pro on the circuit, having now posted seven top-10 finishes and two wins in the last eight events dating back to the 2009 Forrest Wood Cup. He was ranked fifth in AOY standings in 2008 and 2009 and he finished 9th in the Forrest Wood Cup in 2009 and 10th in 2010.
"I want to catch them everywhere I go. That's my goal," he said. "Last year was really good. Everything just seemed to work out. The consistency came because it all falls back on working and hard and fishing hard. You have to put the time in and fish as hard as you can."
Until Sunday's opening day of practice Thrift had never been on Lake Hartwell, scene of the second FLW Tour Major of the Year this week, but he planned to approach it very much like he would if the tournament was back on Lake Norman.
"This is about the same week I won last year on Norman and Hartwell will probably fish a lot like Norman. There are a lot of red clay points and I hope I can pattern it like Lake Norman," he said. "It's springtime and I know a lot of the lakes around here the fish are biting good. The fish should be moving up so I will run a lot and fish shallow."
His strategy in practice will be to burn a lot of gas and try to determine what the fish are doing, he said.
"I like to cover a lot of water and find five that want to bite."
Like Norman, Hartwell harbors two major populations of bass – largemouths and spotted bass. Thrift said he will not specifically target one species.
"I'll just be targeting bass, everything but striped bass and white bass. I don't care if I catch a smallmouth – as long as it is a bass."
FLW Tour Major #2
March 24-27, 2011
Lake Hartwell
Portman Shoals Marina
---