The Year That Was; The Year That Is to Come
Posted On January 3, 2018
---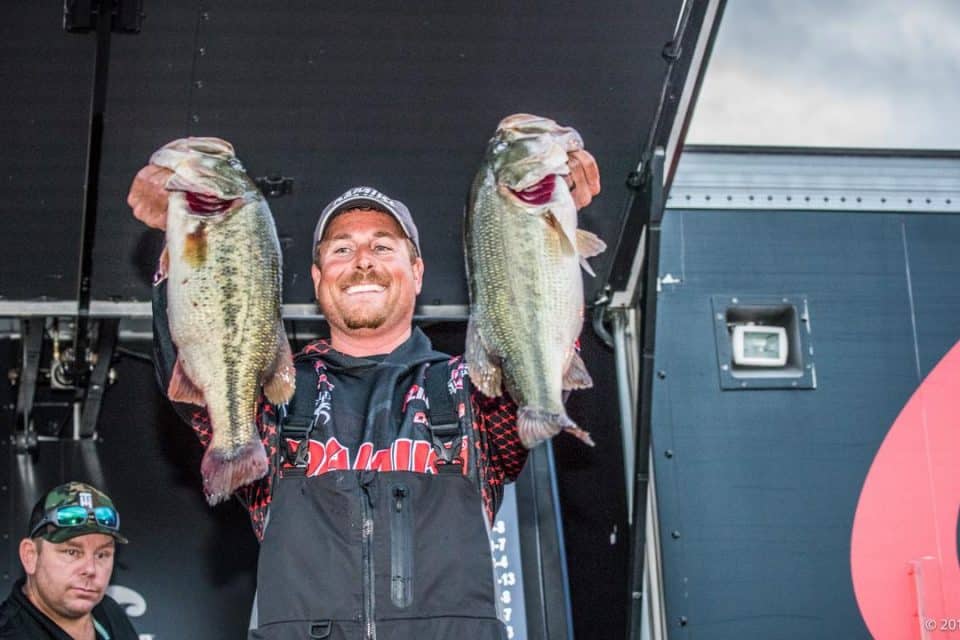 Vance McCullough
2017 featured some high points and great memories for the bass fishing world. 2018 is sure to bring more and we at AnglersChannel.com look forward to sharing them with you.
The year started off with a bang as I covered the Bassmaster Classic on Lake Conroe for the Progressive Bass Wrap Up TV Show and AnglersChannel.com. I watched with sympathy as, on Day 1, Jordan Lee bobbed in the wind trying to fish a main lake point, his trolling motor constantly popping out of the water.
No sympathy for Lee as he weighed 27 pounds, 4 ounces of fish on the final day. Just admiration for our reigning Bassmaster Classic Champ!
Lee later shared that he pulled a 7-pounder off that spot and a host of 5-to-6-pound bass followed it to the boat. That was the turning point for Lee who used a Strike King Pro Model 5XD crankbait in Citrus Shad to trigger the bites. When action slowed he used a rubber-skirted jig and Strike King trailers.
By the time we caught up Lee at the ICAST show in Orlando he had designed his Comeback Jig to replicate the action of the one used in the Classic. Classic Champ, lure designer. What's next for the young Alabamian? That's one of the questions I have as we head into 2018.
As for the aforementioned ICAST show, I enjoyed meeting and working with Jacob Fine as we teamed up with David Brown and AnglersChannel.com's own Chris Brown to bring y'all the latest and greatest of everything that might possibly help you catch more fish or just better enjoy your time on the water. I'd say we covered ICAST from all angles and had a blast doing it.
I'm sure many of y'all got some of that stuff for Christmas. And you first saw it when we did with pros and industry insiders sharing the details before much of it was even available in stores.
Also at ICAST we were treated to the big reveal of the 2018 FLW Tour schedule. It's going to be an interesting year. Follow along with us as we keep tabs on the Tour.
We closed the major tournament season with the Forrest Wood Cup on Lake Murray. That was perhaps my favorite event due, in large part, to the company of 2015 Cup Champion Brad Knight, and Chris Brown as we took to the water each day and brought you the Cup on multiple media platforms with a depth and scope unmatched by ANYBODY except, perhaps, FLW Outdoors themselves.
Producer Kenny Curnow joined us, TV camera in-hand, in Brad's Phoenix boat and despite the circus-like atmosphere there was plenty of room for everybody to work and the ride was smooth and dry.
Though he missed qualifying for the 2017 Cup, Brad was a true professional and worked for his sponsors on and off the water. He certainly made our coverage even better, adding insight that only a Cup Champion could. Check it out under the 'video' tab on the main page.
Thanks again Brad!
Brad had a great time with us, but he plans to spend the 2018 Cup without us in his boat as he competes in the event. More on that in an upcoming blog.
While covering the Cup we practically put you in the boat with Justin Atkins when he caught a 5-pounder on a pencil popper style topwater lure. He talked about the technique – not just the cast and retrieve, but what – and I mean exactly what type of structure and cover he was fishing – and how he adjusted his electronics to find it in the first place.
Cane piles with leaves on them held the best schools of bait and bass. Yeah, Atkins and his buddy Brandon Cobb were that dialed-in and it made for an entertaining exhibition of topwater fishing as well as a close race to claim the Cup. Which Atkins did.
Those of you who followed us on Facebook Live got the scoop long before anybody else as we followed the guys on blazing, up-and-down trips around their milk runs of submerged cane piles on underwater points. And you saw our aerial footage of that massive flotilla trying to do the same. It was crazy out there!
It was fun. And we're doing it again this year so buckle up come along for the ride!
Of all the coverage I was privileged to share with you I'd say the T-H Marine Rookie Profiles were most meaningful. Before the season began we met Justin Atkins, Dustin Connell, Jamie Hartman, Jesse Wiggins, Mark Daniels Jr and others who went on to have a big breakout year in 2017.
I look forward to introducing you to more of the newest personalities in our sport during the coming weeks via my blog here on AnglersChannel.com.
One of the biggest stories in the tournament world this coming year is the Bassmaster Elite Series new and improved 'No Info Rule' intended to stop the solicitation of information that some pros say has become a big problem. It has always been part of the game but at our sport's highest level you'd expect professional anglers to find their own fish.
I am very eager to see who finishes atop the leaderboards now.
I am especially curious to see an Elite Series event in South Dakota – on Lake Oahe near Pierre June 29-July 2. The fresh location combined with the strengthened 'No Info Rule' should be very revealing with regards to an angler's ability to find quality fish.
And the cool factor is pretty high – I mean, an Elite tourney in South Dakota? Who'd have thunk it?
There's a lot to see in 2018 so join us as we bring you the sport you love on the Progressive Bass Wrap Up TV Show and right here at AnglersChannel.com!
---