TENNESSEE ANGLERS PACE HSF DUAL EVENT
---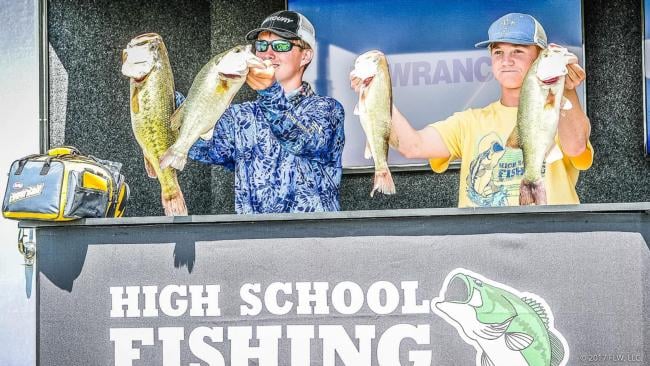 June 29, 2017  by Colin Moore
Catching five keepers out of Pickwick Lake in a day's fishing is seldom a major obstacle for most experienced anglers, but catching a limit with some weight behind it can be an issue. A team representing Tennessee's Student Angler Federation solved that problem here on the first day of the 2017 High School Fishing World Finals by taking a 7-pound, 14-ounce toad to the scale that provided it with a tournament-leading total of 20 pounds, 12 ounces.
Bolstered by the day's heaviest bass, the limit stringer caught by Jon David Bedford of Lawrenceburg, Tenn., and Walker Brown of Loretto, Tenn., gave that duo a lead of more than 1 1/2 pounds heading into the tournament's second round.
Hunter Bryant and Jordan Mungle of Arkansas' Cobra Bass Club are trailing Bedford and Brown with 19-02 in the World Finals, but are leading the High School Fishing National Championship event, which is running concurrently. The World Finals is an open tournament, whereas the National Championship event features qualifying teams from this season's High School Fishing tournament series. National Championship qualifiers are entered in both events.
Wes Rollo and Kade Busby of the Natchitoches (La.) Central Fishing Team posted the third highest overall weight with 18-14. They're competing in the World Finals.
Both Cobra Bass Club and Natchitoches Central owe their placement to big bass as well. Rollo and Busby had a 7-pound, 1-ounce largemouth, while Bryant and Mungle brought in a 5 1/2-pounder.
As was expected, the tournament is settling into a ledge-fishing duel, with anglers strung out for miles along Pickwick's Tennessee River channel and using a variety of jigs, soft plastics and crankbaits to entice offshore bass that are largely unresponsive after weeks of being pounded by successive waves of tournament anglers. Though several of the competitors culled at least a few fish during the day, they reported that in most cases each replacement fish only added an ounce or so to their sacks. A 15-inch size limit is being enforced.
Whether the average weight will get better over the next two days is questionable, as cloudy weather and rain are in the forecast for Friday and Saturday. If the sky darkens and bass roam away from the ledges, the fishing is likely to deteriorate.
"All we can do is put our heads down and fish," says Busby of the likely routine, come rain or shine.
The tournament continues Thursday. The top 10 teams from the National Championship compete Friday for the title. The top two teams from each state in the World Finals continue to Friday's standard round. All teams from both events that miss the cut compete in a second chance World Finals round Friday. Top finishers from both events Friday will finish up the World Finals on Saturday.
Click here for day one results from the National Championship.
Click here for day one results from the World Finals.
---