Taylor wins ABA RAM Trucks Open SC Division on Murray with over 25 pounds!!!
Posted On February 20, 2017
---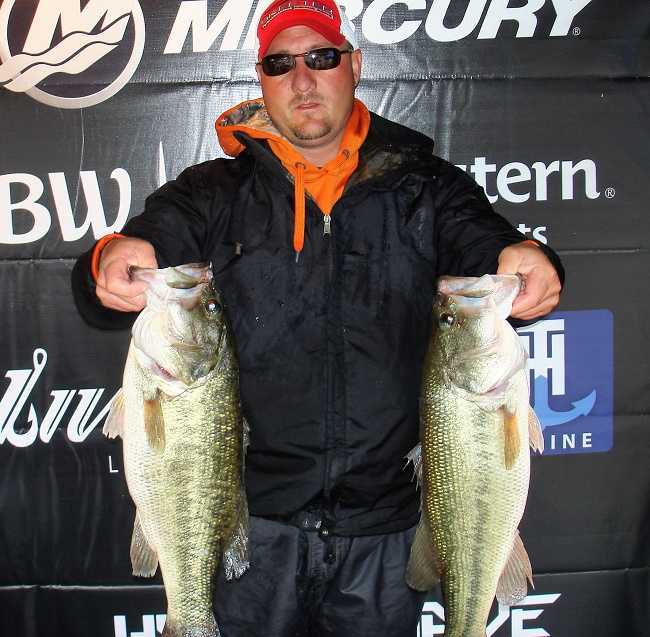 Brock Taylor the Pendleton, South Carolina won the American Bass Anglers Ram Truck Open Series South Carolina division tournament held February 18th on Lake Murray.
Running out of Dreher Island State Park near Prosperity South Carolina, Brock caught five bass weighing 25.94 pounds. He anchored his bag with a 6.80 pound kicker. For the Boater division victory, Taylor took home a check for $5,000.
"I caught my fish early Taylor said. Most of my fish came before 10:00 am. I caught them in 30 feet of water fishing a jig on rocks." stated Taylor
In second for the Boaters, Chris Marshall of Forest City, North Carolina landed a five bass tournament limit weighing 18.16 pounds with a 5.71 pound kicker. He collected $1,250 for the effort. "I caught my fish on a jig Marshall said. I caught them throughout the day." said Marshall.
Sean Skey of Sumter South, Carolina took third for the Boaters with four bass weighing 17.55 pounds He anchored his catch with a 6.48 pound kicker fish to earn $900. "I found some cruising fish during practice said Skey. I decided to go against the norm and it paid off. I caught all of my good fish on a buzzbait." Skey said.
Finishing fourth, Andy Wicker of Pomaria, South Carolina landed a five bass limit weighing 16.19 pounds.
Matt Mollohan from Prosperity, South Carolina rounded out the top five Boaters with five bass weighing 15.62 pounds.
The biggest bass for the Boaters was caught by Josh Peake of West Columbia, South Carolina who collected $650 for a bass weighing in at 6.51 pounds.
In the Co-Angler Division, Damon Phillips of Anderson, South Carolina won with three bass going 8.38 pounds. He sealed his victory with a 3.71 pound kicker to pocket a check for $1200.
"I had a good partner Phillips said. He put me on the fish and I was able to catch them on a worm. The fish were shallow and I caught them throughout the day." Phillips stated.
Taking second for the Co-Anglers, H. Dean Chapman of Leesville, South Carolina brought in a three-bass division limit weighing 7.98 pounds. He collected $400 for the effort. "I caught my fish around shallow floating docks with a hard rocky bottom Chapman said. I caught them on a shakeyhead using a green pumpkin green worm." said Chapman
Donny Stouffer of Rock Hill, South Carolina placed third among the Co-Anglers with three bass weighing 7.23 pounds. He anchored his catch with a 3.50 kicker to earn $300. "I caught my fish today on a shakeyhead using a green pumpkin worm and a squarebill crankbait Stouffer said. We were fishing around rock and riprap." said Stouffer.
In fourth place among the Co-Anglers, Lonnie Drusch of Sumter, South Carolina weighed in three bass weighing 6.78 pounds.
Ray Pettit of Pacolet, South Carolina finished in fifth place with three bass at 6.74  pounds.
The biggest bass for the Co-Anglers was caught by Michael Norris of Myrtle Beach, South Carolina that weighed 5.71 pounds. Norris collected $215.
Slated for 3/25/2017 the next divisional tournament will be held on Clark's Hill out of the Dorn Facility near West McCormick South Carolina. At the end of the season, the best anglers from across the nation advance the 2017 Ray Scott Championship, slated for Old Hickory Lake in Hendersonville, TN in April of 2017.
For more information on this tournament, call Rodney Michael, tournament manager, at (256)497-0967 or ABA at (256)232-0406. On line, see www.ramopenseries.com .
About American Bass Anglers: American Bass Anglers is committed to providing low cost, close to home tournaments for the weekend angler and at the same time offer each competitor an upward path for individual angler progression. For more information about American Bass Anglers, the Ram Truck Open Series, the American Fishing Tour or the American Couples Series, visit www.americanbassanglers.com.
---