Swindle catches 21 pounds and two proud coins
---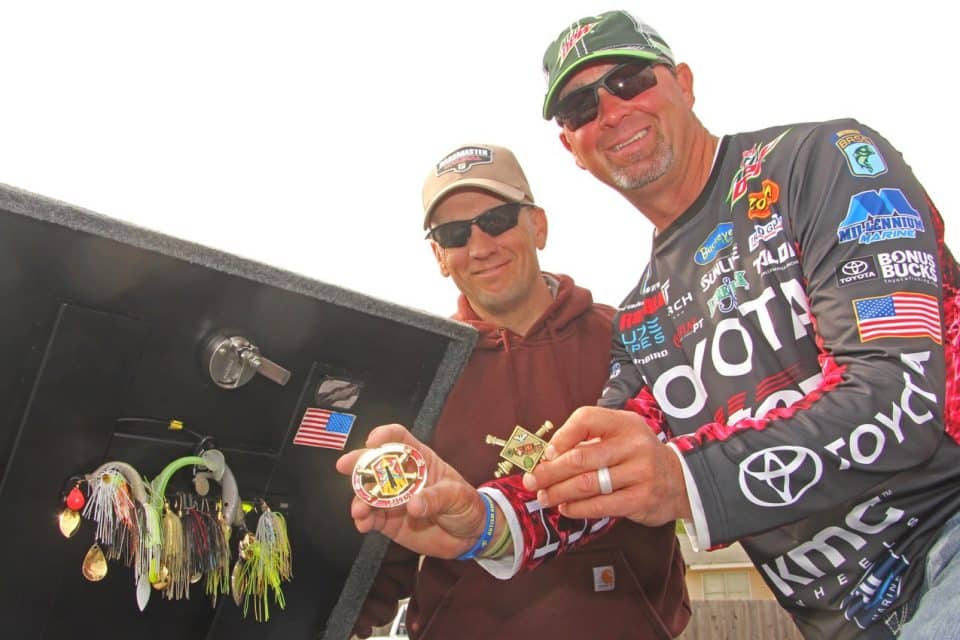 Courtesy of Alan McGuckin / Dynamic Sponsorships
Beneath Gerald Swindle's world-class humor is a heart topped-off by two ears that listen closely to the stories of others — including the life stories of his ride-along Marshalls in Basssmaster Elite Series tournaments.
At the end of many competition days, the 2-time Toyota Bassmaster Angler of the Year is just as likely to tell those he's closest to about the lives of his Marshalls, as he is to talk about how he caught 'em.
Day 1 of the Academy Sports + Outdoors Bassmaster Elite at Grand Lake was no exception. And ironically, Swindle actually recognized his Marshall, Carl Chasteen, after meeting him several years ago through former Elite Series angler Marty Stone.
Swindle holds a special place in his heart for members of our military, and Chasteen's seen a lot of time on the battlefield. The native of Bristow, Oklahoma joined the Oklahoma National Guard through an Army ROTC Scholarship 26 years ago, and has since served two combat tours in Afghanistan, and one combat tour in Iraq.
He's a career military man who simply enjoys seeing the pros perform within the realms of their own battlefield. "I just like seeing these guys who are the best anglers in the world do what they do, away from the weigh-in stage — and instead — right there where it's just you and them — two guys in a bass boat," says Chasteen.
Swindle performed exceptionally well on Day 1 at Grand Lake – hauling an awesome 21-pound limit to the scales for a spot near the very top of the leaderboard, and Chasteen got exactly the 1-on-1 front row seat to watch greatness play-out, just like he'd hoped for.
The performance earned Swindle a coin from Chasteen – actually — two coins.
"We call them 'unit coins' – and they serve as tokens we present for excellent performances like Gerald had today. Army members see them as more than just a pat on the back," explains Chasteen.
Swindle saw them as way more than a pat on the back too. In rare fashion, he lacked much to say amid the sincere and humbling gesture, and simply asked to have his photo taken with Chasteen to preserve the moment of goodness.
As they posed for the picture, other tokens given to Swindle by military fishing fans could be seen proudly and meaningfully displayed under the dry storage lid of his Triton.
If all goes as planned, Chasteen and his mega- supportive bride Marsha will enjoy achieving the prestigious rank of Colonel later this year – and Swindle will win his first ever Bassmaster Elite.
If he does, count on him to talk about military coins and Chasteen, equally as much or more than spinnerbaits and jigs.
---