Strike King Pro Luke Estel Talks About His 6Th Place Finish In The "gator Hole"
Posted On October 6, 2016
---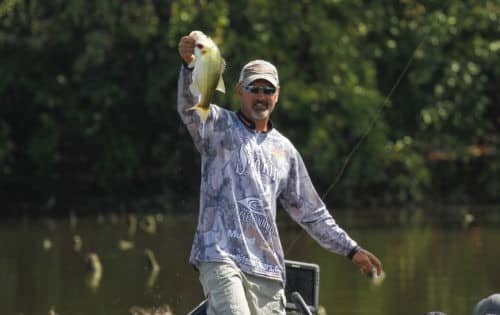 BASS Opens Pro Luke Estel.
Last weekend I competed in the second B.A.S.S. Central Open on the Red River. I made the top twelve cut and finished the event in 6th place.
Here is how the event played out.
My best friend and fishing partner, Josh Jackson (Chopper) and I headed down to Texas the Friday before to pick up my new Skeeter from Gerald Brown. We loaded all of my equipment into the boat and headed to the Red early Saturday morning.
The recent floods had much of the back waters silted in and it was hard navigating back in them. We managed to catch a couple of keepers on a Strike King KVD spinnerbait and a 1.5 crankbait. Sunday was about the same and we started putting together a little pattern around the rock Jetties on the main river. I knew I needed more if I was to have a shot. Monday came and we push poled back into a small backwater pond which ended up being too shallow to fish so we abandoned that area. Tuesday we continued to look at Google Earth when we found a small backwater pond right off of the river. We went for it. Once we got back into the area we found that there was seven feet of water in it and the water clarity was the best we had seen. Chopper noticed what he thought was a beaver swimming across the pond. I told him that it was no beaver and that it was a big alligator. Excited because he had never seen one fishing before we trolled near him to take some video and some pictures. Chopper then said to me that this was the winning spot before we ever took a cast. After watching the gator for several minutes we decided to start fishing and immediately Chopper caught a chunky 2 ¾ pound fish on a spinnerbait. He told me to get out of there but I needed more reassurance and that didn't take long as I caught another nice keeper. We push poled out of there and fished the big slough that adjoined it watching boaters troll into the mouth of the creek, get stuck, and troll out. Based on what we saw I thought I might have a small chance that I would have the area to myself and would be able to pick it apart.
The first day of the tournament rolled around and I was boat 75. I prayed as I boated down the river that no one would be in there. I push poled my way in and I was right. All by myself. My co angler, Bill Bonner and I went straight to the stumps and started casting. I caught one small keeper quick but the bite shut off. Around 10 o'clock I trolled over to the two big lay downs on the other side of the pond. I put on a Strike King Rage Bug and it was first flip. A 3 pounder! I went to the other side of the tree when I got my next vicious strike. A 4 pounder smoked it and I wrestled him through the limbs and boat flipped him. I looked at Bill and told him to flip to the next tree and I put my bait down the side of the tree. Keeper number four came flying in. I spun the boat back around to the first tree and finished my limit out with number 5. I sat down thinking what my next move would be. Bill looked at me and told me that I better get out of there and I couldn't have agreed more. By the time I push poled out of there it was 11 o'clock. We fished several more areas on the main river before heading to weigh in. I knew I had a decent bag but wasn't expecting great things until the tournament director, Chris Bowes said, " new leader" as the five fish limit hit the scales for 11 pounds, 2 ounces! I finished third for the day and was anxious to get back to the "Gator Hole" for one more day.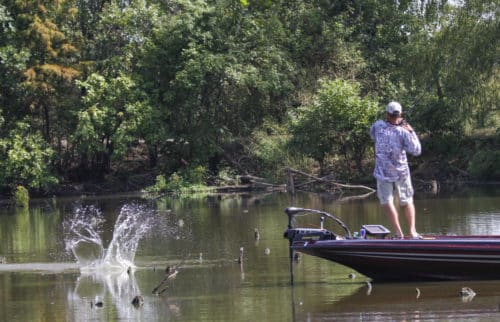 I was boat 105 and I knew there was no way I would have the pond to myself again, but sure enough I was. BASS photographer Ronnie Moore followed me into the pond and waited patiently for something to happen. As I was trolling over to the lay downs I flipped onto a stump on my right side and immediately was rewarded with my first keeper. The lay downs were dead as I power poled down and fished them methodically. So much for that as I went straight to the stump ridden flat. I pitched the "bug" right beside a small stump and the water exploded as I fought the 4 plus pound bass to the boat. Number 2! By now I was in a groove and feeling it. Five minutes later I caught keeper number three. I just kept telling myself, it's just fishing. Two more bites and I will make the top twelve. Within a half hour I put a nice 2 pounder in the box. I looked at the time and it was 10:30. I had I had five hours to catch one more bass. At 1:30 I felt what I thought was a bite, set the hook and the four pounder danced on top of the water and fell off. I was mad for about 5 minutes and then I settled down and continued to pitch to the stumps. There was no way I was going to leave without a limit. Around 2:30 I got another soft bite and put number 5 in the box. Finally!!!
At the weigh in my limit weighed 10 pounds, 7 ounces! Good enough to hang on to third place for the final day. I had made it. It took everything I had to grind it out, because I knew there was no guarantee for day three.
That night Chopper took care of everything for me and let me focus on getting re rigged and my boat in order. "Five bites and you are going to the Classic" He said. I knew it to. I had put myself into position to win and that's all I could ask for.
The final day arrived and I told myself that I wasn't going to leave the "Gator Hole." It was do or die and I knew there was big enough fish to win swimming in there. As I trolled to the opening I found it even harder to get in and it took me several more minutes than I expected. Once I was in I settled down and went to work. Within an hour I had two small keepers. Both of them hit the bait like a Bluegill and not like the previous day and a half. Photographer Ronnie more came into the pond around 10 o'clock and just like the day before I put my biggest fish in the boat. Number three! I knew now that I was two bites away from my dream. I buckled down and picked the stump field and the laydowns apart. I crept ever so slowly deploying my Power Poles every ten to fifteen feet and making fifty plus pitches to my surrounding targets. I got only one more bite and put him in the box before it was time to go.
As we sat in the marina parking lot waiting on the BASS officials to check our fish, I smiled. I was happy. I stuck to my game plan and no matter what the outcome would be, I gave it my all.
My wife and her three friends drove all night just to come and watch me weigh in. My phone was blowing up. The hometown support from my family and friends was overwhelming. A tear rolled down my sunburnt face. As Chopper drove my Tundra to the weigh in stage all I could think about was seeing my wife and just having her there meant everything to me.
I finished 6th place as Alton Jones Jr. punched his ticket the Bassmaster Classic. Well done.
I cannot thank all of the people and companies that have stood beside me for so long, enough. First is my wife Heidi and my two beautiful girls. They have always been there for me. My best friend Chopper. I think he should be a Positive Mental Bass Fishing Coach. He is a true friend indeed. Strike King Lure Company. Simply the best bait company in the world. They are like family to me. Vicious Fishing Line. I pitched 20# Vicious Fluorocarbon all week and never broke a fish off. Mustad Hooks. I used a 4/0 Grip Pin hook. I caught every fish on that one hook and never tied another one on. Ardent Rods and Reels. I pitched with an Ardent Denny Brauer Swimbait Rod and an Ardent Apex reel. Natural Gear, their new fishing shirts kept me cool all week long. Power Pole. What else is there to say about them? They were instrumental in my stealth like approach. PLP Battery Supply, Tony Chachere's Creole Seasoning, and E & D Concrete.
I was close but now I want it more than ever. Lucky for me I have one more to go. The Atchafalaya Basin in Morgan City, Louisiana. I just might pull it off. Might as well shoot for the stars. I am going to win!!!
---