Sadler's 24.4 pound Limit Leads At B.A.S.S. Nation Central Regional At Lake Of The Ozarks
---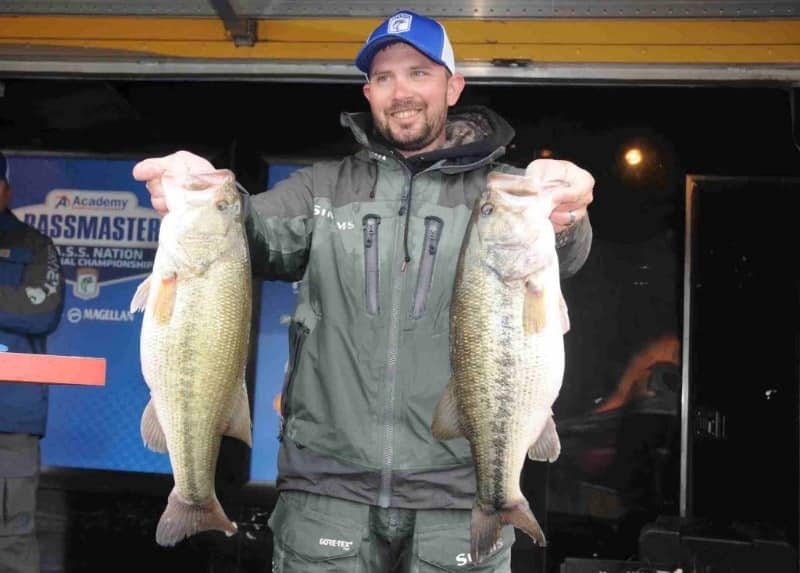 Drew Sadler of Richmond, Ky., caught 24 pounds, 4 ounces to take the lead on the first day of the 2017 Academy Sports + Outdoors B.A.S.S. Nation Central Regional presented by Magellan on Lake of the Ozarks.
Photo by John Neporadny/Bassmaster
April 5, 2017
OSAGE BEACH, Mo. — Kentucky angler Drew Sadler fished his strengths rather than a pattern to take over the lead in the Academy Sports + Outdoors B.A.S.S. Nation Central Regional presented by Magellan at the Lake of the Ozarks.
The 30-year-old Bluegrass Bassmasters club member had never fished Lake of the Ozarks before, but he figured out how to catch a five-bass limit weighing 24 pounds, 4 ounces to move into first place in the boater division of the tournament.
Sadler arrived at the lake Saturday and spent his practice days scouting.
"I kind of went to all extremities of the lake," Sadler said. "It is a big lake, so I wanted to see everything it has to offer. It is similar to my home lake, Lake Cumberland, so I wanted to know with the weather what options I would have if there was a cold front or if it was warm."
The Sportco Marketing sales manager said his fishing was "slow and steady" with his keepers coming in pairs.
"The lake is not as consistent as I thought it would be," he said. "It is a very 'patternable' lake, but I had to kind of fall back on personal strengths rather than doing what I thought I was going to do when I came here."
Sadler said he covered a lot of water in one particular area and caught most of his fish in 5 to 15 feet of water.
The Richmond, Ky., angler thinks the weather change from the clouds and rain today to clear skies and cold Thursday might make fishing tougher for him.
"I could catch that (weight) again or not come in with anything," he said.
The rest of the Top 5 in the boater division are as follows: Marcus Sykora, Osage Beach, Mo., second, 20-1; Kyle Christopher, Lancaster, Ky., third, 20-0; Beau Govreau, Cedar Hill, Mo., fourth, 19-15; and Ty Bowman, Mountain Home, Ark., fifth, 19-3. Bowman leads the Big Bass Award in the boater division with a 7-5 largemouth.
Leading the co-angler division with three bass weighing 14-3 is Gregory Ruff Jr. of Minnesota. The Big Bass leader on the co-angler side is Eddie Charleton with a 7-2 largemouth.
B.A.S.S. Nation club anglers from 19 states are competing in the event. The tournament will determine overall winners in the boater and co-angler divisions, the top finishing state team and qualifiers for the Academy Sports + Outdoors B.A.S.S. Nation Championship presented by Magellan. Advancing to the national championship will be the top boater and co-angler from each state.
The 20 anglers from Kentucky teamed up to catch 177 pounds, 4 ounces to take the lead in the team standings. Missouri moved into the runner-up spot with 168-12, and Arkansas is in third place with 163-6.
The tournament field will be cut to the Top 38 boaters and co-anglers from each state Thursday. Those competitors will fish Friday for overall titles and championship berths.
Thursday's weigh-in will begin at 2:30 p.m. CT at the Lake of the Ozarks State Park Public Beach No. 2 access.
The event is hosted by the Tri-County Lodging Association.
2017 B.A.S.S. Nation Title Sponsor: Academy Sports + Outdoors
2017 B.A.S.S. Nation Presenting Sponsor: Magellan
2017 B.A.S.S. Nation Platinum Sponsor: Toyota
2017 B.A.S.S. Nation Premier Sponsors: Humminbird, Nitro Boats, Minn Kota, Berkley, Huk, Skeeter Boats, Triton Boats, Yamaha, Shell Rotella, Power-Pole, Mercury
2017 B.A.S.S. Nation Supporting Sponsors: Shimano, Advance Auto Parts, Lowrance, Nationwide, Carhartt, Dick Cepek Tires & Wheels, Livingston Lures, T-H Marine
About B.A.S.S.
B.A.S.S. is the worldwide authority on bass fishing and keeper of the culture of the sport, providing cutting edge content on bass fishing whenever, wherever and however bass fishing fans want to use it. Headquartered in Birmingham, Ala., the 500,000-member organization's fully integrated media platforms include the industry's leading magazines (Bassmaster and B.A.S.S. Times), website (Bassmaster.com), television show (The Bassmasters on ESPN2), social media programs and events. For more than 45 years, B.A.S.S. has been dedicated to access, conservation and youth fishing.
The Bassmaster Tournament Trail includes the most prestigious events at each level of competition, including the Bassmaster Elite Series, Bass Pro Shops Bassmaster Open Series, Academy Sports + Outdoors B.A.S.S. Nation presented by Magellan, Carhartt Bassmaster College Series presented by Bass Pro Shops, Costa Bassmaster High School Series presented by DICK'S Sporting Goods, Toyota Bonus Bucks Bassmaster Team Championship and the ultimate celebration of competitive fishing, the GEICO Bassmaster Classic presented by DICK'S Sporting Goods.
-30-
Media Contact: JamieDay Matthews, 205-313-0945, [email protected] or Dave Precht, 205-313-0931, [email protected]
2017 Academy Sports + Outdoors B.A.S.S. Nation Central Regional presented by Magellan Outdoors 
4/5-4/7
Lake of the Ozarks, Osage Beach  MO.
(BOATER) Standings Day 1

   Angler                   Hometown              No./lbs-oz  Pts   Total $$$

1.  Drew Sadler            Richmond , KY (KY)      5  24-04  0

2.  Marcus Sykora          Osage Beach, MO (MO)    5  20-01  0

3.  Kyle Christopher       Lancaster, KY (KY)      5  20-00  0

4.  Beau Govreau           Cedar Hill, MO (MO)     5  19-15  0

5.  Ty Bowman              Mt. Home, AR (AR)       5  19-03  0

5.  Don Douglas IV         Maumelle, AR (AR)       5  19-03  0

7.  Kevin True             Frankfort, KY (KY)      5  19-02  0

8.  Mike Seal              Richmond, IN (IN)       5  18-10  0

9.  Michael McAdams        Cincinnati, OH (OH)     5  18-08  0

10. Jordan Bellendier      Cedar Rapids, IA (IA)   5  18-03  0

11. Chris Wilkinson        Farmersburg, IN (IN)    5  18-00  0

12. Mark Wiese  Jr         High Ridge, MO (MO)     5  17-12  0

13. Matt McCoy             Indianapolis, IN (IN)   5  17-07  0

13. Craig Torkleson        Sand Springs, OK (KS)   5  17-07  0

15. Mike Maples            Rolla, MO (MO)          5  17-05  0

16. Chris Barnett          Russellville, AL (TN)   5  17-00  0

16. Scott Cremeans         Albany, OH (OH)         5  17-00  0

18. Justin Pace            Harrisonville, MO (MO)  5  16-12  0

19. Matt Pangrac           Norman , OK (OK)        5  16-07  0

19. Brian Skluzacek        Prior Lake, MN (MN)     5  16-07  0

21. Matt King              Olathe, KS (KS)         5  16-05  0

22. Tim Hartman            Effingham, IL (IL)      5  16-01  0

23. Tom Jessop             Dalhart, TX (TX)        5  16-00  0

24. Bob Downey             Hudson, WI (MN)         5  15-10  0

25. Marty Giddens          Eclectic, AL (AL)       5  15-08  0

25. Derick Kuyrkendall     Bergheim, TX (TX)       5  15-08  0

27. Gary Bonnet            Borden, IN (KY)         5  15-06  0

28. Kent Priel             No Platte, NE (NE)      5  15-05  0

29. Luke Gritter           Otsego, MI (MI)         5  15-04  0

30. Charlie Bogard         Saint Charles, MO (MO)  4  15-00  0

31. Scott Holmes           Moody, AL (AL)          5  14-13  0

32. Trent Beier            Crystal Lake, IL (IA)   5  14-11  0

32. Wyatt Smith            Stroud, OK (OK)         5  14-11  0

34. Hoyt Akins             Bauxite, AR (AR)        5  14-10  0

35. Tom Forrester          Solsberry, IN (IN)      5  14-03  0

36. Kurt Denning           St Meinrad, IN (IN)     4  14-01  0

37. Luis Gonzalez          Round Lake Beach, IL (I 5  14-00  0

37. Larry Welborn          Laurel, MS (MS)         5  14-00  0

39. Chris Baker            West Salem, IL (IL)     5  13-15  0

40. Jared Thompson         Marvell, AR (MS)        5  13-14  0

41. Dave McCoy             Plattsmouth, NE (NE)    5  13-12  0

42. Tom Kiefer             Fowlerville, MI (MI)    4  13-08  0

43. Roger Hackman          Harrison, AR (AR)       5  13-06  0

44. Chuck Halbert          Lexa, AR (MS)           4  13-06  0

44. Caleb Sumrall          New Iberia, LA (LA)     4  13-06  0

46. Art Mensick            Plainfield, IL (IL)     5  13-04  0

47. Coby Carden            Shelby, AL (AL)         5  13-02  0

47. Kyle Dorsett           Odenville, AL (AL)      5  13-02  0

47. Greg Vance             Dubuque, IA (IA)        5  13-02  0

50. Richard Billings       Rochester, MN (MN)      4  13-02  0

51. Bobby Maynard Jr       Eastland, TX (TX)       5  13-01  0

52. Harold Stark           Eldon, MO (MO)          5  12-14  0

53. Chris Herzog           Liberty TWP, OH (OH)    4  12-14  0

54. Harvey Horne           Bella Vista, AR (AR)    5  12-10  0

54. Ben Nobile             Sorrento, LA (LA)       5  12-10  0

56. Jeff Fletcher          Eagle Rock, MO (AR)     4  12-10  0

57. Justin Barnes          Monroeville, AL (AL)    4  12-09  0

58. Josh Bragg             Jacksonville, AL (AL)   5  12-08  0

59. Richard Hladky         Yankton, SD (SD)        5  12-07  0

59. Mitchell Major         Lancaster, KY (KY)      5  12-07  0

61. Jason Windham          Crawford, TX (TX)       4  12-07  0

62. Tray Huddleston        Russellville, AR (AR)   5  12-05  0

63. Richard Cobb           Richmond, KY (KY)       4  12-02  0

64. Kyle Alsop             Overland Park , KS (KS) 4  12-00  0

65. Troy Lee               Star Prairie, WI (WI)   4  11-14  0

66. Brian Crecelius        Mountain Home, AR (AR)  5  11-12  0

67. Tadd Johnson           Lakeview, MN (MN)       5  11-11  0

68. Robert Degraffenreid   Oklahoma Cty, OK (OK)   3  11-09  0

69. Colby Bolin            Excelsior, MN (MN)      4  11-07  0

70. Troy Diede             Sioux Falls, SD (SD)    4  11-06  0

70. Michael Mcknight       Johnston, IA (IA)       4  11-06  0

72. Matthew Reagan         Allendale, MI (MI)      3  11-03  0

73. Jan Hebert             Houma, LA (LA)          4  10-11  0

74. Chris Brokman          Council Bluffs, IA (NE) 4  10-09  0

75. Corey Brant            Minnetonka, MN (MN)     4  10-07  0

76. Ricky Smith            Ohatchee, AL (AL)       4  10-05  0

77. Lee Byrd Jr.           Pell City, AL (AL)      4  10-04  0

78. David Rush             Lewisville, TX (TX)     3  10-02  0

79. Monty Fralick          Martin, SD (SD)         3  10-00  0

80. Thomas Wiese           Muskego, WI (WI)        4  09-14  0

81. Brad Stogsdill         Nashville, IN (IN)      4  09-13  0

82. Jason Lutt             Dallas, SD (SD)         3  09-06  0

83. Jeremy Anthony         Loranger, LA (LA)       5  09-05  0

84. Jason Baird            Gypsum, KS (KS)         4  09-05  0

85. Aaron Ault             Delphi, IN (IN)         3  09-03  0

86. Brad Norris            Hudson, IL (IL)         3  09-00  0

87. Keith Broyles          Jackson, TN (TN)        4  08-15  0

88. Nate Brown             Muscatine, IA (IA)      3  08-15  0

88. Adam Hladky            Volin, SD (SD)          3  08-15  0

90. Trevor Kettles         Waukee, IA (IA)         4  08-13  0

91. Randall Christopher    Irvine, KY (KY)         3  08-12  0

91. Mike Hoover            Jackson, TN (TN)        3  08-12  0

93. Chance Woodard         Paris, TX (TX)          3  08-11  0

94. Paul Amstutz           Gambler, OH (OH)        2  08-11  0

95. Steven Smith           Johnstown, OH (OH)      3  08-08  0

96. Benjamin Barnhart      Omaha, NE (NE)          3  08-04  0

97. Brian Maloney          Osage Beach, MO (MO)    3  08-02  0

97. Brandon Rose           Saginaw, MI (MI)        3  08-02  0

99. Rob Kelley             Greenwood, IN (IN)      3  08-01  0

100. John Soukup            Agra, OK (OK)           4  07-14  0

101. Chris Brimager         Andover, KS (KS)        3  07-08  0

101. Joseph Ponessa         Shoreview, MN (MN)      3  07-08  0

103. Thomas Reding          Papillion, NE (NE)      3  07-05  0

104. Mark Goetsch           Gibraltar, MI (MI)      3  07-02  0

105. Joseph Sestak          Tabor, SD (SD)          1  07-02  0

106. Eric Silverstrim       Indian Mound, TN (TN)   3  07-01  0

107. Connor Leagjeld        Pequot Lakes, MN (MN)   1  06-15  0

108. Justin Kohl            Hastings, NE (NE)       3  06-12  0

108. Jeremy Tenwalde        Fort Jennings, OH (OH)  3  06-12  0

110. Kevin Miller           Andover, KS (KS)        3  06-09  0

111. Mark Pierce            Cadiz, KY (TN)          4  06-07  0

112. Michael Valentine      Laurel , MS (MS)        3  06-02  0

113. Jeff Hamilton          Blue Springs, MO (MO)   2  06-02  0

113. Kevin Parker           Sumrall, MS (MS)        2  06-02  0

113. Anthony Villalobos     Salem, IL (IL)          2  06-02  0

116. Cole Jezek             Salem, IL (IL)          2  05-15  0

117. Jeremy Montgomery      Overland Park, KS (KS)  3  05-09  0

118. Scott Bateman          Washington, IN (IN)     2  05-08  0

118. James McCracken        Omaha, NE (NE)          2  05-08  0

120. Stephen Noble          Newport, KY (KY)        2  05-07  0

121. Joshua Barr            Stow, OH (OH)           2  05-06  0

122. Mickey Lewis           Huntingdon, TN (TN)     2  05-05  0

123. George Sigsworth       Amery, WI (WI)          2  05-02  0

124. Justin Foster          Bude, MS (MS)           2  05-01  0

125. Tony Baldridge         Oklahoma City, OK (OK)  2  05-00  0

125. Travis Tunnell         Benton, KS (KS)         2  05-00  0

127. Brad Hollowell         Azle, TX (AR)           2  04-15  0

127. Garrett Kemp           Port Allen, LA (LA)     2  04-15  0

127. Jeremy King            Panora, IA (IA)         2  04-15  0

130. Emile Gennaro  Sr      Wesson, MS (MS)         2  04-12  0

131. Brett Logue            Lincoln, NE (SD)        2  04-09  0

131. Jesse Schwark          Athens, MI (MI)         2  04-09  0

133. Aaron Carroll          Rolla, MO (MO)          2  04-07  0

134. Mark Emenecker         Matton, IL (IL)         2  04-06  0

135. Jason Heimes           Omaha, NE (NE)          2  04-03  0

135. Jamie Laiche           Gonzales, LA (LA)       2  04-03  0

137. Danny Posey            Niles, MI (MI)          2  04-01  0

137. Allen Williford        West Franklin, IL (IL)  2  04-01  0

139. Michael Hanrahan       Pleasant Hill, IA (IA)  1  04-00  0

140. Hal Pinho Jr           Patterson, LA (LA)      2  03-15  0

141. Tim Cooper             Brownsburg, IN (IN)     1  03-15  0

142. Jon Abbott             Versailles, KY (KY)     2  03-13  0

143. Timothy Deroche        Boutte, LA (LA)         2  03-12  0

143. Chris Fredrick         Marshfield, WI (WI)     2  03-12  0

145. Dennis Dustmann        Oklahoma City, OK (OK)  1  03-12  0

146. Pat Schlapper          Eleva, WI (WI)          1  03-05  0

147. Benjamin Brion         Becker, MN (MN)         1  03-03  0

148. Chuck Lide             Braidwood, IL (IL)      1  03-01  0

148. Cliff Van Beek         Canistota, SD (SD)      1  03-01  0

148. Paul Wilcoxson         Russellville, AL (AL)   1  03-01  0

151. Chad Sposito           Gray, LA (LA)           2  03-00  0

152. Jason Pecoraro         Youngsville, LA (LA)    1  03-00  0

152. Jerry Thill Jr         Dresser, WI (WI)        1  03-00  0

154. Sterling Bougher       Mannford, OK (OK)       2  02-15  0

155. Destre Dedeaux         Meadville, MS (MS)      1  02-15  0

156. Mike Myers             Oklahoma City, OK (OK)  1  02-14  0

157. Troy Enmeier           Enid, OK (OK)           2  02-13  0

158. David Cook             Whitehouse, TN (TN)     1  02-13  0

159. Jody Rhoden            Groveton, TX (TX)       1  02-12  0

160. Derward Mauldin        West Helena, AR (MS)    1  02-08  0

161. Gary Melson            Louisville, KY (KY)     1  02-07  0

162. Ed Berndt III          Grandon, WI (WI)        1  02-03  0

162. Jeffray Gooch          Westport, TN (TN)       1  02-03  0

164. Nick Diberardino       Onalaska, TX (TX)       1  02-02  0

165. Joe Koch               Kewaskum, WI (WI)       1  02-01  0

165. Steve Potter           Conway Springs, KS (KS) 1  02-01  0

167. Matt Martin            Brookhaven, MS (MS)     1  02-00  0

168. Glenn Hahn             San Antonio, TX (TX)    1  01-15  0

168. Stephen White          Dalhart, TX (TX)        1  01-15  0

170. Jimmy Pierce           Medon, TN (TN)          1  01-08  0

171. Ralph Blasey           Pinckey, MI (MI)        0  00-00  0

171. Kenneth Bowen          Hager City, WI (WI)     0  00-00  0

171. Randy Burch            Ladysmith, WI (WI)      0  00-00  0

171. Scott Coats            Henderson, TN (TN)      0  00-00  0

171. Jeff Cox               Saline, MI (MI)         0  00-00  0

171. Brian Delf             Milan, IL (IA)          0  00-00  0

171. Kyle Glasgow           Guin, AL (AL)           0  00-00  0

171. Cort Heimsoth          Elkhorn, NE (NE)        0  00-00  0

171. Dana Hulet             Perry, OK (OK)          0  00-00  0

171. Casey Hutmacher        Oacoma, SD (SD)         0  00-00  0

171. Lawrence Leonardi      Clinton Township, MI (M 0  00-00  0

171. Darrin Lewellen        Mount Vernon, OH (OH)   0  00-00  0

171. Dan Mohn               Lansing, IA (IA)        0  00-00  0

171. Andrew Nitchals        Willmar, MN (MN)        0  00-00  0

171. Rodney Pieper          Yankton, SD (SD)        0  00-00  0

171. Will Presley Jr        Grove City, OH (OH)     0  00-00  0

171. Ted Prisbe             Harsens  Island, MI (MI 0  00-00  0

171. Larry Riffey           Pratt, KS (KS)          0  00-00  0

171. Troy Sprague           Lincoln, NE (NE)        0  00-00  0

171. Travis Tenwadle        Fort Jennings, OH (OH)  0  00-00  0

171. Rickey York            Cherokee Village, AR (A 0  00-00  0

-----------------------------------------------------------------------
---