Rodgers On A Mission To Get To The Forrest Wood Cup In Flw Tournament On Sam Rayburn
---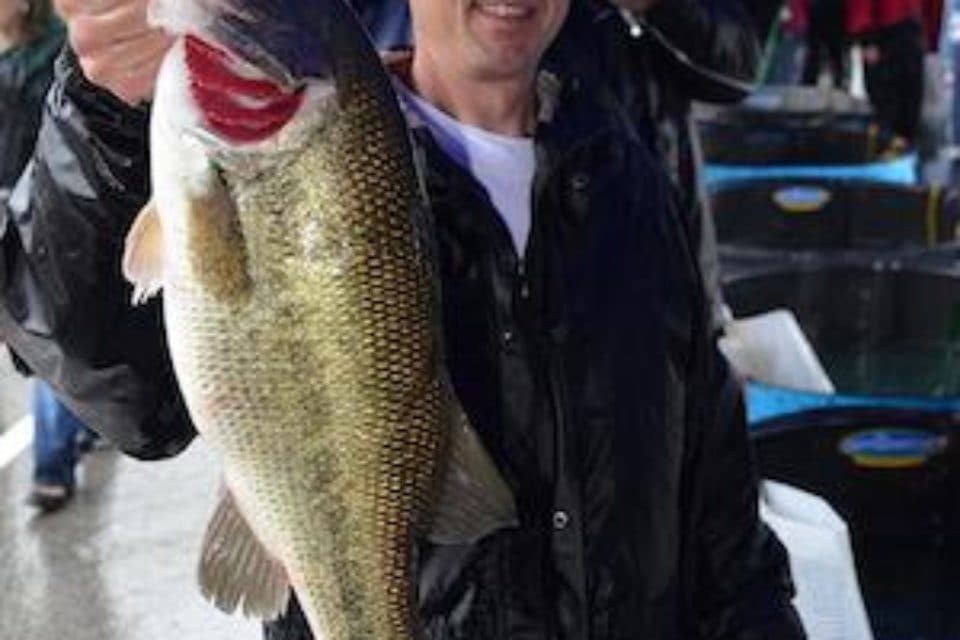 Dearal Rodgers with a nice fish at Chickamauga
With a 15th place finish on Lake Hartwell two weeks ago, Dearal Rodgers took a big step towards his goal of qualifying for the 2014 Forrest Wood Cup on South Carolina's Lake Murray this August.He'd like to take another big step towards the Lake Murray championship this week on Texas' Lake Sam Rayburn in the third FLW Tour tournament of the year.
But, no matter how his season goes, whatever steps he makes in tournaments pale in comparison to the steps he has taken since a work-related 20-foot fall to a concrete floor six months ago. Rodgers, who owns an environmental business in Camden, S.C., with his wife, when he is not fishing bass tournaments, was doing an asbestos inspection in an old shop building in Spartanburg, S.C., on Friday, Sept. 13, when the roof caved in.
"To fall 20 feet to concrete and to be able to walk and not be paralyzed is a miracle," said Rodgers who has worked hard to regain his strength and stamina. Knowing it would take a completely healthy angler to fish the pro side of the Tour, Rodgers decided to return to the Co-Angler side for 2014 while he worked on his recovery.
His goal is to get back to the Forrest Wood Cup, which he won as a Co-Angler in 2010 and make a much better showing on Lake Murray than he did in the Cup in 2008 when he placed a distant 73rd on the lake less than an hour from his home.
"It's a tough tournament, but somebody has got to win it," he said. "It would be nice to fish for my home state and represent everyone in South Carolina."
He and fellow co-angler Jeff Rikard of Leesville, S.C., made the 15-hour drive to Rayburn Sunday, leaving South Carolina at 4 a.m. after competing in the South Carolina Division BFL tournament on Saturday at Santee Cooper where Rodgers placed 31stas a boater and Rikard 32nd as a co-angler.
After practicing all day Monday on Rayburn with pro angler Brandon Coulter, Rodgers said he was feeling fine, although a little sleepy from the rigors of the long weekend.
"I've been taking a nap every now and then while Brandon was driving the boat," he said. "But I feel I can make all the casts I want to. I don't feel handicapped in that regard anymore."
In between catnaps, Rodgers said the fishing was a little tough following a cold snap Sunday night, but he had started to figure few things out on his first trip ever to Rayburn.
"There is a lot of grass in the lake, so I plan to throw two baits that I can cast a long way and cover a lot of water, probably a Rat-L-Trap and a Chatterbait. I'll also throw a little Speed Worm or a Little Craw," he said.
"I think a lot of people will catch limits, so I am going to have to figure out how to get bigger bites fishing behind somebody who is doing well. I figure it's going to take 12 to 15 pounds a day on the co-angler side."
Rodgers said there are a lot of small fish in the lake, but also some good-sized ones to go after.
"This is a legendary lake, so it's going to be fun."
Rodgers, who won the FLW Tour Co-Angler of the Year Award in 2009 and the FLW Tour's Forrest Wood Cup as a Co-Angler in 2010 is fishing the FLW Tour as a co-angler in 2014. He is also available for guided bass fishing trips on Lake Wateree and other lakes in South Carolina. For information on the tournament fishing career of Dearal Rodgers or to inquire about a guided bass fishing trip on Lake Wateree or other South Carolina lakes, check out his website: www.dearalrodgers.com.
FLW Tour Major
Mar 27-30, 2014
Sam Rayburn Reservoir
Cassels-Boykin Park
---