Prize rich Quantum High School-College Open returns to Grand Lake
On the heels of a highly successful inaugural event last fall that attracted 78 high school and college teams from nine states, the 2ndAnnual Quantum Next Generation High School & College Open returns to Grand Lake, Oklahoma the weekend of October 21stand 22nd.
There is no entry fee to participate, and more than $25,000 in prizes will be given-away. Plus, former Bassmaster Carhartt College Series Champ, turned Elite Series pro, Matt Lee will be there to greet anglers, and share both career advice and fishing tips with all young competitors.
Registration takes place from 4:00 to 6:00 p.m. on Saturday October 21stat the Grove Civic Center. Free pizza, marine electronics seminars, and door prizes will be offered. Competition will take place on Sunday, October 22ndat Grove's Wolf Creek Park boat ramp.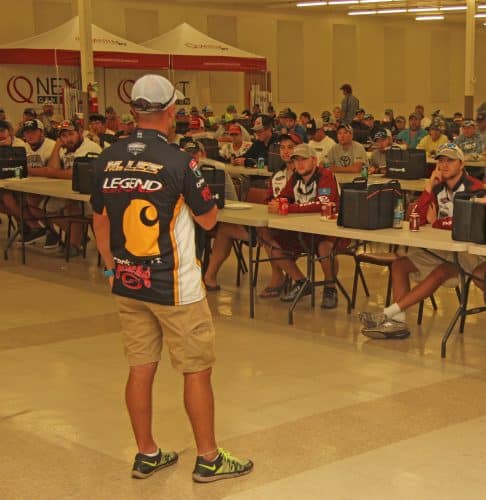 The high school team of Landon Edwards and Dalton Greene of Springdale and Siloam Springs, AR caught the biggest bag of the last year's event. They weighed-in 16.44 impressive pounds on a squarebill crankbait from structure between boat docks.
The top finishing college team was Cameron Simmons and Dexter Flick of Oklahoma State with 12.97 pounds. All college anglers should note this event is eligible for Cabela's School of the Year points.
Each winning team walked away with an impressive amount of product valued at $5,000 in the No Entry Fee tournament thanks to the very generous contributions of Carhartt, Costa Eyewear, Garmin, Lowrance, Power-Pole, Quantum, Strike King, and Yamaha. Beyond just prizes to the top finishing teams, Quantum gave away a total of $16,000 in product through random drawings.
"In five years of being around high school and college tournaments, I don't think I've ever seen such a rich product pay-out in a No Entry Fee event, not to mention, it was really well attended and run in a first class way," says Matt Lee.
To register for the tournament please visit https://angler-nation.comor call tournament director Joe Davis at (918) 831-6970.