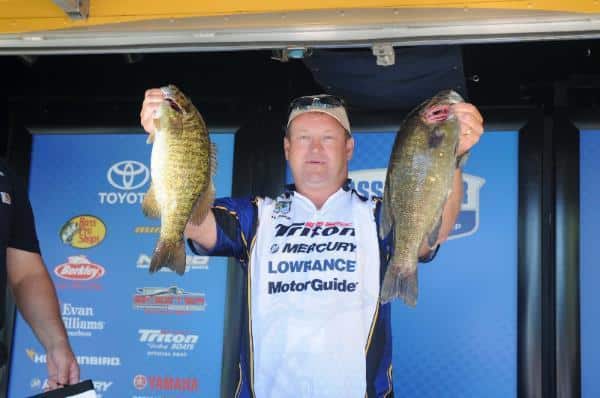 Bill Pioch took the lead in the B.A.S.S. Nation Mid-Atlantic Divisional today with a Pennsylvania 4-fish limit weighing 15-05.
          High winds on Day 1 pinned anglers down to the bay, where Pioch caught 9-08. Today he took advantage of the freedom to roam and ran his total weight to 24-13.
Today he switched game plans, from fishing for largemouth in Presque Isle Bay to targeting smallmouth out on the main body of Lake Erie.
          The retired West Virginia State Trooper relied on his electronics to locate schools of fish.  "Basically I drove around until I found the schools of fish, and then we would start fishing," said Pioch. "It was just like playing video games."
          Pioch found fish in 20-to-25 feet of water early in the day; 30-to-35 feet later. He estimates that he caught 20 bass. "For the suspended fish, we had to drop our lures right on their heads to get them to bite. Once we caught one or two good fish off the school, the fish would spook and move off. So we had to keep hunting."
          Pioch owns a 10 ounce lead over Jim Groome who has 24-03. Mike Moran is 3rd with 24-01. Next on the jam-packed leaderboard is Jason Vaughn with 24-even.
          Day 1 leader Chris Price dropped to 5th with a total weight of 23-10.
---