Piedmont Bass Classics 'End Of Year' Bass Trail Results – Kerr – Aug 10, 2013
Posted On August 21, 2013
---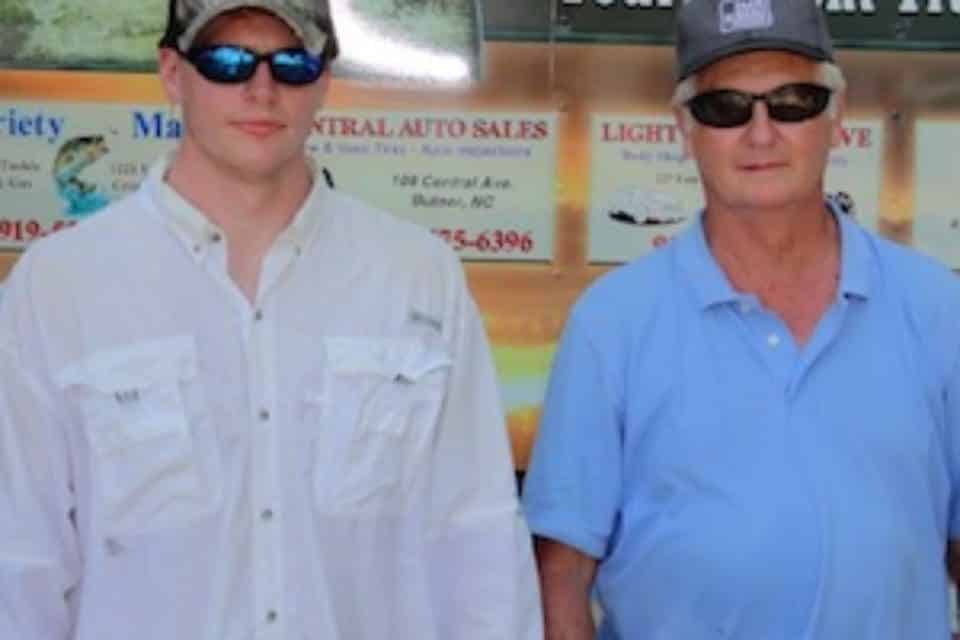 37 teams showed up for the 3rd qualifying tournament of the 2013 Piedmont Bass Classics 'End of Year' Team 
Tournament Bass Fishing Trail. The weather was great! 74 degrees in the morning with South winds at 5 mph 
and getting up to about 88 degrees in the pm.
The team of Vernon Fleming & Glenn Long took 1st place honors with 5 bass weighing 17.45 lbs. and took 
home $1,006. Chris Bullock & Robert Perkins won 2nd place (17.01 lbs.) plus 1st place TWT taking home 
$1,227!! 3rd place team (15.60 lbs.) of Dennis Reedy & Tommy Marrow also won 2nd place TWT & 1st place 
Big Fish and took home $1,191, so the money was really spread out on this event!
92 fish were weighed in for a total weight of 235 pounds. Big fish for the day was 5.05 lbs. with a close 2nd 
place fish of 5.04! The quality fish were caught in 2 to 8 feet of water on a variety of baits including crankbaits, 
spinnerbaits, jigs and c-rigs for the most part. Water temps were around 85 degrees. 
Kerr Lake is getting back to its old self with some quality fish weighed in and Kerr's future looks good. I want 
to thank all the anglers that participated and that support this trail.
5th Place team Mike Stephenson & Chad Jones had 5 bass that weighed 14.87 lbsOur next tournament will be the 2013 Piedmont Bass Classics 'End of Year' Team Tournament Bass Fishing Trail 
Qualifier #4, August 24th at Falls Lake out of Ledge Rock Wildlife Ramp.
All the information on our tournaments can be found at: www.piedmontbassclassics.com 
Now here are the full results:
1st Place: Vernon Fleming & Glenn Long of Raleigh & Henderson…5 bass…17.45 lbs…$1,006
2nd Place: Chris Bullock & Robert Perkins of Fountain & Rougemont…5 bass…17.01 lbs…$562
3rd Place: Howard & Justin Bohannon of Durham…5 bass…15.60 lbs…$444
4th Place: Dennis Reedy & Tommy Marrow of Siler City & Oxford…5 bass…15.36 lbs…$325
5th Place: Mike Stephenson & Chad Jones of Bahama & Durham…5 bass…14.87 lbs…$236
6th Place: Tony Woodard & Brandon Gray of Four Oaks & Bullock…5 bass…14.75 lbs…$207
7th Place: Mark & Larry Inman of Greensboro…5 bass…13.63 lbs…$180
1st Place Big Fish..4th Place Team above…5.05 lbs…$462
2nd Place Big Fish..Hal & John Caldwell of Wilson & Raleigh…5.04 lbs…$198
1st Place TWT..2nd Place Team above…17.01 lbs…$665
2nd Place TWT..4th Place Team above: 15.36 lbs…$285
For all of our tournament information
Contact:
Phil McCarson…Tournament Director
922 Valetta Rd.
Durham, NC 27712
Home: 919-471-1571 Cell: 919-971-5042
email: [email protected]
website: www.piedmontbassclassics.com
---