PELS BROTHERS WARM UP TO TREE PITCHING FOR TEXAS TEAM TRAIL RAY ROBERTS WIN
---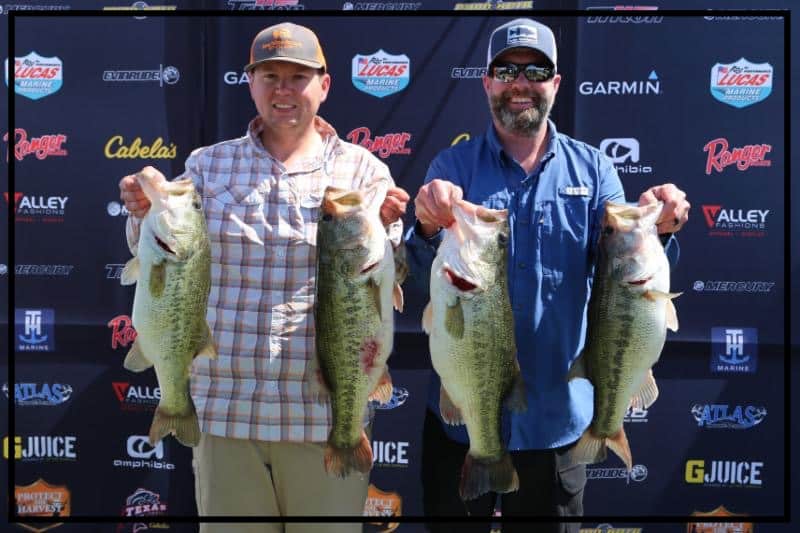 By David A. Brown
Them weekend's warmer weather benefited brothers Chris and Adam Pels, who caught a limit of bass that weighed 28.70 pounds and earned them the top prize of a Nitro Z18 w/150 Mercury. In addition, they claimed $1,875 of Anglers Advantage cash. Their total payday was $30,870.
"Last weekend, we were practicing for (another tournament) and I caught some good fish in there, but we didn't do any good during that tournament because of the cold snap we had. This weekend, it was probably 20-degrees warmer. We went back to the same area in this tournament and it really paid off for us."
The Pels fished multiple areas, but found most of their success in a major spawning creek known as Community Cove on the south side. Here, they targeted hardwoods and cedars in about 6 feet of water.
The Pels caught their fish on creature baits Texas-rigged with a 4/0 hook and 3/16-ounce sinker,  a weightless Senko on a 3/0 hook and a Carolina-rigged creature bait. Across the board, watermelon was their preferred bait color and they accented the creature baits with chartreuse tips.
"We tried to look for specific details in the trees, but it didn't work; it was so random," Chris said. "You would throw at 20 big ones and then you'd come up to a small one and you'd catch a fish out of it; and then another fish out of a big one. We just couldn't key on anything in particular.
"That's one of the reasons we used a weightless Senko. We had one on the deck at all times and if we came across a shallower tree, we would Pitch the Senko into it. We caught two fish this way."
Overall, the Texas-rigged creature bait was most productive, but it took some experimentation to determine that. The brothers kept their boat in 6-8 feet of water and passed the first couple of hours without a fish.
"About 9 a.m. this morning, my brother caught our fish – a 6-pounder -off of a tree with a creature bait and we kept trying that for a while, but it wasn't working," Chris said. "Then, we started swapping around and when I picked up a Texas-rigged creature bait again, I caught another 5-pounder about 11:30. At that point, it seemed like we should stick with this bait, so that's what we did."
"We just hit as many trees as we could and that probably was the biggest deal," Adam said. "It depended on where we were; if there were multiple trees, we would each pick a tree, but if we came up to a point where there was one tree, we would both pitch at it.
"Probably, when there were a lot of trees in the area we were moving pretty fast. We never had a tree with multiple fish."
Adam said the post-frontal conditions had the fish in a lethargic mood. No arm-yankers; the fish just sucked in the baits with hardly a sign.
"I never felt one hit it, you just picked up and they were there," he said. "When I know they're not biting good, I pitch it in there, feed line and let it sit for just a second longer to make sure it falls straight down."
As Chris noted, patience and perseverance were essential to his team's success. Not only were the fish in a finicky mood, but they also had to suffer through the frustration of watching opportunities squandered.
"We caught fish on one side of the cove, but there was a boat on the place where we really wanted to be,"Chris said. "I watched that guy lose a 4-pounder and an 8-pounder within about 10 minutes. It just didn't work out, so we moved off to another spot and I ended up pulling in a 7-pounder about 1:30.
"At that time, we thought we might get a check and then we ran to another area where my brother caught one on a Carolina rig about 3 o'clock. That was a 6- to 7-pounder that culled out a 16-inch fish."
Even with this late addition, the brothers still were not optimistic about their day. But, as it turned out, they overestimated the efforts of others.
"We have friend that all fish the same water as we do and they got earlier boat numbers than we did and I really thought they whacked them offshore,"Chris said. "It just turned out that they put too much stock where we were all fishing (in practice) and they didn't catch 'em. We ran around the lake and we caught 'em."
Haverkamp and Lain Second
The second-place team of Roger Haverkamp and Kevin Lain spread most of their day across several major creek arms on the lake's west end where they targeted timber in about three feet or less. Pitching a Texas-rigged Zoom Baby Brush Hog in watermelon got them the majority of their 26.54 pounds, but a late-day move would finish off the effort.
"We were just covering a lot of water and flipping at spots that looked like they should hold a fish," Lain said. "I got bites in practice on a topwater and that keyed us in to a position where some fish were on beds. We just went back to those areas today and caught three fish in the exact same spots I got bites (the day before the tournament).
"In the last hour of the hour of day – 2:55 and 3:15 to be exact – we caught our last two on a ledge in 12 feet of water," Lain said. "It was later in the day and with the bluebird skies, we figured those fish would start setting up offshore better.
"We hadn't had a bite from noon to 3 o'clock, so we pretty much just scrapped our shallow bite and made the right move."
The anglers caught their offshore fish on a Texas-rigged 10-inch Berkley Power Worm in the red bug color. Targeting big rock transitions that fish would pass on their way into and out of spawning pockets, the anglers used a slow dragging presentation.
"The key to our success was that last hour decision to fish that drop," Lain said. "We had 20-21 pounds with 30-45 minutes of fishing time left. We went there, made a cast, I caught one and while I was retying, my partner made a cast and he caught a second one. That took us from a decent stringer to a second-place stringer."
Haverkamp and Lain earned $6,825, which included $1,375 in Angler Advantage cash.
Lauck and Martin Third
During a tournament on Ray Roberts the week before the TXTT event, Robert Lauck and Ted Martin had no bites by 1 pm., but marked the 2 o'clock hour with 20 pounds in the well. Why is this relevant? Because what they learned allowed them to focus their efforts this week, take third place with a limit weighing 25.80 pounds and earn $4,520 (including $1,250 in Angler Advantage cash).
Martin noted that it wasn't so much about an afternoon bite last weekend, as it was about wasting time on dead water. Correcting that mistake, they devoted all of their time to the productive are they located a week prior.
The key spot was a small main lake point with a subtle dip in the shoreline. Bass were bedding on top of the point in about 4 1/2-5 feet, so the anglers focused on making super slow presentations with Texas-rigged black/blue Smash Tech stick baits Texas rigged on 4/0 light wire hooks with 1/4-ounce weights.
"The key was fishing slowly," Martin said. "We had a bunch of guys come through our area and they were fishing way to fast, so they didn't catch anything. You weren't going to get a bite unless you just crawled your bait through there.
"We did most of our damage in the morning and then we upgraded a couple of times in the afternoon. We only had seven keeper bites today. It took us until noon to get our limit, but by 9:30, we had four fish for over 20 pounds."
George Jeane and Tater Reynolds weighed five bass worth 24.27 pounds, taking fourth place and earning $3,492.50.Behind them Kurt Luker and Richie Thornton with 23.49. pounds. For fifth place, they earned $2,572.50
Rest of the best
Rounding out the top 10 teams at the 2017 Texas Team Trail event on Ray Roberts:
6th: Kelly Owens – Brent Broussard -23.42
7th: Tory Sweatman – Nathan Sprabary -23-0
8th: Keith Phillips – Darwin Ballard -22.26
9th: Blake Schroeder – Easton Heigley -21.45
10th: Doug Morrow – John Barrera -21.28
Full Results HERE
Up next
The championship event of the 2018 season for the Texas Team Trail presented by Cabela's is slated for June 2-3 on Sam Rayburn.
---