One Good Fish Will Win Oakley Blue Ridge Big Bass Classic On Smith Mountain Lake
---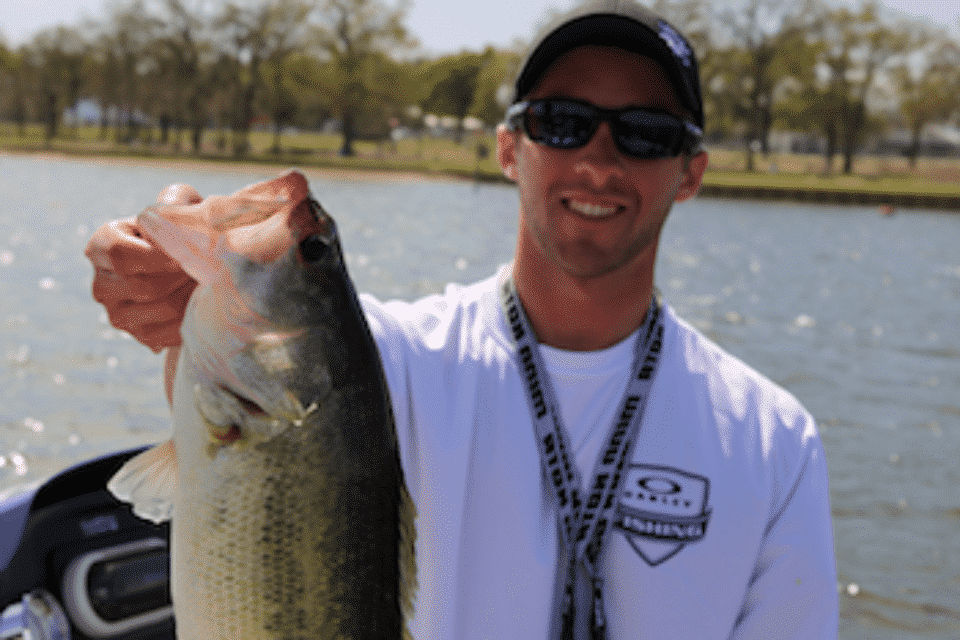 Here's one of the competitors with a very nice catch on Lake Conroe. Photo courtesy Oakley Big Bass Tour
All it takes is one good fish. Being a winner in an Oakley Big Bass Tournament depends solely on that one fish and whether it is the biggest weighed in at the hour it is brought to the scales.
No cumulative weight. No tour to fish. No pro competition to beat. Just catch the right fish and weigh it at the right time and you are a winner.
Your fish could be worth $150, $500, $1,000. It could even earn you a brand new bass boat if it's the biggest fish caught over the two-day weekend.
That is the reason the Oakley Big Bass Tour attracts such large fields to the tournaments it holds around the country, and the Oakley Blue Ridge Big Bass Classic on Smith Mountain Lake this weekend is no exception.
Last year the tournament drew more than 500 anglers.
"We've got the 4th Annual Blue Ridge Classic this weekend at Smith Mountain and the Tony Stewart Big Bass Classic on Lake Norman the next weekend," said Oakley Big Bass Classic tournament director Mark Jones. "We had a record number of entries for both events last year and we are expecting a big field for both again this year."
Entry fees for the tournaments are $100 for one day and $150 for both days. There are seven hourly payouts each day with five places paid per hour. Based on a minimum of 400 entries, the payouts are $1,000 for the biggest bass each hour, $500 for second place, $300 for third, $200 for fourth and $150 for fifth. The grand prize for the largest fish weighed over the weekend is a 2013 Nitro Z7 powered by Mercury 150, with Tandem Trailer and Dual Console Upgrades, all valued at $30,000.
Phillip Cox won the 2012 Blue Ridge Big Bass Classic on Smith Mountain Lake with a 7.18-pound big bass to claim the Nitro Z7 grand prize.
"Registration will be held at Bridgewater Plaza Marina from 12 to 7 p.m. Friday, with online registration taken until midnight Friday at oakleybigbass.com," Jones said.
All is takes is one good fish.
Oakley Blue Ridge Big Bass Classic
Apr 20 & 21, 2013
Smith Mountain Lake
Bridgewater Marina
Call Mark Jones 214-605-4600
---