OKLAHOMA'S KIEFER HIGH SCHOOL WINS 2018 TBF/FLW HIGH SCHOOL FISHING WORLD FINALS ON PICKWICK LAKE
---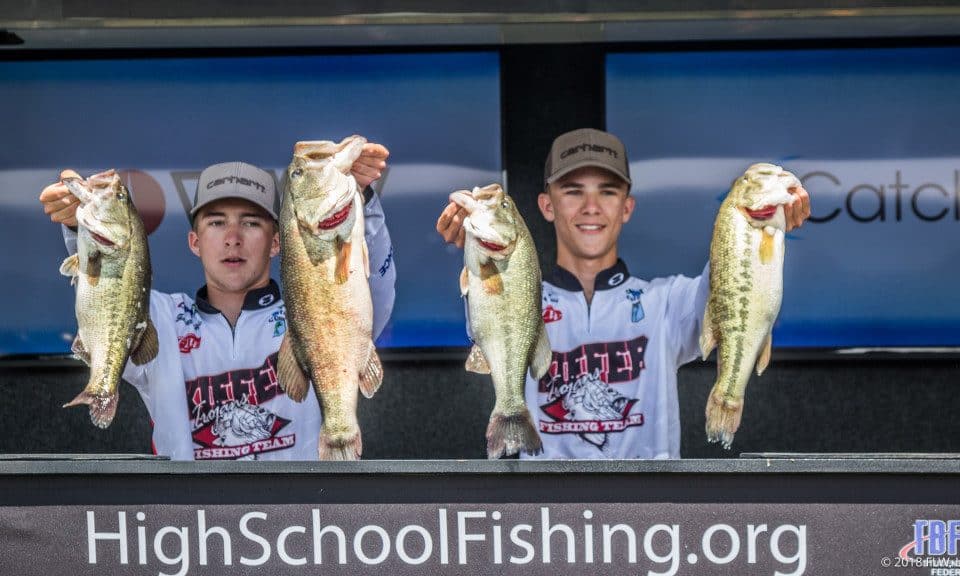 Courtesy of FLW Fishing
FLORENCE, Ala. (July 2, 2018) – Oklahoma's Kiefer High School duo of Jeremy Tolle and Garrett Hale, both of Kiefer, Oklahoma, dominated the final round of the 2018 TBF Student Angler Federation High School Fishing World Finals on Pickwick Lake, Saturday, with a five-bass limit that weighed 23 pounds, 9 ounces. Edging their closest competitors by 3-11, the Kiefer High School juniors received a pair of $28,000 scholarships to Bethel University.
"This is the best moment of my life," Tolle said.
"It's great. I've never had anything this big," added Hale.
Along with 347 other high school teams, Tolle and Hale competed for three qualifying days, which ran concurrently with the 2018 High School Fishing National Championship, won by South Carolina's North Augusta Fishing Club. Thirty-one teams fished in Saturday's final round, when all weights were zeroed.
The pathway to the final round was a roller-coaster ride for Tolle and Hale, but the latter said persistence and prudent planning proved essential to their success.
"The key was just staying with it," Hale said. "We only had 13 pounds the first day. We came in with 9 the second day, and we had almost 18 the third day. We found our fish late in the day [on day three], but we stayed off of them because we knew they'd probably be back there. We came in today and caught all of our weight in an hour and a half to two hours."
The winning limit included a 7-plus largemouth that won Big Bass honors. That bass was the winning team's second fish of the day.
Tolle says he and his partner caught their fish in 20 to 25 feet of water on ledges with shell beds near the Pickwick Dam.
Their bait of choice was Tolle's homemade 1-ounce brown/black football-head jig with a green pumpkin/purple twin-tail trailer. They committed to the heavy football jig because it allowed them to remain in contact with the bottom and create the kind of display that impressed big fish.
"It gets down, and it bounces off those rocks and helps get those fish to react to it," Hale said. "You could tell when the fish were just starting to school up and get ready to feed because you'd barely feel them tap it – like they would barely have it on the edge of their lips. But when they would get schooled up, they would just hammer it. That 7-15 almost pulled the rod out of my hand."
The top 10 teams at the TBF Student Angler Federation High School Fishing World Finals on Pickwick Lake finished:
1st: Kiefer High School, Kiefer, Okla. – Kyler McKie and Chad Champy, both of North Augusta, S.C., five bass, 23-9
2nd: Central High School, Martinsburg, Pa. – Gerald Brumbaugh and Hunter Klotz, both of Martinsburg, Pa., five bass, 19-14
3rd: Hardin County High School, Savannah, Tenn. – Cort Walker, Counce, Tenn., and Lawson Tilghman, Somerville, Tenn., five bass, 17-8
4th: Fannin County High School, Blue Ridge, Ga. – Luke McHan and Blake Cobb, both of Blue Ridge, Ga., five bass, 17-0
5th: Lawrence County High School, Lawrenceburg, Tenn. – Jerren Gieske and Austin Clanton, both of Lawrenceburg, Tenn., five bass, 16-3
6th: Lawrence County High School, Lawrenceburg, Tenn. – Will Daniels and Kade Suratt, both of Lawrenceburg, Tenn., five bass, 16-1
7th: Mansfield High School, Mansfield, Mo. – Dawson Barnett and Holden Dennis, both of Mansfield, Mo., five bass, 15-15
8th: Grand Rapids High School, Grand Rapids, Minn. – Easton Fothergill and Alex Timm, both of Grand Rapids, Minn., five bass, 15-8
9th: Danville Christian Academy, Danville, Ky. – Camden Slone, Danville, Ky., and Caleb Hurst, Lancaster, Ky., five bass, 15-6
10th: Calloway County High School, Murray, Ky. – Andrew Douglas and Allen Mullins, both of Murray, Ky., five bass, 15-4
Complete results and photos will be posted at HighSchoolFishing.org.
The 2018 TBF/FLW High School Fishing World Finals on Pickwick Lake, open to any High School Fishing team across the country, was a four-day event that saw the entire field of 348 teams compete for three days. The World Finals field was cut to just 31 for day four and the weights were zeroed with the winner determined by heaviest final-day weight. The largest High School Fishing Open event in the country lived up to the hype crushing records in attendance, number of contenders and participating states. More than $150,000 in scholarships and prizes were awarded to the 348 teams from 35 states.
The 2018 TBF/FLW High School Fishing World Finals on Pickwick Lake was hosted by Florence/Lauderdale Tourism Bureau.
For complete details and updated information visit HighSchoolFishing.org. For regular updates, photos, tournament news and more, follow FLW/TBF High School Fishing on FLW's social media outlets at Facebook, Twitter, Instagram, YouTube and Snapchat.
About The Bass Federation
The Bass Federation Inc., (TBF) is a member of the Freshwater Fishing Hall of Fame. TBF is owned by those we serve and dedicated to the sport of fishing. The Federation is the largest and oldest, organized grassroots fishing, youth and conservation organization there is. TBF, our affiliated state federations and their member clubs conduct more than 20,000 events each year and have provided a foundation for the entire bass fishing industry for more than 45 years. TBF founded the Student Angler Federation and the National High School Fishing program in 2008 to promote clean family fun and education through fishing. Visit bassfederation.com or highschoolfishing.org and "LIKE US" on Facebook.
---